How to Ski Bumps
Expert instructor Michael Rogan has tips for bashing moguls.
Heading out the door? Read this article on the new Outside+ app available now on iOS devices for members! Download the app.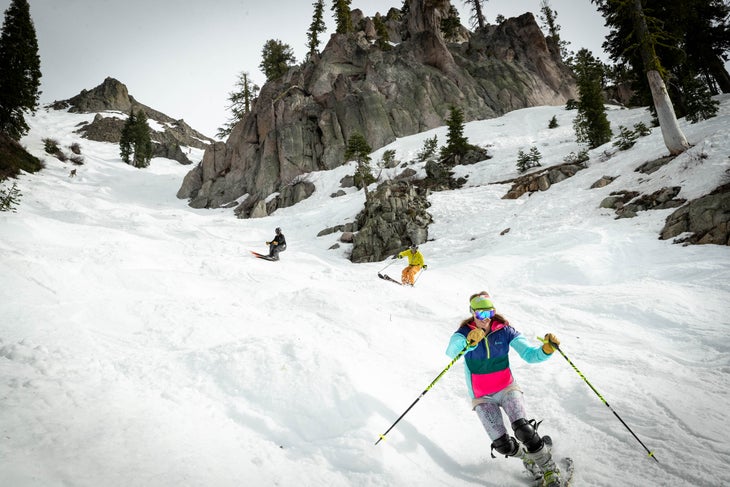 Even expert skiers avoid moguls. "Because they don't like their ego kicked in," says Michael Rogan, coach of the Professional Ski Instructors of America's elite National Alpine Team. When "a mogul field looks like chaos, finding order and a way down can be daunting," Rogan explains.
So we sat down with Rogan to see if there's some kind of trick to making it down the mogul field in one piece. 
SKI Magazine: What do you love about skiing bumps?
Rogan: They are a great puzzle to figure out. No two turns are the same and there is always something new and different every run. 
SKI: Before a skier can tackle moguls confidently—or more steezily—should they have other skills or a specific ability level on the rest of the mountain?
Rogan: A good attitude never hurts. A great short turn is an advantageous skill to have. A mindset that embraces a challenge comes in handy too. 
SKI: What techniques or tactics does a skier need to master to ski moguls? In other words, can you tell us the secrets of the pros?
Rogan: The pro's secret is simple…there is no secret. Mogul skiing takes some time to master. You can get better at some of the technical pieces but there is no substitute to just getting in them and mixing it up.
SKI: What's the biggest mistake skiers make when skiing bumps? How can they avoid that? 
Rogan: Not having a plan. You have to find places where you think you can turn and do everything to execute your plan. Take small chunks at first and build up to longer sections. No one skis top to bottom on the first try. Set your expectations properly. 
SKI: That's it? Just practice, nothing else?
Rogan: Get educated. Whether it is through SKI Magazine and AIM AdventureU's How to Ski Bumps online course and/or a lesson, knowledge and understanding are great helpers to learning. After that you just have to ski them. It is hard to develop a taste for something if you don't want to eat a little.