Are 'Comfort' Ski Boots Actually Comfortable (And Do They Perform)?
Professional bootfitter Sam Tischendorf weighs in on the merits of ski boots designed for comfort.
Heading out the door? Read this article on the new Outside+ app available now on iOS devices for members! Download the app.
Active Pass members get exclusive access to SKI's "Ask the Boot Doctor" column. Join Active Pass to get expert advice on all things ski boots from professional bootfitter Sam Tischendorf. To submit your ski boot questions or concerns to the Boot Doctor, email her at editor@skimag.com.
Q: What are "comfort" ski boots? Are they actually comfortable and do they perform as well as the boots listed in the other categories of SKI's Gear Guide? – Rob G. 
Good question. "Comfort" is a sticky term when it comes to ski boots and it's confusing to a lot of people, including bootfitters.
Traditionally, comfort ski boots are primarily designed for people who wouldn't ski because of the bear of equipment, i.e. the challenge of putting a ski boot on or how uncomfortable it feels on foot. It's the sort of boot that keeps a skier skiing.
A boot in this category will often include more features that enhance the comfort for the user—maybe it's a softer liner, or a boot that's easier to get into.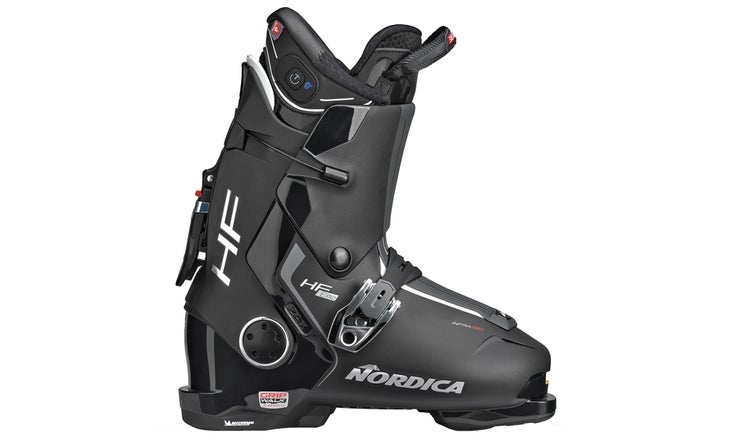 But with comfort ski boots, you don't get a truly precise fit around the foot or precise performance because that is not what that boot is designed to do.
An example of a ski boot that fits into the traditional "comfort" boot category is the K2 BFC, which was literally "Built for Comfort." It's a boot that skis fairly well, but it doesn't have a lot of shape or technical features about it in terms of providing a precision fit or feeling around the foot. It's similar to a higher volume ski boot with a softer flex. The Nordica HF and the Apex ski boot also fit squarely in the comfort boot category.
Comfort Ski Boots vs. High Volume Ski Boots
Here's where things can get tricky: More brands are now making ski boots with a wide range of lasts/volume and flex profiles, so the "comfort" term has gotten murky. But there is still a difference between comfort boots and higher volume performance boots.
True comfort boots tend to feature wide lasts (around 100mm or more) and lower flex profiles (usually around 110 tops).
Some performance boots—ski boots designed to give intermediate and above skiers a more precise fit for better ski performance—can also feature a wider last and high volume fit, but generally offer a wider flex profile range to accommodate more advanced skiers. You can find high-volume performance boots that feature a 115, 120, or even 130 flex.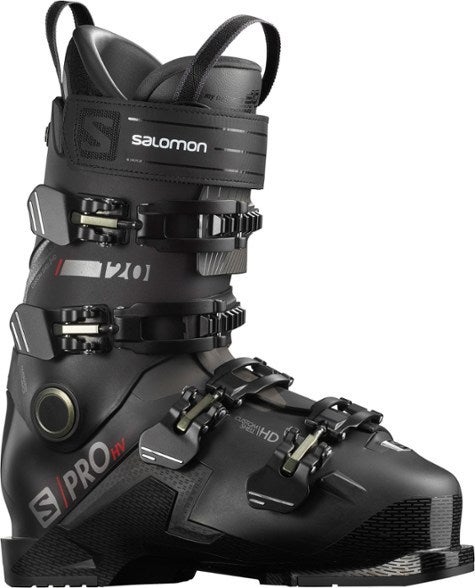 These high-volume performance boot models aren't the same as comfort boots because they still feature the bells and whistles of a performance boot and are designed to offer a more precise fit for better energy transfer.
Related: The best all-mountain ski boots of the year
Comfort ski boots, on the other hand, offer a more basic fit or shape around the foot, which allows a ski boot to fit more comfortably. These boots are ideal for skiers who value comfort over performance and don't need a precise fit because they may not be out there charging or edging their turns.
If you are an intermediate, advanced, or expert skier with a wide foot, you may want to look at high-volume performance ski boot versus comfort boots. And as always, it's worth remembering that ski boots are very individual. To make sure you get the right ski boot for your skiing style and ability, work with a bootfitter.
Sam Tischendorf is one of the very few professional female ski bootfitters—or as she likes to say, professional feet ticklers—in the industry. She currently works at Bootdoctors in Telluride, Colo., is a member of the Masterfit University teaching team, and collaborates with Blizzard/Tecnica on the Women To Women gear project.
More ski boot advice from the Boot Doctor
Can't get out of the backseat? Check your ski boots
Bootfitting advice for skiers with narrow feet
How tight should new ski boots be?