New Ski Boots? Don't Break Them In Before Ski Season
Here's why wearing your new ski boots around the house won't actually help break them in.
Heading out the door? Read this article on the new Outside+ app available now on iOS devices for members! Download the app.
Welcome to SKI's "Ask the Boot Doctor" column, in which professional bootfitter Sam Tischendorf dishes out expert advice on all things ski boots. Join Outside+ to access the goods. To submit your ski boot questions or concerns to the Boot Doctor, email her at editor@skimag.com.
Q: I just bought my first new pair of ski boots in 10 years. What's the best way to break in new ski boots?
A: There's an urban legend (perpetuated by eager dads the world over) that wearing your new ski boots around the house in the off-season will help break them in for skiing. Please, do not wear your ski boots around the house. It won't help you break in your boots for skiing. Here's why.
Breaking In = Packing Out
The best thing about new ski boots is their structural integrity. You've got a brand-new plastic shell and a brand-new liner. You don't want to prematurely break in that liner by clomping around the house. Walking around in new ski boots wears out the liner much more quickly than actually skiing in the liner does, and that reduces the functional life of your liner.
And when you're "breaking in" new boots around the house, chances are you're not in an active skiing position, biomechanically speaking. You're not flexed at the ankles, driving your shins and knees forward, and your pelvis isn't tilted the way it would be when you're skiing. Instead, you might be wearing your new ski boots while you're watching TV on the couch or making dinner and washing up. In those postures, we resist all the angles of the ski boot. So you'll break in the liner and mold it to a position that's not made for skiing.
The Only Way to Break In Ski Boots: Skiing
Do ski boots need to be broken in outside of skiing? I feel that in order to get anything to feel more comfortable, you should wear it during the activity it's designed for. Breaking in ski boots is no different than breaking in running or hiking shoes: You just have to lace up and wear them on a few runs or hikes before they feel comfortable. It's the same for ski boots: When you're skiing, you're in a better postural position to break in the boot liners and to have it continuously mold and form around your foot.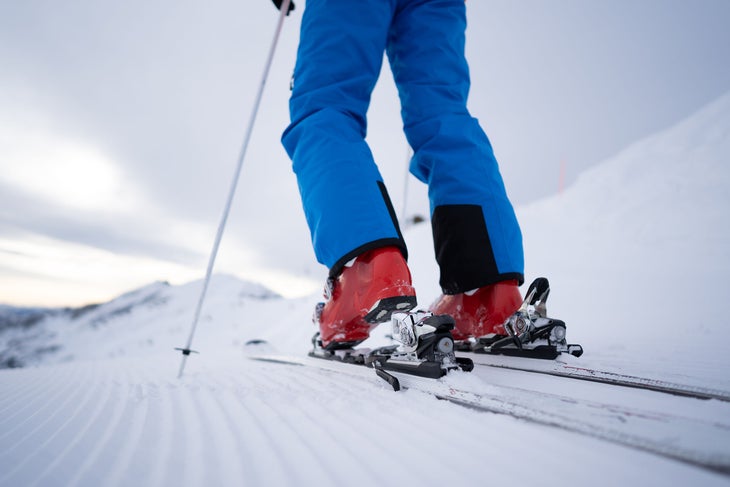 Now, if you don't have the time or patience to break in new ski boots, then that's a conversation you should have with your bootfitter. I ask my customers how many days they ski in a year, realistically, because that's going to affect how I want that boot to fit for them when they leave the store.
Related: How to find a bootfitter who's worth their salt (but not salty)
If you only ski three days a season, or you only ski three days in a row a couple different times during the season, then of course you don't want to spend two of those three days getting used to your ski boots. For that skier—even if they're the most aggressive skier out there—I will fit the ski boot differently, or choose a different ski boot altogether. That skier may need more of a comfort-fit right out of the gate. Instead of going with the narrowest last for their foot, I might choose a boot with a little more breathing space. That will give the skier a softer entry feel and make their boots fit more comfortably right out of the shop.
On that topic: Is there such a thing as a comfortable ski boot?
On the other hand, if someone skis 30 days a season, and they ski a lot of those days in a row, they have the chance to get used to a more snug or aggressive fit over the course of the first couple of ski days. That's when the breaking in should happen—on the hill, skiing.
Leave the Breaking In Process to the Bootfitter
If you're worried about suffering in uncomfortable ski boots at the beginning of the ski season, make friends with a good bootfitter. The best way to break in new ski boots is to ski in them. But if you don't have the time or patience to get used to new ski boots on the hill, a bootfitter can do a lot to ease the transition for you.
If you buy new ski boots from a bootfitter, you shouldn't have to worry about an uncomfortable breaking-in period. Thanks to new technology, ski boots are super customizable. With all of the new heat-moldable technology in liners and boot plastics, there are some boots that you can purchase, have molded specifically to your foot, and then you're good to go—you might not have to deal with cramping, hot spots, or foot soreness. But if you do, you can always go back to the bootfitter and have those issues addressed. Chances are, they'll be able to tailor the boot fit exactly to your needs. And in most cases, you won't have to pay an additional cent for that customization—it's included in the price of purchase.
Just one more case for not buying your ski boots online: You might be able to find a boot for $50 cheaper online, but chances are, you'll have to take it to a bootfitter to get it to fit right, and we'll charge you a fee to heat-mold and ease your suffering.
---
Sam Tischendorf is one of the very few professional female ski bootfitters—or as she likes to say, professional feet ticklers—in the industry. She currently works at Bootdoctors in Telluride, Colo., is a member of the Masterfit University teaching team, and collaborates with Blizzard/Tecnica on the Women To Women gear project.
More Advice from the Boot Doc
How old is too old when it comes to ski boots?
Can't get out of the backseat? Check your ski boots
How tight should new ski boots be?