How to Store Your Skis So They'll Be In Great Shape For Next Season
Your ski gear needs a little TLC before you stash them for the summer.
Heading out the door? Read this article on the new Outside+ app available now on iOS devices for members! Download the app.
Join Active Pass to access exclusive instructional videos and skiing tips from the best pros in the biz.  
This ski season may just be coming to a close, but it's never too early to start thinking about next season. Now's the time to take stock of your ski gear and see what needs a little TLC before the flakes start to fly again next fall.
"In a perfect world, you'd be giving your skis a once-over at the end of every ski day, checking for base and edge damage and addressing those issues as you find them," explains Leif Sunde, pro ski technician and owner of the Denver Sports Lab in Golden, Colo. "But it's especially important to assess what kind of shape your skis are in before storing them in your garage or basement for the whole summer, where any base or edge damage may worsen because of temperature fluctuations."
Before stashing skis for the summer, run through Sunde's gear storage checklist to make sure your skis are ready to go when the lifts start spinning again.
Summer Ski Storage Checklist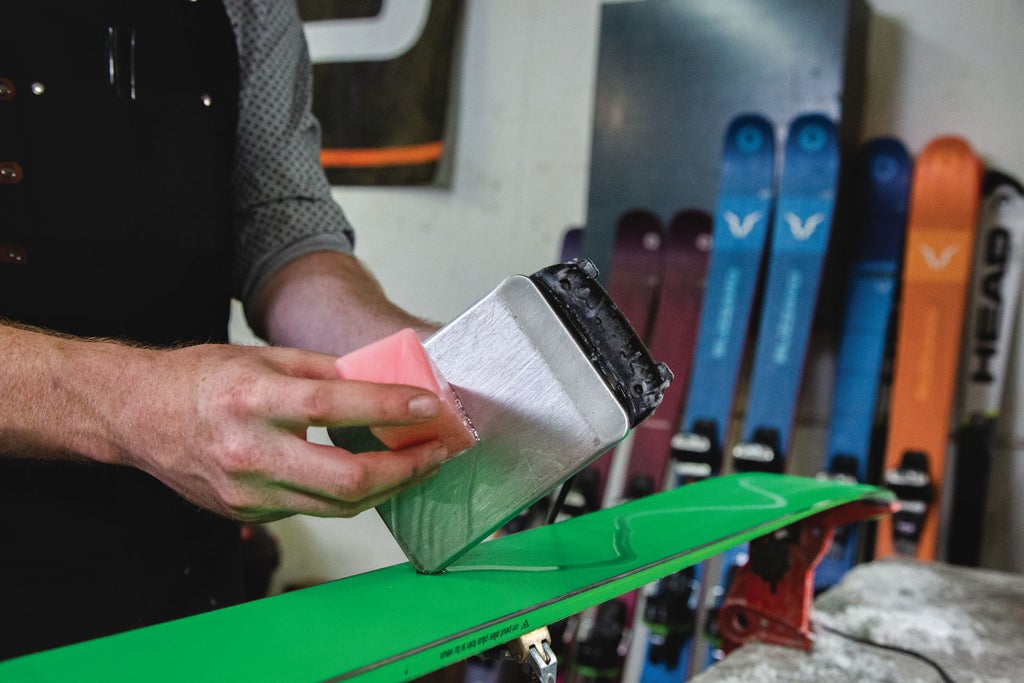 Edges: Any nicks, burs, or rust patches? Polish these out with a gummy or diamond stone to ensure that rust doesn't build up over the course of the summer.
Related: How to sharpen ski edges
Ski bases: Are there any deep gouges or scratches? If left untreated, these could allow moisture to seep into the core and compromise the core materials. The best way to prevent this is to fill scratches with P-Tex. If you find a gouge that exposes the core material of the ski, take your skis to a shop for professional service.
Related: How to repair base damage with P-Tex and a butane torch
Wax: When you're ready to put skis into storage for the summer, apply a thick layer of wax to the bases. This will help keep the base material hydrated over the summer months. Scrape the wax off the edges to make sure you don't inadvertently trap moisture there, but don't scrape any wax off the base—the thicker the layer of wax, the better your base protection.
Watch: How to Prep Ski Gear for Summer Storage
More Ski Tuning Tips
3 Tuning Myths Debunked
Which ski wax is best for the snow you ski
The edge sharpening tools you need to take ski tuning into your own hands