They're Becoming Ski Instructors to Draw More Women of Color to Skiing
Bozeman-based Women of Winter's goal is simple: Elevate and uplift all females who want to play, learn, and lead in the mountains.
Heading out the door? Read this article on the new Outside+ app available now on iOS devices for members! Download the app.
Editor's note 8/4/21: There will be 24 new scholarships given to BIPOC women this winter. To apply for one of this year's scholarships, follow this link.
When Alyssa Gonzalez moved to Colorado from Connecticut five years ago, she had barely spent any time in the mountains. She had never gone skiing or mountain biking, and had very little experience in the outdoors.
"I had never participated in any outdoor sports, we didn't have a lot of money or time growing up to do those things," says Gonzalez, 26, who clicked into skis for the first time at Winter Park, Colo., in 2018. "There I am, in my early-20s, learning how to do all of these new sports, and I'm thinking 'I'm never going to get good at any of this, I've missed the boat,'" she laughs.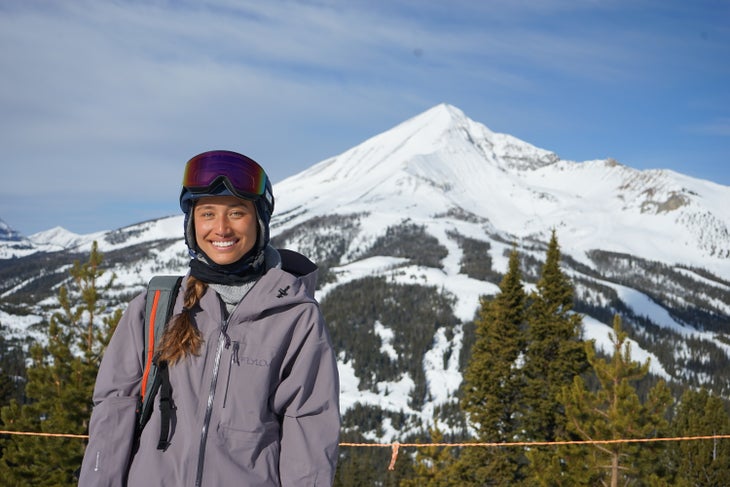 Little did she know that in just a few short years, Gonzalez, a digital product designer with Boulder, Colo.-based Outside (SKI's parent company), would be earning her PSIA Alpine Level 1 ski instructor certification in the hopes of welcoming other skiers onto the slopes for the first time.
Related: How Skiing's Whiteness Has Affected Me, and How We Can Change It
Also an avid rock climber and mountain biker who coaches at a local gym and is currently also working toward getting her Level 1 mountain biking certification, Gonzalez is inspired largely by the desire to attract more BIPOC girls and women to the outdoors.
"If they see more instructors, more BIPOC women in leadership roles in these sports, they'll be more likely to give it a try," she reasons. "I just don't want to see more women in the headspace that I was in when I moved here, thinking that these activities are not for me, that I don't belong there."
It was exactly this line of thought that earned Gonzalez a scholarship through Bozeman, Mont.–based nonprofit Women of Winter. The scholarship brought Gonzalez together with five other BIPOC women for four days on the slopes of Big Sky Resort earlier this month that culminated in a two-day certification through PSIA. Upon completion, she's officially qualified to start teaching beginner and intermediate skiers at ski resorts throughout the country.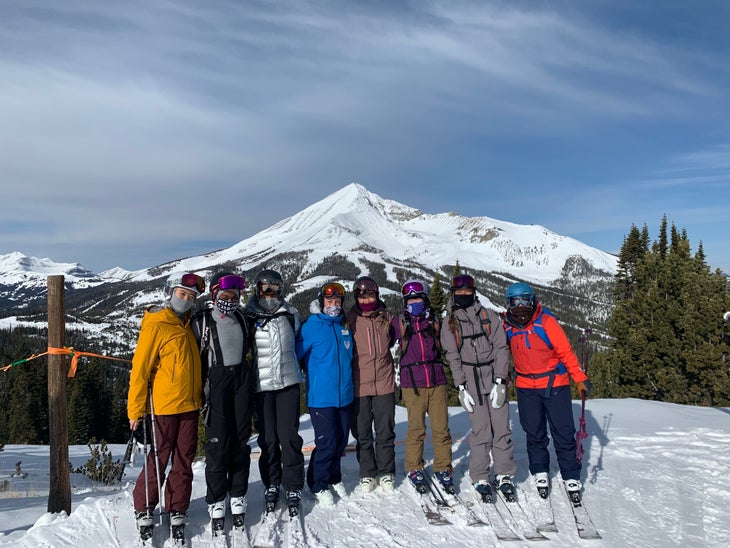 "The highlight of the scholarship experience for me was just being surrounded by all of these women of color, all different ages, from diverse backgrounds," Gonzalez says. "But we all shared similar aspects of our stories, of feeling alone. It was such a different environment than I've ever experienced, especially while skiing and being in the mountains. I felt like I had a community for the first time."
Women of Winter (WoW) was the brainchild of Bozeman ski instructor Christeen Walch, and came to fruition following a locker-room chat about the amazing things women are doing in snow sports and beyond. Walch, who teaches at Yellowstone Club, was listening to fellow instructors Francesca Pavillard-Cain and Carly Jo Haugen talk about their projects back in the winter of 2018-'19. Freeride World Tour competitor Pavillard-Cain had just broken into the heavily male-influenced world of ski films, appearing in Warren Miller's 2018 "Faces of Winter," and fine artist Haugen's artwork would be gracing the top sheets of Icelantic's skis.
On topic: Five BIPOC Outdoor Influencers to Follow on Instagram Right Now
"I realized that we had so much female talent right here in Bozeman," Walch says, "so Frannie [Pavillard-Cain] and I decided to create an event. You don't have to go far, we realized. The talent is right here."
That's how, in January of 2019, 80-plus women came to pack Blend Wine Bar in downtown Bozeman to hear Pavillard-Cain, Haugen, and others talk about women in snow sports, the challenges, the victories, and how to uplift females in mountain sports.
"Women of Winter does not only highlight strong, inspiring women but gives women educational experiences to create their own journey in the outdoor industry," says WoW board member Pavillard-Cain, who has certainly had to overcome obstacles on her path to success in the male-centric world of freeskiing. "When we can break down barriers of entry we open ourselves up to an amazing group of athletes and leaders."
The following season, WoW turned its attention to women in the backcountry and ski patrol, because, says Walch, women shouldn't have to place their lives in anyone else's hands.
"Women need to be able to make our own decisions in life and death situations," she says. "That's powerful, and we need more women setting an example in these leadership roles in the mountains. Women don't always feel safe speaking up, and that needs to change."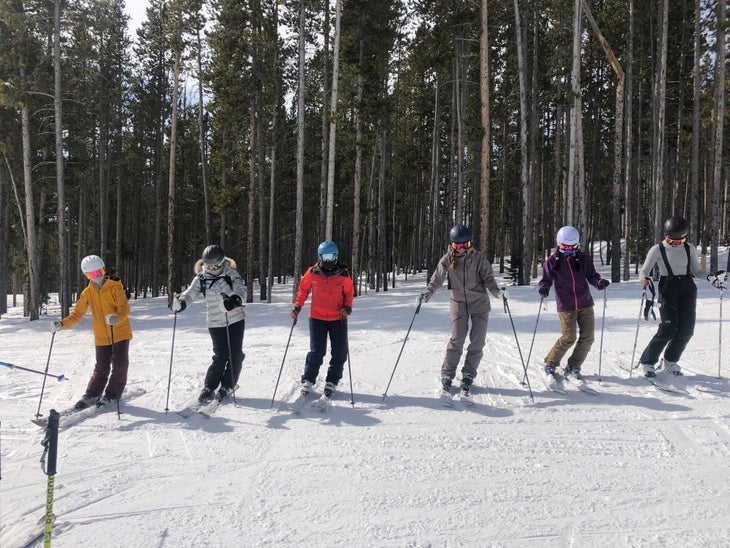 This year, Women of Winter set its sights on exacting change around diversity on the slopes. The organization partnered with Rossignol, Giro, Hestra, Patagonia, Big Sky, and PSIA to create the scholarship for PSIA Alpine Level 1 certification that it would award to six BIPOC women. They got 30 applications solely through social media and word of mouth.
"It was so hard to choose," Walch admits. "Every applicant had something to offer."
"You would be beyond amazed at this group of women," adds Pavillard-Cain. "Each one has credentials and goals that are beyond inspiring. But really the best part was seeing the group dynamic. There was so much support and development. Watching them listen to feedback and take it in was so fun and the change and growth was out of this world."
Meet Share Winter: This Community Organization Needs You Help to Diversify Skiing
Ultimately, recipients were awarded based on their plan to pay it forward, such as Gonzalez and her desire to be the non-white face welcoming BIPOC women onto the slopes, the bike trails, and the climbing gym.
"We love the ski industry, but it needs to change," Walch says. "We can't wait for it, we need to do it ourselves. So if these six women pay it forward to another six women each, that's 36 women! It's exponential. That's the agent of change."
Now that she's completed her Level 1 certification, Gonzalez's plan is to start teaching beginner skiers next season.
"I told myself I was never going to be good at this sport because I started too late," she says. "My goal is to give other women of color the inspiration and the opportunity to find their place and their passion within skiing."