Jonny Moseley On the Pinnacle of Skiing
The mogul skiing champ talks skiing bumps in retirement.
Heading out the door? Read this article on the new Outside+ app available now on iOS devices for members! Download the app.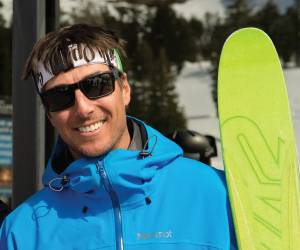 After Jonny Moseley returned from filming in Iceland with the Warren Miller Entertainment crew for this year's Face of Winter, I caught up with him to get the lowdown on the shoot. We talked about the amazing scenery in Iceland, the incredible opportunity WME athletes have to ski all over the world, and his favorite ski trips to date. But of all the places Moseley has been to ski—Iceland, BC, Japan, AK, not to mention all the places he skied while still competing in freestyle—some of his favorite runs are still the classic bump lines on his home mountain of Squaw Valley. Apparently, Warren Miller's edict that "bumps are like heartbeats, you only have so many in you," doesn't hold true for Moseley.
"I still have a lot of bumps left in me, and still love them, especially since I don't have to ski an icy rutline at 7 a.m. and do two gnarly airs anymore," Moseley says. "That's made bump skiing much more enjoyable. I love skiing the natural bumps on West Face and Chute 75 or The Plunge. The more I think about why I love skiing so much, I come around to the fact that I just like the art of the turn. The sensation of having a clean line, that's the pinnacle of skiing."
With the whole wide world of heli and powder skiing at his disposal—terrain and snow that most of will only ever dream about—Moseley still chooses to ski bumps. "Why on God's white earth?" you might ask. Simple: for the love of the challenge.
"When I get down to the bottom of a run and I say to myself, 'Oh, that was a great run!' it's because I just skied a combo of everything in skiing—some tight turns, some big rollover where you're weightless for a second," explains Moseley. "It's the opportunity to create all those sensations in one run that I really enjoy. And, of course, I love the challenge."
You can't argue with Moseley there. Of all terrain you might find at the resort, bump runs are some of the most versatile, challenging lines. From moderate to steep pitches, small to absolutely humungous moguls, and pillowy mounds to horrifically hard-packed bumps, you never quite know what you're going to find in the mogul field until you're in it. It's for this reason that bumps separate the intermediate from the advanced and expert skiers. Mastering bumps means mastering a different set of skills and tactics that will allow you to really ski a bump line, rather than just survive it.
Even Moseley, an Olympic gold-medalist in moguls, admits that skiing bumps is always a work-in-progress. "There's always something to work on, I'm always learning. There are so many technical elements: body position, thinking about the combination of your equipment and what your body's doing. I could just geek out on that forever. It never gets old. I think in some ways, I'm a bump skier finesse-wise now."
If the fact that a mogul pro is still working on mastering bumps disheartens you, don't fret and strengthen your resolve. SKI Magazine Co-Director of Instruction and PSIA Team Captain Michael Rogan assures us that, while bumps are hard, they're good for us and there are many reasons for learning how to ski them: "Bump runs are the least crowded terrain on any mountain. They're where you can get away from the masses."
Want to escape the crowds and ski moguls like Moseley this season? SKI Magazine teamed up with PSIA to design the online course "How to Ski Bumps" to give intermediate to expert skiers the skills, tactics and technique they need to crush moguls. Enroll and get in-depth, step-by-step instruction from Michael Rogan and professional skier Marcus Caston to help you break through in your ability to ski—and enjoy—skiing's toughest terrain. Learn more at aimadventureu.com.