Lindsey Vonn Ends Career With a World Championship Medal
The most successful female racer of all time takes a bow with a bronze medal in downhill.
Heading out the door? Read this article on the new Outside+ app available now on iOS devices for members! Download the app.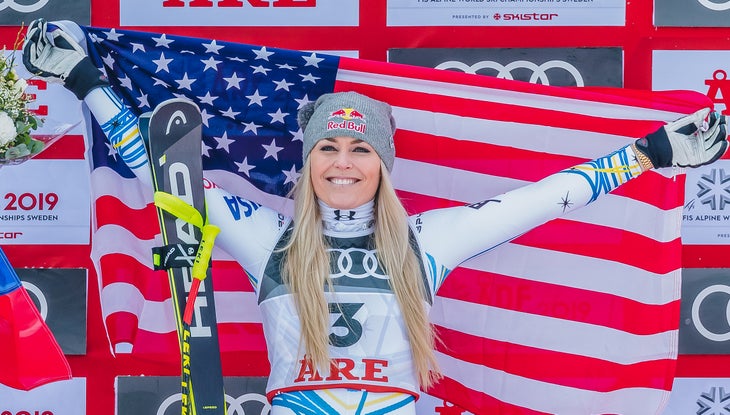 After crashing in the World Championship super-G and having to come to terms with the idea that her body was demanding immediate retirement, Lindsey Vonn made her final race appearance in Sunday's World Championships downhill race, just hoping to make it down safely and take one last bow to her fans in the finish area. But instead of just finishing in one piece, the 34-year-old American made history one more time by becoming the oldest female racer to medal at a World Championships by taking home the bronze.
Women's World Championship Downhill 
On Sunday, Vonn, wearing bib number 3, stepped into the start house for the 432nd and final time. Still nursing a black eye from her crash in Tuesday's super-G race, Vonn battled significant nerves in this final race. More than anything, Vonn wanted to end her storied 18-year professional racing career on a high note. But making it down safely took priority even over that.
Read more: Lindsey Vonn skis away from yet another horrific crash. 
"I'm too old to be crashing that hard," Vonn told NBC after her super-G crash. "It's just time to be done. My body is not doing what my mind is telling it to do anymore. And I can't be taking these kinds of risks anymore and crashing that hard," Vonn told NBC after her super-G crash. "I've accepted the position that I'm in."
Those thinking that Vonn would therefore ski more conservatively in her final run, however, would be proven wrong. Vonn kicked out of the start gate in her signature form—a yell of aggression, a few strong pushes, and then immediately getting into a tight, low tuck. She had no trouble with the section of the course that led to her crash in the super-G and stuck to a high, direct line. Though she trailed the current leader, Germany's Viktoria Rebensburg, by 0.23 seconds at the first split, Vonn, a superior glider in straight and flat sections of downhill courses, made up that time and then some, crossing the finish line 0.33 seconds ahead of Rebensburg.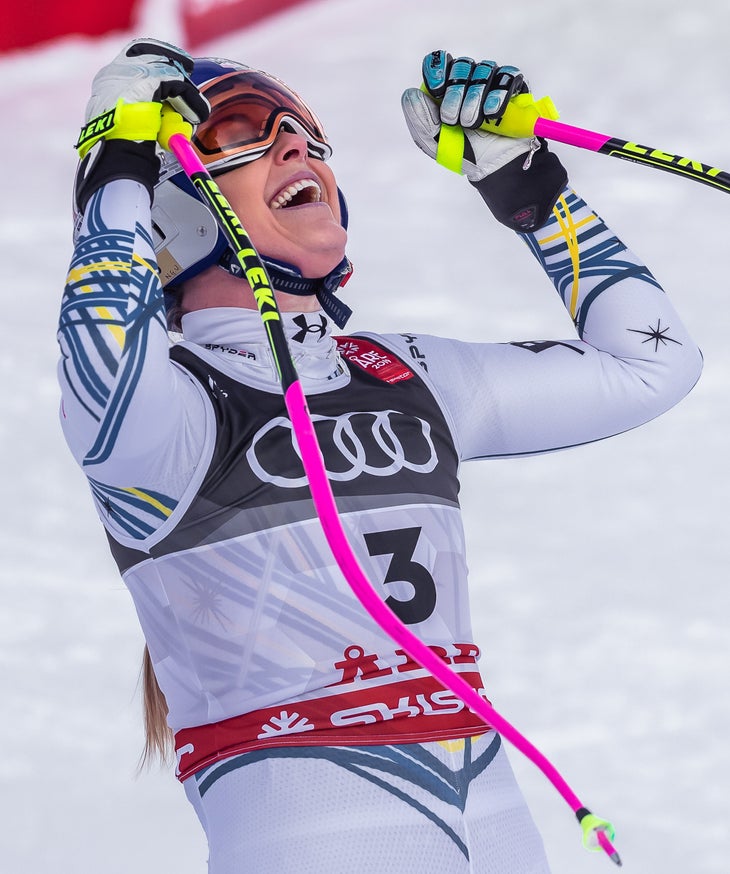 As she saw her time flash up on the screen in the finish area, Vonn beamed a huge smile, threw her hands up in the air in triumph, and bowed to her fans in the crowd. Though she was only the third racer to come down the course and had many racers to wait to find out if her time would be good enough to land her a final podium finish, Vonn seemed happy with her final race regardless.
"I laid it all on the line, that's all I wanted to do today," Vonn told NBC after she finished. "I have to admit I was a bit nervous, probably the most nervous I've ever been in my life. I just wanted to finish strong so badly. I had a really hard time controlling my nerves and I never have a hard time with that, so, I'm just happy I made it to the finish. And I came down in the lead which is nice for my last race."
Vonn's lead lasted until reigning Downhill World Champion, Slovenia's Ilka Stuhec, wearing bib number 9, came through the finish 0.49 seconds faster than Vonn. Then 10 racers later, Switzerland's Corinne Suter pushed Vonn down to third while she slotted into second.
While it wasn't gold, a bronze World Championship medal is still a fitting end to Vonn's illustrious career. This medal marks Vonn's fifth World Championship downhill medal and she now ties Christel Cranz and Annemaire Moser-Pröll for the record of most World Championship downhill medals.
Though Vonn finishes her career with an incredible 82 World Cup wins, she did not achieve the ultimate goal she set for herself at the start of the season—beating Ingemar Stenmark's record for World Cup wins (86). But the legendary Swedish racer was at the finish of Vonn's final race to help celebrate her historic career.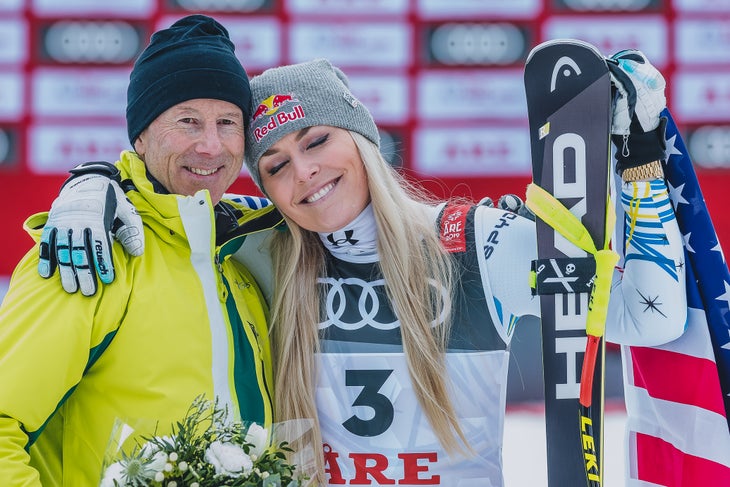 "Ingemar being in the finish line was literally the best thing that's ever happened in my life," Vonn, who is close with Stenmark, said after her race.
"I'm very impressed with Lindsey, that she skied so well and could come back after so many injures," Stenmark in turn commented after Vonn's race.
"I've been knocked down so many times and always gotten myself back up," Vonn told NBC. "But now it's time to leave the ring and get into a different arena."
As Vonn exits the professional racing scene, Americans will now look to young American downhillers Laurenne Ross and Alice Merryweather to carry the torch. Ross, who also crashed in the World Championships super-G on Tuesday, did not start in Sunday's downhill. Merryweather, the 2017 Junior World Downhill Champion, finished Sunday's downhill in 22nd. See the full results here. 
Men's World Championship Downhill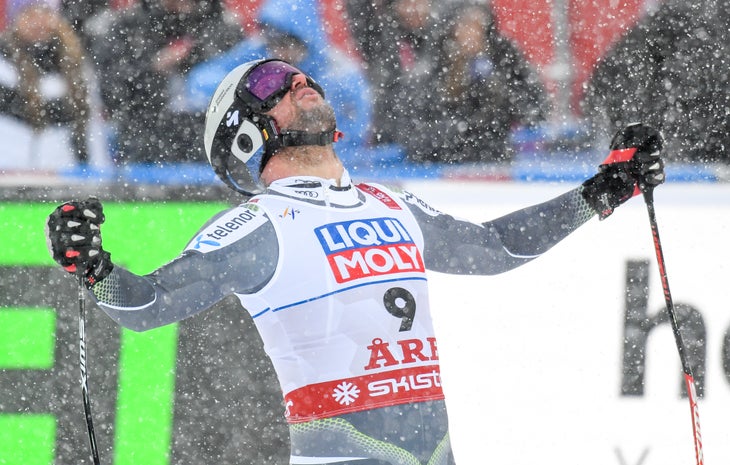 On the men's side, another retiring racer got a satisfying ending to a legendary career. While Norway's Aksel Lund Svindal, gunning for his third downhill world title in his final race, didn't take home gold, he was happy to settle for a very close second—only 0.02 seconds behind Norwegian teammate Kjetil Jansrud. Austria's Vincent Kriechmayer rounded out the podium in third.
"It's a close race, but it was a great race. So I'm very, very happy with this," Svindal said after the race. "I've been kind of waiting for this moment the last couple weeks, so I was nervous but ready to race…For me it was a little bit of extra pressure. Because I usually think this is one out of many chances, and if I don't get this one, I'll get the next one. That was not the case today, this was the last one."
Americans in the stands had plenty to cheer as well. Bryce Bennet led the charge for the U.S. Ski Team, starting with bib number 11 and finishing in 9th place, his fourth top-10 downhill finish this season. Teammates Steven Nyman and Travis Ganong finished in 23rd and 26th, respectively. See the full results here. 
Coming up next in Åre…
The men's Alpine Combined events takes place on Monday, Feb. 11, followed by the Alpine Team Event on Feb. 12. Mikaela Shiffrin will be looking to clinch her second 2019 world champion title on Feb. 14 in the women's giant slalom event. See the full schedule here.