Meet Shannon Bahrke
The first US women's freestyle skier to win multiple Olympic medals opens up about the secrets to her success.
Heading out the door? Read this article on the new Outside+ app available now on iOS devices for members! Download the app.
Shannon Bahrke—two-time Olympic freestyle medalist and World Cup champ in 2003—insists she was no prodigy.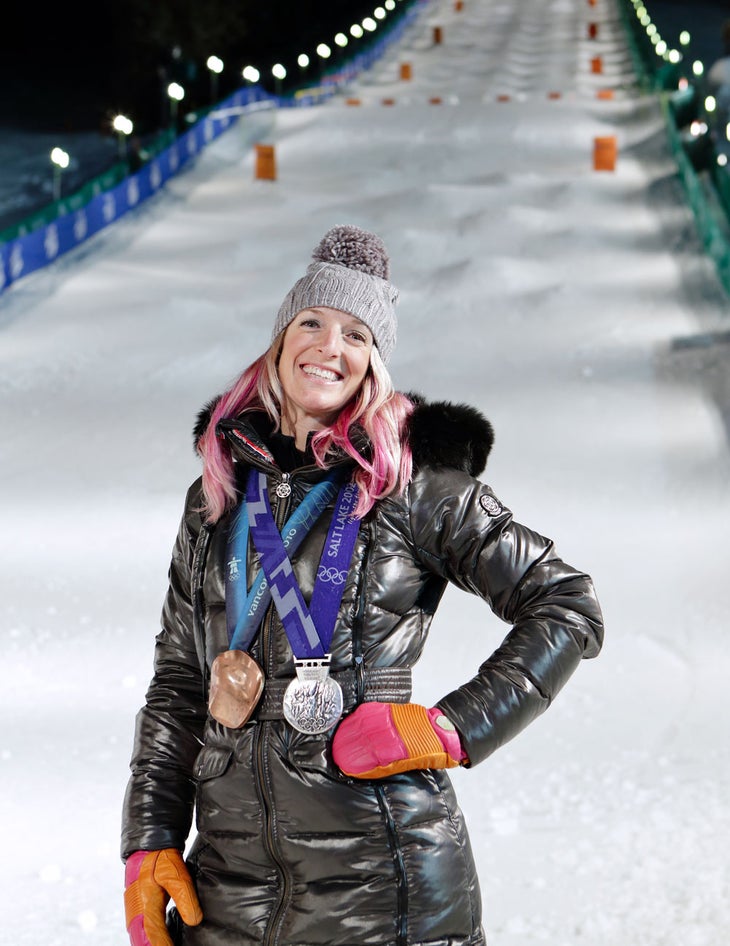 She grew up in Lake Tahoe, California, skiing with her family from the age of 3. "I loved everything about skiing," she says. When she was 12, the head coach of the freestyle team approached her and asked her to join the team.
"I thought that was the dumbest thing I'd ever heard of," she laughs. "Bumps are what I avoided when I skied. And I was terrible at it."
But after months of persistent encouragement, she finally gave in. "I told him if he'd just leave me alone, I'd try it," she says. "And then I fell in love with it."
She appreciated the complexity of it—a combination of style, speed, skill, and strength. "When I got bored with one aspect of it, I'd get excited about another. And I got to leave school every day at noon, so what's better than that?"
She kept at it, working her ass off to try to emulate what the best girls were doing. Eventually, she started winning regional competitions, got invited to junior nationals, then nationals, and in 1998 she moved to Utah with hopes of making the U.S. Ski Team, which she did that very year.
"I worked really hard. Having the opportunity to work with professional coaches, get year-round training, get assistance with the financial burden—these things helped me flourish. I had my own strength coach who helped build programs just for me. It was something you just dreamed about."
Her work paid off, landing her on the Olympic team in 2002, where she brought home the silver medal. "I still can't believe it," she says. "I was just this little girl who sucked at mogul skiing, and then I was up there representing my country. And to win a medal there—I still can't believe it."
Of all her many accomplishments, she's most proud of her 2010 bronze medal in Vancouver, because she had to fight so hard to overcome two knee injuries and a broken jaw to do it. "I loved winning a medal here in Salt Lake City, but to be able to accomplish that feat again eight years later is something that I'm extremely proud of."
She credits her training and fitness, which she continues even in retirement, every day. "Fitness is everything. I think that so many people have this black cloud around fitness. They think about it as something that helps you get skinny. They hate being in gym or don't want to get big muscles," she says. "I just wish everyone thought of being active as a way of life. It really has given me everything."
Sign up for Bahrke's online Ultimate Ski Fitness course—that you can do at home—and get a jump start on your season.