Prove Yourself in the Bumps at These Resorts
Think you're an expert skier? These moguls will be the judge of that.
Heading out the door? Read this article on the new Outside+ app available now on iOS devices for members! Download the app.
We get it, bumps are hard—unforgiving even. They take pride in making skiers look bad. And what's worse, they're usually located right under the chairlift, giving lift riders ample opportunity to distinguish (and judge) the skiers thriving, or just surviving, in the bumps. There's no faking sound technical skills in the moguls, which is why they're the ultimate proving ground. If you call yourself an expert skier, put yourself to the test in these classic bump runs. They'll decide if you speak the truth.
Winter Park, Colorado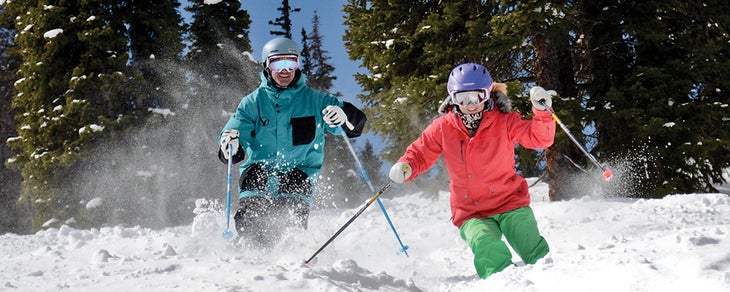 First things first: The best bumps are at Mary Jane, not Winter Park. The Jane has its own exit from the highway, its own base complex, and its own special brand of abuse–it's one of the few ski areas that's truly a mogul resort. Mary Jane is about facing your worst fears. It's a shame the trail map is only 2D: Most of the mountain has tighter zippers than Catwoman's suit and a bolder relief than Roosevelt on Rushmore. Thanks to the talented local bumpers, the lines are true and uniform. And long. And relentless. Beware: If you're a gaper, you'll hear about it from the lift. The names tell the story: Railbender. Outhouse. Boiler. Way back when, Mary Jane was a local lady of pleasure who received land from railroad workers as payback. Her domain has held true: rough, wild, and just plain gratifying.
Heavenly Ski Resort, California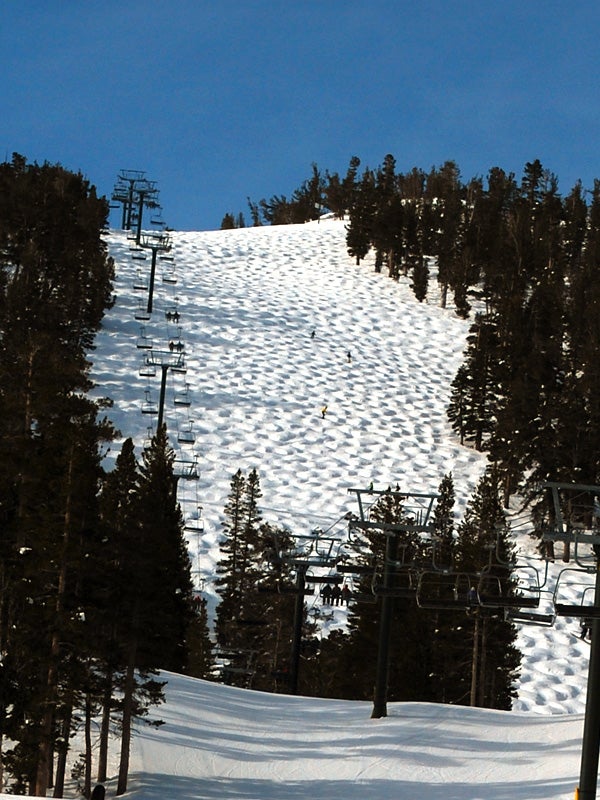 Shake up your morning groomers routine and charge hard on moguls next time you visit Heavenly. Consider this while you're on them: Legendary bump skiers like Glen Plake and Jonny Moseley made their name on the Heavenly bumps. Epic runs like Gunbarrel are littered with pros testing their skills (and their knees). Stop by to check out their abilities and to test yourself. 
Bonus: Every Spring Plake hosts the Gunbarrel 25 where skiers attempt to finish 25 runs on the 1,800+ foot vertical run before the day is done. Skiers who practice all season and flock to the bumps late in the day are called "Face Rats," named for the top section of the run, the "Face." 
Killington, Vermont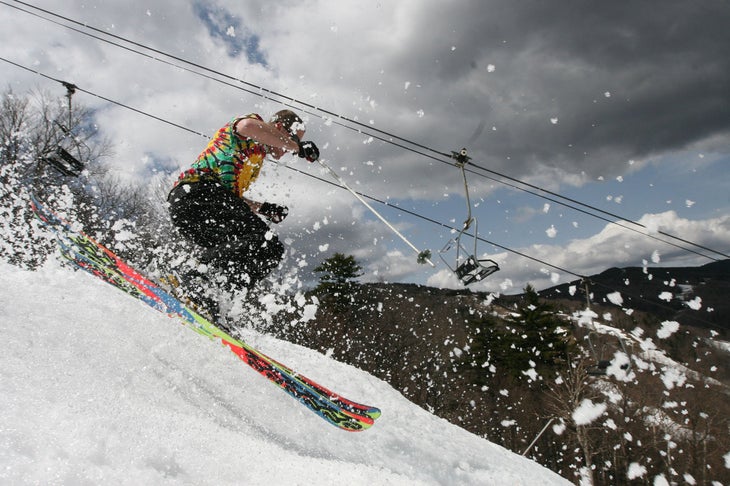 Outer Limits is perhaps the most ornery bump run in the East. A half-mile in length, it drops nearly a quarter-mile in vert and has served as a stomping ground for Donna Weinbrecht, Hannah Hardaway, and Evan Dyvbig. How did those guys get so damn good? By skiing Killington. It's where the hardest of the bump corps crunch big, granite-hard moguls, jam deep rut lines, and pound the 1,200 feet of Outer Limits under a chairlift audience. 
Stein's Run, Sugarbush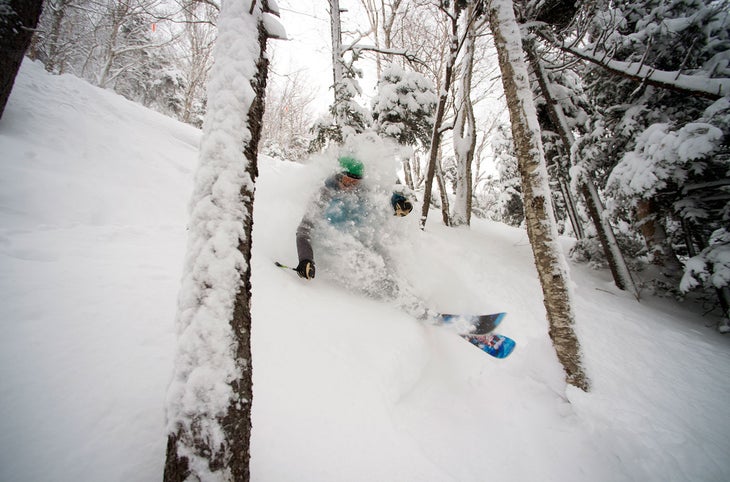 You haven't been punished till you've hammered Eastern moguls like Stein's Run, named for legendary skier Stein Eriksen. That man must have been a truck-drivin' man…it's Mack all the way. Why it rips: At first glance, the consistently steep and arrow-straight swath practically begs to be skied fast and loose. Don't be fooled. Those bumps at Sugarbush could hide a hippo. 
Squaw Valley, California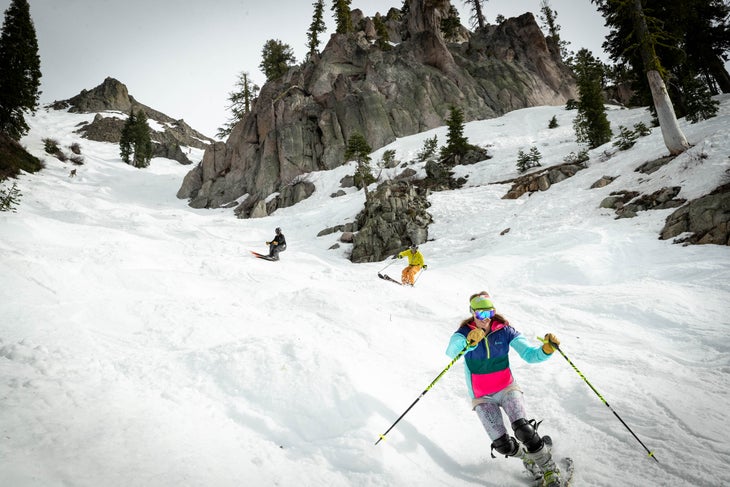 It's no coincidence that mogul champ Jonny Moseley hails from Squaw. This mountain is seething with kick-ass skiers, so even the steepest runs get bumped out, whether the moguls are widely spaced in open bowls off Headwall or tight and off-kilter in the gullies and chutes of Olympic Lady. You could spend all day on KT-22, but only if you can handle Chute 75 and West Face, both tilted to 45 degrees. Locals challenge: Lap KT-22 on closing day and see how many Chute 75 runs you get in by the closing bell at 6 p.m. 
Sun Valley, Idaho
In a few words: Consistent. Long. Perfect. Sun Valley is renowned for inverted-egg-carton mogul runs like Holiday (pictured) and Exhibition. It has bumps as high as your waist and as tight and even as a plastic surgeon's stitches.
Taos, New Mexico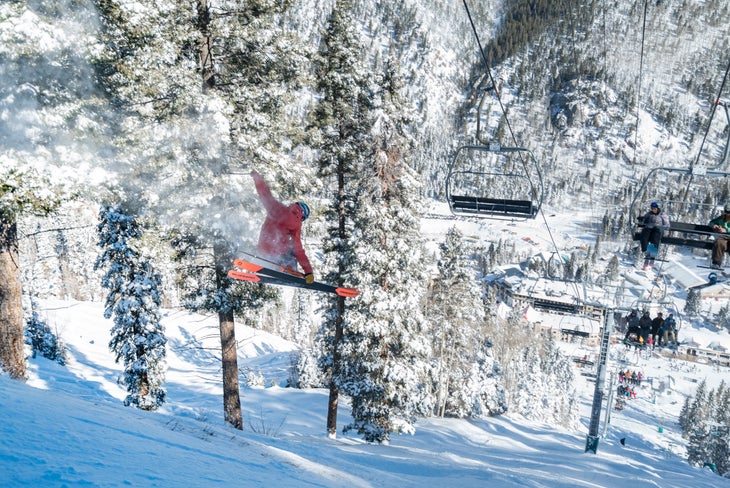 At Taos, the snow is dry and soft, and the runs are steep. The most notorious bump fest, Al's Run, drops 2,000 feet straight down the fall line to the base, under the ski area's brand new lift, upon which every rider will be on wanting a good show. It's do or die (of shame) on Al's. 
Ready to shred these famous runs and impress everyone watching? SKI Magazine teamed up with the Professional Ski Instructors of America (PSIA) to design the online course "How to Ski Bumps" to give intermediate to expert skiers the skills, tactics and technique they need to crush moguls. Enroll and get in-depth, step-by-step instruction from Michael Rogan and professional skier Marcus Caston to help you break through in your ability to ski—and enjoy—skiing's toughest terrain. Learn more at aimadventureu.com.