Road Warriors
Keep your mind off the snow and your legs in shape by competing in one of these summer cycle races.
Heading out the door? Read this article on the new Outside+ app available now on iOS devices for members! Download the app.
Suffering from end-of-the season blues? One of the best coping mechanisms we've found is hopping onto the saddle and riding in a race. Cycling not only distracts you from the melting snow pack, it keeps your quadriceps, glutes, hamstrings and calves in shape. Plus, cycling is a low-impact sport so you can give your knees some rest after bashing bumps all season. Here's a sampling of races, from serious to silly.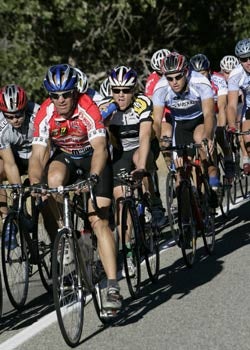 Trek Across Maine: June 15-17
Get in shape and gain good karma by benefiting the American Lung Association in Trek Across Maine. Starting at Sunday River ski resort, participants race approximately 60 miles per day for three days and conclude in Belfast. Races can campout in the countryside each night or bunk in the fieldhouse at either University of Maine-Farmington or Colby College. Participants must raise a minimum of $500 to compete.
Race Across America (RAAM): June 12-25
Think you're the Forrest Gump of cycling? Then prove it in "the world's toughest bicycle race." Literally ride from coast to coast in this 3,000 mile expedition starting in Oceanside, Calif. and ending in Annapolis, Md. Adding to the insanity, RAAM isn't a stage race so the longer you break, the slower your time. Thankfully you can race in teams but if you want to be a true Gump you'll go it alone.
Race Across the West (RAW): June 13
There's no shame if you're not cut out for RAAM. You can compete in the shorter (850 mile), but nearly as challenging Race Across the West instead. The course starts near the beaches of Oceanside, Calif. and ends in the mountains of Durango, Colo.
Georgia Cycling Gran Prix: July 25-29
Whether you're an amateur cyclist or a Lance Armstrong wanna-be, the Georgia Cycling Grand Prix will challenge you. Six different races over a five-day span will take you through the deep south and Georgia countryside. Participants can win up to $9,000.
Tour de Nez: July 27-29
This year marks the 20th anniversary of the Tour de Nez—a giant, weekend-long event in Reno, Calif. that attracts professional cyclists, families, and those looking to get a little crazy. Labeled "a celebration of all things cycling," the Tour de Nez offers numerous events including a men's and women's pro criterium, handcycle races, kids' races and parties every night. If you're looking for an event to let loose and coast, this is it. 
Copper Triangle: August 4
Experience the Colorado Rockies on something other than skis in the Copper Triangle cycle tour. This 78-mile loop climbs three different passes with a total elevation gain of 5,981 feet. The course starts and finishes at Copper Mountain resort and passes through Vail and the historic mining town of Leadville, Colo. 
LOTOJA Classic: September 8
Put your stamina to the ultimate test in the LOTOJA Classic. If you can make it through the first 110 miles which climb three different mountain passes, the rest of the ride will seem like child's play. The race starts in Logan, Utah, winds through eastern Idaho and ends in Jackson Hole, Wyo. If you can trek the 206 miles and climb 9,738 feet in one day, you'll gain enough bragging rights to be deemed king of the road.