Pros Turn to Yoga to Improve Ski Performance on the Mountain
Check out SKI Mag's Yoga for Skiers online course and get prepped for the season. Or just look and feel better.
Heading out the door? Read this article on the new Outside+ app available now on iOS devices for members! Download the app.
We all ski because we love the rush. We love the speed. We love the torque of a perfectly carved turn on freshly groomed cruisers. We love the feel that approaches zero-gravity flight when we float through deep powder.
But far removed from that high-energy, adrenaline buzz is skiing's perfect foil: yoga. Where skiing is fast and immediate, yoga is slow and thoughtful. In recent years, professional skiers—from freestylers to racers—have discovered both the physical and mental benefits of regular yoga workouts. The two sports' philosophies diverge, yet skiing's physical demands synch up with the counter-movements of yoga.
Perhaps the biggest benefit is injury prevention. Skiing asks a lot from your body—cold, stiff muscles are called upon to perform a variety of complex and precise movements, instantaneously—and often right after your first cup of morning coffee.
To improve your skiing, balance, strength and endurance, flexibility, and mental focus and concentration are all a must, and work together to get you down the mountain. This is where yoga kicks in, helping you improve in all those key areas.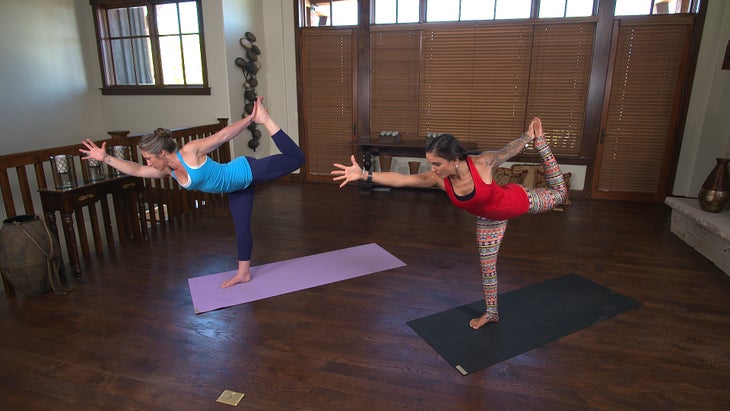 Here are some simple tips from Ashley Battersby, a professional skier, member of the U.S. Ski Team, and certified yoga instructor, on how to conveniently fit yoga into your life, whether you're home or on the road at your favorite resort:
Instead of traveling with your yoga equipment (or even buying some), you can use your ski boot or helmet instead of a block; your belt or a bath towel for a strap; and use a water bottle or tennis ball instead of a foam roller to "melt" the fascia.
Even on a great ski day, many people experience a post-lunch slump. Instead of heading back out immediately after cooling down, develop a 5-minute flow or do a sun salutation to loosen up your muscles before making more turns.
When you get off the slopes and feel sore or stiff, make sure to roll out the "kinks" and tightness with your foam roller, water bottle, or tennis ball.
If you're anxious about a big ski day, practice slowly breathing in and out through your nose while laying in bed. Slowing down your breath and trying to elongate it will help your mind relax. Plus, the more oxygen you bring into your body, the faster your body will recover.
Even if you're in a rush to grab first tracks, at least do a few dynamic stretches or yoga poses to get your muscles prepared for skiing. And remember to do at least a few static stretches to cool down. It'll help you recover faster and be prepared for another day on the slopes.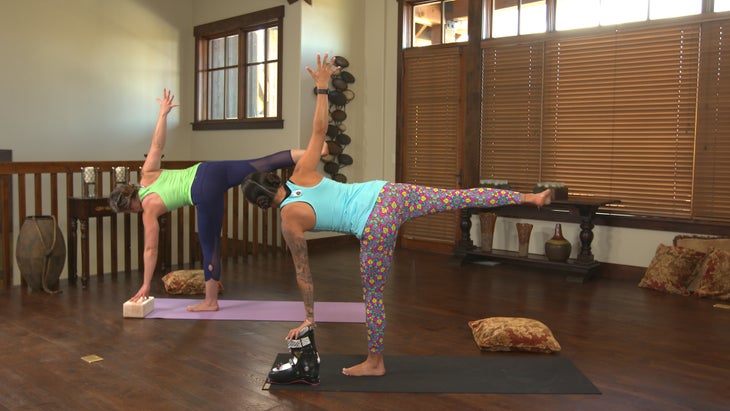 Learn more on how to improve your skiing from Yoga for Skiers, a 15-session online course you can take anywhere, anytime, and as often as you choose. The course will improve your skiing—and probably your attitude—on and off the slopes.