Use Tough Days on the Slopes to Your Advantage. Here's How.
Whether you're an aspiring racer or a weekend warrior, you're not always going to bring your A-game. And that's perfectly ok.
Heading out the door? Read this article on the new Outside+ app available now on iOS devices for members! Download the app.
Not all days on the slopes are created equal. On some days you feel like Mikaela Shiffrin cornering a turn at 75 miles per hour, and on others you're single-handedly hosting a killer yard sale. You might think you've wasted a ski day, but those moments are actually far more beneficial for you than you may think.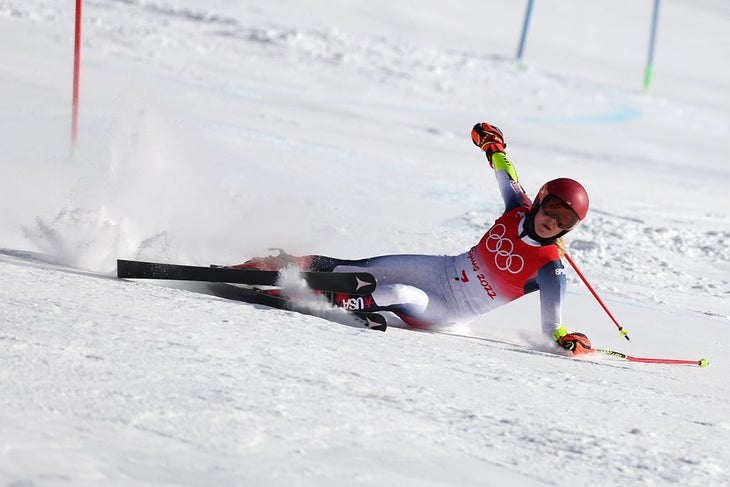 Dr. Alexander Cohen is the Senior Sports Psychologist for the U.S. Olympic and Paralympic Committee, so he sees plenty of success—and failure—on snow. He shares some of his most useful observations and advice with SKI about how you can turn your worst ski days into crucial learning moments.
Use stress to your advantage
When you're skiing under the lift or your friend pulls out a drone, it's not unusual for the technique to go out the window. While you can't guarantee a performance that will have you called up by the Olympic team, you can conquer the ability to focus under pressure. "I frequently tell athletes that the key to confidence and consistent performance isn't knowing they'll win every contest or never get injured; rather, it's knowing they can aim their attention regardless of distractions," says Cohen.
According to Cohen, you don't need to feel great to ski great. "It's not necessary to remove stress to perform well," Cohen says. "But if you want to consistently ski well under pressure, you need to be able to focus on the right thing, at the right time, every time." He says that one way to hone these skills is with meditation practice as it teaches awareness, acceptance, and attention. 
Create a flexible mind
When your friend lands a trick and you can't, it's normal to draw comparisons. But the next time you find yourself doing this, Cohen recommends you remember the concept of workability. You don't need to block thoughts out of your head, you just need to respond to them with flexibility.  "The thought [you're having] is probably not very helpful for your performance," he says. "Aim your attention at some aspect of the trick you can improve, such as having a stronger takeoff instead of rushing the jump." 
Stop calling it a bad day on the slopes
Cohen says you should never call it a good or bad day on the slopes. "It's better to describe the performance in ways that give you a more genuine sense of control. For example, 'It feels like I need to get more forward and pressure the ski tip at the top of the turn.' Describing rather than judging the performance also helps to identify specific technical and tactical skills to work on next time you're on skis."
Find the stillness within the storm
The doctor might have given you the okay, but you remember the pain and shock of your last crash and are not ready to repeat the experience. What's making you hold onto fear after an injury, says Cohen, is a cocktail of neurochemicals and hormones coursing through your body.  One of these is known as adrenaline, which kickstarts your "fight or flight" response. "It can fuel excellent performance, [but] it can also disrupt the smooth execution of motor skills if an athlete responds to it in panic," says Cohen. However, with mindfulness training, it's possible to create "stillness within the storm." 
Cohen said that Olympic and Paralympic skiers use a two-step process to work through fear or distracting thoughts. First, they accept how they are feeling, then they direct their attention to a task—one that's external to their body. "It's common for athletes to try and regain control by focusing internally on their body movement (such as trying to control your hip angulation), but [this] often leads to choking and disrupted performance," Cohen says. "Shift to an external focus, such as 'drive the outside ski' or 'pressure the ski tip.'" 
Know that bad weather can actually help you 
If the light is too flat and the wind is coming at you sideways it might seem like a reason to call it a day, but according to Cohen, these environmental challenges can help you. It's called constraints-based learning. "Sports coaches deliberately manipulate tasks or environmental constraints during practice, allowing performers to explore a broader range of movement patterns and perceptual information," says Cohen. "Encountering these types of challenges is an excellent way to improve your skiing." 
Recognize when you need a day off
They say you need to put in 10,000 hours to master a goal, but a day off is just as necessary. "It's important to recognize that active recovery isn't being lazy, it's a vital part of your training and performance," says Cohen. "Active recovery is unique to every individual; it might be getting coffee with friends, going for a light jog, doing yoga, or binge-watching your favorite show." Cohen says that if your ski buddies notice you seem to be more irritable than usual, you might benefit from some downtime. You'll come back to the slopes refreshed, stronger, and ready to send it.