16 Resorts Where The Skiing Is Still Going Off This Spring
It feels a lot like winter at the ski resorts that are still open. Here's where and when you can make turns this spring.
Heading out the door? Read this article on the new Outside+ app available now on iOS devices for members! Download the app.
It's almost May, but no one has let Mother Nature know. At the resorts that are still open, it looks and feels like mid-winter, and late-season skiers are reaping the benefits. In other words, roll the mountain bike back into the garage and put down the golf clubs; there will be plenty of time for that this summer. But for now, let's go skiing! Here's where the lifts are still spinning, and when the resorts plan to stay open until, conditions permitting.
Haven't Bought Next Season's Pass Yet? We Can Help: SKI's Complete Multipass Buyer's Guide
Where—and When—You Can Still Ski This Spring
California
April snow bolstered the previously melting bases at the handful of resorts still open, but May looks pretty mild and warm.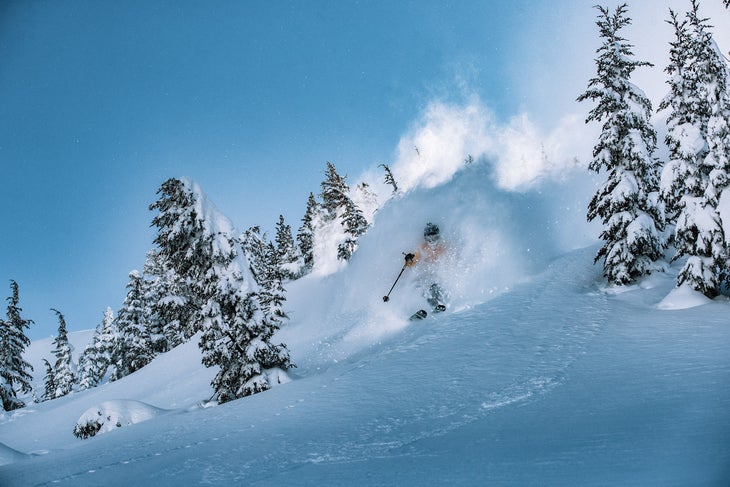 Palisades Tahoe
After a fairly sad ski season snowfall-wise, the Lake Tahoe resorts are approaching record totals for April, with Palisades Tahoe reporting 43 inches on the upper mountain as of April 23. This burst of accumulation prompted the resort to announce that it's extending its season to May 15, and will consider staying open longer if conditions call for it. They will be moving to weekend-only operations on May 1, so plan accordingly.
Mammoth Mountain
Mammoth has benefited from the same spring storms as its Tahoe neighbors to the north, and is planning to stay open through May 30. There's been about three feet of accumulation this month, solidifying the base and keeping the slopes open from top to bottom. Canyon and Eagle Lodges are closed, so plan to basecamp out of the Main Lodge for the remainder of the season.
Kirkwood Resort
With 24 inches of snow reported late last week, Kirkwood has also been going off this month. Although the mountain is only open until May 1 (extended from its original closing date of April 10), almost all lifts and trails are open and skiing like a dream.
Utah
The snowpack is 70 percent of the average for this time of year thanks to a series of April storms.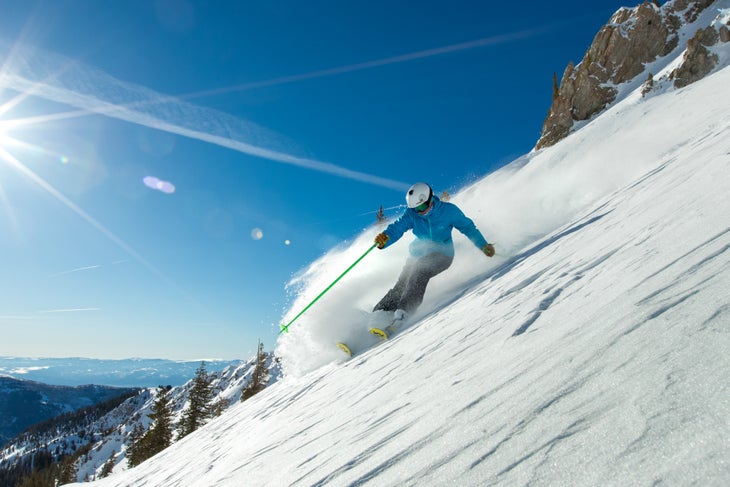 Snowbird
Neighboring Alta just closed this weekend, but Snowbird is still going strong after a storm dropped 20 inches feet Friday and Saturday, making it a season total of 410 inches to date. See the schedule of spring operations here, and know that the resort moves to weekend ops on May 6, with Peruvian, Peruvian Tunnel, Mineral Basin, and Little Cloud spinning, based on conditions, through May 30.
Solitude
You have through this weekend to shred at Solitude, and that late-spring bounty sure has the Big Cottonwood Canyon ski area riding fine. Closing day is May 1, and as of this morning, seven of the eight lifts are still open, and 72 of the 82 trails, with a total season accumulation of 387 inches—10 in the last two days. Not too shabby.
Colorado
It's been a wintry April in the Rockies, where five resorts are still going strong, three of which plan to be open through May.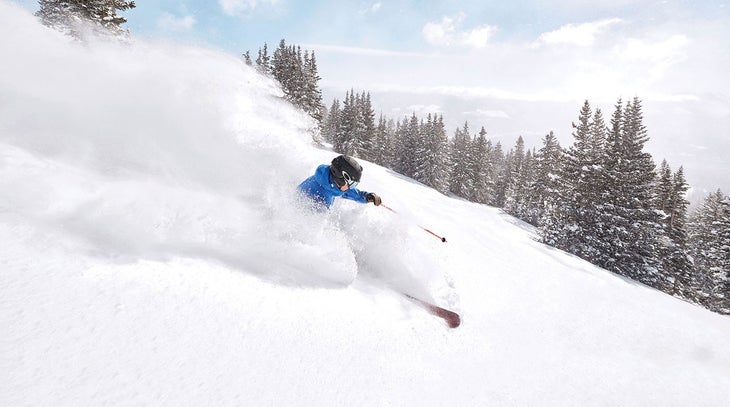 Breckenridge
Breckenridge moved to spring operations on April 17, but you wouldn't know it by the conditions. Around 17 inches of snow has fallen over the last 48 hours, bringing the season total to 287 inches. Spring ops means that there's access to 1,000 acres of skiing across the high-alpine terrain of Peaks 6, 7, and 8 served by 6 lifts. Note that there's no green terrain on offer. The resort intends to stay open until May 30. If you're planning to go, read this first about what's open, where you can park, and other spring details.
Loveland
The closest major ski resort to Denver is planning to close on May 8, and if you buy a season pass now, you can ski the rest of the season. Loveland has gotten two feet of snow in the last two days, and is currently running six lifts.
Winter Park
Although the Winter Park side is closed, the Mary Jane side is still riding great, with no solid closing date announced. ("If there's snow, we will be skiing and riding.") There's been 15 inches over the last week, with 62 trails and six lifts open. If you didn't buy an Ikon Pass for this season but you just bought one for next, this is one of the resorts with spring access.
Vail
Vail Mountain extended its season to May 1, which doesn't give you much time. Despite the fact that nearly a foot of new snow fell over the last 48 hours, operations are definitely winding down, so be sure to check terrain status before you head out. The back bowls are all closed, but there's still good skiing out of Lionshead, Mid-Vail, and the village.
Arapahoe Basin
A-Basin will be the last resort spinning the bull wheel in Colorado, with an expected closing date in mid-June. With 17 inches over the last three days and a season total of 207 inches to date, it's powder conditions across the slopes. All lifts are running, and this is a great time to hike the East Wall and or check out the newish Steep Gullies, as coverage is prime.
Vermont
The season is pretty much over, but there's still one holdout for East Coast skiers.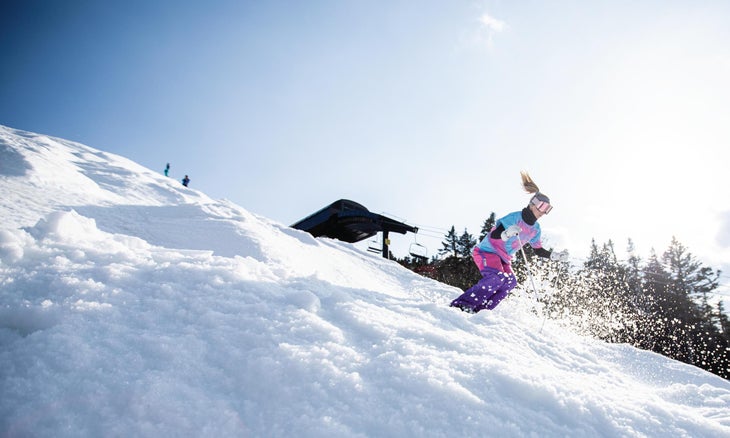 Killington
Killington is still holding on, but things are winding down fairly quickly despite eight inches of snow in the last week. The resort's Conditions and Weather page does a great job of laying out what's still open and how to navigate it. Projected closing day is sometime in mid-May.
Washington and Oregon
There are a few more resorts open through the coming weekend, but the clock is ticking on ski season in PacNW.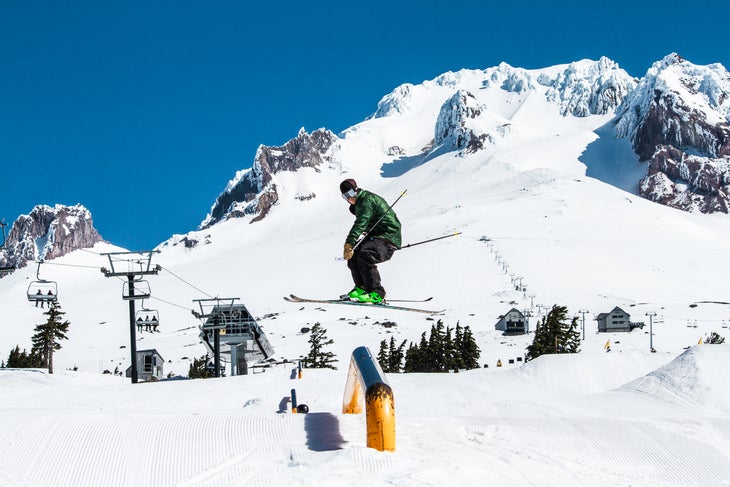 Stevens Pass, Wash.
It's been an incredibly snowy April for Stevens Pass, with 25 inches falling in the first week of the month. The resort plans to close on May 1, having already extended its season. Things are winding down, though. The best place to find out what's operating is on the Stevens Updates Twitter page.
Mt. Bachelor, Ore.
Spring ops are in full swing at Bachelor, with lifts running from 8:30a to 1:30p daily. The mountain has reported 12 inches over the last week, with a base of 92 inches, so the resort is still skiing nicely. Skier services are limited, check here before heading over to find out which parking lots are open and other useful info. The planned closing date is May 29.
Timberline, Ore.
It's business as usual at Timberline, which always stays open for late-season skiing and even into summer for ski camps and freestyle training. Closing date for the ski area is May 30; the cheap Spring Pass gets you unlimited riding until then. Almost all lifts and terrain is currently open, and the mountain is reporting a total of 522 inches of snow that has fallen since Sept. 1.
Western Canada
Got a road trip left in you? A couple B.C. and Alberta resorts are still cranking it out.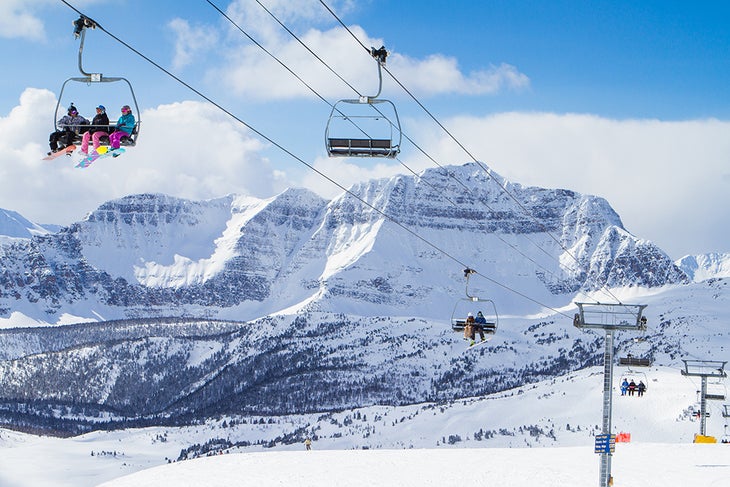 Whistler Blackcomb, B.C.
The Whistler side is closed, but there are plenty of turns to be had on Blackcomb, with 28 inches reported over the last week and more on the way. There's about 44 percent of the terrain open, but that's still a lot given the total skiable acres here (8,171). It's smart to follow the resort's operations updates on Twitter before heading out. Closing day is May 23.
Banff Sunshine, Alb.
Only eight inches have fallen over the last week, but the base here is 336 inches and more snow is on the way this week. Banff Sunshine has all lifts operating and 126 of its 139 trails, which is pretty impressive this late in the season. Again, mountain ops' Twitter account has the best insights on what's open and what's skiing nicely. Closing day is May 23.