9 Resorts Where Beginners Can Ditch the Base Area and Enjoy Mountain Views
There are bunny slopes, and then there's mountaintop learning terrain and winding summit trails that teach and inspire.
Heading out the door? Read this article on the new Outside+ app available now on iOS devices for members! Download the app.
January is national Learn to Ski and Snowboard Month—what better time than the present to explore which resorts have the best learning terrain.
Now, we're not just talking about your typical bunny slope; all ski areas have at least one of those. Several ski resorts, though, go beyond the expected to serve up elaborate learning pods, some even at mid-mountain or even the summit.
Level Up: These are the 10 Most User-Friendly Skis of 2023
While it's true that novices need only a gently pitched slope and a patient instructor to learn to ski, doing it in an inspiring setting certainly helps beginner skiers grow roots in the sport. To that end, these resorts let new skiers really experience the mountain, regardless of their skill level.
9 Resorts With Exceptional Beginner Terrain
Beaver Creek Resort, Colo.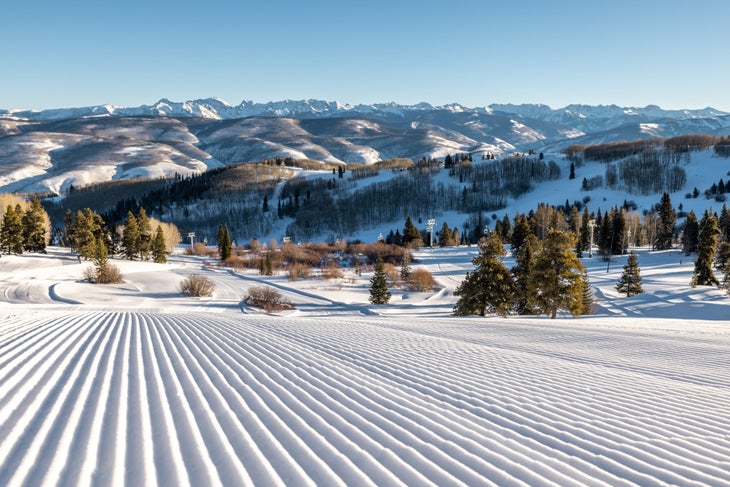 Overall beginner terrain: 19 percent
In addition to its standout overall guest service, what sets Beaver Creek apart for beginners and novice skiers is its three dedicated learning areas: Haymeadow Park, Red Buffalo Park, and the new-last-season McCoy Park. Each of these pods has its own lift—Haymeadow actually has a gondola—that serves gentle slopes insulated from the rest of the mountain, so beginners are less likely to get buzzed by speed demons. Haymeadow is at the base, but Red Buffalo and McCoy get novices up onto the mountain where they can enjoy the views and pristine mountain vibes that bring us back season after season.
Buttermilk Mountain, Colo.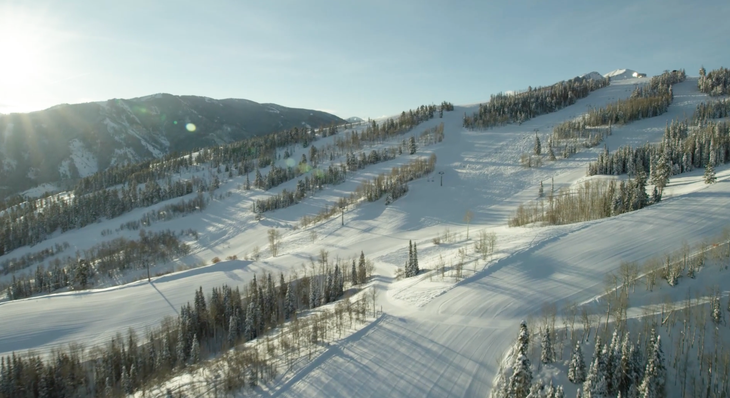 Overall beginner terrain: 35 percent
Buttermilk is the mellowest of Aspen Snowmass's four mountains, pretty much entirely designed for beginners to have a place to themselves. The entire trail map is a web of green runs with a few blues and blacks wound in, so learners can get their ski legs under them on Panda Hill, at the base, then feel comfortable leveling up to the Summit Express or testing their new skills on the beginner trails off the West Buttermilk Express. Buttermilk also just unveiled its new base area this season, with much easier-to-navigate rentals and skier services center. 
Heavenly Mountain Resort, Calif.
Overall beginner terrain: 35 percent
This place known for its incredible Lake Tahoe views didn't squander the opportunity to hook beginners with said vistas. Heavenly's top-of-the-gondola beginner area is an inspiring place to click into skis for the first or 50th time, with its own two short chairlifts and a magic carpet, plus easy access to the Tamarack Lodge. Bonus: The tubing hill and mountain coaster are up there too, so if the ski legs get weary, there are options.
Whiteface Mountain, N.Y.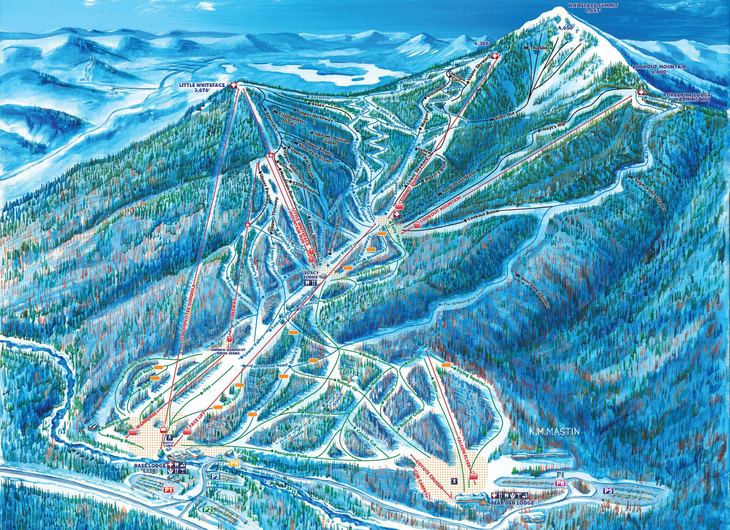 Overall beginner terrain: 22 percent
Whiteface's entire lower mountain is a green criss-cross served by quad chairs and conveyor lifts, giving beginners a wealth of options to choose from. For never-evers, the base area Coyote magic carpet is a great place to start, then skiers can graduate to the Falcon Flyer quad for longer and slightly more pitched bunny slopes. Whiteface also offers great progression opportunities off the Face Lift chair, so when the learning area is conquered, trails like Bobcat, Boreen, and Easy Street get novices up on the mountain to soak in the unfettered Adirondack views the resort is known for. 
Okemo Mountain Resort, Vt.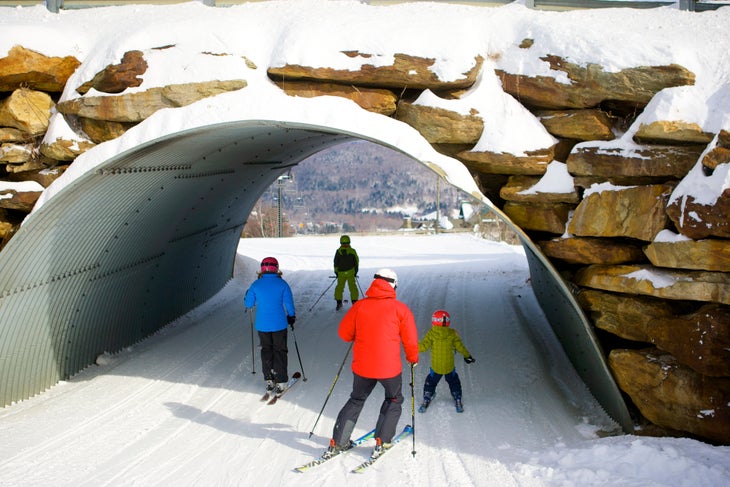 Overall beginner terrain: 32 percent
No shock here that Okemo is a great place to learn how to ski, but what makes it ideal for beginners is its two separate bunny hills, one at each base, both served by multiple chairlifts and conveyor belts. The larger area is at the main base village, and we like it for its two dedicated quads that serve a handful of long (for a bunny slope) trails that give novices a chance to really link turns. Right in the middle sits the Sugar Shack, where you can snowplow in for a waffle pick-me-up.
Steamboat Resort, Colo.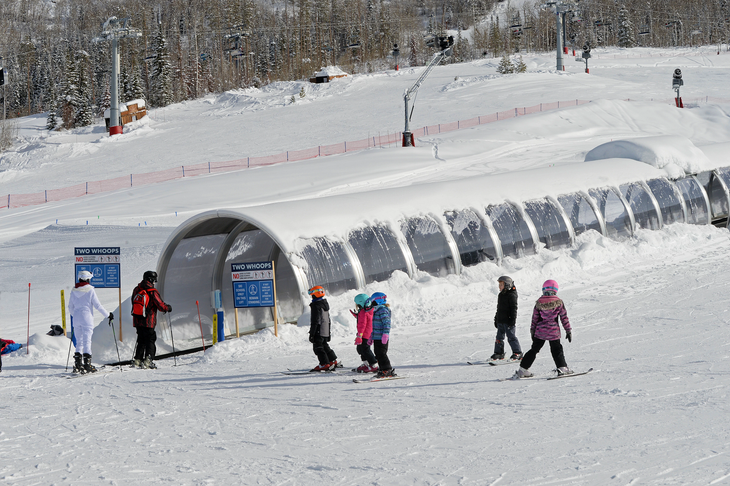 Overall beginner terrain: 14 percent
Steamboat has been investing in elevating its beginner experience, and this season novices can reap the rewards. The new-this-year Wild Blue Gondola deposits skiers at Greenhorn Ranch, a new mid-mountain learning area served by its own high-speed lift, the Greenhorn Ranch Express. This insulated new terrain comprises a gentle, wide-open slope that funnels down into a half-dozen or so green runs that end at the base. And to add some inspiration for the newbs, next winter the Wild Blue Gondola will continue up to Sunshine Peak, where new intermediate terrain will give them something to aim for.
Big Sky Resort, Mont.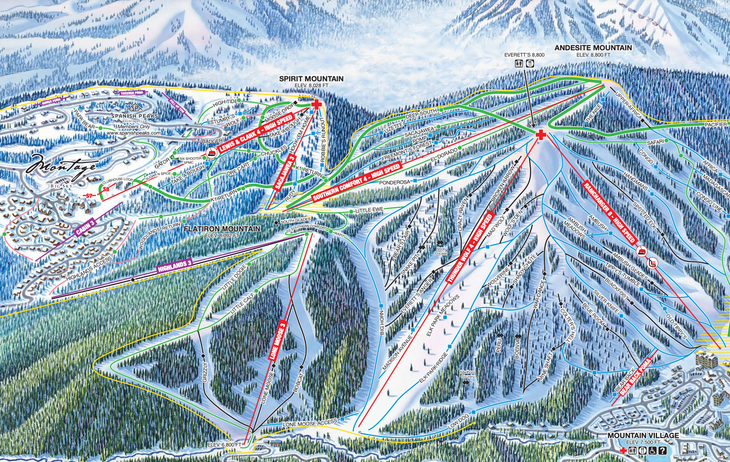 Overall beginner terrain: 23 percent
Surprised to see this one on the list? Many people are. But in addition to having some of the gnarliest expert terrain in North America on Lone Peak and the Headwaters, Big Sky is actually home to miles and miles of mellow trails that wend through the woods and back down to their respective high-speed quads. Not learning terrain per se, but the beginner runs off the Lewis and Clark and Southern Comfort quads are perfect for novices fresh off the bunny slope and ready to build their endurance on some longer trails.
Camelback Mountain, Pa.
Overall beginner terrain: 39 percent
Camelback's extensive beginner terrain and manageable size make it a great learning option. The two base area learning slopes get the job done thanks to four chairlifts and an additional couple of carpet lifts, but what we like best about Camelback for novices is its wealth of long, winding, gentle greens off of the Marc Antony and Black Bear lifts. Runs such as Julius Caesar and Birches provide the kind of expansive, Pocono Mountain views that turn recreationalists into passionate, lifelong skiers.
Dollar Mountain at Sun Valley, Idaho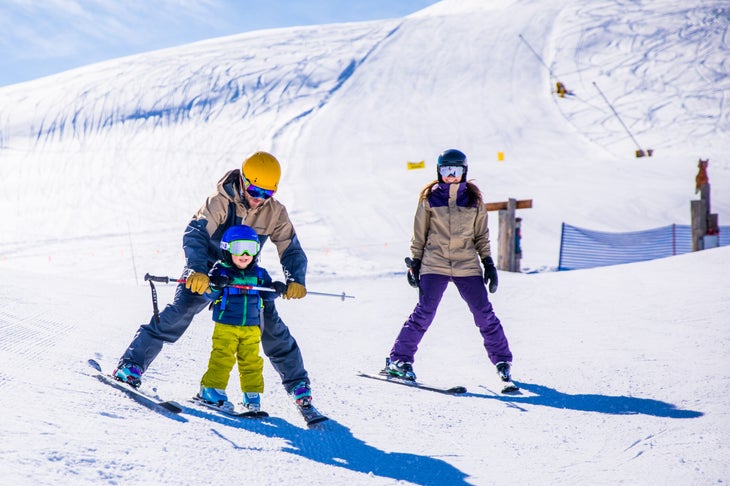 Overall beginner terrain: 63 percent
No, this isn't a brand-new resort you've never heard of. Rather, Dollar is the beginner hill that's part of Sun Valley, separated by the latter's main slopes by about two miles. The great thing about Dollar is that it was designed for beginners, so they don't have to worry about looking inexperienced or high-speed collisions with more seasoned skiers. There's a traditional learning area off the Half Dollar lift, but Dollar's strengths lie in its open, bowl-like layout, not something we see often in beginner terrain. The green runs of the Elkhorn triple and the Dollar high-speed quad are gentle, rolling slopes perfect for both getting to the next level and falling in love with the sport in the process.