How to Fly for a Weekend Ski Trip and Still Survive Monday
SKI's travel expert offers on tips how to enjoy quick weekend getaways with fewer travel hassles and more powder turns.
Heading out the door? Read this article on the new Outside+ app available now on iOS devices for members! Download the app.
Outside+ members get exclusive access to SKI's "Ask the Traveler" series. Join Outside+ to get expert advice on all things ski travel-related from our travel-tested Senior Content Producer, Samantha Berman, who's skied all over the globe. Send your travel questions to editor@skimag.com.
Q: I'm hoping to plan several quick weekend ski trips next season from my home near Los Angeles. Which resorts are closest to major airports?  —Andrew H., Glendale, Calif.
A: The conventional wisdom on weekend ski trips by plane is 1) choose a major airport 2) fly nonstop, and 3) rent a car. The point being that you want to cut down on time spent getting to the slopes and maximize time on them while not spending an arm and a leg on such a short trip. Some of that advice is still accurate, but things are changing slightly in this world where the pandemic is waning and travel is ramping up. Spoiler: Flying into smaller regional airports just might save you time and hassle, and not cost very much more in the long run. We'll take a look at both options below, and you can decide which works best for you.
Flying Into Metropolitan Hubs
LAX to Salt Lake City: Multiple airline and flight options; affordable fares; quick and convenient access to multiple ski resorts
LAX to Reno-Tahoe: Multiple airline and flight options; quick and convenient access to multiple ski areas
LAX to Denver: Multiple airline and flight options; travel from the airport to ski resorts is not as quick or convenient due to I-70 traffic
But first, let's consider larger airports. Flying into a major international airport can keep costs down, give you some flexibility around flight times, and offer better rental-car options. To that end, you simply can't beat Salt Lake City International Airport for accessibility and efficiency. Technically, Little Cottonwood Canyon's Snowbird is the closest to the airport, at 33 miles, and Alta is located right next door. What's more, the airport unveiled some major upgrades last spring, making an already efficient airport even more user-friendly.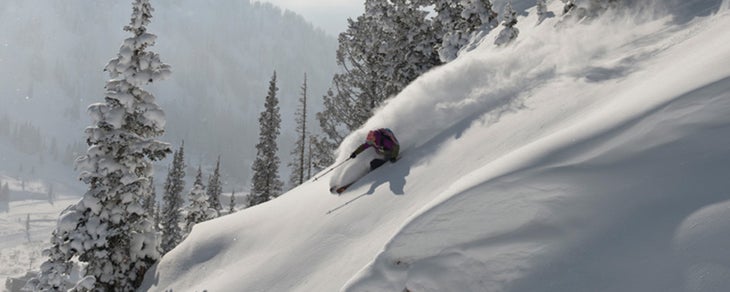 Next-door in Big Cottonwood Canyon, Solitude and Brighton are two additional convenient options, and are likely to be less crowded than the Little Cottonwood Canyon resorts. But if having more powder to yourself is equally as important as convenience—you're willing to go just a bit farther—consider Snowbasin (47 miles from the airport) or Powder Mountain (63 miles).
Related: Where to Sleep, Eat, Drink, and Play in Squaw Valley Alpine Meadows
Tahoe is another region to consider thanks to Reno-Tahoe International Airport's proximity to several Nevada and Lake Tahoe resorts. Mt. Rose is 23 miles away—less than a half-hour drive from airport. It's slightly farther to Tahoe's North Shore resorts, but not too much: 42 and 47 miles, respectively, to Northstar and Squaw Alpine. Traffic is the unknown factor here. If you hit it right, you can be checking into your hotel within an hour of leaving the airport.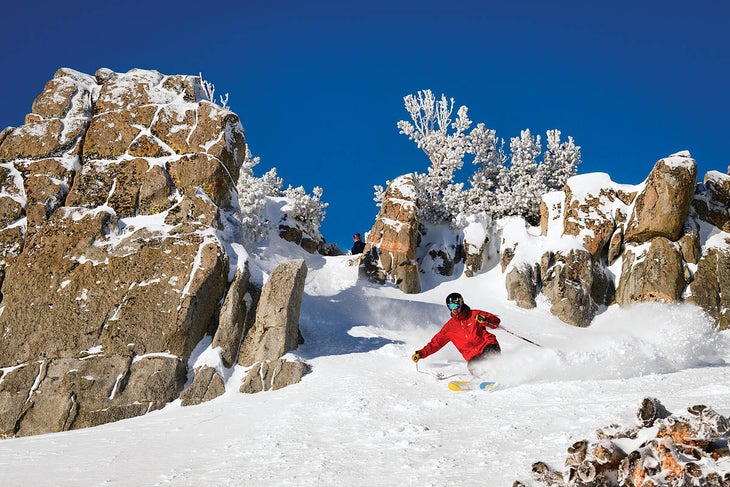 Colorado's Front Range resorts are plagued by I-70 traffic most winter days, so Denver International Airport, while a major hub with tons of (cheap) flights, puts you at least two hours from the closest major resort. And that's with no traffic, which is basically unheard of these days.
Flying Into Regional Airports
LAX to Aspen/Pitkin: access to Aspen Snowmass ski resorts
LAX to Yampa Valley: access to Steamboat Ski Resort
LAX to Gunnison-Crested Butte: access to Crested Butte Mountain Resort
Here's where you should consider regional airports. Air service has really picked up over the last few years at some of these secondary hubs, and while you might pay more in fares, you could opt to forgo a rental car (which are crazy expensive due to low inventory right now) and use a shuttle service instead.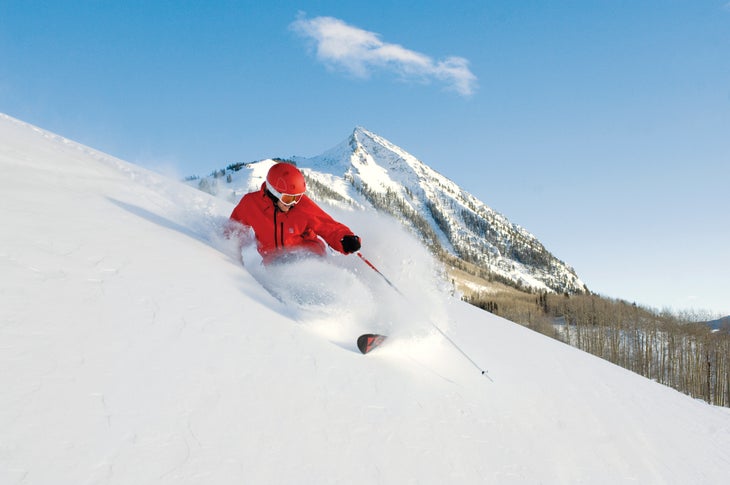 Aspen/Pitkin Regional Airport is less than 10 minutes from downtown Aspen, and has nonstop service from LAX and several other major cities in the winter. Yampa Valley Regional Airport, served by United and American, in addition to Southwest, is 30 miles from Steamboat. There's nonstop weekend service from LAX, as well. And Gunnison-Crested Butte Regional Airport is only 30 miles south of Crested Butte Mountain Resort.
On That Topic: Where to Sleep, Eat, Drink, and Play in Aspen
Just for fun, we priced out weekend flights in January between LAX and Aspen and compared it to the same weekend flying into DIA. A nonstop flight on United into Aspen/Pitkin costs $464; a similar flight to Denver is $250—but you still have to travel the 3.5 hours to Aspen. You could add a rental car—don't forget the AWD—for about $100/day, or book a shuttle for $150 per person each way, but you've already burned through your flight savings. What's more, smaller airports also mean easy in-and-out, fewer baggage hassles, and shorter lines—especially over the next year or so as the return to travel continues to surge.
Now that you've got the tools and inspiration to start planning those weekends, the real challenge will be how much terrain you can tick off before you have to catch your return flight.
More Travel Q&As from SKI's Travel Expert
7 Things to Consider When Choosing Your Next Season Pass
Lose a Ski Vacation to the Pandemic? These Hotels Will Take Your Points
You're Flying to Park City—Do You Bring Your Skis or Demo?
Don't Ruin Your Kid's Skiing Future—Here's How To Choose The Right Ski School For Your Toddler