Colorado's Biggest Secret: Copper Mountain
Colorado's Copper Mountain Resort is poised to win the hearts of a new generation of skiers by giving them what they really want: a kick-ass mountain.
Heading out the door? Read this article on the new Outside+ app available now on iOS devices for members! Download the app.
It's a clear, blue day in early March. A few thready clouds stretch out thin on the horizon. We've hiked a quarter mile from where the snowcat dropped us and are catching our breath at the top of Tucker Mountain. The patrol "dumpster" is the only structure—an ugly rectangular box marring an otherwise lovely view of the pyramid peaks of the Ten Mile and Mosquito ranges. The steeps of Copper Bowl, Fremont Glades, and the gastronomically named Taco and Nacho splay out below—50-plus-degree pitches packed with cold, chalky snow.
There's a small group gathered up here, everyone deciding which route will be the most felicitous. At 12,337 feet, most are also embracing a few extra moments to battle the thin air. The wind whips violently—you have to shout to be heard. Had I been dropped here blindfolded, I might have thought I was deep in some exotic, remote mountain range. But even though I can't see it, I know that right over the ridge, just past Copper Bowl, is Interstate 70, the last vestiges of morning ski traffic trudging by. Yet here, at the roof of Copper, it feels adventurous, discoverable, exciting.
What's even more exciting? This won't be the roof of Copper for much longer.
For Copper Mountain, I-70 has always been both a boon and a burden. Sitting right off the interstate at the eastern end of Vail Pass, the village and the mountain are so easily accessible that some people feel it lacks character and a sense of place. But it's the location, 75 miles from Denver, that's made the resort so popular with some Front Range skiers, who love the just-off-the-highway convenience. Of course, that core group doesn't need to stay the night, which has led the resort on at least a decadelong campaign to convince them otherwise, building lodging and restaurants with the goal of filling beds and tables.

Intrawest bought the resort in 1996 and spent hundreds of millions on the Village at Copper, opening eight lodges—including Copper Springs, the Mill Club, The Cirque, Taylor's Crossing, and Passage Point, all between 1998 and 2004—plus a handful of restaurants and bars that experienced varying degrees of success. (Anyone remember the Russian vodka bar, Pravda?)
Powdr Corp., owners of Killington, Vt., and Oregon's Mt. Bachelor (and formerly Park City Mountain Resort), bought Copper in 2009 and spent the first few seasons lying low, putting cash into necessary but hardly sexy infrastructure items such as expanded parking and snowmaking. At the time of the sale, laments about the weak village—not enough beds, no full-service hotel, a revolving door of shops, restaurants, and bars—had reached maximum volume. Yet Powdr, which bought the resort for $107 million, doesn't even own a large swath of the Village at Copper, which Intrawest had sold to CNL Lifestyle Properties in 2004. And seeing how CNL has been trying to sell the village since 2013, there are no planned upgrades.
"We're all about our mountain," explains Gary Rodgers, Copper's president and general manager, over a latte inside the busy Camp Hale coffee shop in Center Village. "The people who are looking for a Vail-style village, that's just not us." That doesn't mean Rodgers doesn't see room for improvement. On the contrary, discussions are in the works to bring that long-awaited full-service hotel to the village. "There's no doubt we need more lodging, and different kinds of lodging," says Rodgers, who acknowledges that the resort is turning away skiers looking for such things. "But we feel that our on-snow offerings—the free snowcat operation, the natural division of terrain, the innovative programming offered at Woodward, and our ski school—are where our priorities, as a company, lie."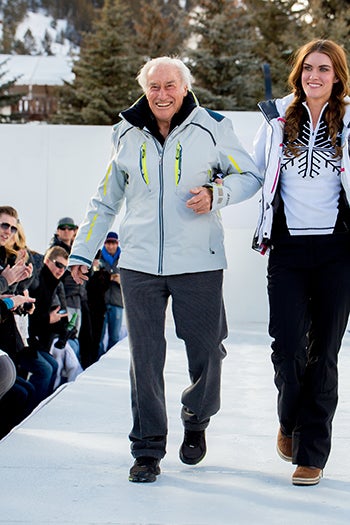 So after all these years of flailing about, trying to find its niche, is this finally Copper Mountain's time to shine?
No one will deny that Copper is a mountain with a bounty of riches. The "naturally divided terrain" to which Rodgers refers makes Copper one of the hands-down best places to learn to ski. From the gentle groomers on the far west of the resort to the intermediate runs and world-class terrain parks sprinkled across the slopes to the steeps and moguls off Super Bee, the mountain is organized so that it's awfully hard to end up in the wrong place. Look at the trail map: The natural progression from green to black isn't found at any other resort. (And those black diamonds at the far eastern boundary? A few of them—Rosi's Run, Oh No!, and Andy's Encore—make up the downhill and super G courses for the U.S. Ski Team Speed Center, where athletes from all over the world train every November.) Yet it isn't the front side that's known for challenge. At Copper, you head to the back bowls for that: Spaulding, Copper, Jupiter, Resolution, and their black, double-black, and extreme terrain. This is some of the best open-bowl skiing in the state, with east-, west-, and north-facing aspects that hold snow for days and enough acreage back there for skiers to find some room to breathe. A bonus for any Front Range resort.
This, says general manager Rodgers, is Copper's future, and where Powdr is taking aim. In its cross hairs is the 12's High Alpine Project. Called the 12's because it will access new expert terrain on the three peaks above 12,000 feet in Copper's permitted area, the project will span several years. Phase One is complete. Last season, the old Storm King platter, installed circa 1985, was replaced with a high-capacity T-bar, and a new surface lift was put in at West Ridge, connecting the top of the Sierra and Mountain Chief lifts. This phase might sound like small beans, but it allowed earlier and more reliable access to Union Peak, Spaulding Bowl, and West Ridge, getting more skiers into the back bowls. Next is a lift up Tucker Mountain, to where the free snowcat drops skiers, adding 260 lift-served acres to the resort's portfolio. The snowcat operation, which will remain gratis, will likely move slightly south to Jacques Peak, located inside Copper's permitted area but not previously used by the resort. Jacques, standing at 13,205 feet, will be Copper's new summit and will increase both its acreage and its vertical drop. When the Tucker lift gets under way over the next several years, it will be one of the most exciting upgrades in ski country and will lure even more skiers up to Copper's wild high peaks.
"This is going to completely change how advanced and expert skiers and riders ski the mountain," Rodgers says. "It's going to put Copper on the map."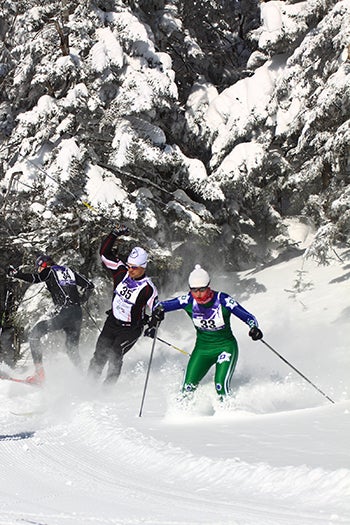 Twenty-six hundred vertical feet below, a very different scene is unfolding—yet one that is just as integral to Copper's turnaround as the 12's. The Woodward barn opened in February 2009 as a state-of-the-art freestyle training facility for park-and-pipers, featuring trampolines, foam pits, a pump track, and several different ramps for launching off on roller skis. At the time, there was nothing like it in ski country, says Morrison Hsieh (pronounced "Shay"), Woodward at Copper's general manager. "It was a chance to bring terrain-park innovation not only to the kids already doing it, but also to guests who might not have ever considered it."
This is where Copper excels. With Woodward, the resort is capturing the demographic that all the resorts want—families trying to keep their older kids engaged and part of the ski family. What they found out, says Hsieh, is that vacationing families don't just want to drop their kids and go. "They want to get involved, to try something different."
To that end, Woodward rolled out Family Freestyle Lessons last season, and that's how I found myself sitting cross-legged at the barn one morning last March, filling out a questionnaire on my goals for the day. Did I want to learn to throw a 360? Maybe set my sights lower with a mute grab? And what are my six-year-old's goals for the day? "Land switch," Jake answers. "And do a back flip." Well, we'll see about that second one.
My husband, Tim, and my older son, eight-year-old Cole, are also filling out questionnaires. "Not break anything," Tim quips.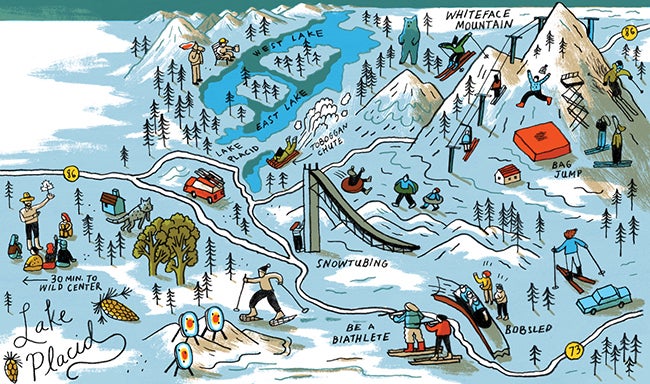 We get off to a nonthreatening start practicing somersaults onto foam wedges before graduating to the foam pit for front and back flips. Our Woodward guide, Alexis Keeney, a straight-forward 20-something ripper chick with a thick dirty-blond mane, connects instantly with the boys and reveals her wry sense of humor to their parents. We'll be spending the day together—the morning here in the barn followed by lunch and the rest of the afternoon on the mountain—so some rapport is a good thing.
Keeney watches each of us attempt a back flip into the foam, offering tips along the way. "You just have to commit," she says when Jake hesitates. "It looks harder than it is." "Tuck your chin," she advises me, "and let your legs do the work."
We spend time on the six trampolines—especially the extra-bouncy Supertramp, where the boys have a blast learning to jump with control, to center their weight, and to keep a quiet upper body, all essential to mastering tricks in the terrain park, where we're headed this afternoon.
But first, the ramps loom on the other side of the barn. A 2013 half-million-dollar renovation upgraded the ramp surface from Snowflex, a synthetic material, to Skatelite, a hard surface designed for wheels. Participants hit the jumps with roller skis attached to their ski boots with bindings. This was a huge upgrade, Hsieh explains, because on Snowflex, learners were limited to the one big drop-in into the foam pit, which was intimidating for first-timers. Now, Hsieh says, "We have two smaller jumps plus the larger drop-in, which is a much more appropriate progression." Woodward also added an on-snow bag jump to its list of tricks, unveiling it this past summer. It will be part of the natural progression from barn to snow, and it "really opens the Woodward experience up far beyond experts and aspiring pros," says Hsieh.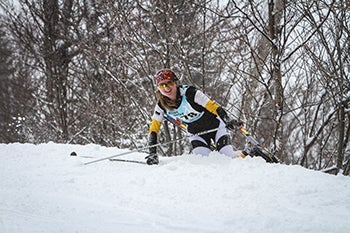 The boys are champing at the bit to throw themselves down those ramps, but first they have to hit the pump track, a series of small rollers designed to make sure they can balance on the roller skis. Both boys breeze through and begin to heave their skis up the first set of stairs to the 10-foot jump.
Now, I'm not a helicopter parent, nor an excessive worrier. Heck, we're raising three sons and have already been to the ER a half dozen times in eight years. They've been jumping off couches and coffee tables since they could walk and devouring American Ninja Warrior like they're training to become its next competitors. But there's something about seeing these half pints atop the ramp that just screams "broken neck."
But Woodward knows it's stuff, and the jumps go off without catastrophe, just lots of big smiles and belly laughs. They might have enjoyed seeing their parents thrash through the air almost as much as they enjoyed doing it themselves.
The barn behind us, we head to the slopes to see what we've actually learned. Keeney takes advantage of the mellow pitch on Main Vein to show us how to do nose and tail butters and to ski backward. Given the choice of dropping into the 13-foot pipe or the superpipe, the boys clamor to go big. They fly up and down the 22-foot walls, following Keeney's directive to make smooth arcs and keep enough speed to stay just below the lip.
At the Playground terrain park, the small- to medium-size features are perfect for freestyle noobs like us. We sail over the boxes and have a blast airing on the series of rolling jumps, hearing Keeney's voice  and aiming for calm upper bodies. She also encourages us to use anything and everything we see as a feature—not limit ourselves to the actual jumps. The sides of a ramp are a great place to get used to the feeling of flight. No one pulls off a 360 that day. But we do learn the basic skills we need to feel comfortable in the park. And for two 40-somethings, that's, well, something.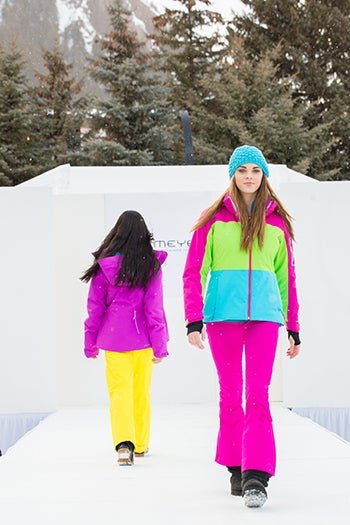 Back at the roof of Copper, where the howling wind and the stunning bluebird views seem incongruous, our group drops into the Taco. Soft bumps and a steep pitch give way to sparse trees and then the denser evergreens of Fremont Glades as we float down to treeline. We duck the occasional branch, pointing our skis through a glistening gully that cuts through the high-alpine forest like a stream. Over the next couple of hours we devour Union Bowl, discover the fun, slick steeps of Union Meadows, sample Spaulding Bowl's double-blacks, bomb down the roller-coaster blues off the Timberline Express, and ride the new Celebrity Ridge T-bar to the rim of Copper Bowl. From there, at 12,441 feet, it's a short traverse across the lip. We absorb the view and catch our breath.
Below, the snowcat trundles up Tucker Mountain. Jacques Peak shimmers to the south, taunting us with fresh snow and untracked lines. True, I-70 is just over the ridge, but you'd never know it from here. I think about my boys, probably tearing up frontside blues right about now, completely oblivious to the wild adventure above. I smile. This is Copper. This is their backyard. Oh, how lucky they are.  
Good to Know
>> Eat: The Village at Copper has about half a dozen restaurants, but the only fine-dining spot is C.B. Grille, where the menu runs the gamut from artisan pizzas to Angus steaks. Order the roasted red-pepper soup and the ginger shrimp starters. Carnivores, try the elk chop or the bison rib eye. For a casual family dinner, head to JJ's Tavern in the East Village for stone-oven pizzas, sandwiches, and great burgers accompanied by the music of local legend Moe Dixon on weekends.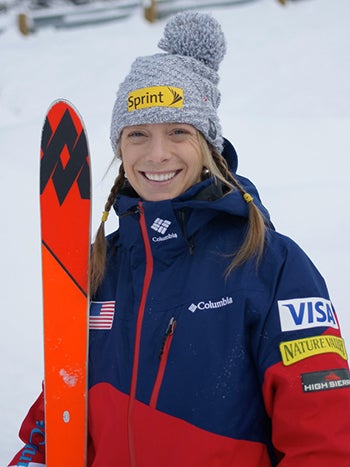 In cute Frisco, five miles away, Hacienda Real's margs (25 different flavors!) and fajitas warrant a night away from the resort. And breakfast at the Butterhorn Bakery, on Main Street, is divine. Try the Eggy Bread and the cinnamon rolls.
>> Drink: Belly up to Jill's Umbrella Bar on mild days for something from the signature drink menu, hot wings, and a game of corn hole on the patio. If you want to catch the game, it's $3 drinks at sports bar Endo's Adrenaline Café from three to six daily.
>> Explore: Families with kids six and older (and able to ski blues) can book a Family Freestyle Lesson through Woodward at Copper. The intimidation factor is close to zero, so go for it—you won't regret it. Half the day in the barn and half the day in the park costs $180 to $214 per person. Or sample the goods with an Intro Session at the barn for $49 per person.
Copper's tubing hill is a good time: lanes with banked turns and jumps. Also check out the short but fast zipline spanning the village lake. It's open year-round.
[Photos from top: Keri Bascetta (3), Tripp Fay, Keri Bascetta, Eleanor Williamson, Keri Bascetta, Tripp Fay]