The Best Restaurants for Skiers in Whistler
Find out where is worth the splurge, where should you pinch the pennies, and where are the secret local's haunts.
Heading out the door? Read this article on the new Outside+ app available now on iOS devices for members! Download the app.
Since its opening in 1966, the mystical draw of this Canadian town has persisted, even as Whistler has become increasingly popular — and expensive. Should you find yourself in the ultimate winter playground this season, here are the restaurants that offer the fanciest, heartiest and tastiest sustenance to keep you fueled for a full day on the slopes.
Whistler is by no means a cheap place to visit, however, visitors will be happy to learn they don't have to break the bank to eat out. In this economy, we're all pretty invested in getting the best bang for our buck. So where is worth the splurge, where should you pinch the pennies, and where are the secret local's haunts? Let's dive in. 
DINNER
Wild Blue
When Restaurant Director Neil Henderson left Araxi to open Wild Blue, he took the crème de la crème of Whistler's hospitality workforce with him. A passionate team of servers, sommeliers, bartenders and cooks followed him to create one of the most exciting – and beautiful – restaurants Whistler has ever seen. Indulge your senses in a delicious palate of stained oak, black walnut, velvet, and glass, accompanied by a seafood menu that has – in just four months – asserted a dominant presence on the Whistler food scene. The excellence of Wild Blue shines through not only in its exquisite dishes and perfected cocktail menu but primarily in its attention to detail. The guest experience is second to none, where an industry veteran – and his team of Whistler heavy-hitters – have perfected the formula for seamless service in a town that is by no means immune to a workforce crisis. 
Don't miss: The oysters served with green chili granita will have you begging for the recipe (akin to a jalapeno and citrus slushy, and I'm salivating just thinking about it). 
Bearfoot Bistro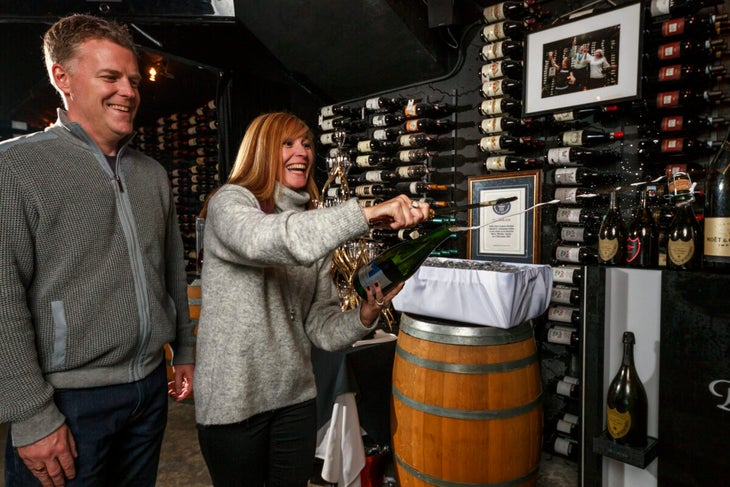 An evening at the Bearfoot Bistro is an event unto itself. With much-celebrated chef Melissa Craig at the helm, the Bearfoot Bistro holds its own as a well-oiled excellence machine. The restaurant's understated decor allows more stage time for the main event: the Bearfoot Experience. Learn to saber your own apéritif with Wine Director Luc Trottier or a member of his very knowledgeable and talented team. The original founder of the Bearfoot holds the Guinness World Record for sabering 21 bottles of Champagne in 1 minute. Cleanse your palate between courses by slipping into a parka and tasting world-class vodka in their in-house ice room. The sense of comradery amongst the wait staff, thanks in part to the restaurant's unique tip-pooling system, creates a palpable collective energy that most restaurateurs would chop off their right arm to bottle. 
Don't miss: The Seared Quebec Foie Gras will convert even those without the acquired taste. To wrap up the evening, enjoy some tableside magic as your waiter creates your ice cream in ethereal swirling vapors of liquid nitrogen.
Rimrock Café 
With its old-school neon signage and unusual location just off Highway 99 (Whistler's only access road), you could easily mistake the Rimrock Café for a quaint roadside diner. Having found a happy medium somewhere between rustic and elegant, the Rimrock expertly delivers a guest experience that is quaint, refined luxury. This is where Whistler locals go to celebrate their anniversaries, birthdays, ski-verseries, and other special occasions.  If you're partial to alpine chalet decor and a simmering post-skiing ambiance, the Rimrock is casual enough that you can leave the dress shoes at home but upscale enough to have a dedicated Sommelier at your beck and call. Known for its attentive service, extensive wine list, and exquisite seafood, you'll need to book ahead for this one. 
Don't miss: You'd be remiss not to try the Lobster Mashed Potatoes, which are the perfect accompaniment to their melt-in-your-mouth Seared Scallops. To end the evening, the main event is their signature Sticky Toffee Pudding. 
The Chalet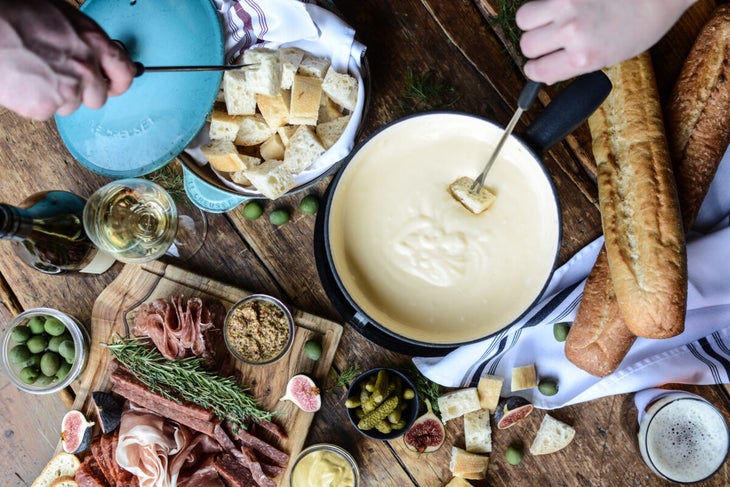 If you're a fondue fanatic like myself, there is a standout leader in Whistler for the Swiss trademark dish. The Fairmont Chateau Golf Clubhouse dons its winter coat each year, transforming into a twinkling, festive, and Bavarian-esque venue known as simply: The Chalet. A crackling log fire, warm hospitality, and hearty alpine cuisine set the stage for a unique and classic alpine dining experience. If you want to practice your skewering calisthenics of spearing, twisting, and dipping: there is a smorgasbord of house-made schnitzels, röstis, and artisan charcuterie pieces to drown in a bubbly bowl of bliss. The heartier dippables also include steak, scallops, shrimp & salmon, plus the option to add winter truffle to your cheese… (do it).  
Don't miss: The delectable French onion soup, which somehow also contains a brick of cheese. Be sure to save room for the chocolate fondue dessert and a digestif from the traditional schnapps wagon. 
Sushi Village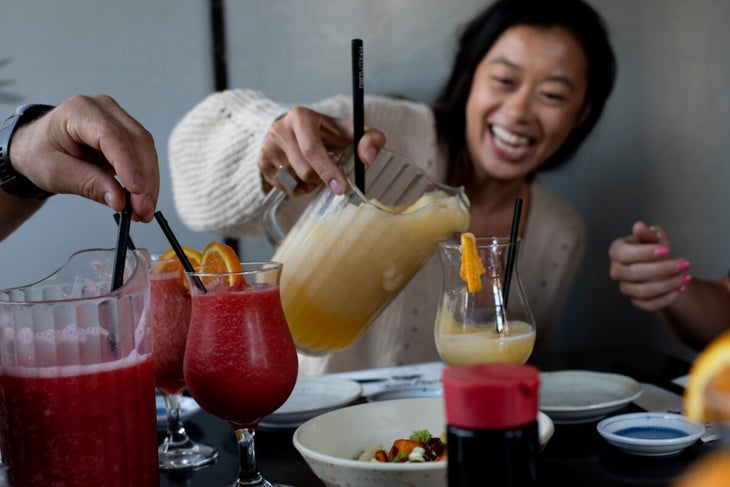 If you're after a restaurant with excellent sushi, a bonafide come-as-you-are vibe, and the potential for raucousness, you'll find yourself at Sushi Village. While most tourists flock to the finer Japanese establishments in town (there are four, and all are excellent), those that call Whistler home make their way to Sushi Vill'… and bring the party with them. Just a stone's throw from the ski lifts, in the front of this no-frills venue you'll find the sushi bar and eatery. For the adventurous group, the back of the restaurant is where you'll slip off your shoes and slink into the low, shoji-walled booths to enjoy a sake marg. You can be sure that the next few sake-fuelled hours will be memorable — if not transcendent. Things to note: Sushi Village doesn't take reservations, the lineup for this popular local spot starts at 4.30pm at the top of the staircase. 
Don't miss: The Box Sushi. Be sure to keep an ear out for the bartender's bell. If you hear it ring, sprint straight to the bar. Rumour has it, the first four people there get a free shot of Jack Daniels.
The Grill Room 
Save this one for a special occasion, and be sure to book long in advance. The Grill Room is for those who want one thing: decadence. The Fairmont has become one of the leading luxury hotel brands to embrace environmental stewardship – and this shines through in their locavore-style menu offerings. If you're lucky enough to snag a table at The Grill Room, you'll find that each dish integrates unique and locally-sourced ingredients on a dynamic menu that transforms depending on what's in season. Steak aficionados will be at home here, where the kitchen team are known for their chops, steak and seafood, plus exquisite and creative vegetarian options such as carrot marrow. For a birthday or group meal, the Grill Room's intimate private dining room with floor-to-ceiling glass windows allow you to dine as if you're in a real-life snow globe with twinkling lights and snow falling all around. Surrounded by cherry wood cabinets, stunning festive decor and featuring some of the most exquisite wines of British Columbia, a night here will be one to remember.
Don't miss: The chefs here have a way with both steak and seafood. For appetizers, try the Hokkaido Scallops and the Bison Carpaccio, served with cedar jelly and sumac chips.
Il Caminetto
Il Caminetto—meaning literally 'the fireplace'—is the place for when you're craving a hearty bowl of pasta with all the trimmings of a fine dining experience. Il Cam's executive chefs – being passionate skiers and boarders themselves –  know exactly what comfort food their patrons want after a long day on the slopes. The food (rich pasta, tender risottos, long-roasted meats) and extensive wine list never disappoint, and neither does the lively, yet subdued, ambiance pulsating through the place. The food menu is modern Italian, creative beyond typical Italian fare, and absolutely delicious. The meticulous attention to detail, attentive service, and the romantic energy circulating throughout provide the perfect backdrop for a relaxed evening full of subtle extravagance. 
Don't Miss: The Brant Lake Wagyu beef ragu, the Mushroom Risotto, and the chance to discuss their extensive wine list. 
Sidecut Steakhouse
Tucked away in the Four Seasons, you'll have to be in the know about Sidecut to have a chance at getting a table. Speakeasy style, the entrance is hidden in the back of the bustling Braidwood Tavern, but this sophisticated steakhouse is anything but retro. Effortlessly high-end, the horseshoe'd room curves around a gold leaf centerpiece fire that brings guests together in a rich and contemporary setting. This restaurant earns the required 20-minute walk out of the buzzing Whistler Village with an exceptional steak menu. Its smaller setting allows for intimate service in its sleek and stylish room that instantly makes you feel like a VIP. One of their standout offerings is their selection of meat rubs; an explosion of flavors to accentuate your meat cooked precisely to your liking. You've been warned, at Sidecut, they take 'rare' seriously. 
Don't miss: The Volcan De Fuego cocktail to start, the Japanese Wagyu for your main, and the chocolate souffle for dessert. It takes 18 minutes to bake, perfect for an after-dinner B.C. ice wine.  
LUNCH
Christine's
Christine's proves that an on-mountain lunch doesn't have to be a quick stop of carb loading and convenience. Located in the Rendezvous Lodge, a contemporary fine dining experience awaits in the newly renovated Christine's on Blackcomb Mountain. For those of us that specialize in (early) après skiing, this is a great spot to do so. Come for a leisurely lunch and a glass or two of local B.C. bubbles whilst enjoying jaw-dropping panoramas followed by the last tracks down Blackcomb Mountain. 
Don't Miss: The Fish Curry is a real standout, alongside their 'tater tots': you will never look at a tater tot in the same way again.
Gone Eatery
Nestled in behind Whistler's only bookstore, Gone Eatery is one of the best-kept local secrets. Gone is a great pit stop for either grab-and-go fare or to sit in and enjoy your breakfast resting against cushioned walls adorned by local artisans. Great coffee is accentuated by friendly workers and an authentic ski-town buzz where you're sure to overhear locals recounting their mornings playing hooky and skiing pow. 
Don't miss: I dare you not to be seduced by their grilled cheese and tomato soup.
Crystal Hut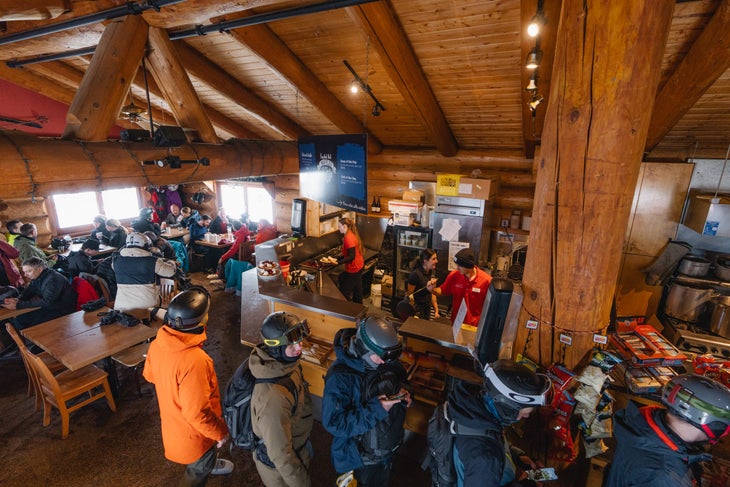 Whistler's answer to a typical Italian refugio, the Crystal Hut deserves a mention for its winning combination of location and comforting menu. A must-do as part of the Whistler Blackcomb ski experience, this cozy on-mountain hut is ideal for a mid-morning breakfast or lunch stop. Stumble in here in search of shelter in a storm or a quick pick-me-up and you'll be rewarded with a bustling atmosphere and the irresistible smell of baking batter and hot cacao. 
Don't miss: The Waffles. These are the real deal: huge, fluffy, cooked to perfection and come loaded with syrup, fruit, whipped cream, chocolate sauce and chocolate shavings. If that's not enough to satiate your sweet tooth, you can add bacon, Bailey's and/or bananas. 
APRÈS
Araxi
Hidden in plain sight, you wouldn't know that Araxi opens its doors early (3pm) for après unless, well, you already know. Entering through the heavy front doors reveals a bustling and sophisticated bar. More notable its evening menu, Araxi boasts masterful hospitality and gleaming surfaces that make you feel like an instant VIP. Araxi have a long held international reputation for excellence in food, wine and service – and their après experience is the perfect sampler with a small but mighty menu offering. Watch as your locally-caught oysters are shucked right before your eyes and served with their signature raspberry mignonette and horseradish on ice. 
Don't miss: The Forest Fire cocktail. Made with Suntory Toki whiskey, pomegranate juice and port style wine, this new creation was recently featured in Winemaker's Magazine. It's the single malt laphroaig scotch "spray" that mists the top of the drink that stops you in your tracks. This house-made creation is deliciously smoky on the nose and designed by their assistant bar manager Michael Sherriff-Scott. 
Raven Room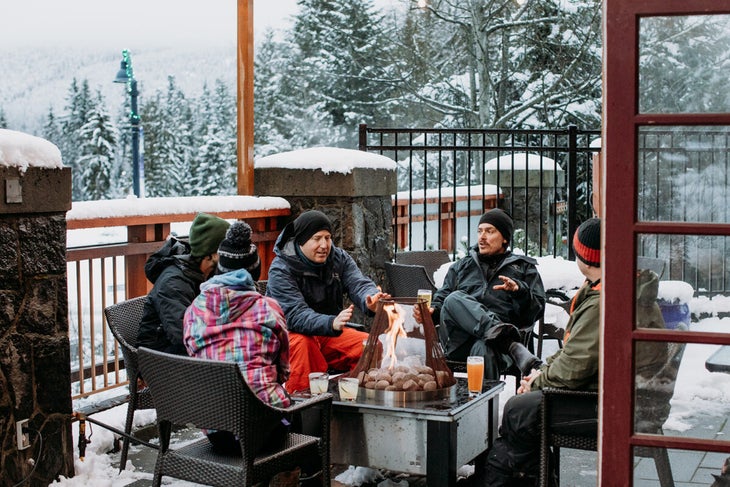 A new(ish) kid on the block, The Raven Room is a destination for true cocktail craftsmanship. Following the grand opening two years ago, it has solidified its hot spot status inside the Pan Pacific Village Centre and is frequented by regular locals and delighted visitors alike. Their refreshingly passionate team is composed of seasoned mixologists who love to share their time-honored techniques and creative flare. The Raven Room is owned and operated by four true Whistler locals who prioritize quality and sustainability above all else. True to form, you'll find no pop-gun mixers nor store-bought syrups here; expect nothing but the finest locally sourced ingredients and innovative cocktails that you won't find anywhere else in Whistler. 
Don't miss: The best Negroni in town is served at The Raven Room. Staying true to the 102-year-old recipe; this Negroni is served simply and effectively, with fridge-cold vermouth atop a colossal ice cube (you know, the proper way).
Braidwood Tavern
As if you've walked right into a Cabin Vibes coffee table book, the Braidwood Tavern offers a modern, woodsy atmosphere in an upscale setting. Set in the picturesque Four Seasons, the Braidwood lends itself to an all-encompassing après experience with its on-site smores wagon and ever-so-Instagrammable winter wonderland courtyard. When the weather doesn't allow for skiing first to last lifts, you could spend all day wandering around the Four Seasons and, dare I say, staying in the Braidwood from après until late. Start off by sampling their Hot Chocolate Around The World menu and see where the evening takes you.
Don't miss: For a modern twist on a Canadian staple, try the What The Duck Poutine. For a naughty spin on hot chocolate, try the Polar Express: a creamy, white hot chocolate spiked with Chambord and Northern Keep Vodka. 
RMU
When you want to rub shoulders with legendary ski patrollers, professional skiers, and true salt-of-the-earth people, a trip to RMU should be top of the list. With roots as a community hub and ski manufacturer, it has become the local's spot of choice in Whistler, and for good reason. It's a short walk to RMU in your ski boots from Blackcomb Base (ski attire is preferred here), where you can stack your skis and settle around a firepit to enjoy one of head bartender Ted's famous Caesars. They have a fantastic rotating selection of local craft beers and an excellent comfort food menu. 
Don't miss: The Cluck Norris buttermilk fried chicken thigh sandwich. Their menu adapts to the seasons, but this bad boy seems to be a permanent staple. 
Dubh Linn
Because sometimes, the only thing better than belting out 'Sweet Caroline' until you're hoarse in the throat, is belting out 'Sweet Caroline' whilst clinging onto your beer as it sloshes overboard and drenches your overpriced bib pants (hello, morning Tech Wash). The Dubh Linn Gate Irish Pub is an unmissable stop on your Whistler après tour. For those who think the trade off of sticky floors and self-appointed karaoke singers is worth it for authenticity and good 'craic'; you can ski right to the door at Whistler Mountain's base. Featuring live music every day, this is the place for cheap(ish) drinks, hearty food and a raucous atmosphere. It's loud, laid-back and legendary. 
Don't miss: A proper pint of Guinness and the Pulled Pork Nachos. Note: A large will feed about eight people happily!
BREAKFAST
Hunter Gather
A short walk from the bustling Olympic Plaza, Hunter Gather sits on the end of Whistler's lesser-known Main Street. This neighborhood spot is designed with gathering and storytelling in mind, so gather your friends and settle into one of its large wooden tables bathing in natural light. Like many of Whistler's hidden gems, it is easily missed by the untrained eye and is perfect for a leisurely breakfast away from the crowds. Known for their farm-to-table style dishes, this eatery doubles as a taphouse in the evening, and their breakfast menu is one of the best-kept secrets in town. 
Don't Miss: The Pulled Pork Eggs Benny served on a potato rosti with garlic kale. It is to die for!
Southside Diner
Championing all things fried and delicious, this iconic building has been nourishing hungover locals  for over 40 years. Not only is the Southside Diner a true Whistler landmark, it also has an adjoining laundromat and hostel that foster a real sense of community. This refreshingly unpretentious spot is known for its classic diner booths, excellent portion sizes and the sassiest servers in town. Head here and fill the void with American style breakfasts, great coffee and epic milkshakes – all whilst enjoying last night's hockey on the TV. 
Don't Miss: Their organic drip coffee is the best in Whistler, and the big-ass pancake is BIG. The local's go-to is always the Southside Slam and a Bailey's Coffee – the perfect feed before a big day on the slopes.
Portobello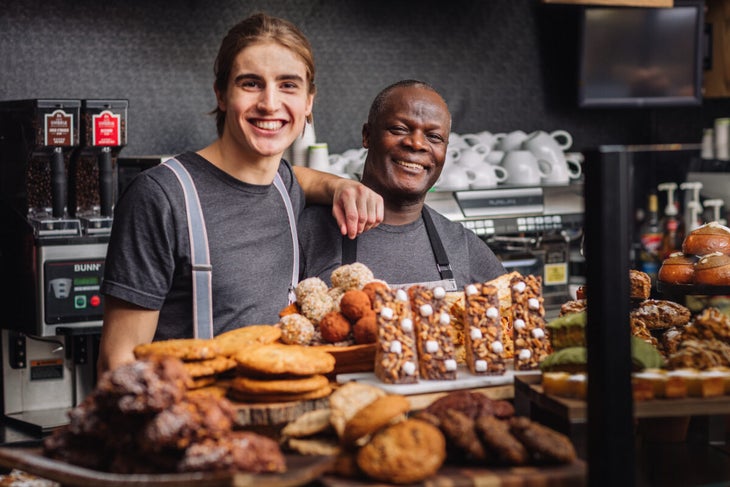 Portobello has established legendary status as the local spot to grab a coffee and a bite before the lifts open. Don't fall victim to powder fever, it's best to take your time and explore their made-to-order menu selection. Their breakfast offerings include heavenly Belgian waffles (go sweet with PB-J and nutella, or savory with smoked beef brisket or fried chicken), home-made bowls with freshly baked buttermilk biscuits, burritos and many other classics. Get there early or be prepared to wait in a queue at the mercy of excruciatingly mouth-watering smells from their gourmet pastry selection. Another Upper Village gem, this spot is home to an animated, open kitchen, and a high-end yet casual vibe. 
Don't Miss: The Dirty Bowl, the Maple Bacon Donut and the most decadent hot chocolate in town.