Early Bird Special
Warren Miller and memorable first tracks on now famous slopes.
Heading out the door? Read this article on the new Outside+ app available now on iOS devices for members! Download the app.
Originally published in December, 2004 issue of SKI Magazine 
An increasing number of destination resorts today offer a deluxe package with your daily lift ticket. For the additional price of a steak dinner in a nice restaurant, you can get on the mountain an hour or so before the lifts open for everyone else. If you plan your First Tracks day properly, you can get five or six runs in untracked powder snow before anyone else is even on the hill. Today's high-tech, fat-ski, high-speed-lift world is great, but this is what we used to be able to do all day long before skiing became so popular.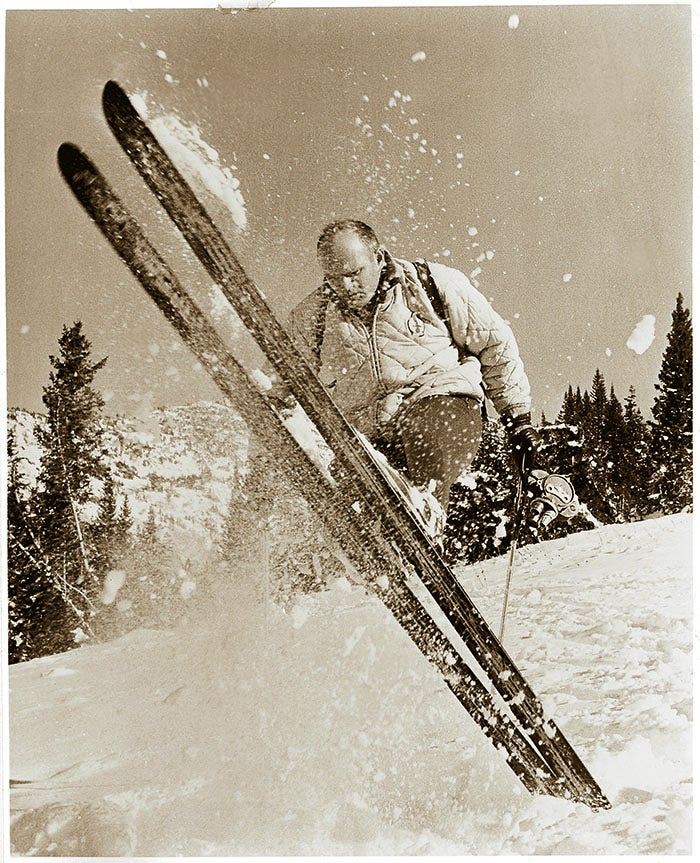 I've been lucky over the years in getting first tracks-and getting paid to make 'em. Better yet, I've been able to make first tracks before some of the resorts were even built.In the spring of 1961, I parked my car on a narrow road on the west side of Vail Pass. There I climbed into an army-surplus snowcat that barely held the four of us, and slogged to the top.
At the summit, Pete Seibert and I skied part way into the Back Bowls–and that was all it took for me to share Pete's dream. A year later when Vail opened, I shot it for my annual film. My narration as I showed first tracks in the Back Bowls was, "Get out there and buy some of Vail and get a pair of lifetime season passes thrown in for $10,000 because, as Mark Twain once said, 'They ain't gonna make anymore of this.'" One of the people who followed my advice that year recently sold his quarter-acre lot with his 1964 house still on it for $12 million.
In 1961, when Pete, Stan Morris and I got first tracks, we were the only people on Vail Mountain. One day in January of 1963, Vail only sold eight all-day lift tickets. One day in January 2003, they only sold 24,700 all-day lift tickets–to skiers and snowboarders who were all trying to get first tracks.
My first tracks on Snowbird happened when Ted Johnson called and said, "I have taken a lot of film of my proposed ski resort. Will you take some more and then edit and narrate it for me? I need it to help sell the place." Three weeks later, Ted showed the film to Dick Bass in Dallas and Dick put up the money to build the gondola and the first condominiums.
My first tracks with John Riley happened when he hired a helicopter to spend the weekend skiing in the Sierras. He invited me, and since I always shot as much film as my pocketbook allowed, by Sunday afternoon John asked me if I could put a promotional film together that he could use to help raise money to build his dream. I did, and two years later, the first ski lift was built in Alpine Meadows.
In 1974, Bill Janss, who owned Sun Valley at the time, hired me to produce a four-season film of his great resort. My first tracks were made in untracked powder. I later went trout fishing in Silver Creek with Jack Hemingway–who forgot his waders and couldn't catch a fish all day. We finally went to the state fish hatchery and gave the caretaker $20 to let us catch and release some of his biggest fish. The first time Bill showed my film to the Johns Manville Corporation, they paid $4.5 million for the land that they later developed into Elkhorn Resort.
And now, after more than 50 years from the time I made my first ski film, I'm still getting first tracks. When you have the opportunity to get first tracks, do it. And always remember: If you don't do it this year, you'll be one year older when you do.