I Accidentally Competed in a Swiss Ski Race. Here's What Happened.
Turns out you don't have to be a competitive person to embrace the adrenaline, especially when there are beers at the finish line.
Heading out the door? Read this article on the new Outside+ app available now on iOS devices for members! Download the app.
I never planned on competing in a Swiss ski race—or any ski race for that matter. I don't fancy myself an athlete, nor am I particularly competitive. My skills are of a different ilk. For instance, I have an encyclopedic knowledge of useless facts. And yet, here I am in Verbier on rental skis, ill-attired to go for a swim yet waiting for my turn to attempt a pond skim. Rather than use this time to consider a strategy for successfully staying afloat while gliding across the lagoon before me, I'm instead reflecting on how I found myself in this particular pickle.
It's my third week in Switzerland, most of it spent schmoozing with new friends, cruising high-alpine pistes, and sampling the famous cheeses and chocolates of the region. Which is to say, not training for any feats of athleticism.
Little did I know that I was on a crash course with the High Five, a long-running competition now called "Ultime Session," which has taken place at Verbier for the last 20 years—save for a couple of Covid-related cancellations. The event is part of the resort's end-of-season festivities, and it gives amateurs like myself the chance to test their mettle racing against professional European ski athletes in four categories: Giant Slalom, Ski Cross, Mini KL (a speed skiing kilometer sprint), and Waterslide.
Of course, I knew none of this when I accidentally signed up to do it.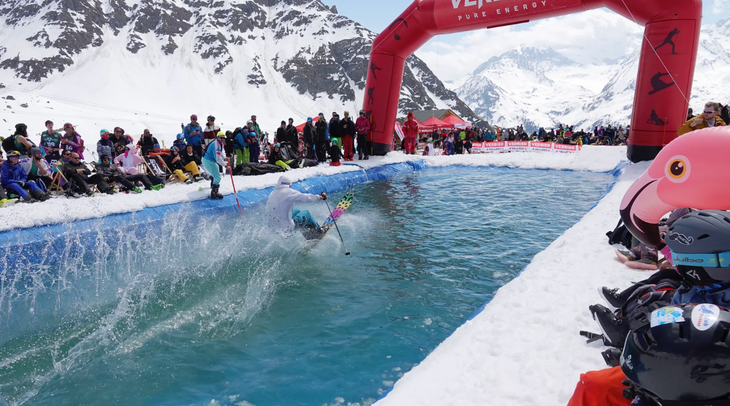 Verbier Resort is sandwiched in the 4 Vallées in Southwestern Switzerland and is connected to five other resorts: La Tzoumaz, Bruson, Nendaz, Vysonnaz, and Thyon. It's the largest ski area in the country, with 93 lifts spread over more than 250 miles of variable ski terrain that starts at 4,100 feet and rises to 10,925 feet at the summit of Mont Fort.
The town of Verbier is a storybook alpine village set atop a sunny plateau surrounded by the snow-capped peaks of the Swiss Alps. It is the kind of place  where you might expect to find fairytale characters singing about provincial life as they milk their happy cows.
Ambitious backcountry skiers know Verbier as a stopover along the famous Haute Route traverse between Chamonix and Zermatt, but my aspirations were more along the lines of exploring the resort's snowy slopes, familiarizing myself with the local après scene, and basking in the full bloom of luxurious contentment at the W Verbier. My room had a fireplace and private balcony, and was so grand I thought they had mistakenly upgraded me—an error I was willing to overlook—but it turns out that all of the rooms are like that. It's hands-down the classiest place I've ever done bathtub laundry.
So when my tour guide asked me if I wanted to stay an extra day to do the Verbier High Five, I thought, why not? It would be great to enjoy a bonus day of skiing and spectating whatever shenanigans were in store. However, I critically misinterpreted what he meant by do the Verbier High Five.
Later that night, my guide interrupted my spa-lounging session to deliver my race jersey and competitor schedule. I thought he was pulling a prank. Then I remembered that the Swiss are not prone to silly hijinks, and a dreadful realization washed over me. I nearly choked on my cucumber water. I began plotting last-minute reasons I could give for backing out, but that was a losing game.
The next morning, I get ready for the race by drinking lots of coffee. Surely the extra caffeine will make up for my complete lack of any actual preparation. At that point, all I knew was that my team would be made up of a coterie of World Cup racers, Olympic medalists, and non-podium skiers, such as myself, and that the Swiss call pond-skimming "waterslide."
I arrive at the meeting point and I preemptively apologize to everyone on my team, explaining that this is all just one big misunderstanding. They smile and assure me that the Verbier High Five is a casual affair—expectations are low. This sets me at ease and I remember I'm there to have fun and I like adventure.
The first challenge is the Giant Slalom, starting atop the Attelas Summit at 8,946 feet. This course requires fast technical skiing and precision turns while passing through a series of 30 flagged gates. My ski racing experience is nil, but I crossed the finish line without yard-sale-ing, which I count as a win.
I ride that high through the Mini KL, the speed-skiing sprint, and am feeling gutsy going into the Ski Cross. I blast down the course at full tilt, thinking maybe I can impress everyone with my speed. Fortunately, I enjoy skiing really fast. Unfortunately, the pros ski past me like I'm barely even moving. I manage to hit the bumps, jumps, and banked turns on the nearly 2,000-vertical-foot Á La Chaux course without anyone pointing and laughing. Another win.
Finally, it's my turn to pond-skim, and I find a certain comfort in knowing that if I fail, no one I know will see it. My friends had already departed for the Haute Route and I was back to solo-traveling. I figure the crowd will applaud my effort either way, and the pond is thankfully not as big as I imagined.
I watch as several competitors wearing everything from jorts to '80s ski suits leisurely slide across with minimal effort. Had I known this competition was in my future, I would have packed one of my ridiculous costumes. No doubt being dressed as a space robot would have propelled me better. Nonetheless, I fly down the ramp and squeak my way to the other side with the gusto of a rapidly deflating party balloon. Not exactly a master stroke, but the polite clapping and cheering did boost my confidence considerably. The Swiss are nothing if not gracious.
Somewhere between doing the stanky leg dance down the Slalom Géant and wiggling my way to the finish line at the end of the Ski Cross event, I realize how much fun I'm having and forget all about comparing myself to the pros, who were definitely not taking this whole thing seriously. After the race, we celebrated the day's triumphs over several pints of hoppy pilsners and, yes, cheese.
Lesson learned: Always say yes to events that start with skiing and end with après, even if they require sliding across a pond on rental skis.
Event Info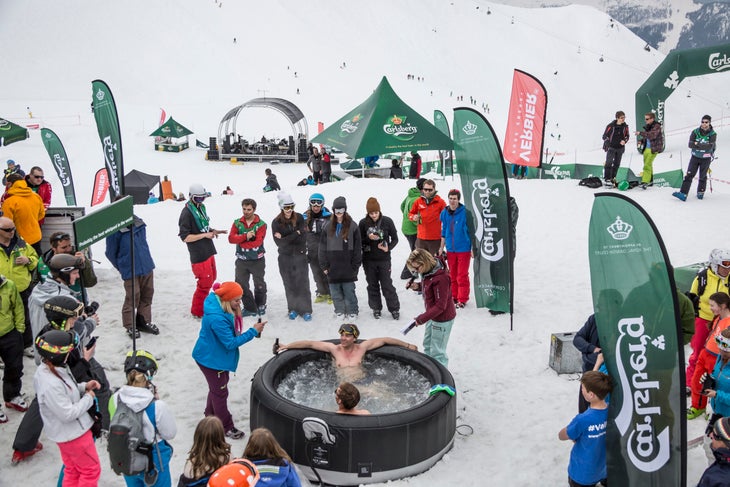 The 2023 Ultime Session will take place Saturday, April 22, 2023. This year's events will include games, live music, and an oceans and octopuses-themed costume contest.
Getting There & Around
The Swiss Travel Pass is the best and easiest way to get around Switzerland. It allows you unlimited travel on its network of public transportation systems including trains, buses, and boats. It includes a discount for transport into the mountains by cable car, funicular, and cogwheel trains.
Where to Stay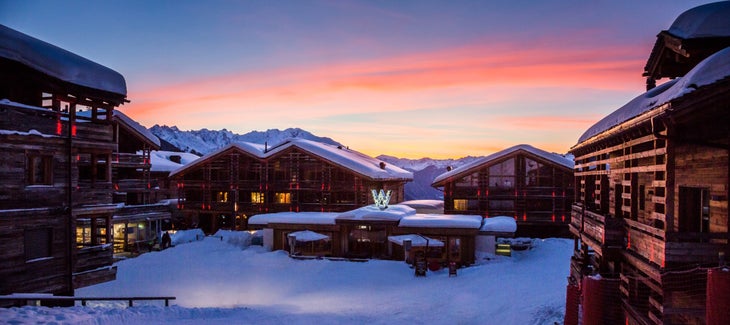 Sleek and Luxe: W Verbier
If you're looking to splurge on a ski-in/ski-out hotel this is it. The W Verbier is consistently ranked as one of the world's best ski hotels. There are four eateries, two bars, and a nightclub. Stay here if you're interested in things like a whatever-you-want-whenever-you-want-it concierge service, Michelin-star chef prepared meals, and an upscale spa.
Intimate and Environmentally Friendly: Hôtel La Cordée des Alpes
La Cordée des Alpes is a boutique hotel centered in the middle of all of the shops, restaurants, and nightlife in Verbier and is a 10-minute walk from the ski resort. It's been designed to preserve the surrounding flora and fauna and was made with reclaimed timbers and local natural materials. It has a spa with a jacuzzi, a heated pool, and an open fireplace.
Value-Oriented and Convenient: Ermitage Hotel
Consider the Ermitage if you're looking for reasonably priced accommodations with outstanding views of the Alps. It's a 5-minute walk to Verbier Ski Resort and is near shops, restaurants, bars, and nightclubs. There's a relaxation area with a sauna, hammam, massage room, and fitness center.
Where to Eat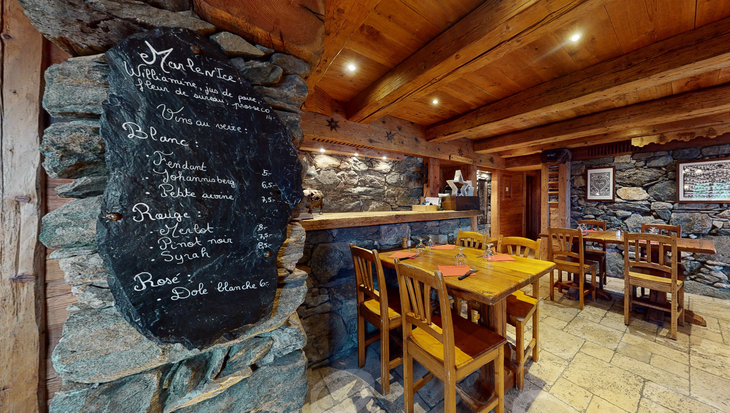 Verbier has an incredible dining scene, and like many ski towns in the Alps, you'll be inundated with excellent choices. A good problem to have. These came recommended by my local guide, and did not disappoint.
First, the locals will tell you not to miss La Marlenaz, where you can pair regional specialties like röstis, fondue, and local cheeses at 6,200 feet with panoramic views of the surrounding Combin mountains. A sled is included with your meal so that after dinner, you can ride down from the restaurant under the stars. At Restaurant L'Ecurie, you'll find a rotating menu that features dishes made with locally sourced seasonal ingredients. Don't miss Chez Dany's traditional Swiss fare, like raclette and fondue. Located in the W Verbier hotel, the hip Brasserie le Bec serves contemporary fare like breakfast burritos and pancakes. Big windows and artful design provide a chic modern vibe. Swing by casual, local joint Fer a Cheval Bar & Restaurant for pizza, pasta, and steaks. It's a vibrant après bar upstairs and a hot spot for some solid post-skiing eats downstairs.
Where to Drink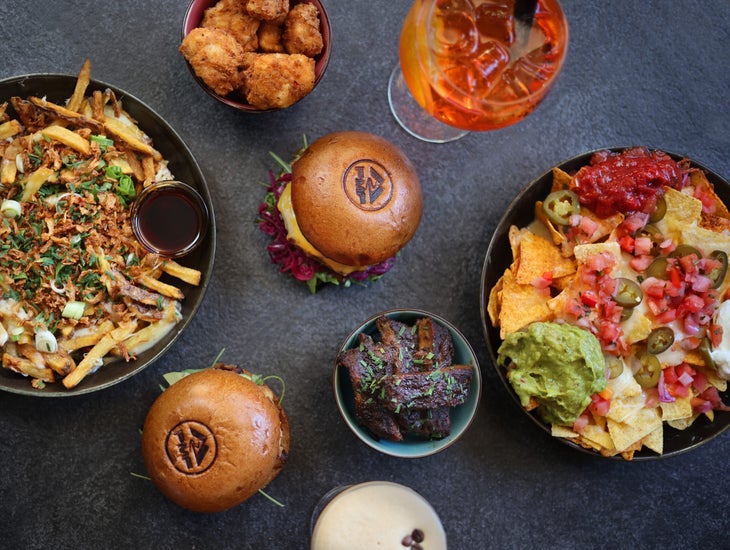 Live Music: Pub Mont Fort
One of Verbier's hottest après spots. There's often local bands and always a wide selection of international beers. 
Hip and Chic: Experimental Chalet
This stylish restaurant and bar is located in a boutique hotel and serves signature craft cocktails and mocktails.
On-Mountain: Le Dahu
Le Dahu is a restaurant and bar located on the slopes at Verbier accessed by taking the ski lift. They offer wood-fired pizzas and traditional eats at 7,431 feet.
Off-Mountain Diversions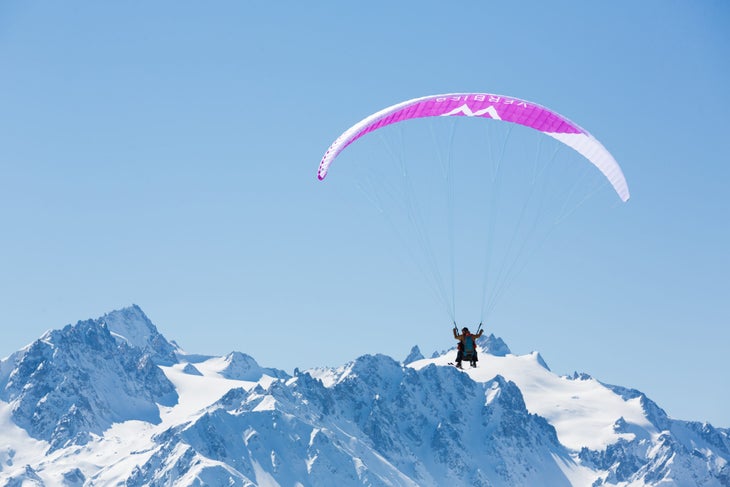 Mont Fort
It takes four cable cars from the village of Verbier to reach the Mont Fort Summit. Once you're at the top, head to the stairway that leads to the peak. From the 10,925-foot summit, take in 360-degree panoramic views of the Matterhorn, Dent Blanche, Grand Combin, and Mont Blanc. 
Paragliding
If you're looking for an adrenaline boost and the High Five isn't an option for you, paragliding is one of the most popular things to do in Switzerland, and Verbier is considered one of the top five best paragliding sites in the world. Verbier Summits and Fly Verbier offer tandem paragliding every day year-round.