My First Time: Whistler Blackcomb
The biggest ski resort in North America lives up to the hype, even if the weather does not.
Heading out the door? Read this article on the new Outside+ app available now on iOS devices for members! Download the app.
For me, there are few places as mythical as Whistler Blackcomb. Growing up, it seemed every photo and ski movie segment from the massive British Columbian ski resort was unlike those depicting any other ski resort: The terrain was bigger, the level of skiing was higher, and the snow—unlike the unconsolidated dry fluff in my native Colorado—looked as sweet and creamy as soft-serve ice cream. 
For as long as I can remember, I've wanted to pop my Whistler cherry on the terrain of Spanky's Ladder, send it off Air Jordan, dine at Sushi Village, and boogie all night at Buffalo Bills.
Standing in a liftline waiting to get on the Whistler Village Gondola in early December last season, I am living that dream in perfect outerwear-testing conditions: rain. Unfrozen precipitation is not on my first-time-in-Whistler wish list, but I am just so happy to be in that liftline I don't even mind. 
Arriving at the top of that first incredibly long gondola ride, my hopes are still high and I am as giddy as a six-year-old on Christmas morning, even though there is no way I'd be skiing off the Peak Chair on this trip due to—according to some locals—the worst early season conditions in at least a decade. But there is so much skiable terrain (8,171 acres and 200-plus named runs) that I can stay entertained skiing the mid-mountain.
On the first day, I keep my eyes and ears peeled for freeskiing pioneer Mike Douglas, who always seems to omnipresent in any coverage I'd ever seen of Whistler Blackcomb. (I'd find out later, via Instagram, he was actually skiing on my home mountain of Aspen Snowmass during western Colorado's best early season in a decade.) Instead, I bump into my friends McKenna, Jonny, and Will, all ski industry professionals who had been to Whistler Blackcomb before, and they have much better ideas about where to go than I.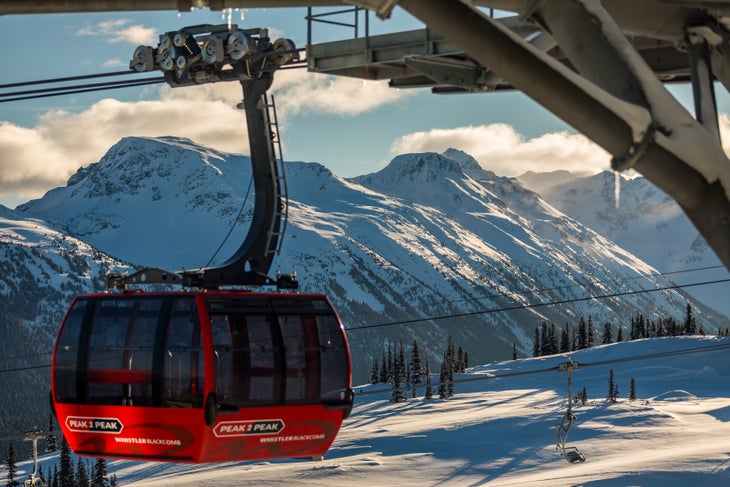 The first stop? Blackcomb Mountain via the Peak 2 Peak gondola. This feat of engineering is both the highest lift and the longest unsupported cable span in the world, a marvel to both see and ride, even if you're not a skier. We are lucky enough to score a glass-bottomed gondola car, making it possible to get glimpses through the fog to the valley floor, a dizzying 1,427 feet above the treetops below.
Arriving at Blackcomb Mountain, we lap fresh but shallow snow off the Jersey Cream Express chair, and I check off skiing coastal B.C.'s soft-serve style powder. We lap runs above the rain line but still within the cloud, and the fresh snow is dense but soft enough to spray (the fact that we are in Whistler Blackcomb to test the larger end of the K2 Mindbender line helps). 
Later, we ski even more of this unique-to-me snow on different parts of both Blackcomb Mountain and the Whistler side. Each day there is more and more of it, getting slightly lighter and fluffier as the days roll on.
Après, anyone?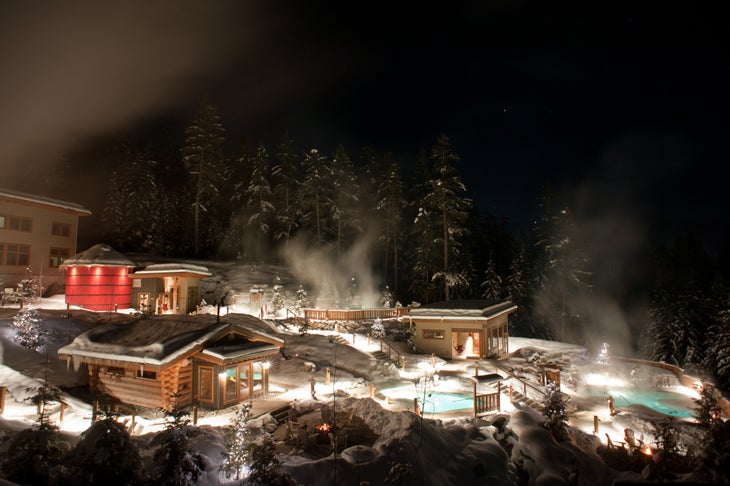 The first stop after skiing is The Scandinave Spa. I find a serious amount of zen just a short taxi ride from my stay at the Pangea Pod Hotel, including an extended session in the authentic wood-fired sauna that warms the marrow in my bones. The alternating laps between the sauna and the cold pool seem to stretch into forever, a good thing since I never want it to end.
More About Pangea: Whistler's First Pod Hotel
In full bliss thanks to the Scandinave-recommended regimen of hydrotherapy in hot and cold waters—plus some time relaxing in an on-site solarium, an ideal place to come back to earth before leaving the spa—it's time to experience the famous Sushi Village.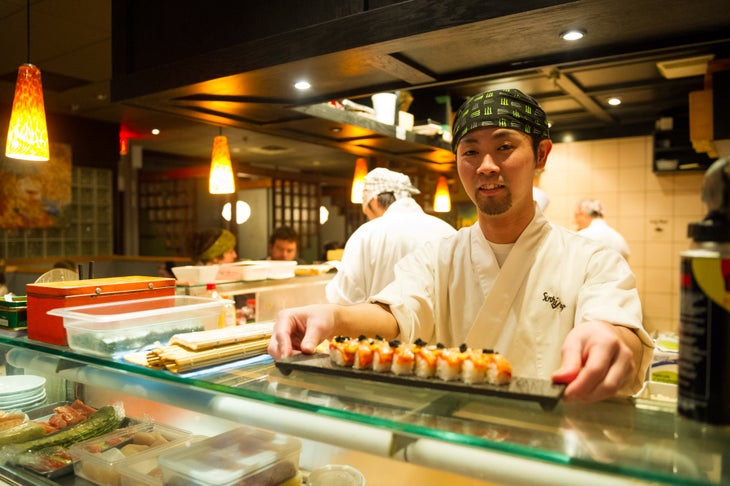 Located below the Sundial Hotel in Whistler Village, this place has hosted some of the rowdiest dinner parties in all of skiing. Eating solo at the bar that first night while my friends are in business meetings, I reach a different level of bliss thanks to the most incredible blue fin nigiri and a generous pour—OK, maybe more than one pour—of Nikka 'From the Barrel' single malt. 
I would return later that week to Sushi Village with my aforementioned friends, who, after hearing my order, cancel theirs to have what I'm having (and they don't regret it).
The Whistler Village Nightlife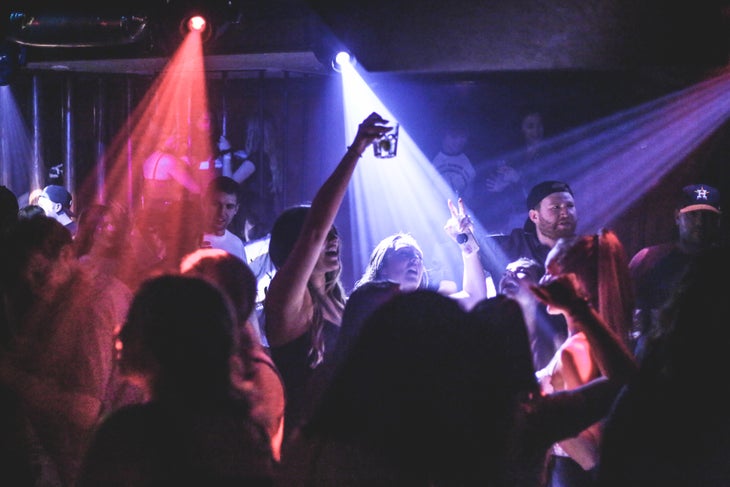 At this point, it's worth mentioning that I'm not sure when people sleep when visiting Whistler Blackcomb. The après and nightlife is unlike anything I've ever seen (and my home mountain, Aspen Snowmass, is not exactly a "sleepy" town at night by any measure). Yes, there are clubs in Europe that come close, but because there are just so many pumping discos densely concentrated in Whistler Village, it's genuinely something you have to experience to believe. 
As soon as I stop skiing that first day, there are already multiple people dancing on tables (still in the rain and still in their ski boots) at the Longhorn Saloon. Later on, just down the way at Garfinkel's, I drag myself out sometime around 3:30 a.m., realizing I need to ski the next day.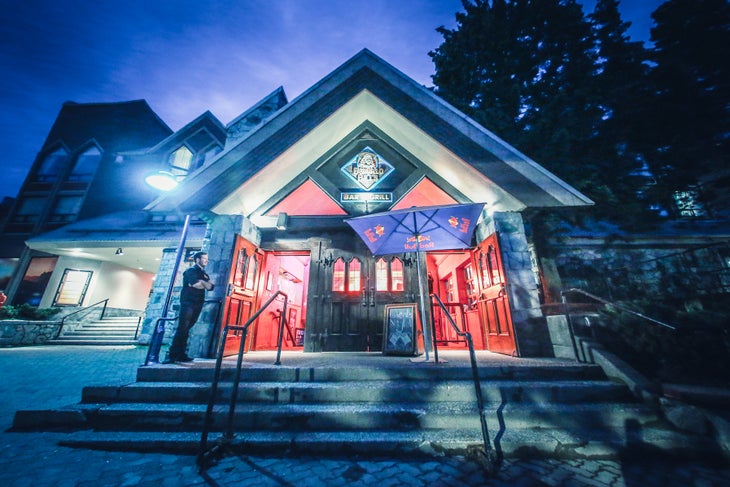 But no club in Whistler compares to legendary Buffalo Bills. I would visit the place multiple nights on this trip, spending time on the thunderously loud dance floor or in one of the somewhat quieter bar alcoves where conversations are possible. I've never seen so many good-looking people in a single place, never heard DJs play such energetic and catchy music, and I never figure out who keeps buying me drinks (I do buy more than a few rounds for random folks, too).
On the first night, lost on the dance floor at Bills and apparently abandoned by the crew, I bump into Jonny Moseley. We drunkenly smile, nod, and raise our drinks before going separate ways like ships passing in the night, back out to the sea of beautiful people grooving on the dance floor. 
Such an ethereal experience amid loud, rhythmic chaos is only for the lucky few who make it to Whistler Blackcomb at least once in their lives.
Stay on Topic: My First Time – Aspen, Colo.
On the final day of my trip, I sit with my friends McKenna and Jonny at Garibaldi Lift Co., enjoying some post-dinner drinks and some much-needed respite after another hard day of skiing the mid-mountain, and what can only be considered "general" Whistler ski trip fatigue. 
Outside, the rain transforms into giant turkey-feather sized snowflakes, and by the time we retreat to our hotels to get ready for one last night out, there is over a foot of snow on the ground that piles up in less than a couple of hours. Whistler Blackcomb was finally getting stacked properly for yet another phenomenal season, just as we have to leave for early morning flights from Vancouver International Airport. 
Whoever was just getting into town should be stoked, and rightfully so. I guess I'll just have to go back to ski that terrain I'm still dreaming about.