FRESH 2017
Stimulate your ski-brain with these amazing photos.
Heading out the door? Read this article on the new Outside+ app available now on iOS devices for members! Download the app.
Fresh is a stunning section of our publication that showcases some of our favorite images from our favorite photographers. 
Fresh Photos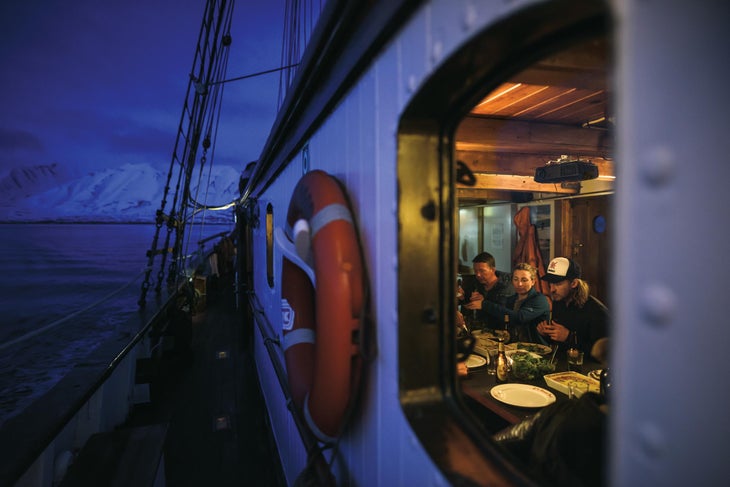 Photo: Andrew Strain
BIRTHDAY WISH » When you hear someone say he's working on his birthday, you probably don't envision that person sailing up stunning Eyjafjörður—the largest fjord in Iceland—aboard a 98-year-old schooner. But that's work for photographer Andrew Strain, and he had a pretty cool 32nd birthday. After setting out from Akureyri, the Donna Wood sailed north toward the mountains of the Hidden Land peninsula. There, a multinational group of athletes (Norwegian, Finnish, and American) skied a big 3,000-plus vertical-foot line at dusk with spectacular views of the fjord. Strain took this shot after they returned to the ship. "I was trying to capture a frame of the fading light on the range we had skied, when I noticed that an Icelandic feast was being served in the saloon," he says. "The warm interior glow perfectly complemented the twilight blues, and I grabbed this frame of team Norway before joining them for my birthday dinner." Sounds like the perfect end to the perfect day. [Passengers: Bjørn Tore Larsen, Tone Jersin Ansnes, Ole-Kristian Strøm]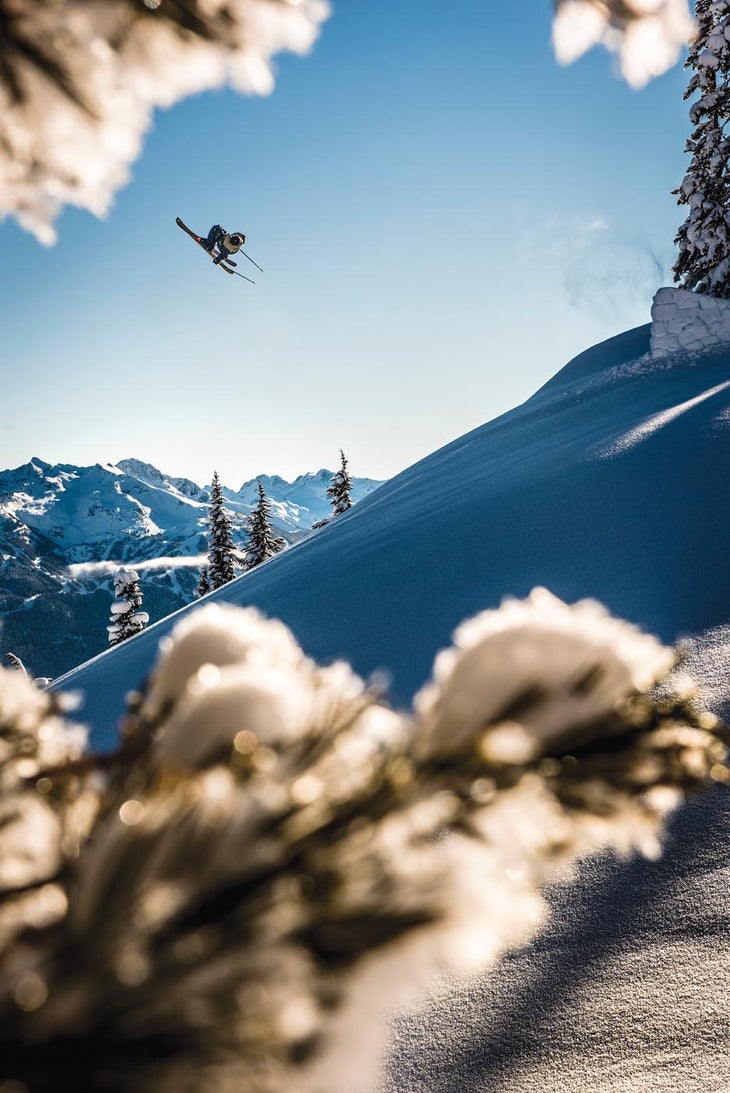 Photo: Guy Fattal
IF YOU BUILD IT… » Last winter, photographer Guy Fattal and skiers Jordan Clarke and Flo Goeller had their day cut out for them when they headed into the Whistler backcountry. After spending the morning scouting for the right spot to shoot, they got to work. "It took us the entire afternoon to build the jump," Fattal said. "We were tired, so we decided to come back early the next morning knowing that we'd get the good light." Early the next day, they lined up the shot. Clarke booted off the jump into the morning light, giving Fattal the chance to capture this dreamy image. [Skier: Jordan Clarke]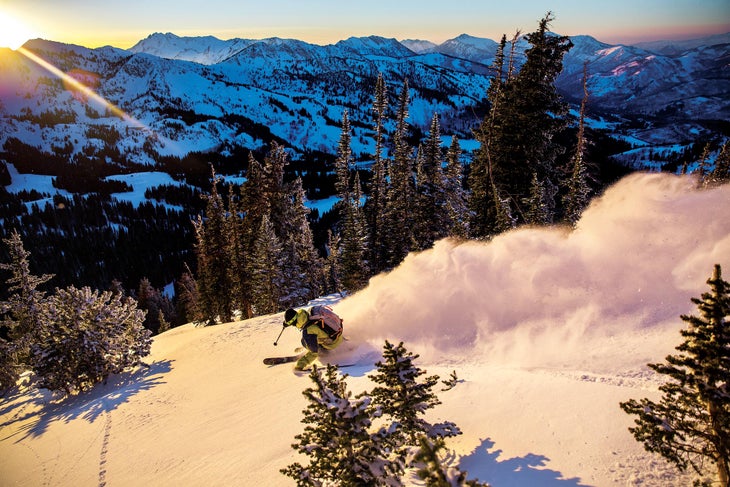 Photo: Jay Dash
END GAME » First chair has its perks: first tracks, wide-open trails, and the promise of a full day of skiing. Photographer Jay Dash and skier Tyson McDonald will tell you that last chair has its perks too. After snagging the last chair of the day, the two hiked 20 minutes into the Brighton, Utah, backcountry and waited about an hour for the lighting to change, enjoying the solitude and panoramic views. As the sun began to set, McDonald pushed off for some turns through the glow. The lifts had stopped spinning long before, but no matter.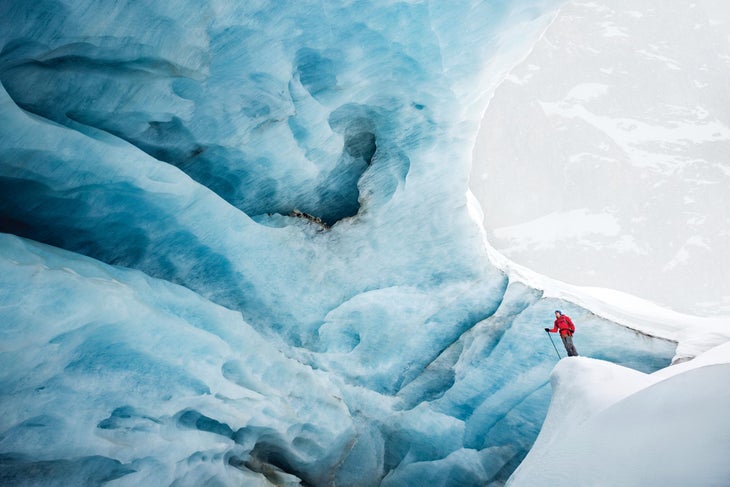 Photo: Dan Patitucci
ICED » It's all very Zen, but sometimes skiing can be as much about the journey as the destination. "We passed by this ice cave on the way to the Mountet Hut and a few days of skiing," says photographer Dan Patitucci about his crew's slog to a mountain hut that's the staging area for a number of famed ascents in the Swiss Alps. Patitucci had Simon Duverney take a closer look, providing perspective. "These caves come and go with the seasons," Patitucci says, but he captured a moment that will stick.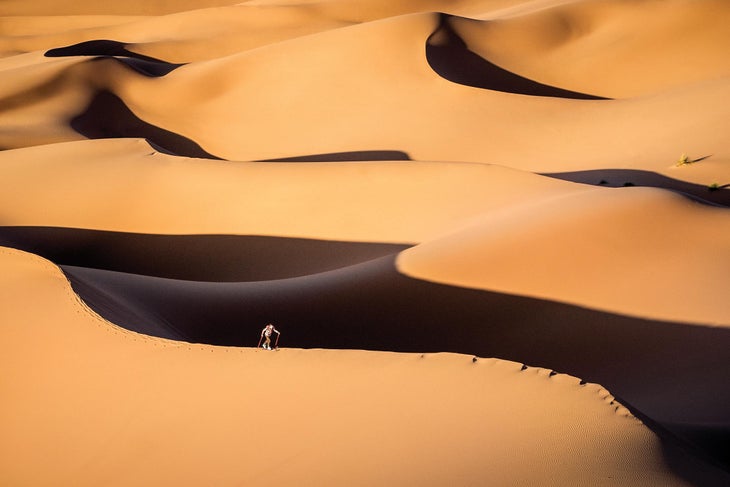 Photo: Dan Patitcucci
IF YOU CAN'T BEAT 'EM… » "There was zero snow when it was time to go, and we had tickets," explains photographer Dan Patitucci about his long-planned excursion to Toubkal peak—at 13,671 feet, the highest summit in North Africa. But he and athlete Simon Duverney (shown) chose to wing it, which is how they found themselves deep in the Sahara Desert with some alpine gear. Skis were the best way to stay above the surface during their impromptu trek, so naturally some turns were made on the steeper faces. Here's a tip you won't read on Trip Advisor, in case you find yourself in a similar predicament. "The sand skis better in the morning when it's cool and slightly moist—dawn patrol!" Patitucci says.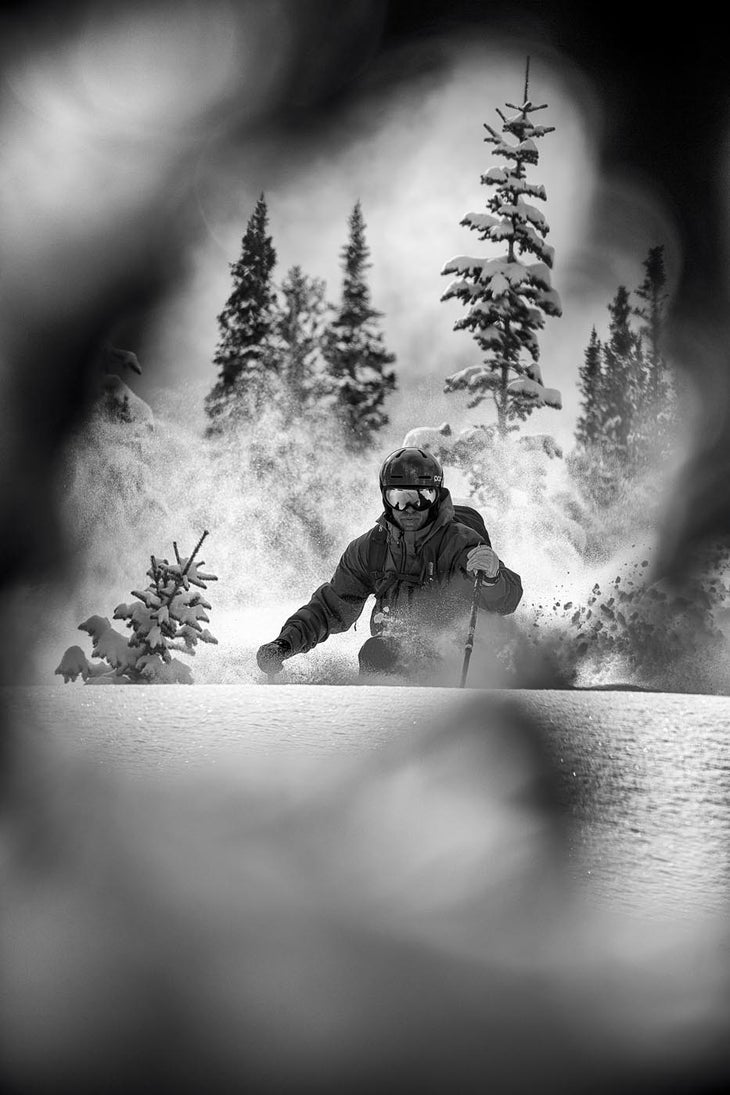 Photo: Adam Barker
DANCING WITH THE STARS » "It was just another stellar March day at Alta," says shooter Adam Barker. "This was actually the after-party." Barker and athlete Tyler Petersen had worked inbounds all morning and then decided to hit the nearby sidecountry. Shooting powder images is a precision dance between athlete and photographer, Barker explains. "I try to verbalize exactly what I'm seeing so the athlete knows what they need to do to nail their part," he says. "The difference between a keeper and a throwaway is literally a matter of inches—from both sides of the lens." Naturally, the more you dance together, the better you get. "Tyler is a seasoned vet," Barker says. "Not surprisingly, he greased it."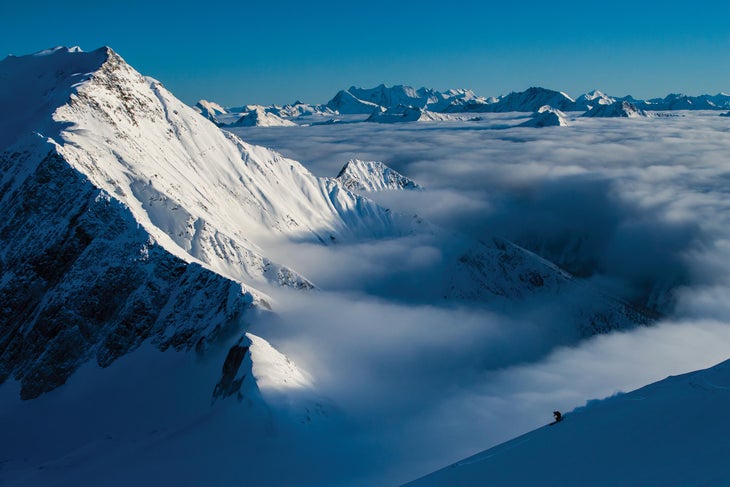 Photo: Bruno Long
LUCKY STARS » Successful ski photography is often a serendipitous combination of snow, timing, and personalities, as crews head deep into the wilderness with little privacy and a lot of lurking danger. Veteran shooter Bruno Long has worked with Great Canadian Heli-Skiing for five consecutive years, often with the same skiers. This time, he brought athletes Kalen Thorien and Christina Lustenberger, who hadn't met before, but formed "a 'womance' from the start," says Long. "We ended up scoring a bunch of days in a row of insanely beautiful light, which had us sitting above the clouds and thanking our lucky stars at how fortunate we were."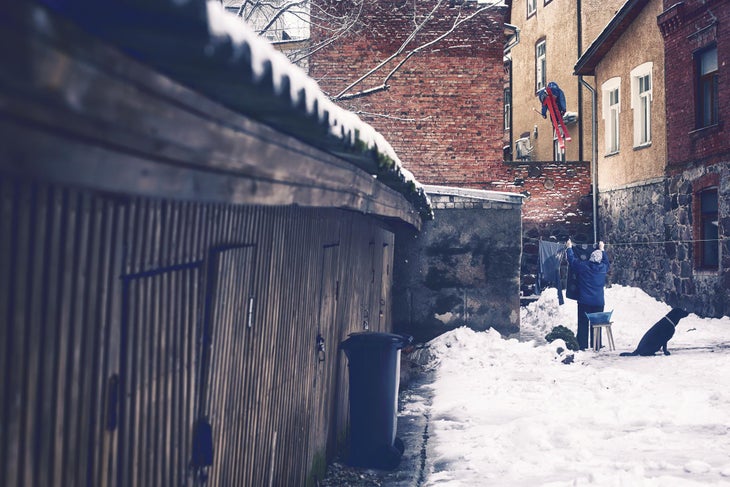 Photo: Roman Neimann
ONE SLICE OR TWO? » Photographer Roman Neimann had been pushing Timo Jeeger for some time to scout his hometown of Viljandi, Estonia, for a compelling location for a shoot. Jeeger found a small downtown courtyard, and he and Neimann headed there early one snowy morning. "After we did a speed check, an old lady came to hang her laundry," Neimann says. "Luckily we still had enough space, so Timo went for a 360 over a brick wall and I got this image on the first try." Nonetheless, Neimann had to do some public relations on the fly. "The old lady was a bit surprised" to find a kicker, a skier, and a photographer when she came out to do her morning chores, though her dog seemed completely chill with the setup. "After a little explanation of what we were doing," Neimann says, "she went inside and brought us out some cake."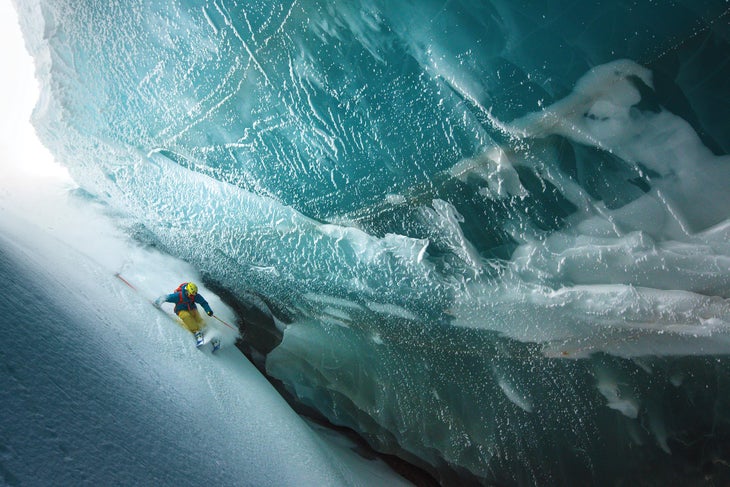 Photo: Bruno Long
SURF'S UP » When life gives you lemons, the answer is to ski into an ice cave in British Columbia. Late last spring, when shooting conditions were a "crapshoot" everywhere he looked, photographer Bruno Long decided to head north. He ended up at Chatter Creek outfitters, in B.C.'s backcountry. "Our guide mentioned that we should check out an ice cave that had appeared near one of the cat roads," Long recalls. "The cave was massive—large enough to link a few turns before chattering onto the glacial ice at the bottom." Long seized the moment. "The overhanging wall reminded me of a surf barrel," he says. "I told Chris to get as close to the wall as possible to capture the enormity of the 'wave,' along with the texture and beauty of the ice." [Skier: Chris Ruebens]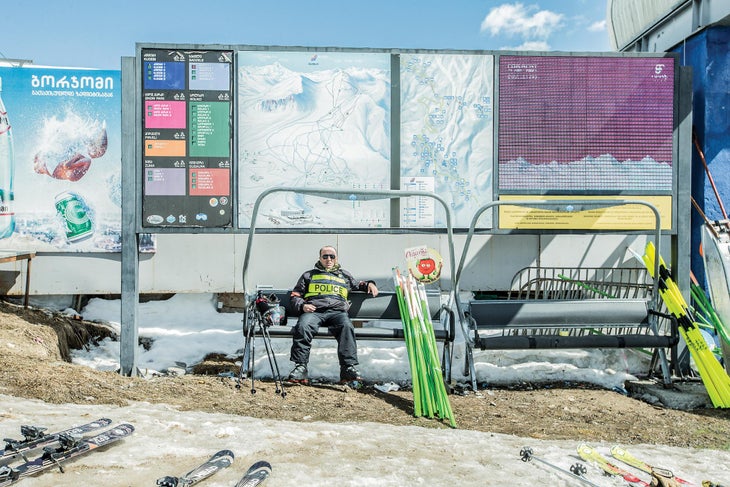 Photo: Christopher Jorda
ON PATROL » Tucked in next to the Russian border, the Gudauri Ski Resort, the largest in Georgia, has legit alpine numbers: a 3,200-foot vertical, more than 7,000 skiable acres, and a season that typically stretches into May. It also has a number unique to its location: one dozen. Security guards, that is. Photographer Christoph Jorda guesses there are at least that many at the resort at any given moment. "The funny thing is that they can't ski at all," Jorda says. "They ski like bloody beginners, so it would be very easy to get away." OK. But no messing around in the base area.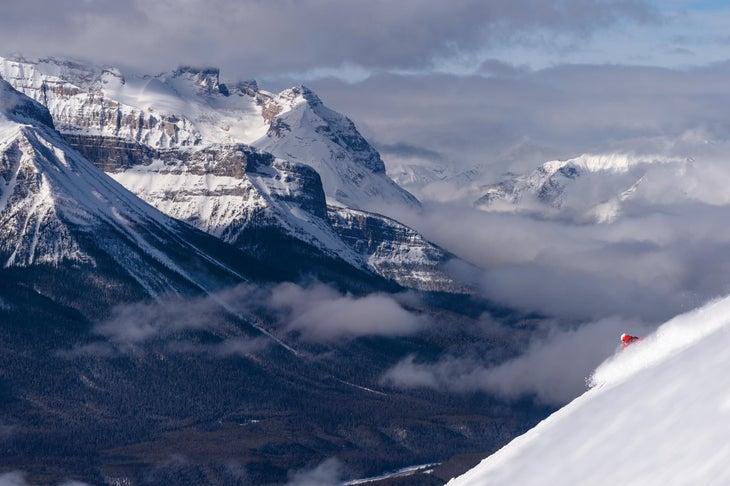 Photo: Reuben Krabbe
COMING HOME » "There's something special about visiting a home where you no longer live," says photographer Reuben Krabbe, who grew up skiing the Albertan foothills and now lives in Whistler. On this particular trip, Krabbe ended up on his home turf of Lake Louise. Once on the mountain, the familiar pow-covered runs that greeted Krabbe's crew, along with the spectacular views of Mount Niblock, Popes Peak, and Naro Peak, were a warm welcome back.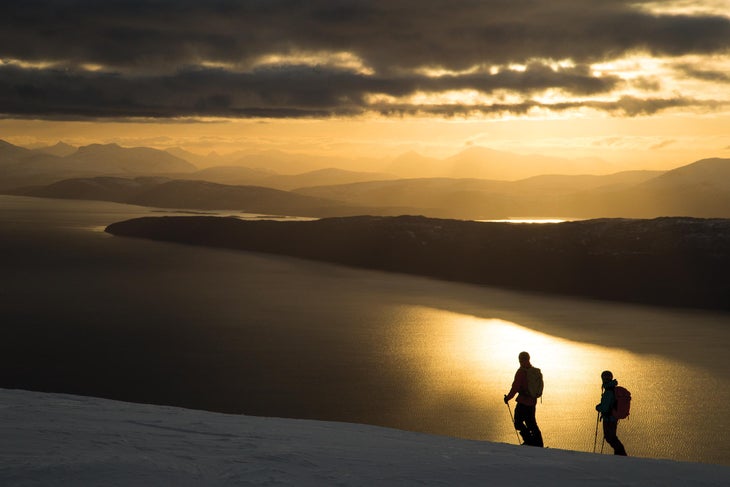 Photo: Adam Clark
CLOUDY WITH A CHANCE OF EPIC» The weather isn't always cooperative. And then nature gives you something like this. After patiently trying to wait out a day of clouds and flurries in Norway, photographer Adam Clark and skiers Riley Leboe and Izzy Lynch gave up and headed down the mountain, where they were met by this awe-inspiring sunset. "Narvik is an incredibly beautiful place, and this evening it really showed its good side," says Clark, who claims it was one of the most amazing sunsets he's ever shot.