Get Ready To Watch the Sun Disappear!
Trust us, you're going to want to find yourself on the "Path of Totality" for Monday's historic Great American Eclipse, and a bunch of resorts are ready to help you do it.
Heading out the door? Read this article on the new Outside+ app available now on iOS devices for members! Download the app.
Unless you live in the dark, you've heard that the first solar eclipse to hit North America since 1918 is about to send us into the dark, on Monday, August 21, to be exact. And astronomers claim (we're gonna have to take their word for it; this really is rocket science) that the next similar show won't arrive until 2045. 
But the Great American Eclipse isn't an event for procrastinators: For roughly two minutes on Monday, the sun will hide behind the moon in the so-called Path of Totality, where you can witness a rare total solar eclipse. (Impress your friends and drop the acronym POT frequency into casual conversations from now until the action starts.) 
Don't be left in the dark on Monday and head to the Path of Totality to witness the Great American Eclipse. Good news for the ski tribe: the POT crosses a number of ski towns, with resorts running lifts and hosting viewing parties for the celestial light show. Click on the video above to see the path of the eclipse.
–
Fortunately for skiers and riders, the celestial light show starts in Oregon and travels east, crossing a number of prominent ski states, including Wyoming, Montana, and Idaho, for a start. Always at the ready to take advantage of a bright business opportunity, a number of ski resorts are hosting eclipse events, from free viewing decks to mountain hikes, gondola rides, and lodging deals.
Jackson Hole is smack dab in the eclipse path and is running a VIP Sweetwater Gondola package, among other offers, to see the show (eclipse glasses included, no fried retinas please!). Neighboring Grand Targhee is also getting in on the action. Even modest White Pine Ski Area, southeast of Jackson, isn't being modest about its geographic serendipity with "cabin, tipi, and tent rentals," and a ride up the Great Spirit chairlift for the best viewing.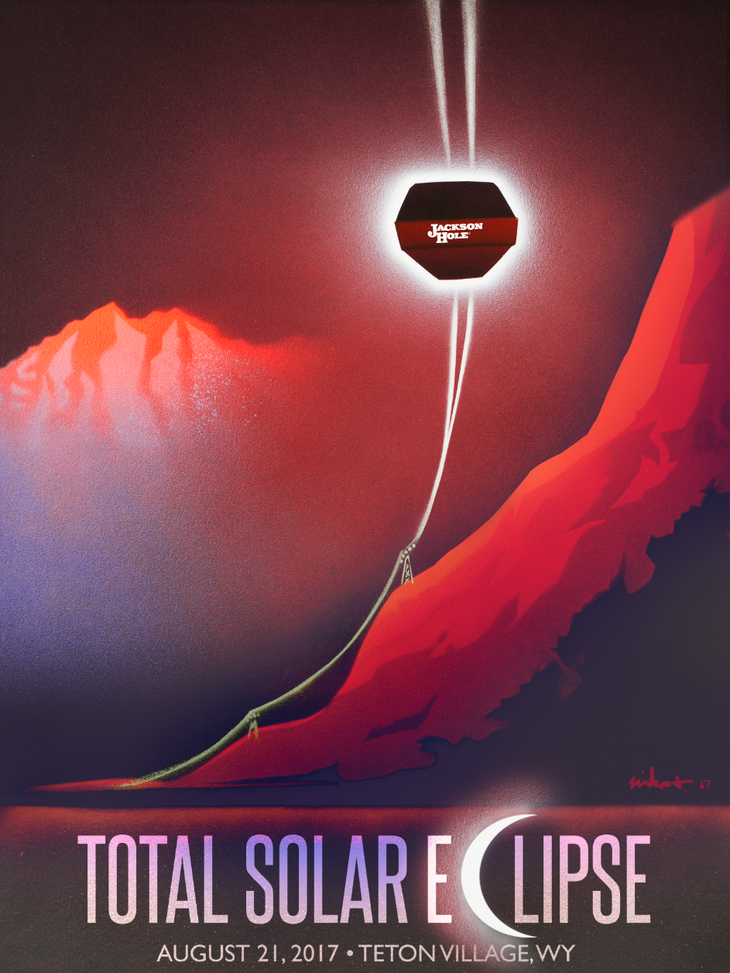 With guided hikes, viewing areas, picnic lunches, lodging packages, and more of the like, Vail Resorts is happy to provide you with a front-row view of the heavenly extravaganza at Beaver Creek and Vail mountains, as is Sun Valley, Idaho and Snowbasin, Utah, to name a few.
For a "simplified" (read: written for non-astronomers) explanation of the hidden-sun trick, head to NASA's Eclipse 2017 website, complete with a countdown clock, and live-streaming video on Monday for La-Z-Boy warriors.
The NASA website includes a video of the path of the eclipse (see map above) to help you make your plans—published reports estimate that about 100 million people live within a day's drive of the Path of Totality. 
NASA also thoughtfully provides a solar-eclipse myth-busting list, which addresses the whole eclipse-watching blindness thing. (They claim it's a bit overstated.) There are even party tips from those pocket-protector party animals at NASA. 
What else could you need?