Go Now: Canyons Resort, Utah
Shred and snack your way across 4,000 acres at this tasty Wasatch Behemoth.
Heading out the door? Read this article on the new Outside+ app available now on iOS devices for members! Download the app.
My delicately paper-wrapped muffin and vanilla latte look so good I'm tempted to snap a photo and post it to Bragbook. Instead I train my phone's camera on the stuff that will really make my friends back home drool: the seven inches of new snow piling up outside the funky oval windows at Cloud Dine. Then I not-so-delicately unwrap my cinnamon swirl muffin and snarf it. Attempting to ski 4,000 acres in a single day causes one to lose her manners.
It's midafternoon at Utah's Canyons Resort and it's been hurling snow since the night before. We're taking a breather at Cloud Dine, a smallish café at the intersection of the Dreamcatcher and Dreamscape lifts that, despite its cheesy name, serves some pretty delicious food. (It's also a few turns away from where the controversial SkiLink gondola—proposed to connect Canyons with neighboring Solitude—could be built.)
Cloud Dine is best described as space-station-chic, with its Deco-esque rounded windows and bold orange-and-blue color scheme. It opened in January 2011 to provide more skier services on a mountain that's currently Utah's largest. When Toronto-based real estate firm Talisker bought Canyons in 2008, there were 3,700 acres and only five places to grab a bite on the slopes. "We had our work cut out for us," says Canyons managing director Mike Goar. "There was all this potential, so we just dove in."
Today there are 4,000 acres and 18 dining options on-slope and in the village. Talisker also added a new terrain pod—300-acre Iron Mountain—plus four chairlifts, including the continent's first heated chair, the Orange Bubble Express.
With a.m. temps in the mid-teens on our second day on the hill, a ride on the toasty Orange Bubble is welcome. It's one of two feeder lifts that ferry skiers out of the village. (The other is Red Pine gondola.) It also accesses the original bones of the resort: the old Park West terrain that opened in 1968 with 1,400 acres, three chairs, and $4.50 lift tickets.
We head there first and it pays off. This is one of the best—and most overlooked—areas of the mountain. The pitchy groomers beneath the Sun Peak Express ride like banked roller coasters. Off Super Condor, short, staccato double blacks spit down through the trees—Lone Pine, Yard Sale, After Shock—some bumpy, some just steep. We lap the Super Condor until our ski legs are no longer eager. Lunchtime.
Perhaps inspired by the breadth of dining options at neighboring Deer Valley, Canyons seems out to prove that food is more than just fuel. The resort's 18 food outlets are overseen by head chef Zeke Wray, a recent replacement for locavore rock star John Murcko, who left last summer to take the culinary helm at Sun Valley. Wray is no newbie, though. He's been with Talisker for six years and is the brainpower behind the resort's newest gustatory standout, The Bistro, ski country's only Kosher restaurant, which opened to excited reviews last season.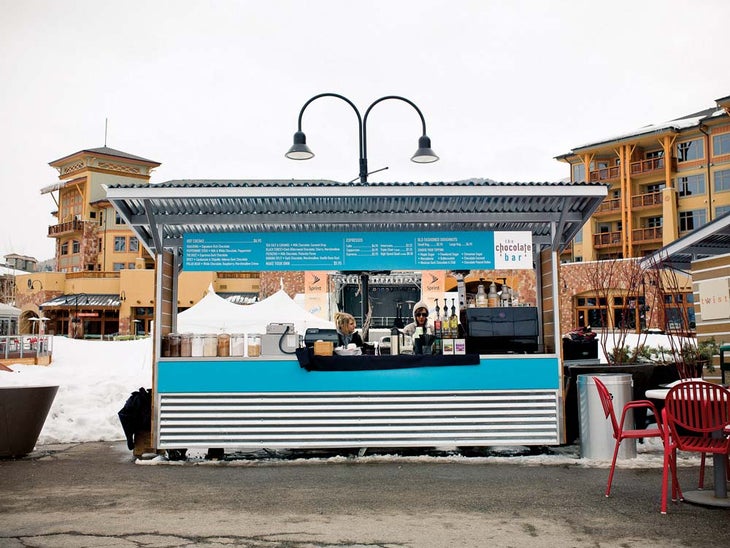 But we're hitting Lookout Cabin for lunch. Lookout is the only building from the Park West era still standing, but the menu belies its modest facade. Smoked Utah trout salad with avocado-citrus vinaigrette is light but satisfying. And the Wagyu beef burger, locally raised, topped with crispy onions, peppered bacon, and creamy smoked gouda, totally nails it.
We eat, ski, then eat some more, sliding up to Bruges Waffles about 2 p.m. for some flaky, crunchy goodness drizzled with crème fraîche or warm Belgian chocolate sauce. Fuel in the tank, we continue to Iron Mountain's otherworldly tapestry of blues and blacks, where tame but fun cruisers spill down the brush-covered mountainside. Our final runs are fast, carefree, and completely empty. The benefits of being big. Spent, we snag a few chairs on the deck of the Euro-style Umbrella Bar in the village and peruse the menu of snacks (specialty hot dogs, burgers, homemade chili, seasoned fries) and list of local microbrews.
Did we ski 4,000 acres over the past two days? Pretty close. Did we eat 4,000 calories? For sure. Tomorrow we'll hit the blacks and double blacks off Ninety-Nine 90, where there's guaranteed to be fresh hiding in the glades off Charlie Brown and Red Pine Chutes. That's the easy part. Where to eat lunch? Now that's a far tougher decision.