How to Make Sushi Burritos
Mountain chef Peter Hughes, who spends his winters cooking for guests at Revelstoke's Bighorn Lodge, dishes his favorite mountain energy food.
Heading out the door? Read this article on the new Outside+ app available now on iOS devices for members! Download the app.
I'm afraid I can't take full credit for the idea of sushi burritos, that honor goes to one of my chef idols, David Chang of Momofuku fame in New York. I will however try and take a little credit for transforming them into a heliski picnic lunch or afternoon tea snack after a big day in the deep stuff. When out there in the Boondocks served with a hot thermos of Jenmai Miso, with silken tofu and kombu strips, it is a pure energy brick. Scale it up for a great dinner party dish by providing saki bombs and plum wine!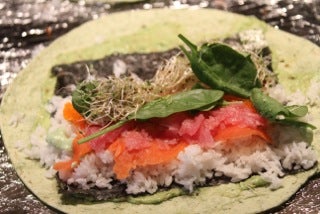 The idea is to have some fun with the contents.
1. Start with a quality pesto wrap, smother it in guacamole, then lay a sheet of nori on top.
2. Begin layering the sushi rice with pickled ginger, wasabi, and mayonnaise.
3. Top with white crab meat, sockeye salmon, tuna and caviar along with cucumber strips, grated carrot, and mizuna before wrapping tightly and cutting on the bias.
Enjoy experimenting!
See Hughes's web site for more.