How To Choose A Season Pass Based on Your Skill Level
Find out which passes offer the most beginner, intermediate, and expert terrain so you can make the best choice to level up next season.
Photo: Andy Cross/MediaNews Group/The Denver Post
Heading out the door? Read this article on the new Outside+ app available now on iOS devices for members! Download the app.
Check Out The Complete Season Pass Buyer's Guide
What's one of the most-asked questions when it comes to planning a ski vacation? "Where can I find the most green/blue/black terrain?" Simple question, yes, but not so simple to answer.
While the 50,000-foot perspective is that all resorts have all levels of terrain, it's fair to say that some are better known for certain types of terrain, and skiers would be smart to know where to look for their desired experience.
Which Pass Has More Terrain for Beginners?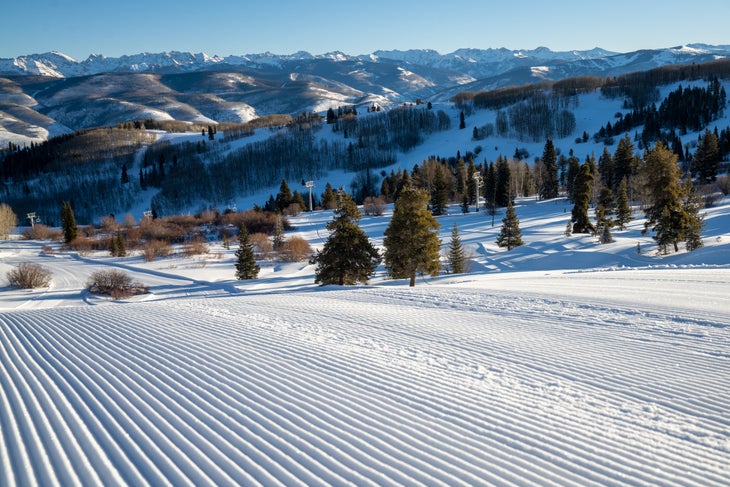 We covered this somewhat in the family article, and it holds true here as well: Vail Resorts offers access to feeder resorts in the Midwest and East—slopes designed for people to whet their palate for the sport and make them want to take it to the next level.
That said, the conversation around learning to ski goes beyond the green runs; it's also about how easy it is to navigate the base area, to get from the parking lot to the lifts, and to access ski school. It's also about something less tangible: How welcoming is the resort? Unfortunately, some are less welcoming than others.
When considering those factors at the larger Ikon Pass and Epic Pass resorts, both definitely have great options for those new to the sport. On Ikon, Calif.'s June Mountain, Snow Valley, and Big Bear, Colo.'s Eldora, and Snowshoe, W.Va. come to mind as easy to navigate and friendly spots to learn to ski. Bonus: The Ikon Base pass offers unlimited access to all of them.
On Epic, beyond the feeder ski areas, Colo.'s Keystone Resort and Beaver Creek and Okemo, Vt., are all easy to figure out, have close-ish parking, and plenty of learning areas. Both Beaver Creek and Keystone have mountaintop learning slopes, too, which helps get novices out of the base and up into the heart of the resorts so they really see what skiing is all about.
Best Pass For Beginners
Epic Pass, thanks to all of the smaller ski areas spread across a wider portion of the country.
Also Consider
Indy Pass, which also offers access to many of North America's smaller gems, which are great spots to dip a toe into the sport and get comfortable riding in less intimidating locations.
Which Pass Has More Intermediate Terrain?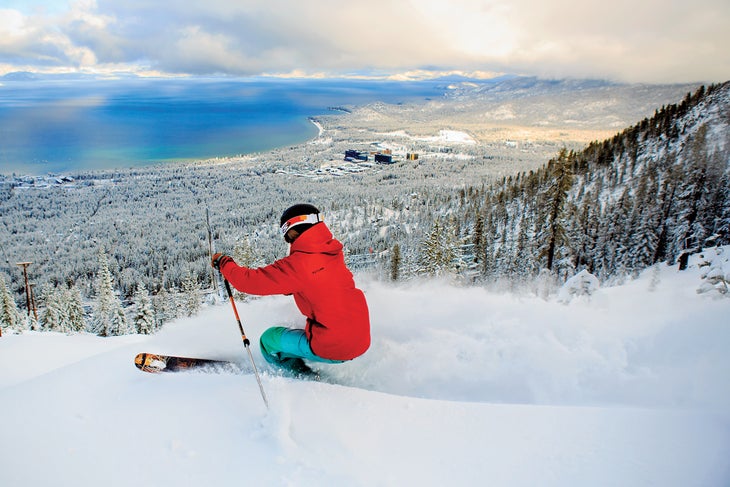 If you're in it for long, cruisey groomers, you're in luck. There's plenty of those at all of the big resorts on both passes. On the Ikon Pass, Sun Valley is a win for skiers craving long, corduroy-carpeted trails. The resort has some of the longest in the country. Snowbasin is another destination that's packed full of mellow blues.
On the Epic Pass, Heavenly and Park City are both huge, and have a very large percentage of intermediate options. Runs like Heavenly's Skyline and Ridge Run, both from the summit, have the added bonus of providing amazing views of Lake Tahoe, too.
Best Pass For Intermediates
It's a draw between Epic and Ikon; intermediates are the bread and butter of every ski resort's clientele, so you'll find plenty of blue terrain at all of the larger, destination resorts on both passes.
Which Pass Has the Most Expert Terrain?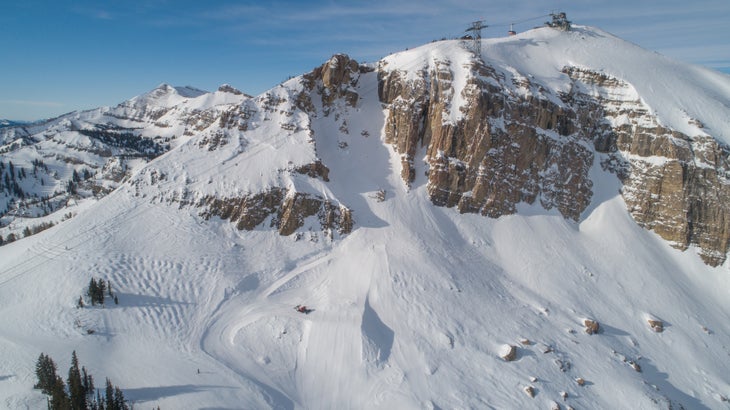 Seeking the runs that make your heart pound into your chest while you're standing at the threshold? The ones that really make you weak in the knees? If this is you, you're craving the resorts' iconic steeps, bowls, trees, and bumps that make you feel like the star of next years' Warren Miller film.
Both passes have their share of knee-knocking terrain. On Epic, Whistler Blackcomb's high-alpine adventure terrain is like no other, and The Cirque at Kirkwood was a former Freeride World Tour venue. Vail Mountain's lower front side, Crested Butte gnarly inbound steeps, and Stowe's Front Four also fit the bill.
Click Here For Our Resort Roundups of the Best Extreme Terrain in North America
However, Ikon's list of resorts with expert and extreme terrain reads like a black diamond bucket list: Big Sky, Jackson Hole, Aspen Highlands, Revelstoke, RED Mountain, Arapahoe Basin… And we haven't even touched on the international destinations on tap, such as Chamonix.
Best Pass for Expert Terrain
Ikon Pass, because there's just so much iconic expert and extreme terrain that you could renew your pass for a decade and probably still not get to all of it.
Also Consider
Many of Ikon's truly rad destinations known for their expert and extreme terrain—A Basin, Aspen Snowmass, Jackson Hole, Revelstoke, Taos—are also on the Mountain Collective.