How to Ski: Polar Peak, Fernie, B.C.
Take on Fernie's toughest terrain and earn bragging rights—and free beer, too.
Heading out the door? Read this article on the new Outside+ app available now on iOS devices for members! Download the app.
THE TERRAIN: As you move down the ridge, the chutes get wider and the runs get shorter, more wide open, and less steep. But if you stay high, you access terrain that'll test your limits and leave you bragging at the end of the day. And if you really want to push it, check out the Laundry and Hidden Chutes by sidestepping up the little knoll to the right of the Corner Pocket gate. Laundry may have a mandatory straightline, while Hidden is a bit more skier-friendly with a 10- or 15-foot-wide chute.
HOW TO SKI IT: Enter Corner Pocket (the highest line) through the first gate on the ridge. Patrol set up a series of ropes and tires that lets you sidestep down when the top is wind-scoured. It's a consistent 40-degree pitch, with a chute that chokes to about 12 feet across at its narrowest. Once you're through the chute, it's nothing but wide-open pow turns for about 500 feet. Looking for an easier way out? The biggest and widest run in the zone is Low Saddle (the traverse just below High Saddle). It's about 40 degrees and won't require jump turns.
APRÈS: The Griz Bar is the go-to for après-ski. Sip Kokanee on the patio, dance with your boots on, and chill to live music. Plus, it's the base for the Peak to Pint Challenge: Buy a T-shirt at The Griz, post a photo of yourself with your shirt at the top of the Polar Peak chair on social media, and then show the post to the bartender for a free pint.
DATA
Location: Fernie Alpine Resort, Fernie, B.C.
Getting There: From the top of the White Pass chair, take the traverse across Currie Bowl almost to the top of the ridge. The lines you want are off skier's left.
Scare Factor: With 38- to 43-degree pitches, and some chutes you need to straightline, you'd better wear your big-kid pants. But the payoff is worth it.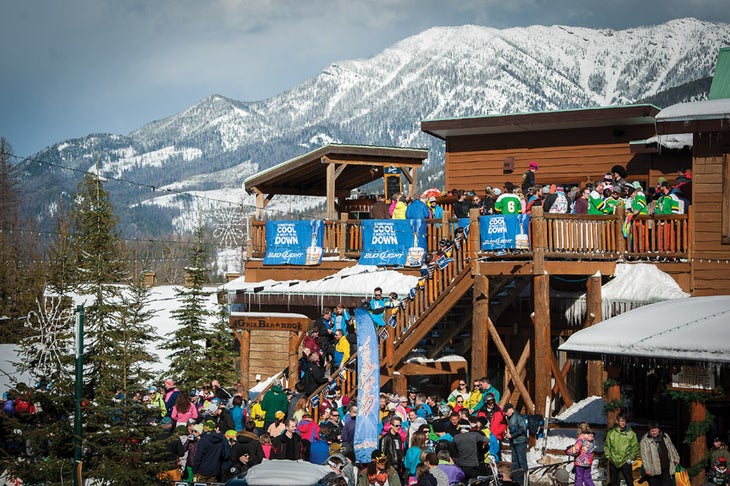 Fuel Up: Start your day right at Big Bang Bagels in downtown Fernie. Grab a Mr. Fernie
on a fresh-baked jalapeño-and-cheese bagel, and say hi to Kevin "Giff" Giffin, Fernie's ski-patrol director; his wife owns the shop.