Inner-City Kids Hit the Michigan Slopes Thanks to An Innovative After-School Program
The YMCA of Greater Flint and the Share Winter Foundation introduce underprivileged kids to the slopes of Michigan's Mt. Holly.
Heading out the door? Read this article on the new Outside+ app available now on iOS devices for members! Download the app.
Michelle "Mickey" MacWilliams doesn't want to boast, but she tells me that Michigan has the most ski areas of any state in the country. "Michigan has 52 ski areas, many close to our urban centers," she says. "Wherever you are in Michigan, you're never that far from someplace to ski."
She's right—if you include cross-country areas. But Michigan does, in fact, have the second-most alpine resorts, which is
saying something. These are cool stats, but what they mean to MacWilliams, Executive Director of the Michigan Snowsports Industries Association, is far more impactful than a number. MacWilliams was on a monthly call with the heads of other snowsports associations around the country when she heard about a program in Pennsylvania getting city youth out into the mountains. It was funded by the Share Winter Foundation.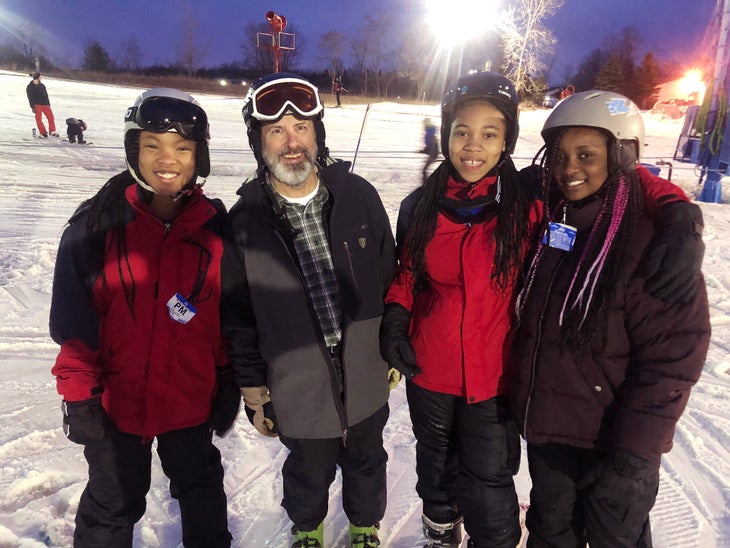 "I thought, 'Michigan is the perfect place for this,'" she recalls. "And I immediately thought of Flint as a great location to bring a program like this." Flint, which has found itself in the national news over the last several years with its contaminated drinking water, is working hard to make a comeback, says MacWilliams. "Flint has been hit hard economically, first with some of the larger auto plants leaving over the years, then with the water," she explains. "They could use a win."
Learn More About the Share Winter Foundation: This Community Organization Needs Your Help to Diversity Skiing
The ski season was already well underway, but MacWilliams was undeterred. She got connected with Share Winter's Constance Beverley, who suggested looking into partnering with the YMCA of Greater Flint. "It just made sense to me," MacWilliams says. "Parents are already taking their kids there for physical activity, so we know they value it, plus the YMCA pulls kids from all over the city to its Safe Places [after-school] program." MacWilliams connected with Moses Bingham, who was the director of the Y's Safe Places program last winter, and they made things happen—quickly.
On Feb. 13, the first busload of Flint kids, ranging in age from 7 to 17, arrived at Mt. Holly Ski & Snowboard Resort for their first of four ski lessons. The Share Winter grant, plus seriously discounted rentals, lessons, and lift tickets from the ski area—and a little ingenuity from MacWilliams and Bingham to outfit 53 kids from head to toe—became a reality in a little less than two months from the time MacWilliams had the germ of an idea.
Bingham, who accompanied the kids on each of the trips, was blown away by the experience. "I've lived in Flint my whole life," he says, "and I've never been to Mt. Holly. It's only 20 minutes away from the Y. I've walked farther than 20 minutes to get to a basketball game!" he laughs.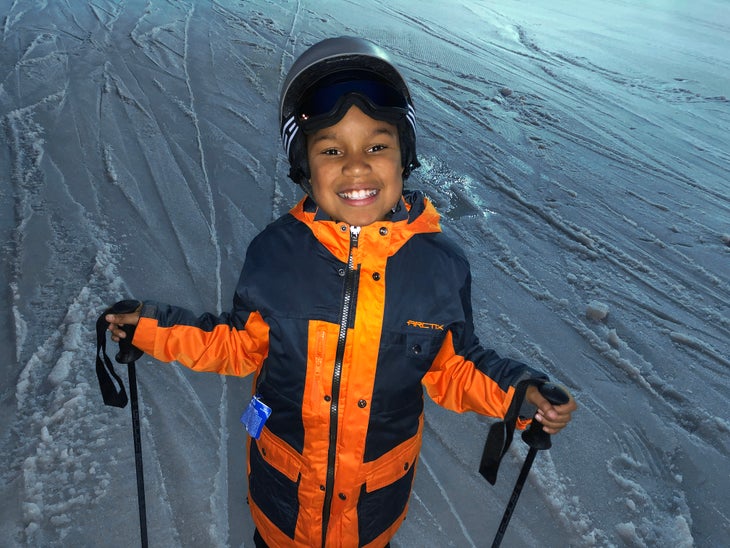 Bingham was most impressed by how the mountain accommodated the large group of kids, almost all of whom had never skied before. "There was one little girl, she was 9 years old at the time, who really didn't want to go skiing," Bingham recalls. "She had a hard time putting on her ski boots, she begged her dad not to go, but her mother made her go anyway. She went, she loved it, and she can't wait to go back this winter. She found something that she loved to do, something that she never really even knew anything about.
Related Read: Kids With No Access to Skiing Can Now Find it at This Tiny New Hampshire Hill
"That girl is my daughter," Bingham says. "I get emotional just thinking about it. As a parent, all we want is for our kids to do things they enjoy.
The Flint ski program, now in its second year, is planning to introduce even more kids like Bingham's daughter to the slopes this season—despite coronavirus limitations—and MacWilliams hopes to roll it out to other Michigan cities in future years. "It's so incredible to see these kids, for whom skiing was really never even on their radars, progressing at the sport and really enjoying it."