Jay Peak, Vt.
An explosion of slopeside luxury and diversions changes the face, but Jay Peak is still for the skiers.
Heading out the door? Read this article on the new Outside+ app available now on iOS devices for members! Download the app.
Through it all, the mountain hasn't changed. A lot of the same rippers still ski it hard, cherishing Jay for its billy-goat terrain and legendary snowfall. The Headwall chutes are still some of the sickest in the East, the wind still blows free refills into Beaver Pond glades, and the big red Tram still spins when it isn't too windy. Otherwise, Jay has been a scene of incessant turmoil and high legal drama. While the Feds try to prove that Jay's former owners bilked investors out of millions, the resort languishes in receivership, courting buyers and just waiting to bust out of legal limbo. Whoever buys it gets a beauty. 
For all the money that allegedly went missing, it's obvious that plenty was spent transforming Jay. Three sleek hotels, massive waterpark, condos, hockey rink … the change from sleepy shut up-and-ski outpost for tree-skiing hippies to lavish Montreal-facing resort was astonishing. Readers still regard it as the surest bet for powder in the East, thanks to its topographical advantage (No. 1, Snow), and as one of the toughest tests (No. 3, Challenge). Sometimes the old Jay vibe beats out loud: "Jay has the overall vibe of a chill, laid-back, deadhead resort, and it's in the middle of nowhere," says one reader. But another sums up the new Jay: "Beautiful Vermont resort with a rural flavor but 21st-century amenities; nice French-Canadian flavor." — Joe Cutts
2021 Reader Resort Survey Ranking of Jay Peak: No. 11 in the East
| | | | |
| --- | --- | --- | --- |
| Average Snowfall | Acres | Lifts | Trails |
| 349″ | 385 | 9 | 78 |
ON-HILL EATS: This close to Canada, The Foundry (in the Hotel Jay) knows it needs to get poutine right. It does, and hey, you were out in the cold all day. 
DOWN-DAY ACTIVITY: Relax, none of your friends are going to see you skipping a day of skiing to check out the irresistible, gigantic waterpark. Unless you run into them. 
LOCAL TIP: It's 20 minutes to the border, and Quebec's Eastern Townships are a great place to go if you're hungry. Their cheeses stand alone, and you can't get them in the States.
Read about No. 12 in the East: Sugarloaf, Maine

Crack into the Top 10: No. 10 in the East announced Oct. 20/21, 2020
Jay Peak's 2020 SKI Magazine Reader Resort Survey Rank: 12th in the East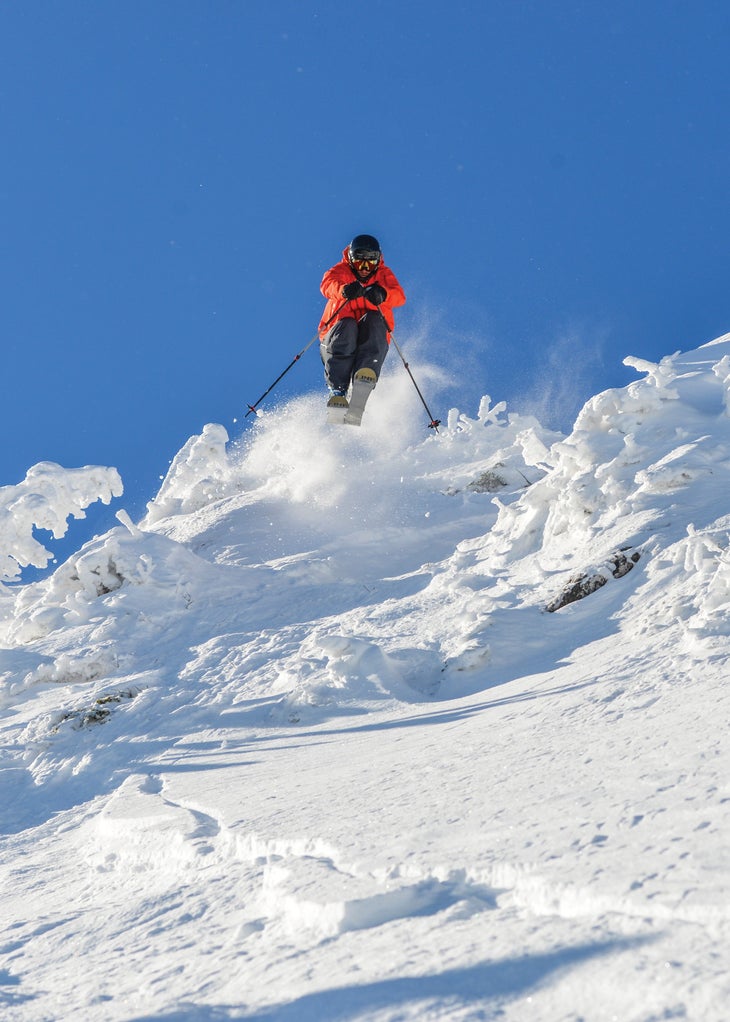 Jay Peak used to be easy to pigeonhole: a remote "skier's mountain," worth the drive for its abundant snow, challenging terrain, and above all, cherished tree skiing. Jay skiers were among the hardest of the hard core. Then the resort invested almost a half-billion dollars erecting some of the East's fanciest base-village amenities—hotels, restaurants, ice rink, the works. Now there are two kinds of Jay skier: those on the slopes and those splashing around all day in the giant, steamy waterpark (which has been a huge hit). 
It works out fine: Jay's snow (No. 2) and terrain (No. 4) are as good as ever. The price is still right (Value: No. 5). And thanks to the waterpark, the slopes and trees are no more crowded. There's still some "I want the old Jay back," but most are content (Overall Satisfaction: No. 6). "I've seen Jay explode, but it always maintains its ski-first mentality and welcoming community." — Joe Cutts
LOCAL TIP: Fans of cabin porn and tiny houses will dig Shéady Acres—a campus of cozy cabins, each with its own whimsical architectural theme.
APRÈS-SKI: Of all the upgrades, the Tram Bar is still the best: craft brews, killer poutine, and a real Jay sense of place.
Read More:
SKI Magazine's 2019 Review of Jay Peak, Vt.
There are still plenty of bark-eating powderhounds who adore Jay Peak. It's just harder to see them now. For one, they're in the trees every run—off-piste glades and deep snowpack are still Jay specialties. But today the resort attracts a new crowd, drawn by all the new amenities, including three big hotels, a hockey rink, and a massive waterpark. Today's visitor is as likely to be in town for a hockey tournament, or just to play in the pool, as to hit the slopes. 
Jay deserves to have a cult following just for the poutine at the Tram Haus bar alone. But in fact, Vermont's northernmost resort earned its hardcore following long before its controversial EB-5 Foreign Investor Act–fueled explosion of slopeside luxury and diversions, which has utterly transformed the place over the past decade.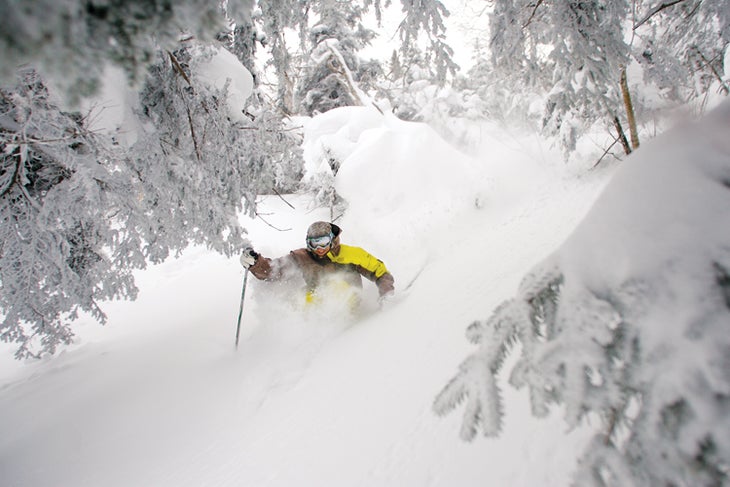 Long before the high-end hotels and stupendously huge slopeside water park, there was a mountain, a tram, an above-average snowpack, and an unusual policy: If you could see it, you could ski it. That is, the trees weren't off-limits, as at most resorts back then; if you wanted to ski them—safely and sensibly, of course—no one was going to pull your pass. Real skiers loved it, driving there in droves (and a long drive it remains today) to tear up the glades from Timbuktu to Beyond Beaver Pond and battle the summit headwall. Somehow that vibe endures, despite the masses drawn by Jay's new amenities. Some long-timers are a little grumpy about the upscale makeover. ("Jay has overdeveloped itself." 
"Once a great mountain; now a conglomerate business resort.") Others suspect the water park helps keep the gapers off the hill. ("It's still Jay. You go there to ski.") Bottom line: It's the trees and great snow that keeps them coming back.
Come to Jay Peak for the…
OFF-THE-TRAIL MAP Green Beret, skier's left off Vermonter, might be Jay's best glade. When the tram's closed, use Bonaventure and hit Vertigo.
LODGING The oldest of the new hotels, the Tram Haus Lodge, has charisma that appeals to fans of boutique inns.
FAMILY ACTIVITY Jay's massive Pump House Water Park. Yes, it's a sign of the apocalypse, but it's an incredibly fun one.     
Read More:
Resorts of the Year: Vermont
Resorts of the Year: East
2020 Resort Guide East: Skier's Mountains