The Last Best Ski Bars in the World
A completely opinionated list of the last great ski bars across the globe. Disagree? We're sure you'll let us know.
Heading out the door? Read this article on the new Outside+ app available now on iOS devices for members! Download the app.
It might not be why we ski—or for some, perhaps it is—but ending your day with good food and drinks and even better company is an integral part of any ski vacation. These classic ski bars have been around long enough to earn a spot on this list, and a visit to any of them promises a true après-ski experience you'll remember—and want to revisit.
Related: Top 10 Best Après Scenes in the West
14 of the Last Best Ski Bars Across the Globe
Merlin's Bar & Grill, Whistler Blackcomb, B.C.
Classic après-ski experience at the base of Blackcomb with live music, dancing, and screens.

Defacto home to local rock band the Hairfarmers, Merlin's is what we all think of when we're craving a true North American après-ski experience. Plates of nachos loaded 10 layers deep, craft beers, DJ, live music, and dancing, Merlin's delivers. Groove to tunes from the DJ, who's suspended in a gondy car from the ceiling, or nab a quieter spot in the upstairs mezzanine.
The Lookout Tavern, Killington, Vt.
Down-home spot with rooftop patio and a welcoming vibe.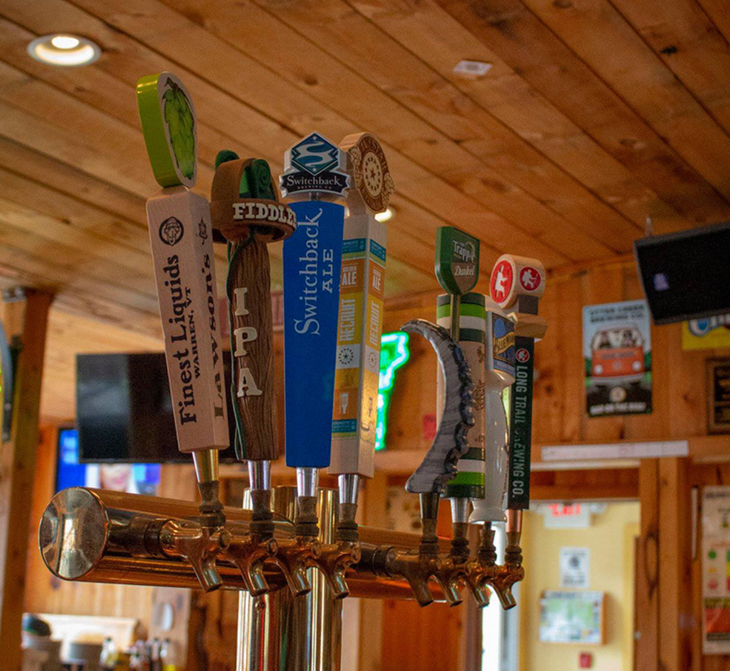 Killington's access road nightclubs are well known—the Wobbly Barn and the Pickle Barrel come to mind—but when you're looking for true après, The Lookout is the place to go. It opened in 1980 as one of the first gathering spots for post-ski revelry and has maintained its reputation as a chill and welcoming spot, especially the rooftop patio with great mountain views. Come for the best wings into town and a great draft beer selection with a side of competitive pinball.
Vendetta's, Vail, Colo.
An unstuffy bar and restaurant that's a favorite among locals and employees.
The last true dive bar in Vail, Vendetta's is the place to go meet locals and diehard skiers for cheap(ish) brews and good convo. Upstairs is a relaxed sports bar where Vail employees are known to gather, while downstairs is a family-friendly restaurant with excellent pies and Italian food. Family owned since 1983, Vendetta's remains a Vail Village haven of authenticity in a place where that's increasingly hard to find.
Hennu Stall, Zermatt, Switzerland
On-mountain après in a true alpine hut on the slopes of Zermatt.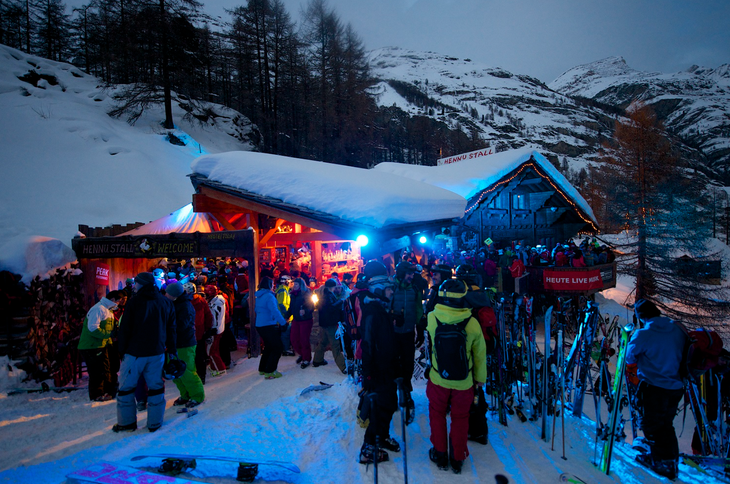 A raucous party takes place from about 4-7p nightly in a little stone hut along the ski descent into Zermatt from the village of Furi, and it's not to be missed when skiing in Zermatt. Start with a shot ski with a half dozen of your newest friends, then sing along to the live band and DJ until your throat is hoarse. Then do another shot ski. You get the idea.
Bag & Kettle, Sugarloaf, Maine
Known for its famous burger, laidback ambience, and daily après specials.
This English-style pub serves up beer brewed on-site, the legendary Bag Burger—a six-ounce beef patty topped with American cheese, lettuce, tomato, curly fries, and top-secret "Bag Sauce"—local live music, and good company in a laidback Maine setting. There are nine brews on tap, and après specials from 3-6 daily.
Rafter's Pub, RED Mountain, B.C.
A chill vibe and entertaining ski memorabilia are just two factors that make this pub a must-visit.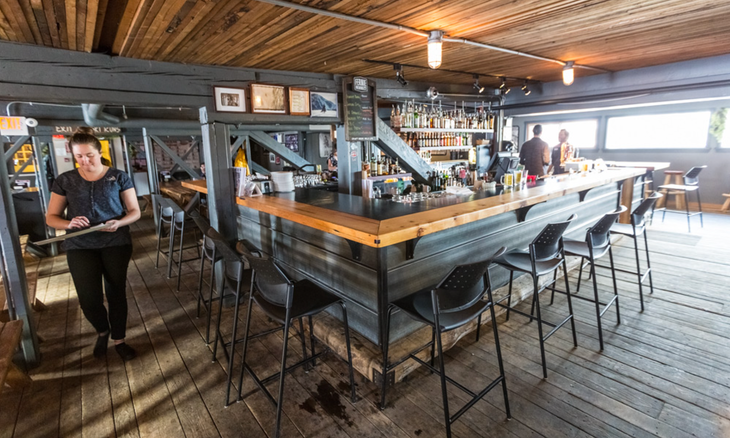 A classic base lodge bar, Rafters hosts live music and has all of the best B.C. craft beers on tap. But what really sets this place apart is the welcoming and laidback vibe set by a community of skiers who are genuinely happy to be there.  Stop and pay proper homage to the Old Bastards Ski Club, just one collection of amazing ski memorabilia that hangs on the walls.
The Chamois, Palisades Tahoe, Calif.
Serves up Euro-tinged vibe in Tahoe inside a chalet hung with amazing ski memorabilia.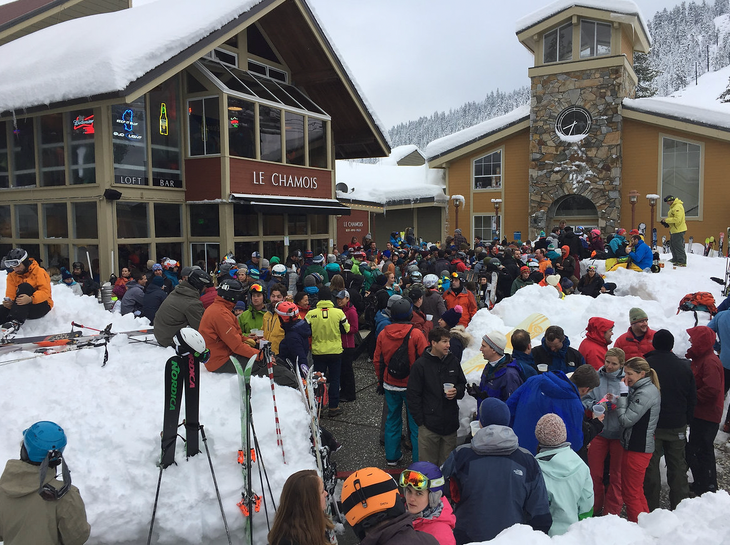 The Chammy has been part of the infrastructure at Palisades Tahoe since opening inside of what was the original base lodge in 1969. It moved two buildings over into a two-story chalet that brought out the bar's Euro party vibes. Originally intended to be an upscale French restaurant, The Chammy now slings pizza, wings, and excellent brews on tap. It's also somewhat of a ski museum, with race bibs, trail signs, and old photos adorning the walls and the original KT-22 chairlift hanging from the ceiling.
Mangy Moose, Jackson Hole, Wyo.
Good eats and a chill vibe in the Village's oldest and most revered watering hole.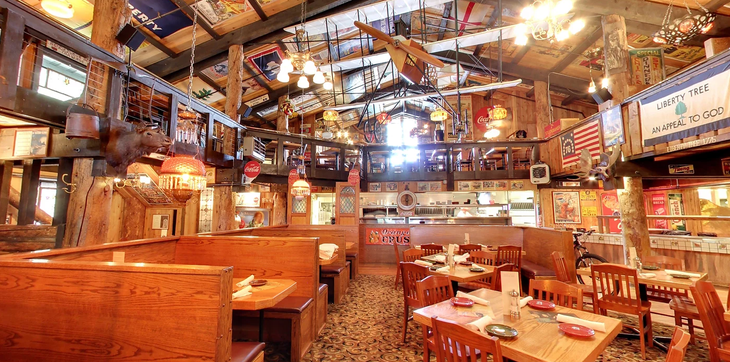 The Moose has been an iconic hangout in Jackson Hole's Mountain Village since 1967, and has become the spot to eat, drink, listen to live music, and share epic mountain tales. Fun fact: Its name was originally the Mangy Moose Saloon Spaghetti Emporium and Opera House. These days, the new owners are focused more on improving the menu and maintaining the welcoming vibe.
The Mooserwirt, St. Anton, Austria
A must-stop in St. Anton with dancing and drinking inside and sunning and drinking outside.
St. Anton is known for its après, and the scene can get pretty wild. The Mooserwirt of one three iconic party spots in a row, all located on the main run from the Galzig lift down into town. This is a dance-in-your-ski boots-on the-table type of experience, so be prepared to gyrate to cheesy tunes while drinking authentic Austrian beers or Schnapps. Alternatively, come earlier in the afternoon and grab a spot on the sunny terrace and take in the mountain views in true Alps style.
The Peruvian Bar, Alta Ski Area, Utah
Alta's living room, where the popcorn pops and the brews go down smooth.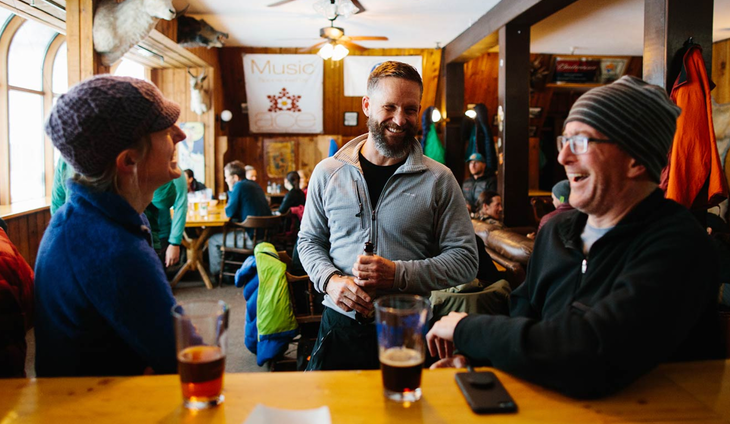 The affectionately named P-Dog is one of the original and rowdiest après spots at Alta, housed on the second floor of the Peruvian Lodge. The bar has been slinging spirits since 1971, and to this day still serves up free popcorn and appetizers amid curated ski memorabilia and mounted animal heads. There's typically live music on Wednesdays and Sundays, but check the schedule if you feel like grooving.
Tio Bob's Portillo, Chile
360-degree lake and mountain views and Pisco Sours in an authentic on-mountain hut.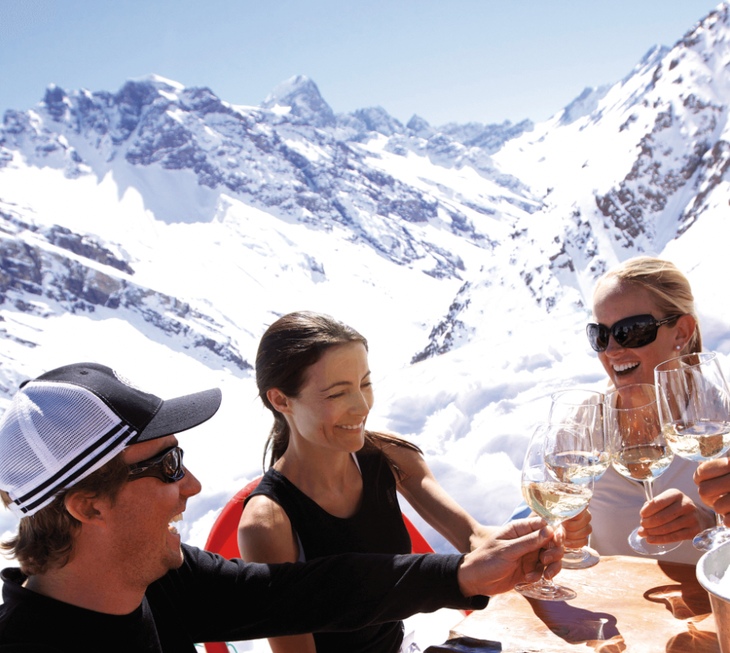 Après on the deck of a hand-built stone cabin overlooking Inca Lake with panoramic views of the Andes? Yes, please. Tio Bob's is a must for every Portillo skier. Stop in during the afternoon and stay through après for a menu of barbecued meats and fish complemented by a Pisco Sour. Named for former Portillo owner Bob Purcell (uncle of current owner Henry Purcell), who bought the resort from the Chilean government in 1961 and turned it into what it is today, Tio Bob's is a rousing tribute to the unique flavor of this Southern Hemisphere ski experience.
Grumpy's, Sun Valley, Idaho
The spot for giant schooners of beer and pickled eggs in downtown Ketchum.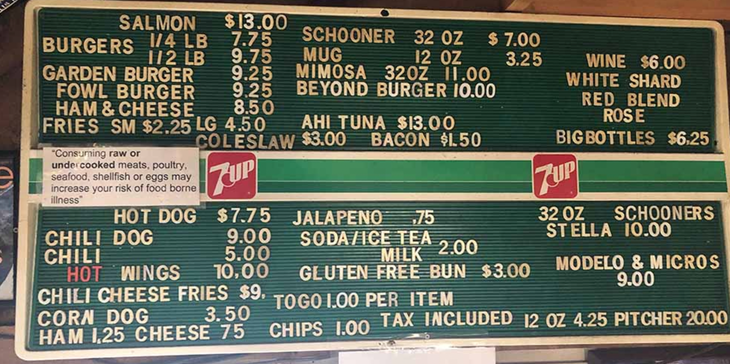 One of the few true dive bars on this list, Grumpy's, set in a small house off a side street in Ketchum, is known for its massive schooners of beer (think Bud, Coors, etc.), huge jar of pickled eggs, and greasy, delicious burgers widely thought to be the best in town. You don't come here for the scene, you come here to get away from it, and to soak in all that's authentic and genuine about Sun Valley.
Matterhorn Ski Bar, Sunday River, Maine
A rocking ski bar that pulls double duty as a ski museum, with excellent pizza pies to boot.
Perhaps the quintessential après ski bar in the purest sense, the Matterhorn (not to be confused with the restaurant and bar of the same name in Stowe, Vt.), boasts a bar top crafted entirely of vintage skis. What's more, ski films are on continuous loop and memorabilia from nearly every decade is hung on the walls. Needless to say, the vibe here is ski purist. Their pizza game is on fleek, too.
La Folie Douce, Val d'Isère, France
The ultimate dance-in-your-ski boots bar that gyrates late into the night.
La Folie Douce is the Euro ski bar your dancin' dreams. Skiers pack in tightly on the deck to gyrate and groove to whatever the DJ is spinning and drink whatever the bartender is slinging. It's a scene that rocks into the night.
More Après and Nightlife Coverage From SKI
The 10 Best Resorts in the East to Get Your Après On
These Resorts Have the Best Party Scenes in the West
Top 10 Resorts for Rockin' Nightlife in the East