SKI's Mountain Home Gift Guide 2019
Nostalgic and chic gifts for the skiers and Mountain Lovers on your list.
Heading out the door? Read this article on the new Outside+ app available now on iOS devices for members! Download the app.
By Jenny Wiegand & Samantha Berman // Photos by Keri Bascetta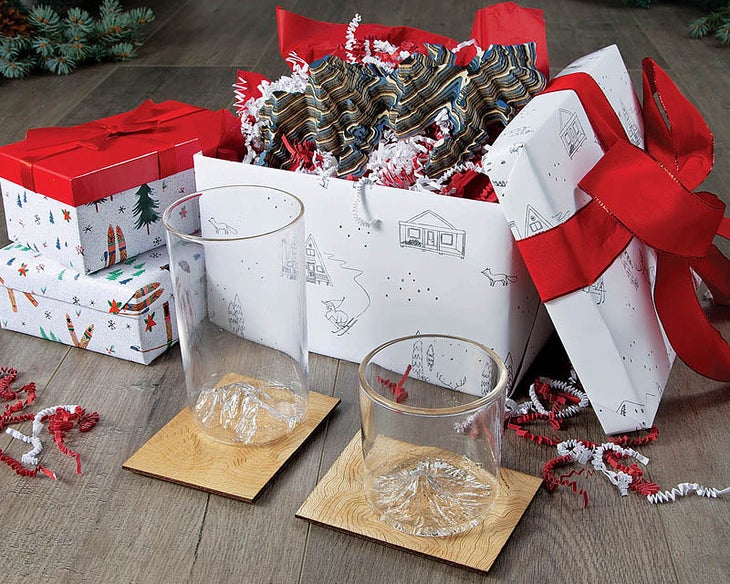 There's nothing like being home for the holidays, especially when home is in the mountains. Or at least, feels like it is. That's why our editors handpicked gifts that will transform any home into a mountain retreat—goods infused with log cabin charm and handcrafted by artisans like Darcy Chenoweth, who lives the mountain lifestyle and breathes that into her Missoula, Mont.–based Studio Chenoweth designs (Alpine Start Mug, below). "There's that moment brewing up in the morning when the light catches the steam just right, when you know that moment is the only thing that matters," Chenoweth says. "Those are the images I like to bring to the surface of the mugs." One sure way to get into the holiday spirit? Adorn your hearth and home with it.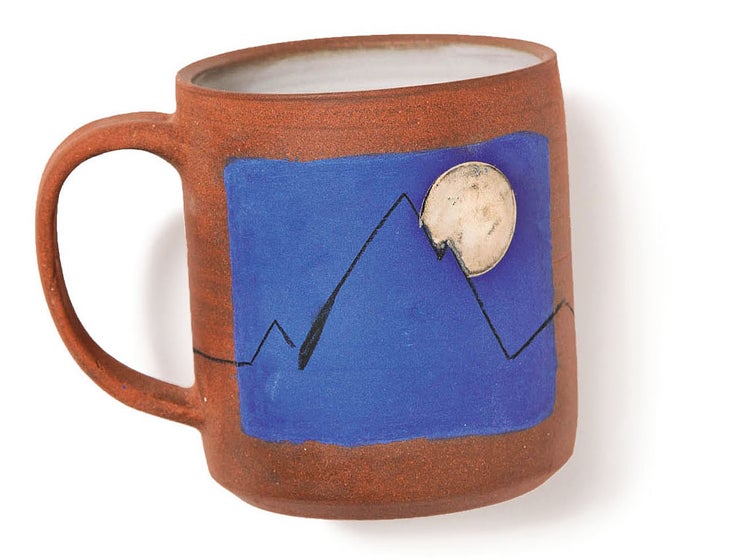 STUDIO CHENOWETH Alpine Start Mug
These rustic ceramic mugs are handmade by artist Darcy Chenoweth at her home studio in the mountains of Western Montana. From the artist: "My functional work is meant to be used daily, to bring an aesthetic to daily life and events. I work to have every day an adventure!" [$48; studiochenoweth.com]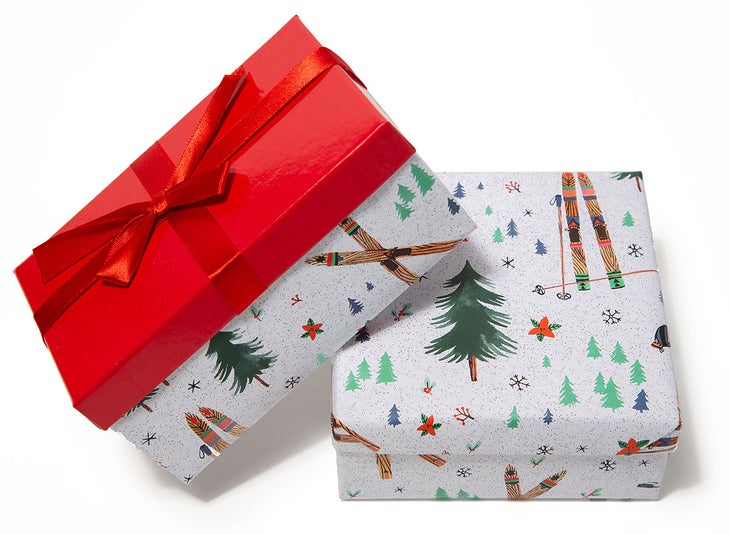 WILDSHIP Hygge Skiing Wonderland Gift Wrap 
Michigan-based Wildship Studio's paper goods are inspired by nature and a thirst for adventure. We're loving the whimsical design of this gift wrap, featuring vintage wooden skis and playful pops of color. [$13 for 3 Sheets; wildship.com]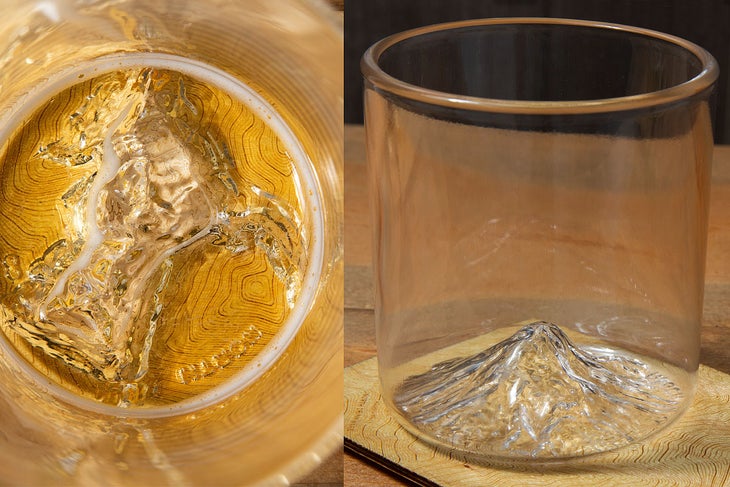 NORTH DRINKWARE The Colorado Pint, The Oregon Tumbler, and The Maroon Bells Coaster 
Each glass requires two days going through fifteen steps to achieve these intricate mountain scapes. The studio is based in Portland and every piece of its product is made in the USA. [$45 each and $20 for 2; northdrinkware.com]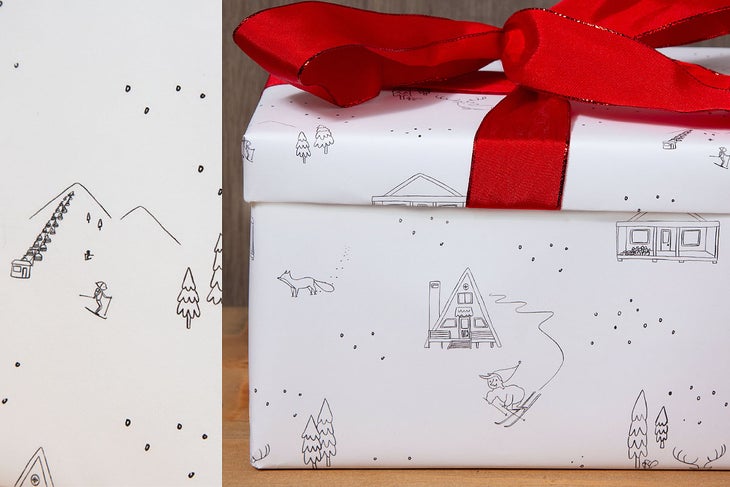 ABBIE PAULHUS Skiing Holiday Wrapping Paper
Adorable ski-themed wrapping paper comes in a roll of three sheets and is hand drawn by artist Abbie Paulhus. From the artist: "I'm all about creating artwork that is encouraging. I'm all about self-love and self-care. I'm about being 100 percent true to yourself, taking risks, and following your dreams." [$12 for 3 Sheets; abbiepaulhus.com]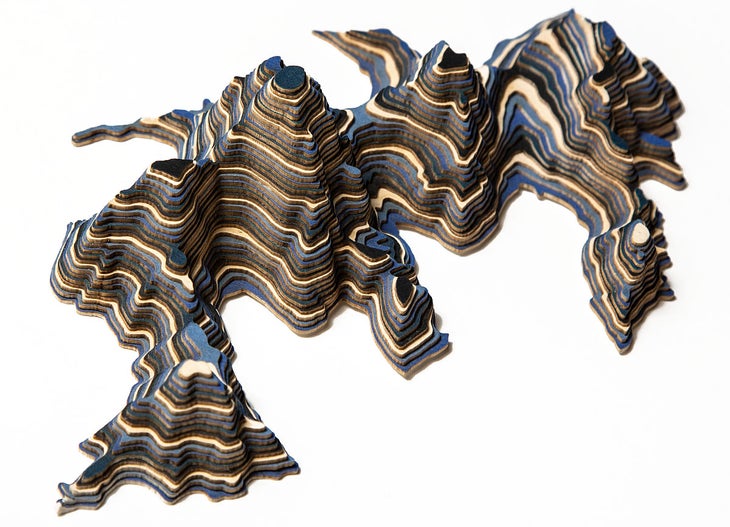 BEATNIK PRINTS Teton Topo Sculpture 
From his Boulder, Colo. studio, artist Christopher Warren uses data from the U.S. Geological Survey to create 3D topo scultures (like this one of Wyoming's Teton Range), plus 2D maps, videos, mandalas, and clothing inspired by the planet Earth.  [$30; beatnikprints.com]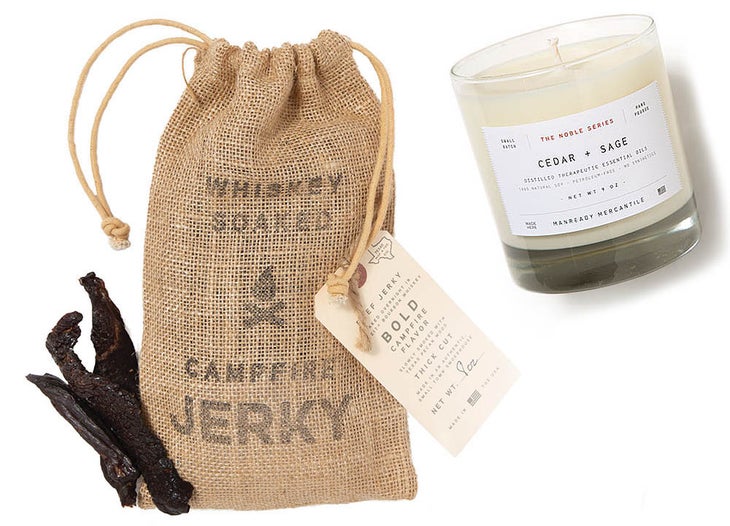 MANREADY MERCANTILE Whiskey Soaked Campfire Jerky and Cedar + Sage Soy Candle 
Beef is soaked overnight in Bulleit Bourbon whiskey then smoked with Texas pecan wood for a flavor so authentic you'll feel like you're sitting around the campfire. No campfire in your near future? Stoke the flame of a Cedar + Sage candle for a woodsy aroma with hints of moss and leather. [$16 and $28; manready.com]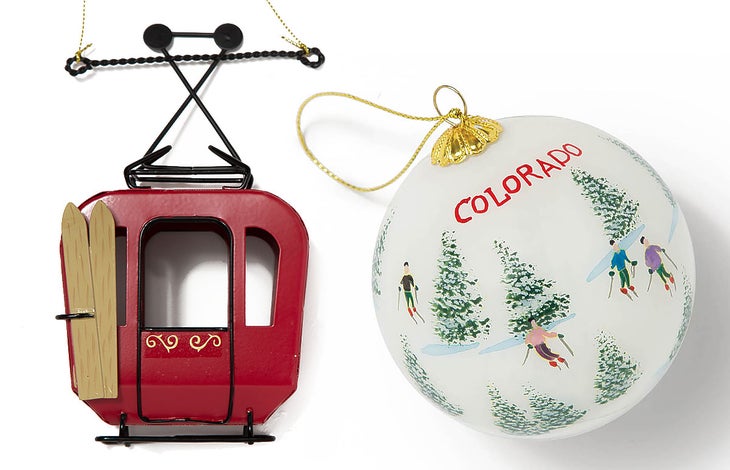 VINTAGE SNOW Metal Vintage Gondola Ski Ornament and Colorado Skiing the Glades Glass Ornament 
You can customize this metal gondola ornament with a family name or a favorite resort, or trim your tree with it as is. In a similar vein, this Colorado "Skiing the Glades" ornament also comes with the name of a handful of resorts on it, including Breckenridge, Steamboat, and Crested Butte. [$13 and $19; vintagesnow.net]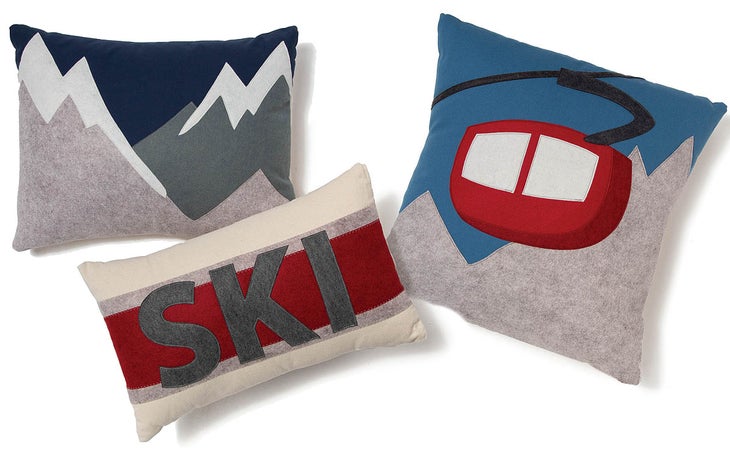 THE SALTY COTTAGE 18×21" Blue Mountains Wool Throw Pillow, 14×21" Red & Grey Striped SKI Wool Throw Pillow, and 21" Red Ski Gondola Wool Throw Pillow
Each decorative pillow is hand-stitched by the artist in her Cabot Street studio in Boston's downtown arts district. From the artist: "After years of trial and error with designs, textures, and materials, The Salty Cottage has evolved into what it is today—a fresh mix of graphic designer pillows, inspired by New England, made by hand with nearly all American-made materials." [$94, $78, and $99; thesaltycottage.com]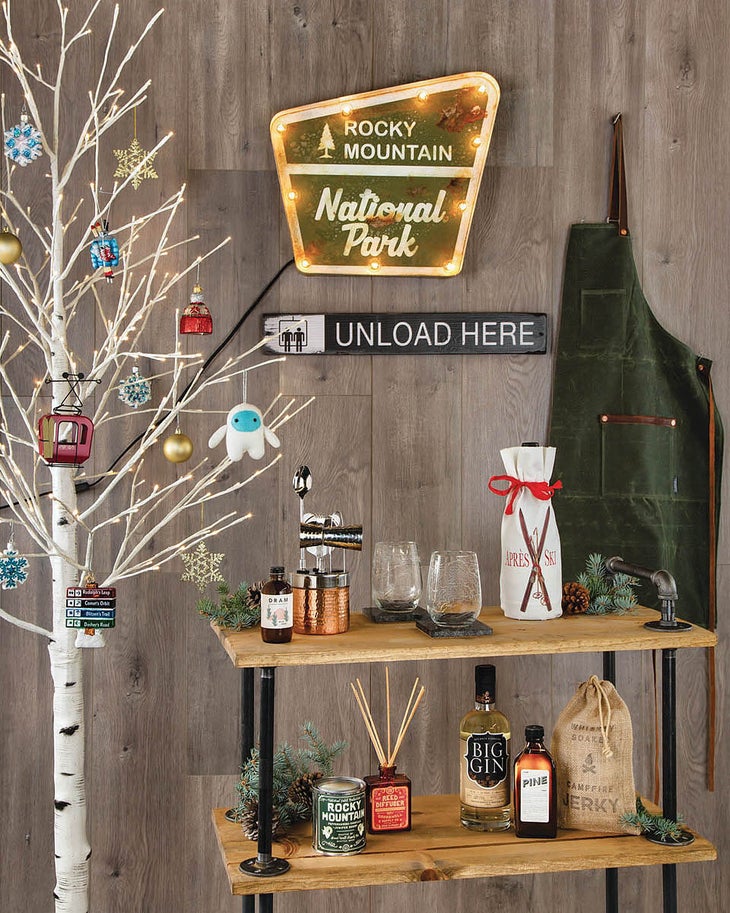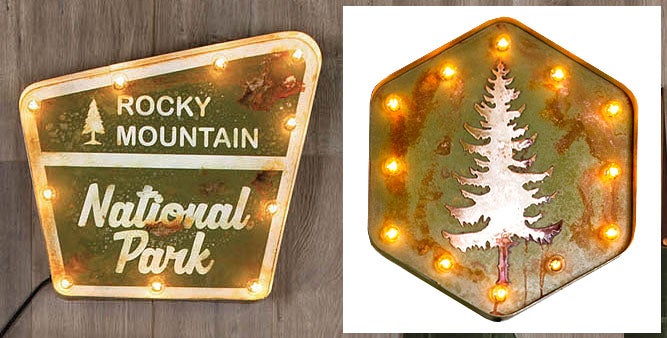 FOSTER WELD National Forest Marquee and Pine Marquee 
Add some bling to your mountain cabin or condo with these lighted signs, available in myriad colors. Bonus: You can change the National Park to any one you'd like. [$120 and $100; fosterweld.com]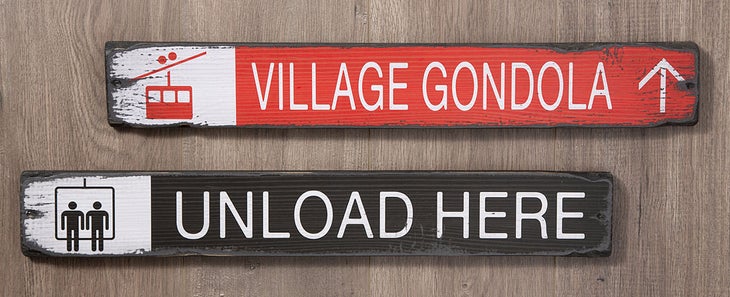 ALPINE GRAPHICS Village Gondola Sign and Unload Here Sign 
Order a rustic wood sign crafted from 3/4-inch solid pine for your mountain home, condo, or cabin. Each sign is individually made and possesses its own imperfections, which are enhanced by artists Laura and Mike McLeran through a natural distressing process. [$32 each; alpinegraphics.net]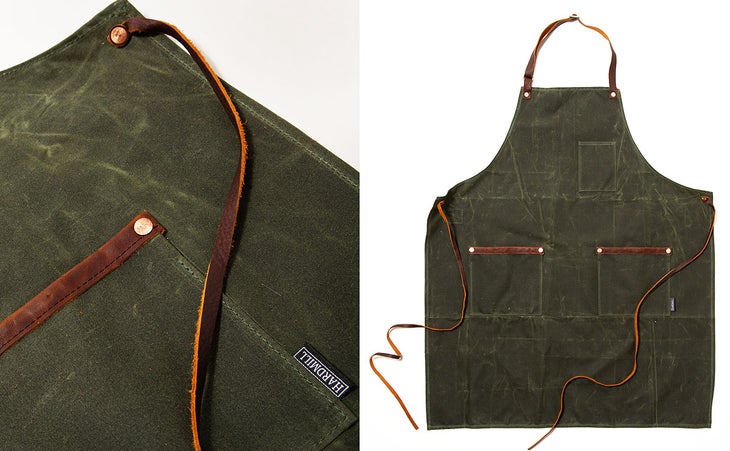 HARDMILL Waxed Canvas Industry Apron 
Made from army duck waxed canvas and oil-tanned leather, these super-heavy-duty aprons sport a handy pen pocket, are water resistant, and are made in the U.S. of A. for all of your waxing, tuning, and general ski-maintenance needs. [$140; hardmill.com]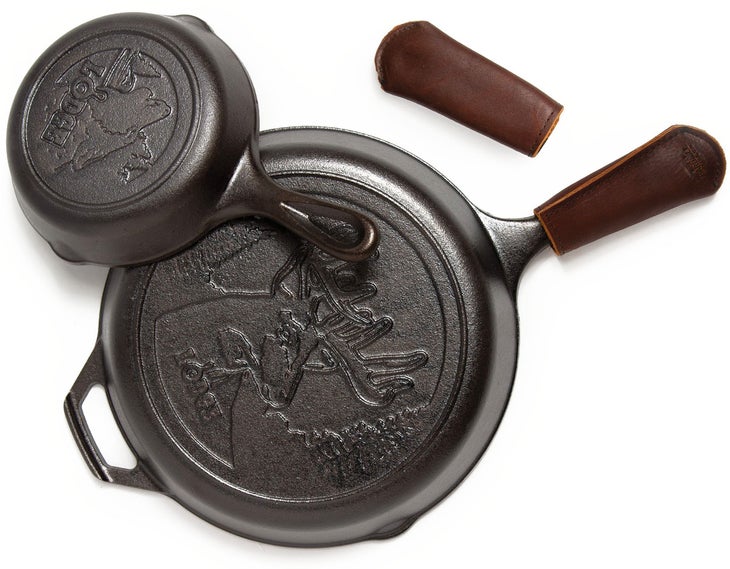 LODGE 10.25-Inch Skillet with Deer and 6.5-Inch Skillet with Wolf 
Lodge's Wildlife Series puts a fresh spin on the reliable lodge cookware, with deer and wolf, pictured, as well as duck, moose, bear, and fish in various sizes from 6.5 to 12 inches. [$29 and $14; lodgemfg.com]
HARDMILL Leather Cast Iron Skillet Handle Cover 
Accessorize your lodge skillets with a leather handle cover made with double-layered oil-tanned leather sewn with Kevlar heat-resistant thread. [$20; hardmill.com]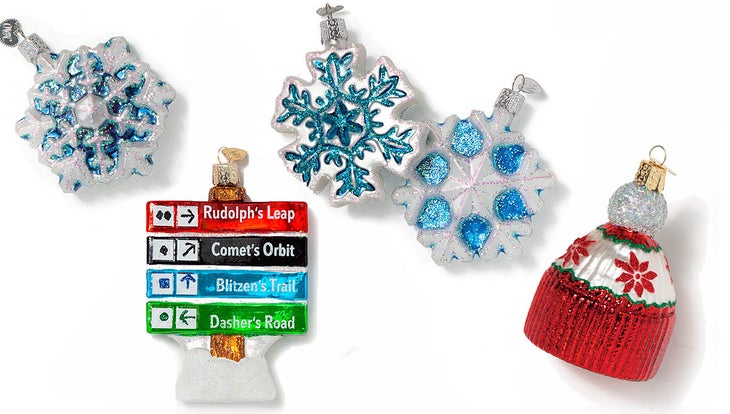 OLD WORLD CHRISTMAS Assorted Snowflakes Ornament, Gone Skiing Ornament, and Holiday Beanie Ornament 
For the skier in your life who has everything … except these precious hand-blown and hand-painted ski- and snow-related ornaments. Because there's no better Christmas tree than a skier's Christmas tree. [$14 for 3, $17, and $13; oldworldchristmas.com]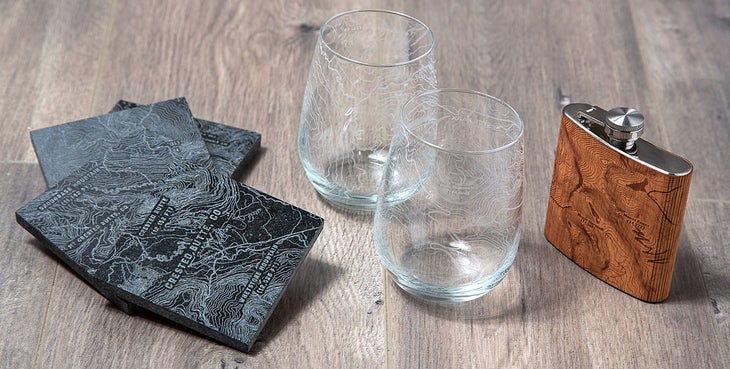 OUTWARD CARTOGRAPHY Crested Butte Coasters, Crested Butte and Rocky Mountain National Park Wine Glasses, and Mt. Bierstadt Flask 
Create a meaningful gift with one of Outward Cartography's unique offerings where you can customize your product—stemless wine glasses, coasters, bottle openers, flasks, luggage tags, and more—with maps from a shared special place. [$25 for 4, $20 each, and $35; outwardcartography.com]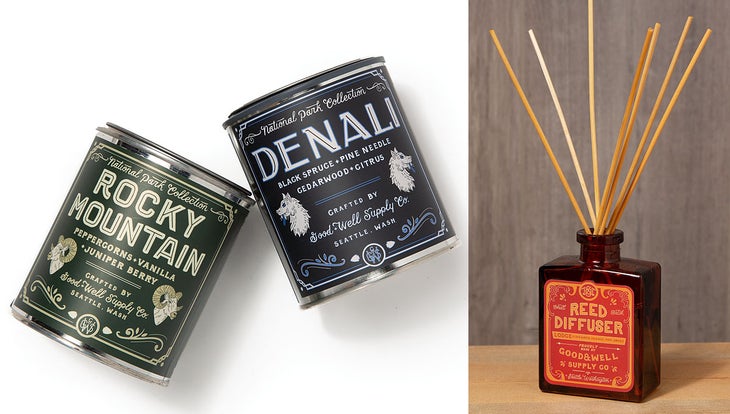 GOOD & WELL SUPPLY COMPANY Rocky Mountain National Park Candle, Denali National Park Candle, and Lodge Reed Diffuser 
Good & Well has been making candles for years, inspired by the sights and smells of the great outdoors. Now company founder Megan McLaughlin has translated the brand's signature line of candles into a series of reed diffusers, hand-blended and poured into a glass amber apothecary bottle with a cork top. [$24 each and $36; goodandwellsupplyco.com]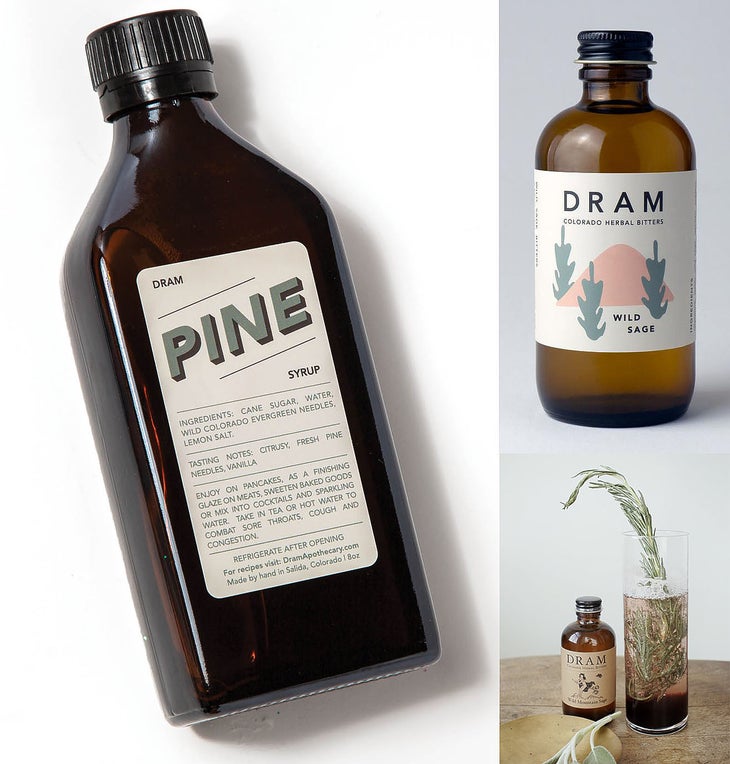 DRAM APOTHECARY Pine Syrup and Wild Mountain Sage Cocktail Bitters 
Dram's bitters, concentrated plant extract added to food and drink as a digestive aid, are made to be tasty without the medicinal aftertaste of some bitters. Shop the many flavors—including Wild Mountain Sage and Lavender Lemon—and get creative with your seasonal recipes. Pine Syrup combines Colorado evergreen needles with sparkling water for a refreshing add to cocktails, teas, or even baked goods. [$12 and $18; dramapothecary.com]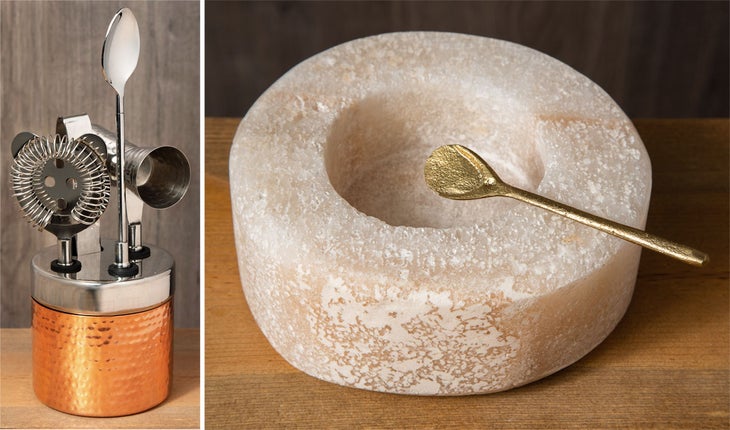 WILLIAMS-SONOMA Hammered Copper Bar Tools Set and HYGGE LIFE Salt Cellar with Brass Spoon
Now you can shake—and stir—in style at all of your holiday parties with Williams-Sonoma's Hammered Copper Bar Tools. Complement your new set-up with a handmade rock Salt Cellar and Brass Spoon, which also serves as a decorative bowl. [$80; williams-sonoma.com]  [$70, hyggelife.com]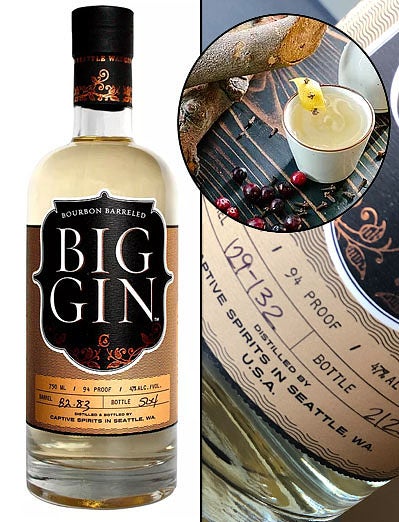 BIG GIN Bourbon Barreled Big Gin 
This award-winning spirit is not your average gin. Packed with spice and botanical notes, it mixes well into cocktails typically more suited for darker spirits. Try Andy McClellan's The Royal Toddy recipe. Mix ½ oz. Bourbon Barreled Big Gin, ½ oz. Gifford Apricot Brandy, ¼ oz. JM Cane Syrup, ¼ oz. lemon juice, and 4 oz. hot water into a preheated mug. Garnish with clove studded lemon peel and enjoy! [$37; captivespiritsdistilling.com]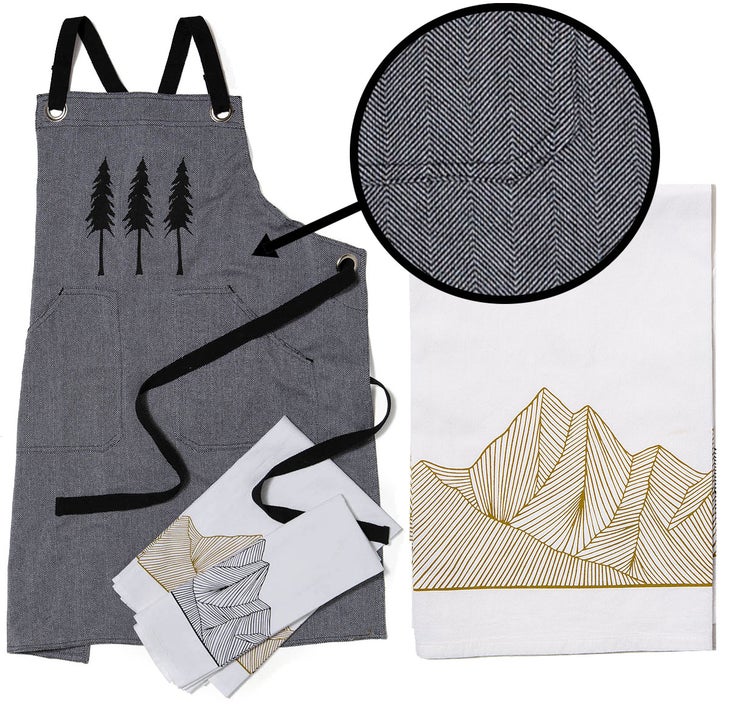 OHANA Tree Apron 
Man the kitchen in true holiday style with this fully adjustable, one-size-fits-all apron made from 100 percent cotton. [$42; mtnohana.com] 
BIRD MAFIA Set of 2 Mountain Towels 
There's no reason you can't bring your love of the mountains into your kitchen with these lovely tea towels, screen-printed by hand from paper-cut-inspired designs and made from 100 percent cotton. [$20; birdmafia.com]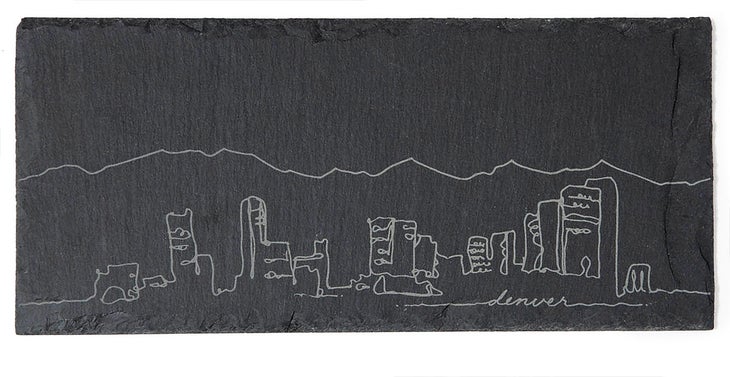 J.K. ADAMS Denver Slate Serving Board
Live in Denver? From Denver? Know someone who loves Denver? Gift this slate serving board etched with the city's skyline and the silhouette of the magnificent Rockies in the background. Many other cities available. [$20; jkadams.com]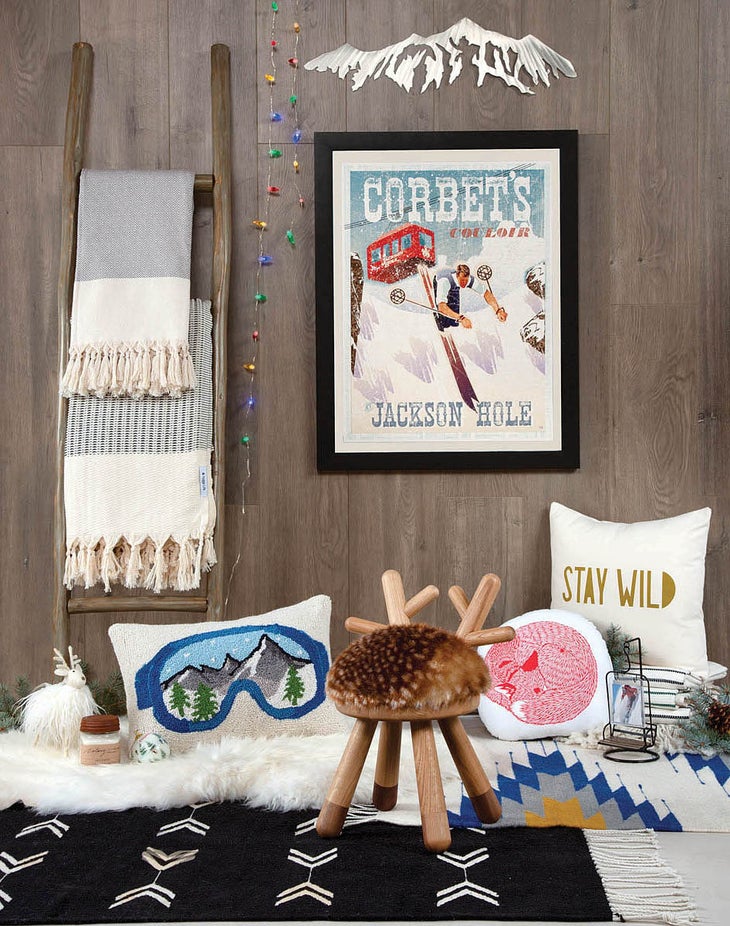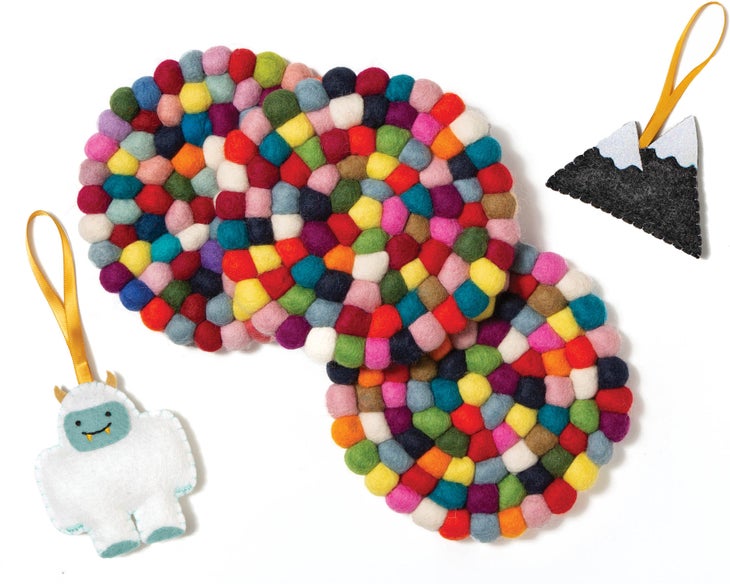 2 VAGABONDS IMPORTS Colorful Felt Trivets 
Add some color to your serving style. 2 Vagabonds' cherry trivets made from felt pieces are simple, inexpensive, and a great gift to accompany glassware. [$15 each; 2vagabondsimports.com]
THE RAD SCIENTIST Felt Yeti Ornament and Felt Mountain Ornament 
All winter-lovers need a gold-toothed Yeti hanging from their Christmas trees. The Rad Scientist shop crafts all manner of handmade felt ornaments—including custom designs—for just about anyone on your gift list. [$15 each; etsy.com/shop/TheRadScientist.com]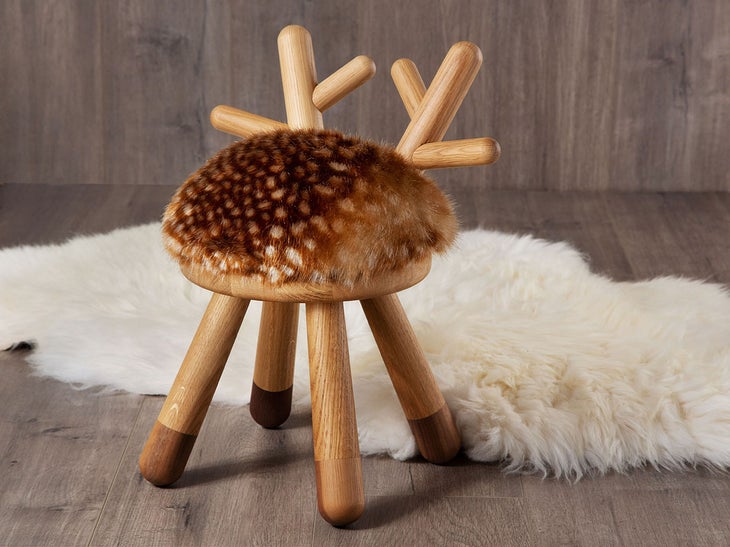 HYGGE LIFE Bambi Chair  and Classic White Sheepskin Rug 
A unique piece for any nursery or children's playroom, these stools—available in several designs—are each hand-crafted from European oak and American walnut and upholstered in a super-soft faux fur. Pair it with the White Sheepskin Rug, made responsibly as a by-product. Each rug is slightly different, but every one is un-dyed, unbleached, and chemical-free. [$275 and $100, hyggelife.com]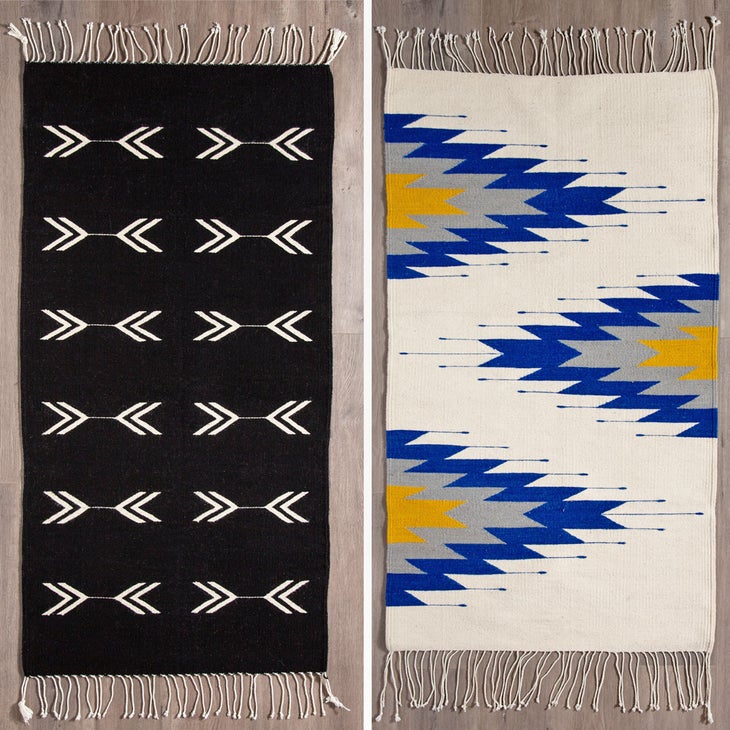 EYLER & CO. B & W Wool Rug and El Sol Wool Rug 
Authentic to the core, Eyler & Co.'s rugs are handmade by the Contreras family in Oaxaca, Mexico using 100 percent wool that's spun into yarn with a wooden spinning wheel. Just like in days past, the rugs are woven on hand looms by experienced weavers. The more experienced the weaver, the more complicated the design. One thing's for sure: No two are the same. [$340 each; eylerandco.com]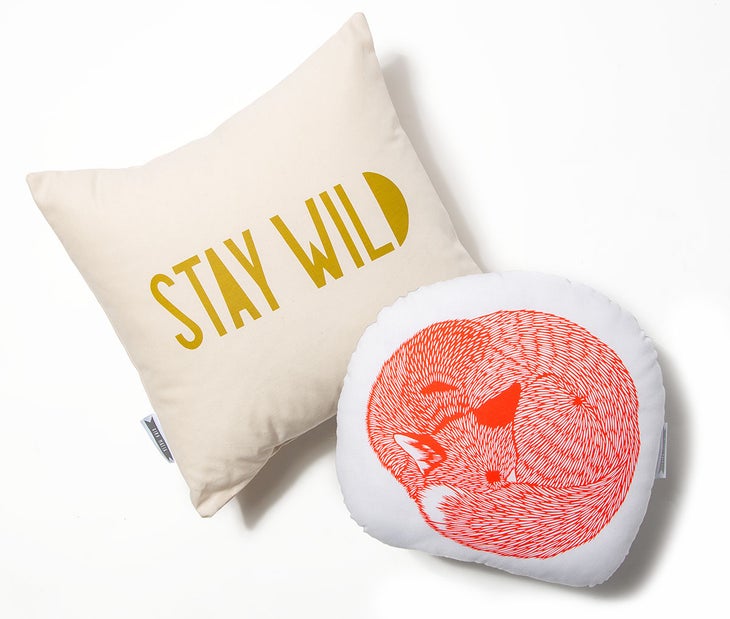 BIRD MAFIA Stay Wild Throw Pillow and Sleeping Fox Plush Pillow
All of Bird Mafia's pillow designs are hand-cut before being screen-printed onto the merchandise, ensuring that each item you buy is unique and made with care. These pillows are no exceptions. [$42 and $28; birdmafia.com]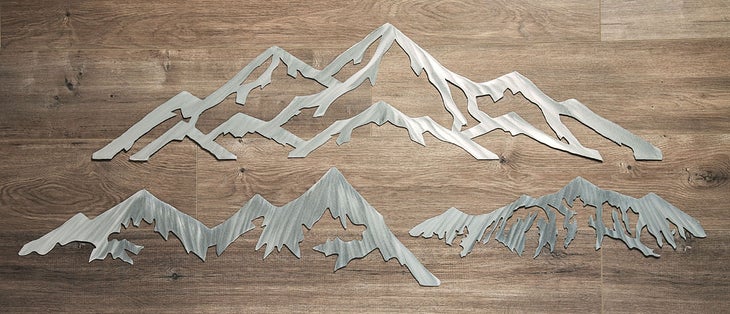 BEAR MOUNTAIN METAL ART Mountain Scenes 
Artist Bobby Singleton, a former boat captain, hung up his boat shoes for metal-working tools and started Bear Mountain Metal Art, based in Colorado. He does custom pieces and has a shop filled with familiar resort mountain scapes, including Aspen, Vail, Park City, and more. [from $39 for 2 ft to $95 for 3 ft; bearmountainmetalart.com]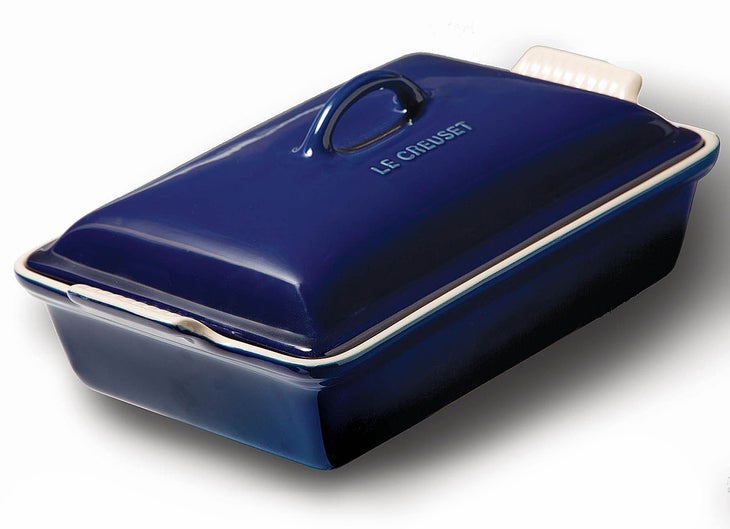 LE CREUSET Indigo Collection Heritage Rectangular Casserole
Tote your favorite holiday dishes to the next party in this classic stoneware piece that maintains temperatures, resists scorching, and is safe for freezer, microwave, broiler, and dishwasher. [$100; lecreuset.com]
HYGGE LIFE Rustic Weave Blanket 
This super-soft loose-weave blanket is a welcome addition to any couch, lounge, or favorite chair. Made in Turkey from 100 percent Turkish cotton. [$75; hyggelife.com]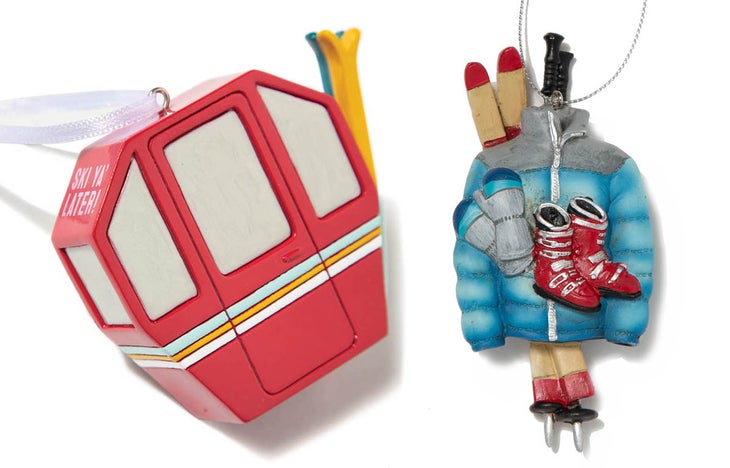 HALLMARK Ski Lift Ornament
With fun, retro stripes and "Ski Ya' Later!" painted on the side, this gondola ornament from Hallmark is sure to be the new family favorite. [$12; hallmark.com]
VINTAGE SNOW Ski Parka with Equipment Ornament 
A charming addition to any skier's tree. The gondola is made from metal and measure seven inches; the parka is made from resin and measures four inches.  [$13 and $10; vintagesnow.net]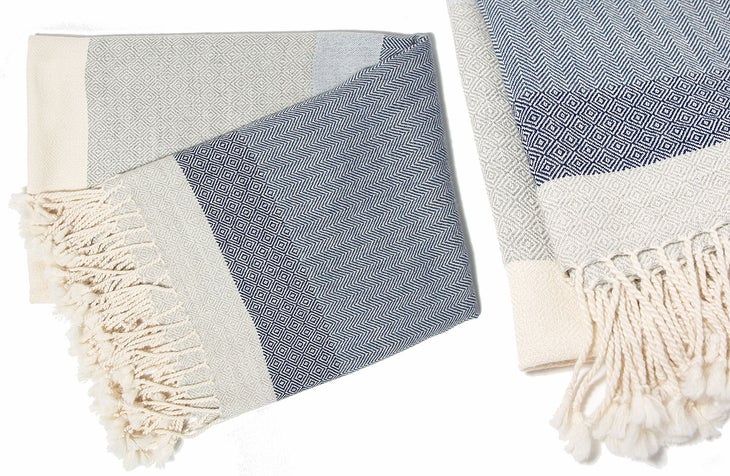 THE CITIZENRY Cascada Throw 
Cozy up an irresistibly soft Alpaca throw handmade in the Andes Mountains. [$155; the-citizenry.com]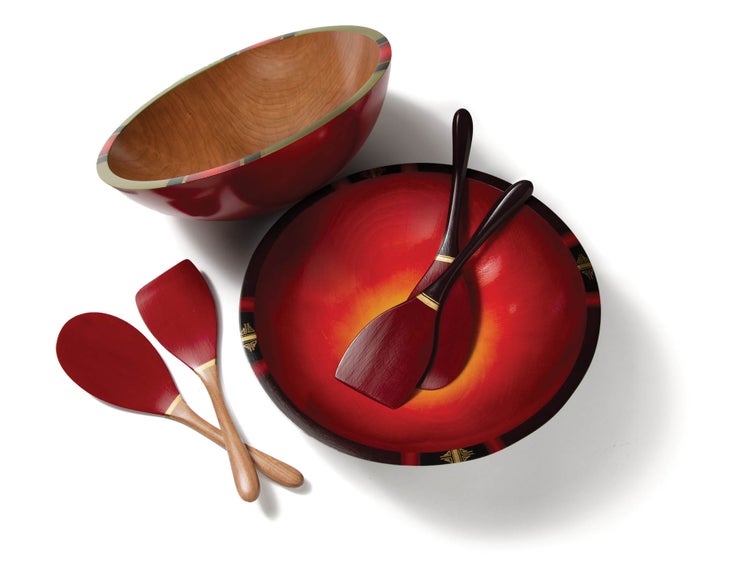 COBALT & CURRY 15" Tartan Bowl, Bright Red Servers, and 15" French Maple Bowl and Servers 
What's better than a perfectly useful kitchen item that doubles as a piece of artwork when not in use? Cobalt & Curry's gorgeous bowls are carved from natural woods then hand-painted and sealed with a non-toxic, water-based finish. [$215, $50, and $275; cobaltandcurry.com]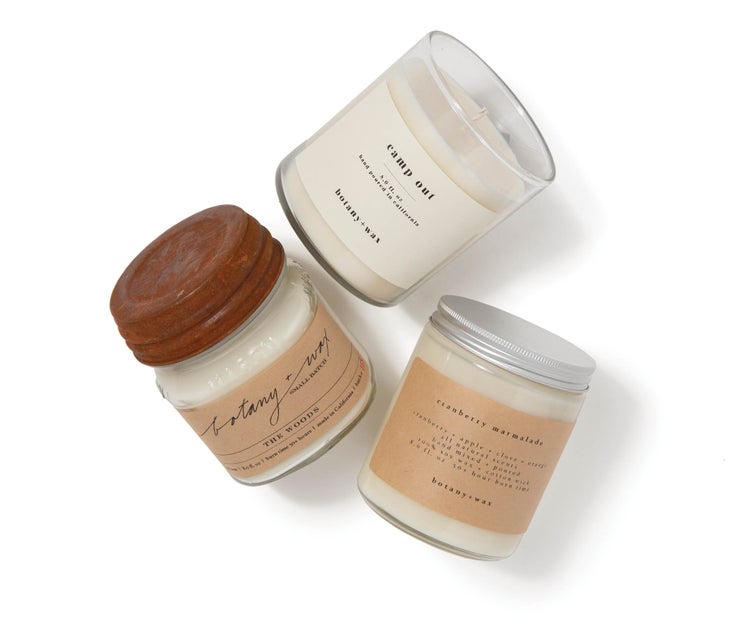 BOTANY + WAX The Woods 8oz Mason Soy Candle, Camp Out 8oz. Tumbler Soy Candle, and Cranberry Marmalade 8oz. Modern Soy Candle 
Botany + Wax makes small-batch candles designed to maximize creative energy and put users at ease. Candlemaker Angela Crist takes pride in an attention to detail that brings out the uniqueness in each candle. From the artisan: "I am a maker of many things but discovered a love for the small batch process of candle making. My mix of rustic, modern inspired design elements blended with the highest quality, simple, all natural ingredients and essential oils are the heart of my collection." [$18, $24, and $22; botanyandwax.com]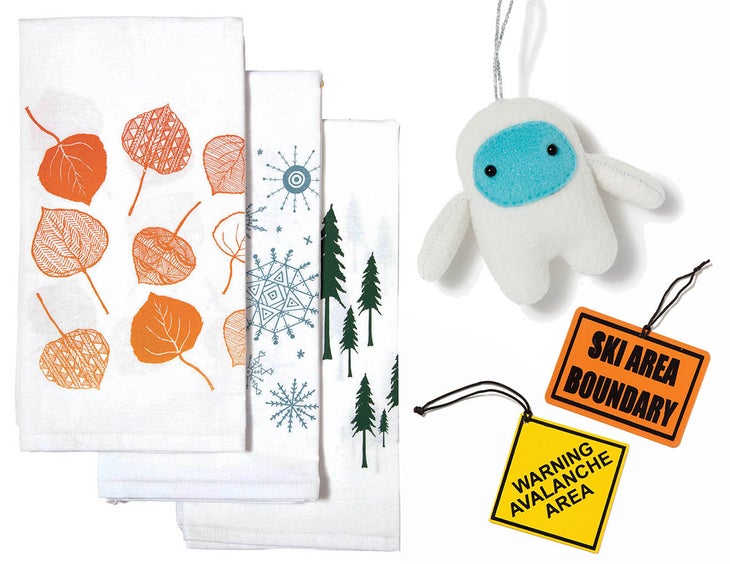 OHANA Set of 3: Aspen Leaves, Pine Tree, and Snowflake Tea Towels 
Accessorize your mountain kitchen—or just bring some mountain bling into your flatland kitchen—with these 100 percent cotton tea towels from Ohana.  [$30; mtnohana.com]
MADE BY LIZ URSO Yeti Plush Ornament 
Give a new home to a Yeti in need this season. These sweet little guys are hand-stitched from soft fleece and measure 4 x 4 inches. [$10; lizurso.com]
VINTAGE SNOW "Ski Area Boundary" Ski Ornament and "Warning Avalanche Area" Ski Ornament  
More ornaments for the ultimate ski-lover's Christmas tree. Both of these ornaments are metal and measure 3.5 x 2.5 inches. [$5 each; vintagesnow.net]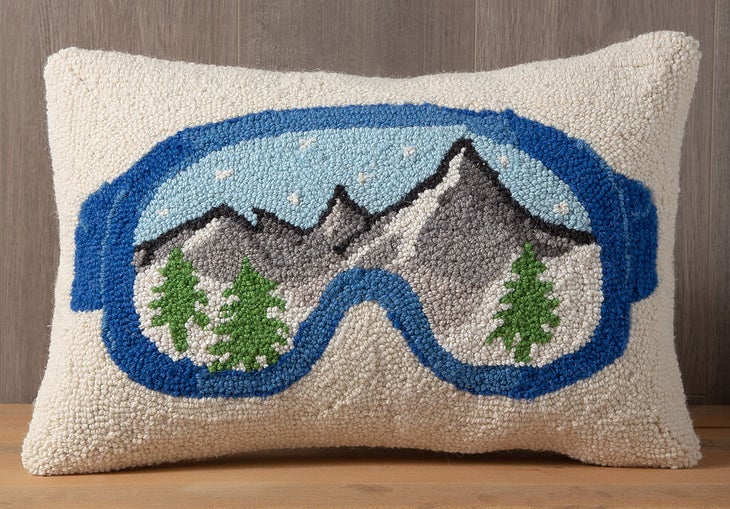 VINTAGE SNOW Ski Goggles 12×18" Wool Ski Pillow 
Winterize any ski condo couch with a hooked wool pillow. [$55; vintagesnow.net]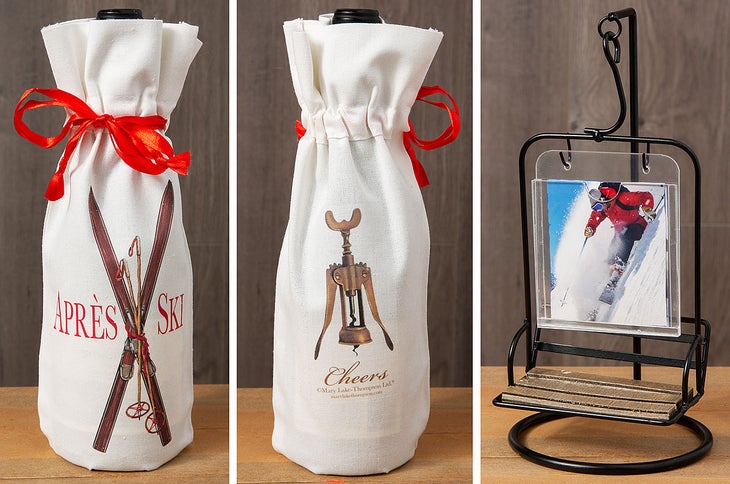 VINTAGE SNOW Après Ski Wine Bag and Chairlift Photo Frame 
More unique ski-themed gifts for the shredders in your life. The recipient is guaranteed to like them so much, she might even put your photo in this 3×3 Chairlift Photo Frame. [$12 and $20; vintagesnow.net]