Ski Powder Ridge—But No Need for Powder
No snow? No worries. Connecticut resort to debut America's newest and longest "synthetic-snow" slope this Labor Day weekend.
Heading out the door? Read this article on the new Outside+ app available now on iOS devices for members! Download the app.
America, it seems, is beginning to jump on the carpet that Europe has been on for decades—year-round skiing, made possible by dry-slope technology. With its reliable artificial snow-like surface, the dry slope has long been popular in Europe, providing outlets for ski nuts in countries with poor natural snow, and effectively taking the real stuff somewhat out of the equation.
Thus far, only two American ski resorts (Liberty Mountain, Va., and Buck Hill, Minn.) have ventured into the realm of offering skiing 365 days a year. Powder Ridge is the first Northeastern resort to take the (dry) plunge, debuting the first half of its 2,800-foot all-weather slope this Labor Day weekend in what it's calling its 365 Synthetic Snow Park.
This slope will be by far the longest outdoor dry slope in North America, bigger than Buck Hill's 1,000 feet and Liberty's 550 feet. It also just happens to be the longest of its kind in the world, although for Powder Ridge owner and CEO Sean Hayes, the motivation was not the title, but necessity: Powder Ridge's elevation is lower and temperatures higher than its regional ski competitors, making it difficult for them to offer skiers consistent (or any) snow in opening months.
"Being the southern-most New England ski area, I don't believe I had any choice but to implement a skiing solution that expanded my season, and I don't think I'll be the last one to do it," says Sean Hayes, owner and CEO of Powder Ridge. "Warmer trends mean fewer potential days of getting consumers to the mountain, so we knew we had to become a year round operation."
Phase 1 of Powder Ridge's Synthetic Snow Park will have its grand opening Sept. 2, featuring a 500 ft long, 80-100 ft wide slope decked out with a little something for everyone: racing gates, park features, and two tubing lanes.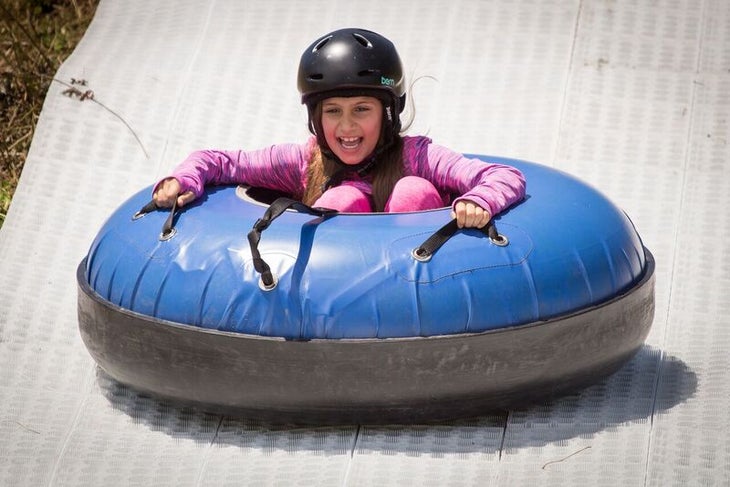 Phase 2 of the project will begin next spring with a target finish date of next summer, extending the slope to the top of the mountain for a total of 2,800 ft of year-round terrain. The slope will be open for dry skiing in spring, summer and fall, and will be covered with natural snow throughout the winter. 
The surface is designed to handle natural snow fall and snow melt. When there's snow, you ski on it. When there's no snow, you ski on the carpet. According to Hayes, snow sport enthusiasts will be able to ski and board and carve on the dry slope just as they would on a natural slope.
"If we get even three inches of natural snow, we'll be able to open since the snow will be layered on top of a safe synthetic surface," Hayes says. "We can now guarantee skiing starting specific times in the winter because we'll be able to blow snow over the dry slope if necessary."
And just how true to the mountain will the slope be? Says Hayes: "We excavated the ground a bit to remove holes or rocks which could damage the dry slope material, but we'll be able to maintain the original character of the run. It'll still have rolls and depressions."
Powder Ridge's dry slope of choice, a series of synthetic ski mats with plastic polymer "fingers" sticking up above the surface, is sourced from Swiss company 365, beating out other dry slope materials such as Neveplast (Buck Hill) and Snowflex (Liberty). With ski resorts increasingly looking to capture four-season business, and with higher temperatures shortening ski seasons, synthetic-snow systems look to be a growing slice of the ski industry.
"With part of our intent being to offer local racing teams and school clubs a place to train, we needed to go all the way to the top of the hill, and 365 was the only option that gave us the ability to go that big of a distance," says Hayes. "It's also better for the environment, because it doesn't require a water sprayer to keep it slick."
A turnaround manager by trade, Hayes knew ever since buying the then closed Powder Ridge Resort in 2012 that synthetic snow would be key to the resort's revitalization.
"Dry slope skiing is not going to be our sole focus, but it will represent almost one fourth of our skier volume," Hayes says. "Even though bigger resorts have huge daily volumes of 3,000 skiers, they only have this a few months out of the year. We'll have smaller volumes of skiers, but we'll have them all year long."
In the middle of the New York and Boston corridor, with 23 million people only a 90-mile drive (or two-hour train ride) away, Powder Ridge is urban and easily reached. Hayes says that the combination of this quick access and the easy learning that dry slopes provide will make it possible to introduce the sport of skiing to a whole new demographic that hasn't traditionally skied, saying that his intent is to make skiing more inclusive.
"That's key to us is bringing skiing to the masses," Hayes says. "I want to open up skiing to not just upper middle class but all of the middle class."
Day passes for synthetic skiing and tubing are $32, while two-hour passes, specifically created for first time skiers, go for $12.
"A lot of people would love skiing if they had the means to try it," Hayes said. "We want to give people the ability to learn it easily and cost-effectively and then take their skills out into the world and explore."
More info on Powder Ridge can be found here.