Park City Resort, Utah
Welcome to the biggest resort in the United States. Trail map required.
Heading out the door? Read this article on the new Outside+ app available now on iOS devices for members! Download the app.
It's one of my favorite photos from last ski season: my husband and three sons pausing with a sprawling mountain backdrop filling the view behind them. My oldest son's poles are spread akimbo as if he fancies himself ruler of this expansive ski kingdom, plotting to conquer each and every run.
It was snapped during our visit to the new, reconceived Park City Resort last February, and every time I look at it I'm reminded of the vastness of the place and what a fun adventure our family had during our time there. Interestingly, by the time I actually visited, I felt like I'd been writing about it for years. The lead-up to the connection of former Canyons Resort and Park City Mountain Resort via gondola was much anticipated, both by the ski universe at large and by the local community.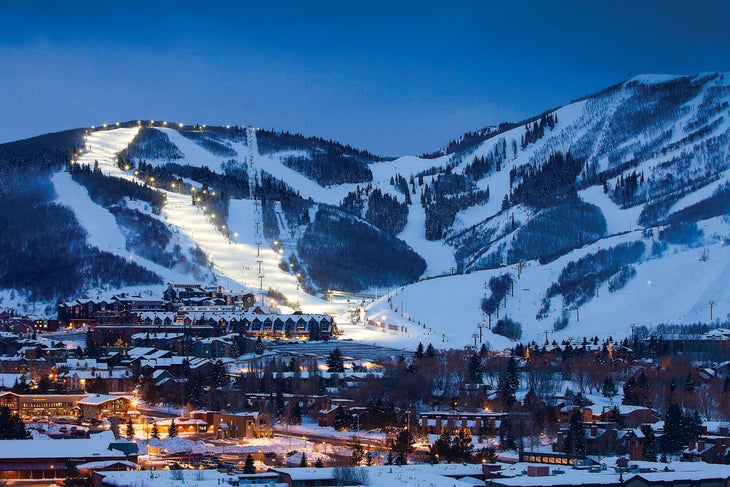 "It's going to take years even for locals to get a feel for the mountain," says Jeremy Pugh, a writer from Salt Lake City who skied 25-ish days at the new resort last season. "It's hard to digest, the sheer size of it. That's the fun of it. It feels like you're off on a boyhood adventure."
Adventure. That's a recurring theme at this place. Because with over 7,000 skiable acres and 41 lifts, you need a sense of adventure to tackle it.
In case you've been living under a mogul, here's the abridged backstory. In 2013 Vail signed a 50-year lease with Canyons' parent company, Talisker, to run the resort, then purchased Park City Mountain Resort in 2014 after higher-ups there failed to renew a lease in time (long story). Vail announced plans to merge the two via the Quicksilver gondola before the ink on the sale contract was even dry. The gondie opened in time for the start of the 2015 season.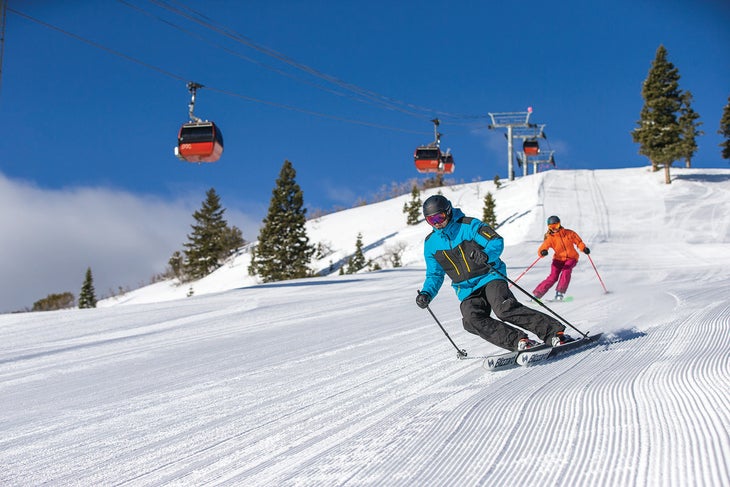 The $50 million investment also included a new on-mountain restaurant, Miner's Camp, at the Park City base of the gondola, plus enhancements to Red Pine Lodge and Cloud Dine on the Canyons side and two upgraded lifts on the Park City side. From the construction perspective, the work is largely done. But now the real work begins—merging two resorts with very different cultures and helping skiers navigate the new megaresort.
It will take time. "I still don't think of it as one mountain, I've been skiing them separately for so long," Pugh admits. Some advice: "It's not a bad idea to spend some time at the kitchen table with the trail map."
I heed his words of wisdom and do just that in the high-end kitchen of my residence at the Waldorf Astoria Park City. And when I set out on a frosty February morning after stashing the boys in ski school, I think I've got it all figured out. I'll start at the resort's western boundary (Canyons side) and ski my way across to the Park City side and back—in time for ski-school pickup. Sounds like a plan, right?
I board the Orange Bubble Express, with its comfy heated seats, and enjoy the ride up to the old Park West slopes. I warm up on Echo and Eclipse, blue cruisers both, then catch the Super Condor up to a couple of super-fun, staccato-short black diamonds: pitchy, bumpy, a hoot.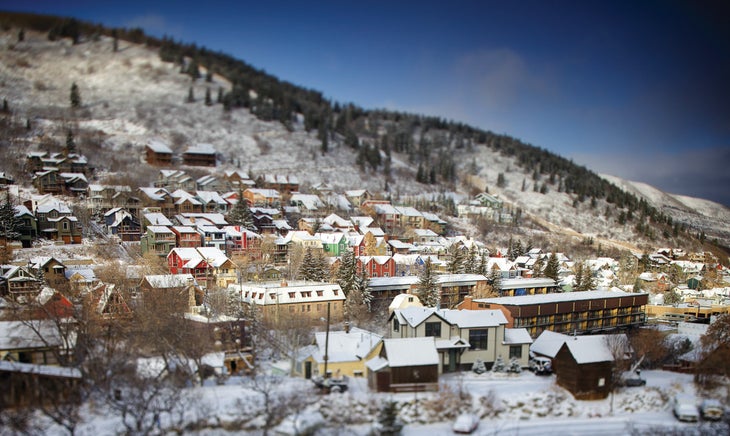 There's another, oh, 6,500 acres to ski, so onward. I want to be sure to hit Ninety-Nine 90 on my way to the Quicksilver gondola. It's the toughest terrain on the Canyons side—almost entirely black and double black, with bowls, chutes, trees, and mouthwatering steeps.
But after a few wrong turns and couple of accidental laps on the Tombstone Express (which is a mighty fine place to get stuck, mind you), I realize I didn't study the map quite hard enough. Not that it's entirely my fault. The Canyons side suffers from an awkward layout, and figuring out how to get around can be tough for newbs like me.
I miss one turn and find myself at midmountain Red Pine Lodge, hunched over the trail map with a steaming cup of coffee and a tasty brownie. Things could be worse.
I do eventually make it to Ninety-Nine 90, and it's so worth the effort, but the realization that I'm barely halfway to the Quicksilver gondola is both exhausting and awe-inspiring. There's that adventure again. I get to Dream Peak when my stomach says it's lunchtime.
Cloud Dine sports a revamped menu and about 150 additional seats. And it's still packed. The kind of packed where you have to stalk people at their tables, ready to pounce when they so much as reach for their jackets. (Mind you, it is not a holiday week.) But I finally secure a table and I'm impressed with the reimagined menu. Grilled trout sandwich. Kobe beef pretzel-wrapped hot dog. Seared-tuna salad with egg and fingerling potatoes. The options are not only diverse but delicious, too.
Ah, crowded restaurants, long liftlines, jammed parking lots. Is this what happens when you connect two major resorts? Then offer a season pass at just north of 600 bucks—one that also includes skiing at five Colorado mountains and three in California? Perhaps. But there's faith in the community that these growing pains will be addressed this season.
Park City's chief operating officer, Bill Rock, says that parking issues predate Vail's ownership. He also notes points of improvement. "We talk about the gondola as transportation," he explains. "People can park at Canyons Village and ski from there or take the bus to the Park City base and ski to their car. Now they have options."
It's pushing 2 p.m. when I finally get to the Canyons base of the Quicksilver gondola, but the almost-nine-minute ride through the trees is a welcome respite. I pass over some former hike-to terrain that's now easily accessible black-diamond glades and chutes that lead back to the Canyons side. I make note of that for another day. As the gondie pulls into the Park City side, Miner's Camp comes into view. The beautiful structure has soaring ceilings and huge, panoramic windows, plus a savory menu of fresh salads, gyros, kabobs, flatbreads, and more. I'm so tired I'd prefer to sit and gaze out the windows, but alas, there's more to ski.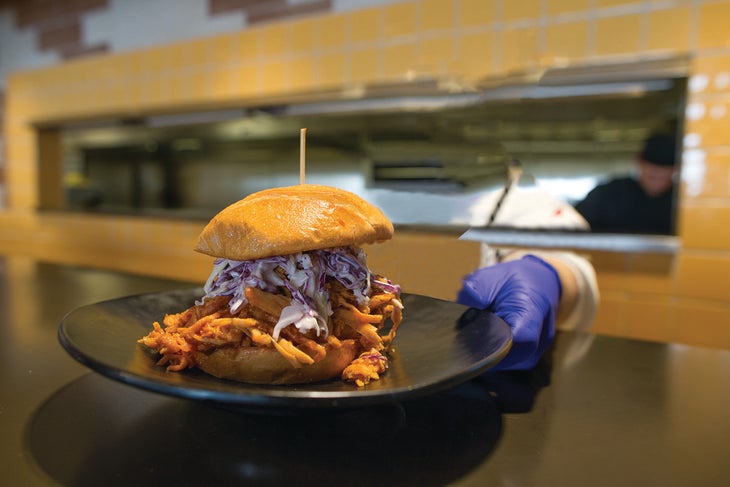 The terrain on this side is more compact and easier to access from the base, with some rad terrain off King Con and McConkey's. But I'll have to be content with a couple runs off the Silver Lode Express, as I have to get back on the Quicksilver to make it to ski school in time.
Riding back on the gondola, I ponder the old cliché about the journey vs. the destination. It rings true for me, but I have learned some valuable lessons: Unless you prefer riding lifts to actually skiing, don't try to ski this whole resort in a day. Pick a pod. Get to know it. Repeat.
Whatever you do, leave yourself time to pick the kids up at ski school. I'm 20 minutes late and sweating like mad when I stagger into the meeting area. "Sorry," I huff to the instructors between gulps of air. "I'm coming from the Park City side."
But they understand. After all, they ski this place too. 
Around Town
Sleep: In Canyons Village, the classy Waldorf Astoria Park City lives up to its name. Guest rooms and suites are decked out in dark woods, leather, and granite with fully loaded kitchens. At the Park City base, the dependable Marriott Mountainside is in the heart of the pedestrian village and steps from the lifts.
Eat: Riverhorse on Main, Chimayo, and Talisker on Main are all tried-and-true Main Street options. Newer on the scene are Vinto, for wood-fired pizzas, hearty pastas, and delish house-made meatballs, and Handle, specializing in local ingredients and hearty preparations.
Drink: High West is the obvious choice for its aged whiskeys and fun upstairs bar scene. Also check out O.P. Rockwell for live music and the newish Park City Brewery, converted from an auto body shop.
Stats
Summit Elevation: 10,000 feet
Skiable Acres: 7,000
Lifts: 41
Miles from the Airport: 32
Cabins on Quicksilver Gondola: 61
Uphill Capacity Per Hour: 1,500