Purple and Lace
A former Skiing Magazine intern gives us her take on the annual 2009 D & E Fashion Show in Aspen.
Heading out the door? Read this article on the new Outside+ app available now on iOS devices for members! Download the app.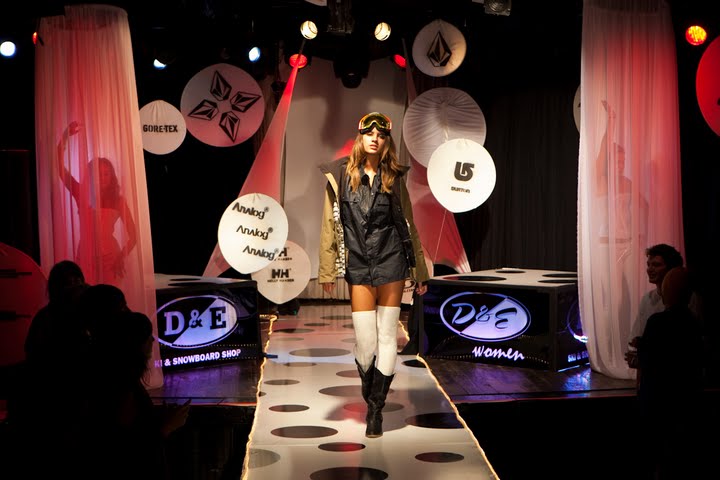 September 24, 2009
As I gingerly walked along the sidewalk in downtown Aspen, I came to the realization that I was in the only ski town in America where it is acceptable (and common) to wear heels instead of Uggs. My three-inch pointy-toed clogs slowed me down enough so that the tiny girl in towering stilettos ahead of me was soon out of sight. We were both on our way to the annual D & E Fashion show at Belly Up to preview the upcoming season's latest ski styles.
The fashion show is one event in The Meeting, a weekend full of ski movie premieres, parties, and discussions about the state of the ski industry. The event occurs every fall and officially represents the start of the ski season for the locals and industry folks who attend.
The line to get in the club poured out the door, and upon entering the door I was told by a very tall man that I was in the VIP line, and needed to exit and start waiting again. Typical for a fashion show (based on my experience of, well, none), the show started over an hour late. The scene felt decidedly out of context for a mountain town when I found myself sipping a pomegranate vodka drink, yelling over throbbing dance music, and meeting just as many girls in designer jeans and tube tops as guys in skate hoodies and beanies.
The show finally started, and models stomped down the runway in what can only be described as eclectic ensembles. Tiered tulle and lace skirts were combined with oversized jackets from Oakley and Burton. One girl wore a purple baselayer top with only red heels and blue legwarmers. Male models bared their chests, showing off bright and baggy pants from Armada and Bonfire while striking aggressive poses.
When the show ended and I had come to two conclusions: the "in" color of the season is most definitely purple, and no matter what it is impossible to make a cotton quarter-zip turtleneck look glamorous. I may not take inspiration from the event and wear lace stripper camisoles in the backcountry next season, but at least I had an excuse to wear heels for the night.
—Hillary Procknow