Red Bull Slopesoakers: Not Your Average Pond Skim
Copper Mountain hosts a spring skiing tradition with an unconventional twist.
Heading out the door? Read this article on the new Outside+ app available now on iOS devices for members! Download the app.
It should come as no surprise that Red Bull is the mastermind behind Copper Mountain's spring skiing, pond skimming bonanza. Red Bull Slopesoakers is a one-of-a-kind event melding slopestyle competition with traditional pond skimming to create the type of shenanigans and hype Red Bull is so famous for. Copper Mountain in Colorado has been hosting the event for eight consecutive years now as their end of the season celebration, and the event's longevity is a testament to its popularity.
Both spectators and competitors alike flock to the base of Copper's center village every year in what's become a springtime tradition. Unlike the typical one-pool pond skims other ski resorts host at the end of their season, Slopesoakers takes a different approach.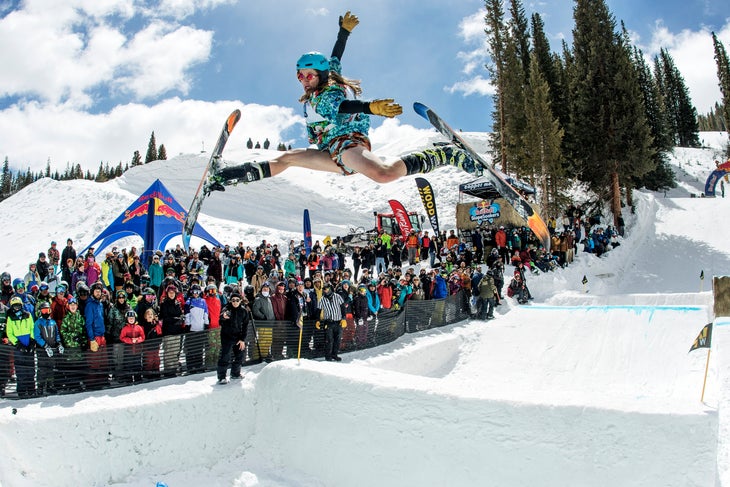 Hand-built jumps and metal rails are stationed atop multiple crystal blue pools of water, and skiers are given a generous run-up that allows them to build up plenty of speed to send it in a big way. Competitors can skim through water before flipping off lips, or bounce from jump to jump or jump to rail until landing with a splash at the end of the course. The possibilities are endless—and costume clad skiers whole-heartedly take advantage of them all.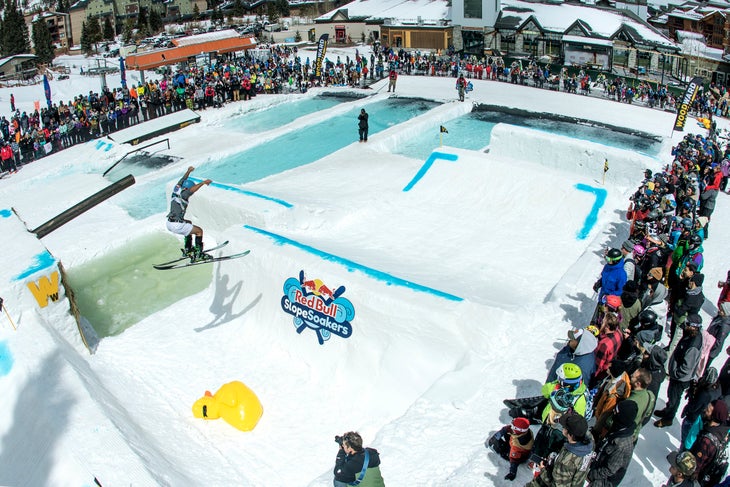 A word of caution, however: Only safely landed tricks are good tricks. During last year's competition a 27-year-old male skier took things too far when he attempted to jump the crowd on the side of the course. He didn't make it far—instead landing right on top of a group of spectators, breaking a woman's collarbone and injuring several more. The skier spent some time facing legal repercussions, so competitors take note: Learn from his mistakes and don't put others at risk of harm just for a few seconds of glory.
Despite the controversy surrounding last year's event, the show will still go on on April 20 with even larger ponds and bigger features. Anyone 18 and older is eligible for registration at $30 a pop. Each competitor will be judged on tricks and style, skimming steez, crowd reaction, risk/reward balance, skimming and not just gapping the ponds, and last but not least, splash factor. The prizes are pretty sweet (think: $500 cash purse and enough GoPros to go around), but win or lose, this event is wildly fun.
Preview: Red Bull Slopesoakers 2018