The 10 Eastern Resorts With the Most Challenging Terrain
We're talking tight trees, massive moguls, and pitches so steep, you best know how to set and edge and swing a short turn.
Heading out the door? Read this article on the new Outside+ app available now on iOS devices for members! Download the app.
Not until you've skied the East will you understand how challenging the skiing can be in this part of the country. Sure, the snow conditions alone make holding a carve interesting. But when we talk about the challenging skiing at Eastern resorts, we're referring to more than just the snow—we're talking about glades and trails so narrow you best know how to swing a short turn, moguls so big and sustained you better know how to flex those knees and ankles, and pitches so steep you'll wish you had put that extra degree on your side edge bevel.
Resort Guide 2023: Top 50 Resorts in North America
Not all Eastern resorts serve up this kind of challenge, but the 10 resorts on this list have bonafide expert terrain that will test your mettle. Don't just take it from us—it was you, dear reader, who voted these resorts the most challenging in the East in SKI's annual Reader Resort Survey.
Top 10 Eastern Resorts With the Most Challenging Terrain
Score: 8.23
Other Strengths: Grooming, Terrain Variety
Weaknesses: Value, Nightlife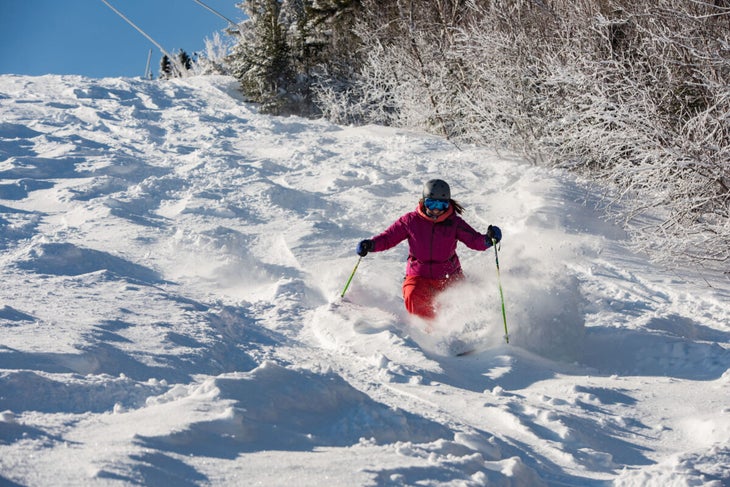 What Readers Say
"I go to Sunday River when I'm looking for a wider variety of terrain and more challenge than my home mountain offers. The snow quality is usually very good, although firmer and faster than my home mountain. I believe this is because they groom early in the evening and it sets up overnight. The mountain is also affected frequently by wind conditions, so I also monitor the forecast and pick my days."
"Great grooming and snow quality. Friendly, helpful staff. Good runs for families and those wanting more challenge!"
Score: 8.59
Other Strengths: Local Flavor, Terrain Variety
Weaknesses: Lodging, Nightlife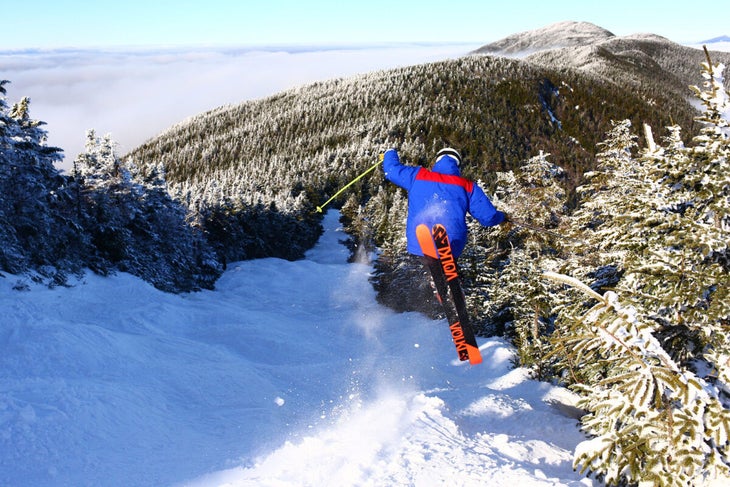 What Readers Say
"I love this place! Always a challenge and the snow is usually good. I spent three day there last winter, same as Stowe, Okemo, Killington, and Loon. Sugarbush offered the best three days of the season. They leave enough terrain untouched to give advanced skiers a challenge, but still have great options for beginner and intermediate skiers."
"I had the Mt. Ellen pass and skied here early and late season when Mad River Glen wasn't open. The grooming isn't great and the snow is often icy, but the "ski it if you can" mantra from down valley wafts over and Sugarbush does a great job of keeping trails open if at all possible. The terrain has good variety and some challenge as well. Some lifts get crowded, but that can usually be avoided (except when lifts are down for mechanical and wind issues, which happened a lot last year)."
Score: 8.86
Other Strengths: Lodging, Nightlife
Weaknesses: Snow, Grooming
What Readers Say
"Love the challenge on hill, but not for the weak or fainthearted. Proximity to Lake Placid is what makes this a place. I will always return to it."
"Great challenge. Great vertical. Lake placid is a great resort town."
"Great terrain, not too crowded, plenty of lifts. Great town and a great variety of things to do when not skiing. I would recommend to everyone. Best ski mountain in the East."
Score: 8.96
Other Strengths: Value, Local Flavor
Weaknesses: Lodging, Grooming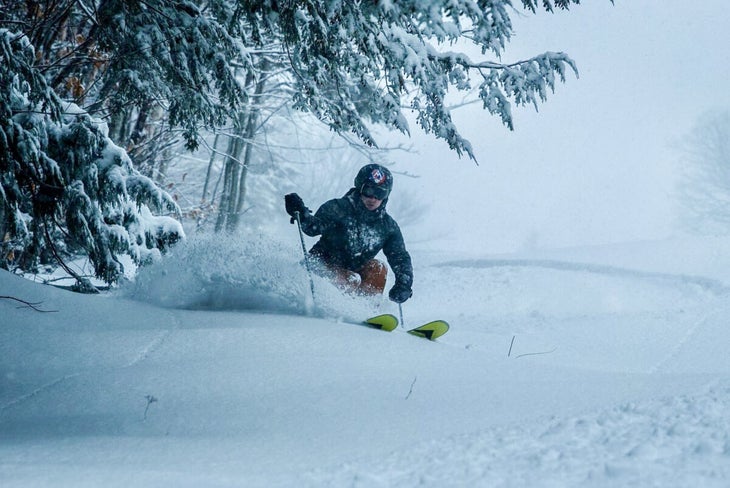 What Readers Say
"I 100% will return next year to ride Black Magic. I love a good challenge and that trail has a great reputation. I had soooo much fun in the glades when I visited last year. This mountain unfortunately does have a short season being in southern Vermont. Hidden gem!"
"Love the terrain, the vibe, and not as crowded as other resorts. Biggest negative is only one lift to the top and no backup if lift goes down."
"The terrain is great and makes up for the older chairs. They don't groom the place to an inch of its life so experts have plenty of places to play. Snowmaking is improving."
Score: 9.oo
Other Strengths: Terrain Variety, Overall Satisfaction
Weaknesses: Access, Nightlife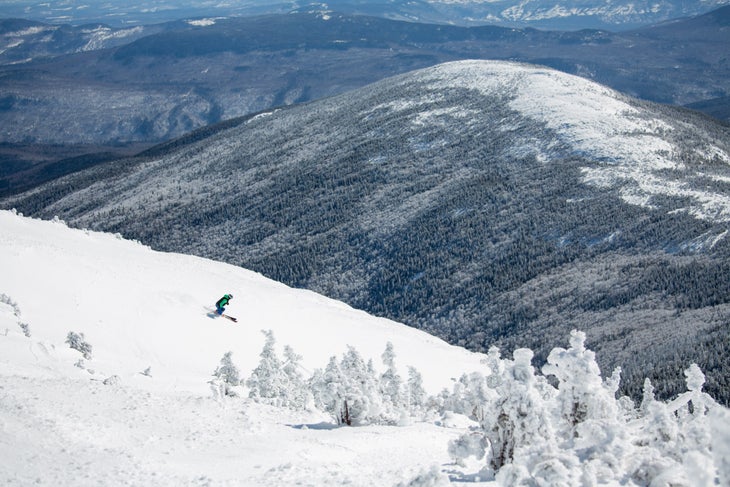 What Readers Say
"A bit of a drive but the skiing is challenging and great. The locals are generally hardcore. They ski in the biting cold and know that they're tough as nails and proud of it. There is terrific sidecountry terrain that will actually challenge you. The on-piste terrain is often groomed up to the point of boredom, but when there is fresh snow, there is a lot here to play with."
"Sugarloaf is the ultimate skier's mountain with great snow, variety, challenge and character. A testament to their grooming, snowmaking and snow maintenance is that on April 4, 2022, the 'Loaf still has wall to wall trail coverage on all man-made trails with several natural trails still open as well."
Score: 9.05
Other Strengths: Terrain Variety, Nightlife
Weaknesses: Value, Family-Friendly
What Readers Say
"I have a special place in my heart for Killington—it really does have everything, including its own satellite resort, Pico, which would rank as a full-fledged ski mountain anywhere else. I can be challenged anytime I want on the black/double black slopes or take it easy on some mellow blues when I'm ready to relax. The improvements to the infrastructure over the past few years are just awesome. The management clearly cares about the user experience and it shows."
"Good terrain variety and challenge; better conditions and more open trails for a longer time period than most eastern resorts. Great dining options, I love the many good choices."
Score: 9.13
Other Strengths: Terrain Variety, Guest Service
Weaknesses: Lifts, Dining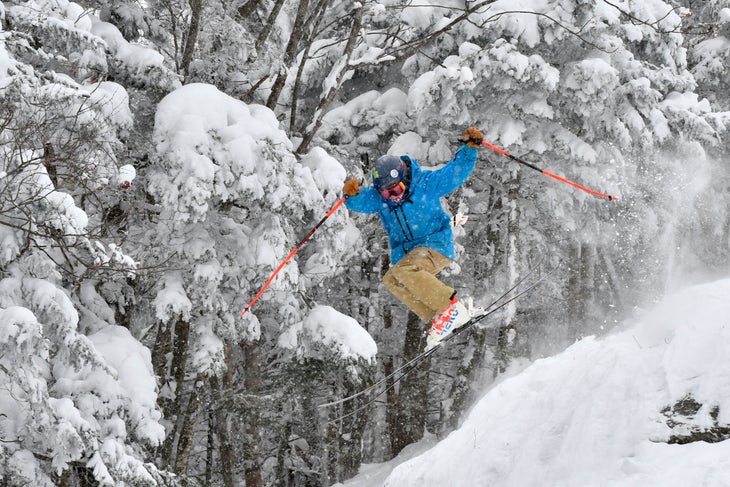 What Readers Say
"Great for families, a huge variety of terrain to suit beginners, and very badass terrain to challenge level 9s."
"We absolutely love Smuggs. Excellent terrain, grooming, challenge, variety, guest services, value! Love the laidback culture."
"Smuggs offers everything for any type of skier. Whether it's your first day on skis or you have been doing it your whole life and are looking to challenge yourself, Smuggs has you covered!"
Score: 9.32
Other Strengths: Terrain Variety, Value
Weaknesses: Snow Quality, Lodging
What Readers Say
"I would recommend Cannon Mountain to any advanced skiers looking for a challenge and a truly amazing vibe."
"Cannon is a skiers mountain, and have handled the last two seasons really well. We love Mittersill and we can't think of another NH/VT mountain with as much variety and challenge."
"The advanced/expert terrain at Cannon is great when there is enough snow."
Score: 9.55
Other Strengths: Snow, Overall Satisfaction
Weaknesses: Access, Nightlife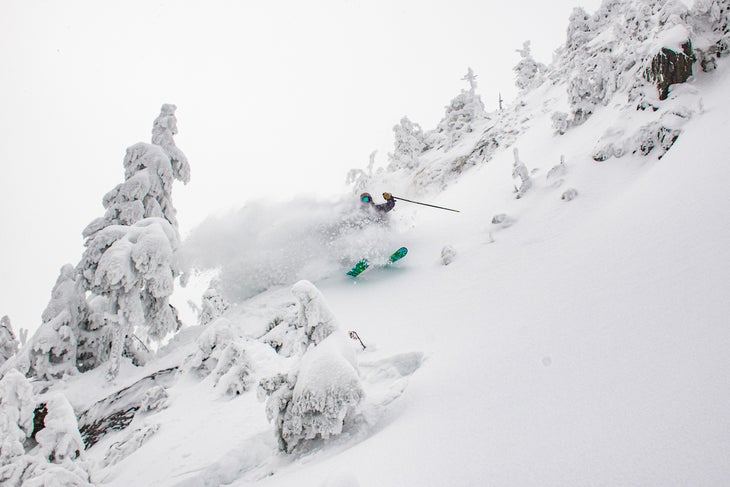 What Readers Say
"Jay gets plenty of snow. Lift lines can be lengthy on weekends. Some trail intersections can get congested and skied-off, but terrain challenge and variety is excellent. Slopeside condos are superb' true ski-in ski out and spacious accommodations. Great value' lift tickets and accommodation cost are lower than most areas."
"Great snow, varied terrain. A long drive and limited food options—we often drive into town to the local restaurants."
"Great terrain, the most snow in Vermont, and the glades, glades, glades!"
"This is where I go to challenge myself. Love the trail variety. Slopeside condos are lovely."
Score: 9.7
Other Strengths: Value, Guest Service
Weaknesses: Snow Quality, Nightlife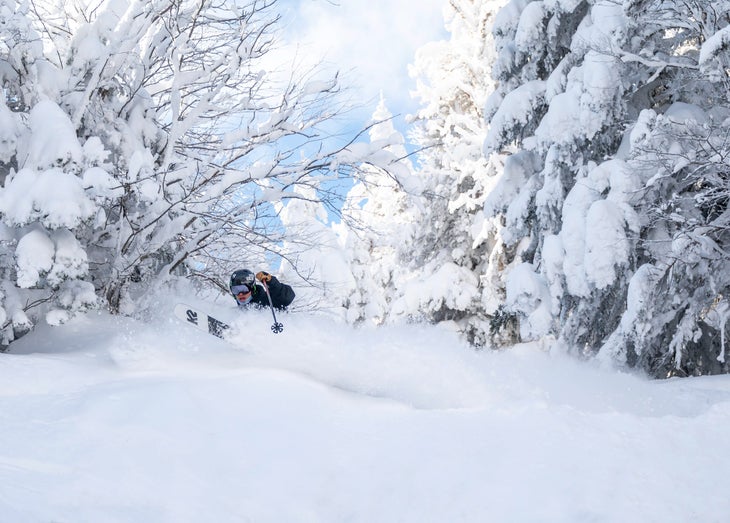 What Readers Say
"There's no better place to test your mettle in the East. The best terrain in North America outside of the Rockies. Regarding snowmaking, Mad River Glen has made significant upgrades to its snowmaking system in the last five years. People keep reporting that MRG doesn't make snow. This isn't true."
"Mad River has the most interesting terrain in the East. The pub at the mountain is first-rate, and the atmosphere is friendly, old-fashioned skiing, The wild card is Mother Nature."
"Mad River is special. Old school but focused on what is important now: skiing on amazing terrain without crowds. You can explore hidden treasures in and out of bounds with friendly locals and strangers. It can thrill you from top to bottom but you can always find a way to bail and cruise to the bottom. The Single Chair makes you one with the mountain and the music at the bottom and mid-station are worth the ride in and of itself. The staff is happy and helpful from the greeters and parking guys on in. The ski school is special, with kids skiing lines like no where else and adult programs that you can afford and learn from even after 65 years of skiing. The food is real and reasonably priced. No where else compares to Mad River Glen!"