The Top 10 Resorts in the East for Terrain Variety
Ski resorts back East may be vertically challenged, but readers say these 10 resorts make up for that with their terrain variety.
Heading out the door? Read this article on the new Outside+ app available now on iOS devices for members! Download the app.
Duh, eastern ski resorts doesn't have the same vert or skiable acreage you get out west. That's a result of millions of years of erosion, and the mountains on the East Coast can't do anything about being vertically challenged. But don't write these mountains off as having "lesser" terrain because of it. Runs may not be as long or spacious, but we'd argue that what the ski resorts in the East lack in vert and mileage, they make up for in terrain variety. Here, you won't find cruisey groomer after cruisey groomer. You'll find some rolling groomers, but you'll also find gnarly glades and tight lines. If you're looking for a healthy mix of beginner, intermediate, and expert runs, these 10 resorts serve up the best terrain variety in the East.
Resort Guide 2023: Top 50 Resorts in North America
Don't agree with these rankings? Take it up with our readers (ahem, you), who gave these Eastern resorts top marks in the terrain variety department of SKI's annual Reader Resort Survey.
Top 10 Resorts in the East for Terrain Variety
Score: 8.44
Other Strengths: Challenge, Local Flavor
Weaknesses: Nightlife, Value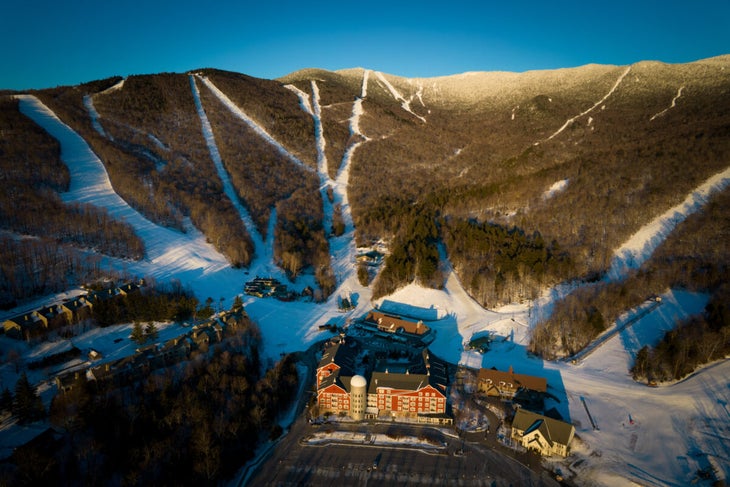 What Readers Say
"Beautiful terrain, challenge, and views, but a long drive to get there."
"I go here every year for a week or two. Great expert terrain and a fantastic lift layout that gives you many options to enjoy the slopes, regardless of weather or natural snow conditions."
"Sugarbush is a great mountain with a good vibe. Excellent, varied terrain for all levels. I chose this mountain to teach at 13 years ago because it values the whole skier experience. Customer service is top-shelf."
Score: 8.45
Other Strengths: Challenge, Value
Weaknesses: Dining, Après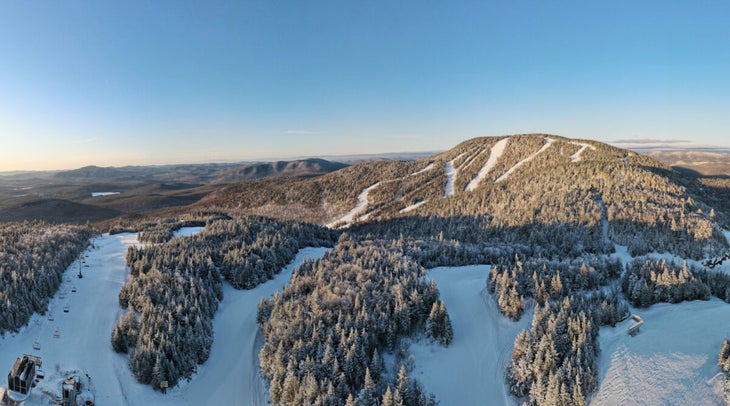 What Readers Say
"Gore Mountain is a low-frills area but it packs a punch in terms of snow and terrain quality. The steeps on the upper mountain are legit: truly tough, often bumped up and icy, a test of one's mettle. Plenty of cruisers for those who don't fancy so much adrenaline. The glades are also spectacular when the snow is plentiful. Gore's snowmaking system is ready to fill in when Mother Nature doesn't cooperate. The base lodge is spartan but spacious, and the food offerings are above average for a basic cafeteria. Views from the mountain are a highlight, with the Adirondacks and Greens in full view on clear days. North Creek is a bit of a sleepy village (more to do there in the summer than in the winter) but Lake George and Glens Falls are not far away and offer numerous amenities."
Score: 8.52
Other Strengths: Local Flavor, Value
Weaknesses: Lodging, Nightlife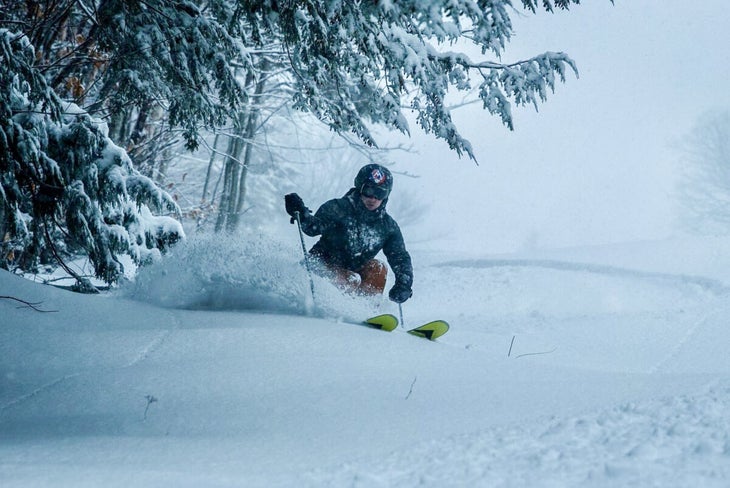 What Readers Say
"I wasn't expecting much since we had a terrible early season for snow last year, but Magic did terrific. I was super surprised how good the snow was and at the variety of terrain they offered. My family really liked Magic and we'll return."
"If you haven't been to Magic, you are missing the quintessential Vermont experience. A throwback mountain (yeah, lifts suck) to a time where skiing had a soul. The glades here are the most challenging on the East Coast. Want to throw a private party on a ski hill with your friends? Private rental of the mountain is available Monday through Thursday. Great place that all need to visit."
"Magic is one of a kind. When there is snow in Southern Vermont, there is no finer place. The vibe is perfect old school, the terrain is hairy, and the après in the Black Line tavern gets going early. Now if only they could blow more snow."
Score: 8.57
Other Strengths: Grooming, Family Friendly
Weaknesses: Value, Nightlife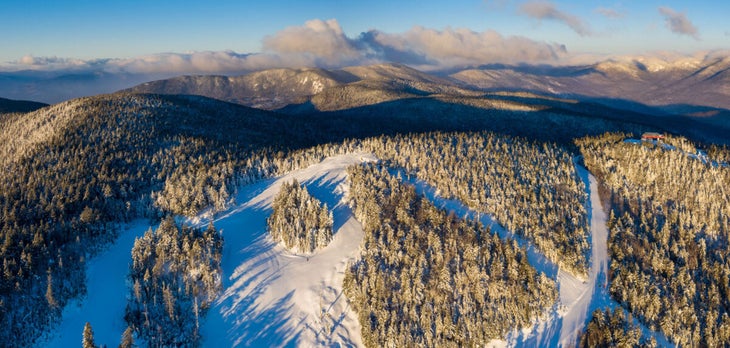 What Readers Say
"Great mountain and dedication to the snow product year in and year out. Excited for the coming lift upgrades and continued snowmaking infrastructure overhauls. A few pains last year: Snowmaking was shorted on several expert trails and many lodges were partially or not at all open for food options last season. It's a huge area, so can always find a quiet terrain pod and lift even on the busiest days."
"I enjoy Sunday River a great deal. They have a lot of natural terrain and don't over-groom the on-piste options. I spend as little time as possible on groomers, and SR has a lot of options to keep me off the groomed super-highways."
"I go to Sunday River when I'm looking for a wider variety of terrain and more challenge than my home mountain offers. The snow quality is usually very good, although firmer and faster than my home mountain. I believe this is because they groom early in the evening and it sets up overnight. The mountain is also affected frequently by wind conditions, so I also monitor the forecast and pick my days. As with every ski resort, dining options and other lodge amenities have been impacted by the Covid pandemic. But I think Sunday River has done as well as anyone in the northeast to manage Covid restrictions and offer skiers a good experience."
Score: 8.83
Other Strengths: Challenge, Overall Satisfaction
Weaknesses: Access, Nightlife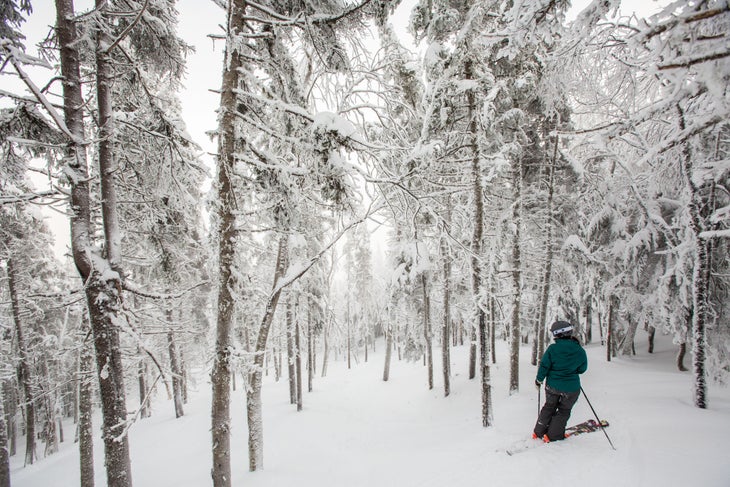 What Readers Say
"It's a bit of a drive but the skiing is challenging and great. The locals are generally hardcore. They ski in the biting cold and know that they're tough as nails and proud of it. There is terrific side-country terrain that will actually challenge you. The on-piste terrain is often groomed up to the point of boredom, but when there is fresh snow, there is a lot here to play with."
"I grew up skiing Sugarloaf, so it's a special place for me. I'm only able to get there once every few years now. With some perspective (having skied all over the place) I can now see that Sugarloaf's strengths are clearly its size (for the East Coast), terrain, and its unique layout that allows you to ski almost anywhere on the mountain off of one lift, and equally ski to your condo with ease. I thought that was the norm growing up, but definitely is not elsewhere. I also didn't realize how cold it can be and how far behind it can be on snow vs. other East Coast spots like Jay or northern Vermont, so that is where it is a bit behind as you have to be flexible with the conditions. Still, I love this place and when it's completely open in a good snow year, it's tough to beat."
Score: 9.02
Other Strengths: Challenge, Access
Weaknesses: Snow, Lodging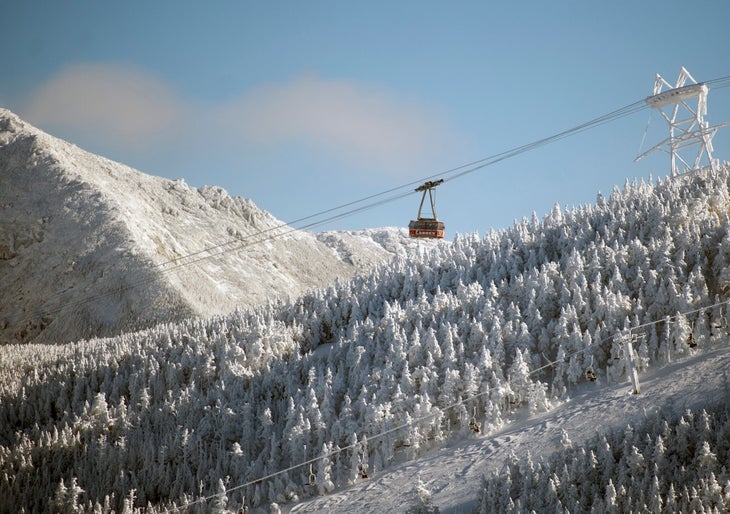 What Readers Say
"Cannon is a great mountain for the price, with lots of challenging terrain, and close by for a day trip."
"Cannon's terrain—old winding trails off the summit, Front Five steeps—outweighs its problematic weather. On a good day, it's heaven. On a bad day—it's icy, windy, socked in—you learn to appreciate and respect the White Mountains weather."
"Cannon is one of those rare gems in the North Country that make you feel very special once you master most of the terrain."
"I did 40 days at Cannon last season. Very inexpensive season pass for N.H. residents. I never waited more than eight minutes in any lift line last year. Considering the lack of natural snow last season, the ski area did a tremendous job keeping the ice to a minimum."
Score: 9.14
Other Strengths: Challenge, Lifts
Weaknesses: Value, Family Friendly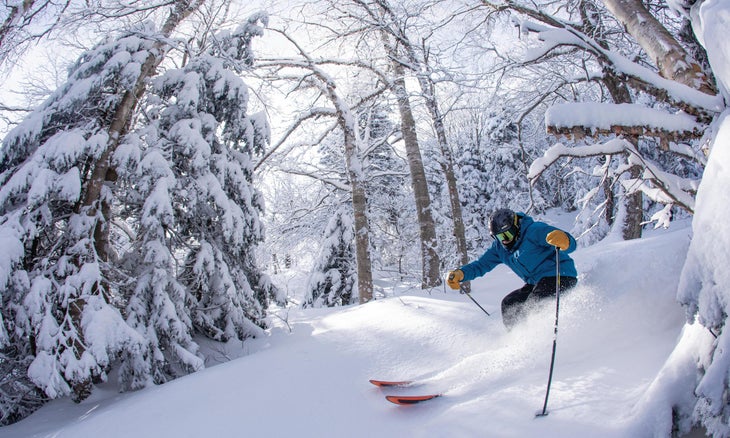 What Readers Say
"Fantastic variety of advanced terrain combined with longest season in New England."
"I am a long-time Vermont skier but a Killington newbie. I was scared by the reports of tri-state Jerries but as it turns out, the place lives up to its nickname. It has incredible views, better snow than anyone else in Vermont outside of Jay Peak, and terrain for almost everyone. Can I tell you a secret? Paying extra to skip the lines is great."
"We have skied Killington for many years because of the many trails, varied terrain, great lift system, and nearby affordable lodging/meals. Best in New England in our opinion."
Score: 9.18
Other Strengths: Challenge, Family Friendly
Weaknesses: Lifts, Dining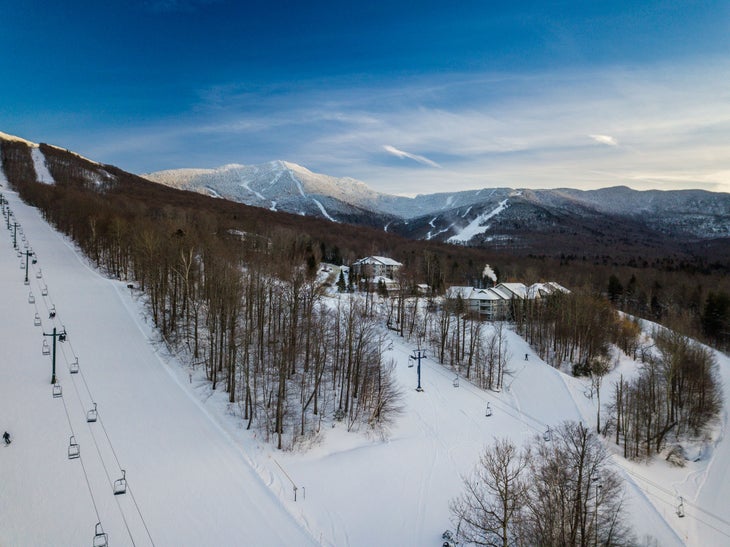 What Readers Say
"Diverse terrain with lots of challenging trails but still fun for beginners. Really enjoy the local flavor and it doesn't feel like it's trying to be something it is not. Prices are the best value for the skiing. The double chair lift can be slow but it keeps the trails feeling less crowded. Love the upper lot flavor, especially in the spring when people are hanging out."
"Excellent snow quality, terrain, grooming, and convenience. Very uncrowded slopes almost always. Only weakness is slow and limited-capacity lifts, but this is one of the reasons slope space is usually ample and the skiing experience is special."
"Great staff. Great ski instructors. Great terrain. I would recommend Smuggs to both families and individuals looking for great skiing."
Score: 9.34
Other Strengths: Challenge, Overall Satisfaction
Weaknesses: Grooming, Lifts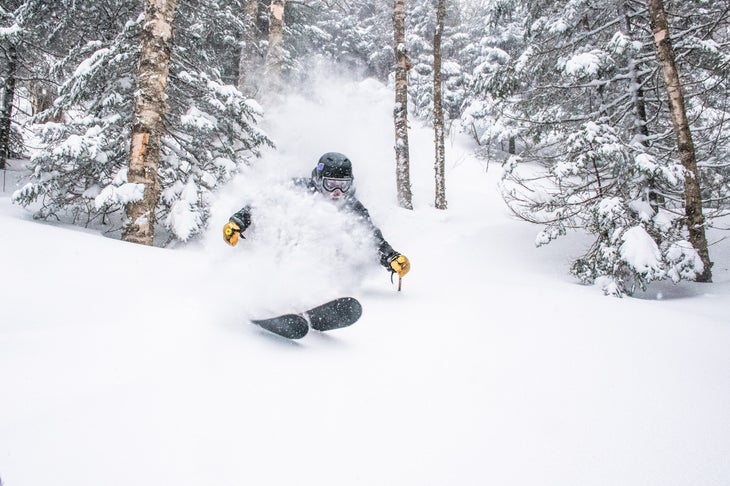 What Readers Say
"Challenging terrain, gorgeous scenery, low crowds, excellent food options, lots of natural snow, very attentive and professional staff."
"Terrain to rival the Rockies, tons of snow, less than two hours from Montreal, amazing value, and a waterpark for endless family fun."
"Good natural conditions can make this resort one of the best mountains for challenging terrain. Combined with the great on-premise facilities for dining, drinking, swimming and other fun make this mountain an unbelievably great time."
Score: 9.35
Other Strengths: Challenge, Local Flavor
Weaknesses: Snow, Grooming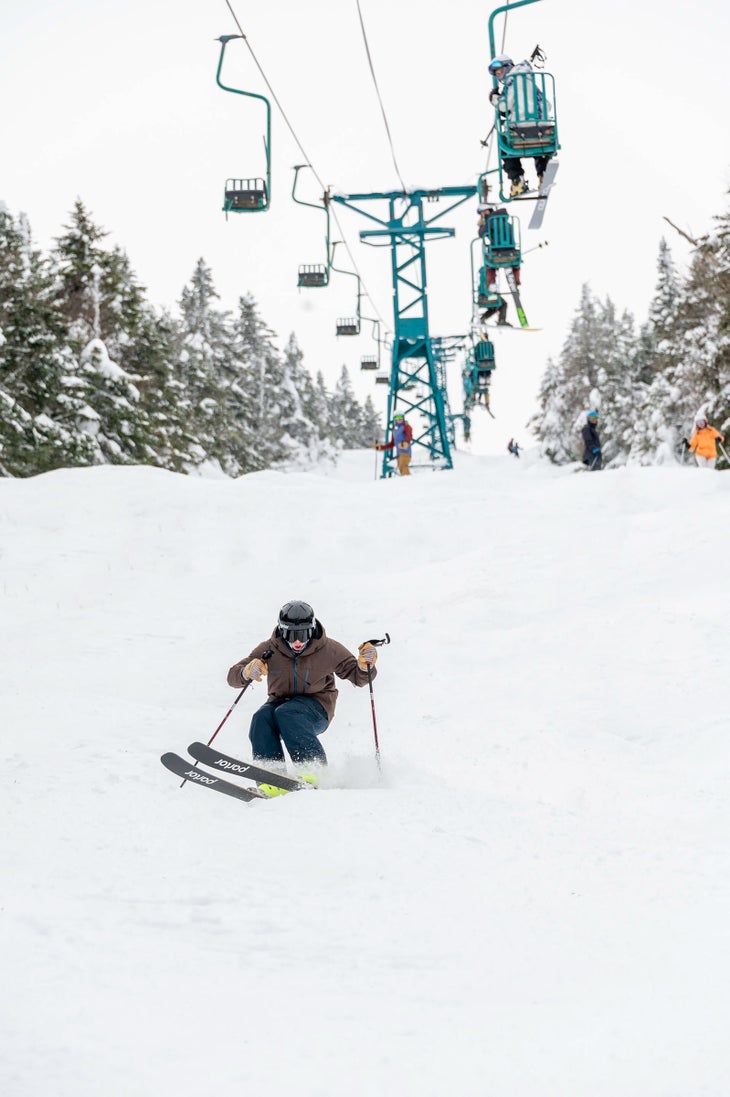 What Readers Say
"Mad River is special. Old school but focused on what is important now: skiing on amazing terrain without crowds. You can explore hidden treasures in and out of bounds with friendly locals and strangers. It can thrill you from top to bottom but you can always find a way to bail and cruise to the bottom. The Single Chair makes you one with the mountain, and the music at the bottom and mid-station are worth the ride in and of itself. The staff is happy and helpful from the greeters and parking guys on in. The ski school is special, with kids skiing lines like no where else and adult programs that you can afford and learn from even after 65 years of skiing. The food is real and reasonably priced. No where else compares to Mad River Glen!!"
"I skied here the most this past season and had a season pass. The staff were much friendlier than last season and the ski conditions were markedly better this year than last, thanks to Mother Nature. The 'Ski It If You Can' mantra holds true, and they let you get on the mountain any time it's white and we love it. The grooming here is way under the radar, but can't be beat in New England! And the way the runs are cut make the terrain fun from the greens to the blacks."