The Best Resorts in the U.S. For a Family Ski Trip
From where to stay to what to ski, here's what makes the top-ranked family resorts in the U.S. so ideal for ski families.
Heading out the door? Read this article on the new Outside+ app available now on iOS devices for members! Download the app.
Some of the most useful information provided by our readers during the annual Resort Survey is around family-friendly skiing, and what people are looking for when it comes to taking their broods on a ski vacation. The comment section of the survey is filled with opinions on what makes a family ski trip hum smoothly, and top of the list is convenient lodging with amenities that kids love (pools, hot tubs, game rooms, free treats in the lobby). Also high up there is a variety of terrain that little skiers can improve their skills on, from kid-inspired adventure trails to long cruisers from the summit with all the views (hello photo op).
Related: This is How We Rank Resorts in our Annual Resort Guide
We combed through the survey results to identify the top resorts for families in the U.S., then did a deep dive into what makes them so, from the best family lodging to where to find the complimentary hot cocoa after the lifts stop turning. There are plenty of family-friendly ski resorts across the country, but if you're serious about making passionate skiers out of your kids, consider planning a trip to one of these resorts.
A Travel Guide to the Top 8 Family Resorts in the U.S.
No. 8: Whitefish Mountain Resort, Mont.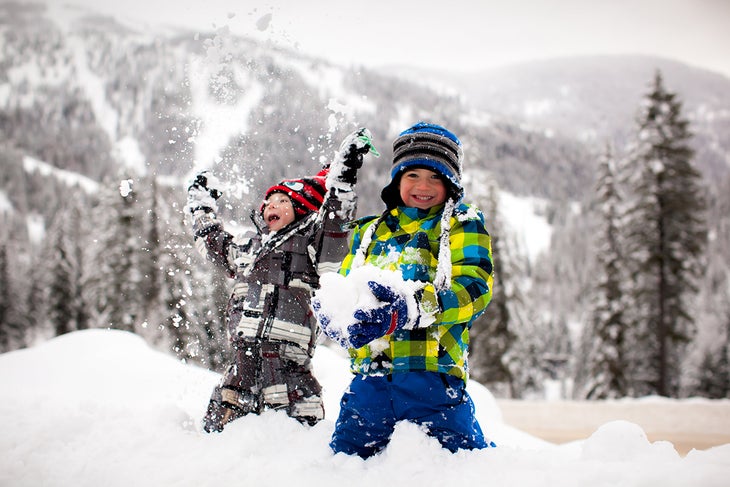 What Readers Say: "Once you have skied in Whitefish you will always want to come back. It is the perfect mountain to ski, snowboard and après-ski for beginners, families, experts and everyone in between. It has everything you want and nothing you don't want."
Overall Rank: No. 6 in the West
Other Strengths: Local Flavor, Service
Best Family Ski Terrain at Whitefish Mountain
The family-friendly terrain off of Chair 2 opens 30 minutes before the rest. Shhhh, don't tell anyone, and get your crew out there before the rest to gobble up no-extra-cost first tracks on the mellow blues and greens.
Best Family Lodging at Whitefish Mountain
For convenient ski-in/ski-out access, the Kintla Lodge has one- to three- bedroom condos close to all the action in the village. Units have full kitchens and access to ski storage and hot tubs.
Best Dining for Families at Whitefish Mountain
While there aren't a plethora of on-mountain dining joints for families, the Summit House will have something to please everyone. The cafeteria-style food court serves up everything from oversized pizza slices to paninis and quinoa bowls. In downtown Whitefish, family-owned Jersey Boys pizzeria is the real thing despite being nestled into an authentic Western town. The hand-tossed pizza, subs, sandwiches, and calzones are tasty, and the relaxed vibe fits the bill for families looking to kick back and relax.
Top Off-Slope Activities for Families at Whitefish Mountain
When in northern Montana, visiting Glacier National Park is simply a must, especially during the winter when it's practically empty. Book with Whitefish Outfitters to snowshoe a portion of the magnificent Going to the Sun Road or other untraveled-in-winter parts of the park.
Pro Tip: Check out the historic Whitefish Depot, downtown. The still-functional train station is a defacto history museum and a great spot for train lovers to watch the comings and goings.
No. 7: Okemo Mountain Resort, Vt.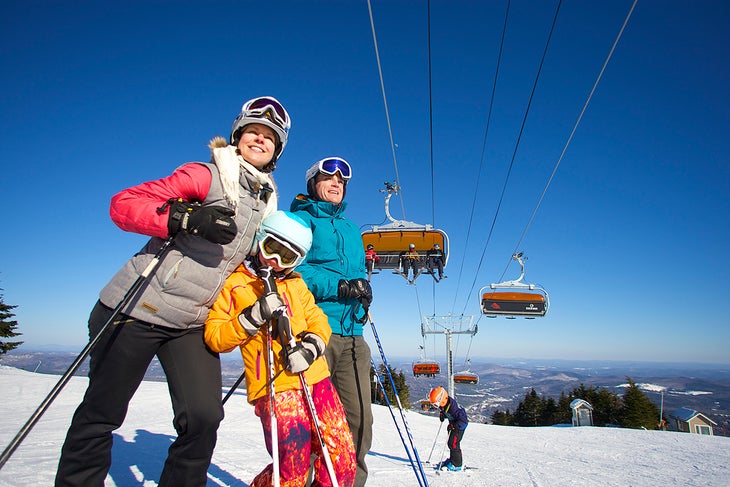 What Readers Say: "Okemo is my family's favorite resort. The capital improvements Vail has made with the additional express lift capacity at Jackson Gore and the new Evergreen lift have fixed the problems with crowding at Jackson Gore. Not the place for après or tailgates but its not like you can't find a beer when you need one. I like the free car chargers at Jackson Gore!"
Overall Rank: No. 20 in the East
Other Strengths: Lodging, Grooming
Best Family Ski Terrain at Okemo
One thing that sets Okemo apart and makes it great for adventurous ski families is its selection of intermediate gladed terrain. Head to the Evergreen Summit Express chair and check out runs including Whispering Pines, Everglade, and Tree Dancer.
Best Family Lodging at Okemo
The condos at Adams House, on the Jackson Gore side, offer one- to three-bedrooms units with kitchens and plenty of room to spread out, great for families wanting to prepare meals and keep dining costs down.
Best Dining for Families at Okemo
Keep it simple with flat bread pizzas, apps, burgers, and selection of mac-n-cheeses at Okemo Taphouse. There's also a kid's menu.
Top Off-Slope Activities for Families at Okemo
The Spring House complex at the Jackson Gore base has a kid's splash pool with mini slide and an ice rink for an easy day off of the slopes.
Pro Tip: Don't miss the Waffle Cabin at the Jackson Gore base for light, crispy waffles topped with syrup or chocolate.
No. 6: Keystone Resort, Colo.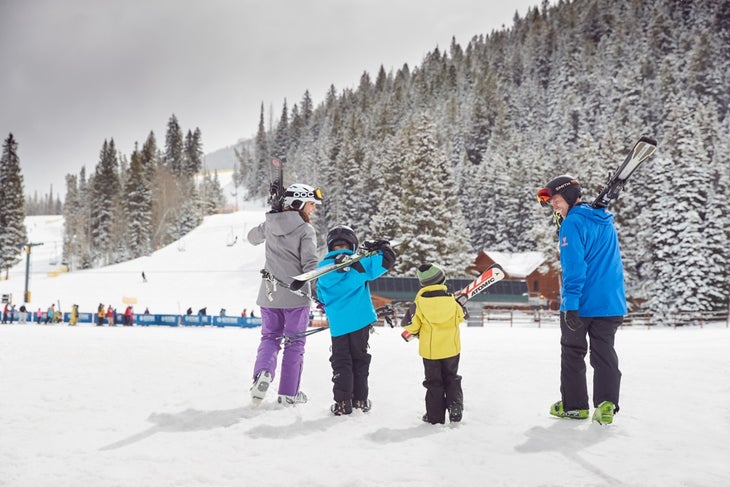 What Readers Say: "Keystone has a great local vibe. The people on the mountain and working the mountain are all great. The mountain has a lot of variations in the terrain, recognizing that not all skiers are beginners nor double-black-diamond-qualified. It is great for families. I have never had a bad time at Keystone and look forward to returning every year."
Overall Rank: No. 27 in the West
Other Strengths: Access, Grooming
Best Family Ski Terrain at Keystone Resort
For learners, the Mountain House base is a less-crowded spot for kids to comfortably slide around and get their ski legs under them. Once they're confidently stopping and turning, Endeavor, the learning area at the top of the gondola, serves up mellow terrain with all the views. For blue cruising, get off the frontside and lap the blues off the Outback Express.
Best Family Lodging at Keystone Resort
Our favorite lodge for families is The Springs, in the River Run base area with easy access to the River Run Gondola. The property has a heated outdoor pool with slide and hot tubs, and roomy units with one- to four-bedrooms with full kitchens. A less pricey option is staying in the Keystone's Forest Neighborhood condos, on the shuttle route. This is ideal for larger groups who need more space or people looking for a better bang for their buck.
Best Dining for Families at Keystone Resort
The expanded and improved LaBonte's Smokehouse, which added a 190-seat indoor facility a few seasons back, is at the base of North Peak and has such a great vibe and a delicious pulled pork sandwich. At the Mountain House base, Go Big Burger has a friendly vibe and great menu for families, from burgers of all stripes to boneless wings to loaded nachos. The thick shakes are not to be missed.
Top Off-Slope Activities for Families at Keystone Resort
Hands down, the coolest family activity at Keystone is ice skating at night on Keystone Lake in Lakeside Village. The Zamboni-maintained rink is five acres, and it's such a fun experience—just remember to bundle up! Skate and hockey stick rentals are available.
Pro Tip: The Kidtopia Ice Fort is built at the top of the River Run Gondola in January every season. With slides, tunnels, and stairs with lookout points, the massive ice castle is a kid-magnet.
No. 5: Bretton Woods, N.H.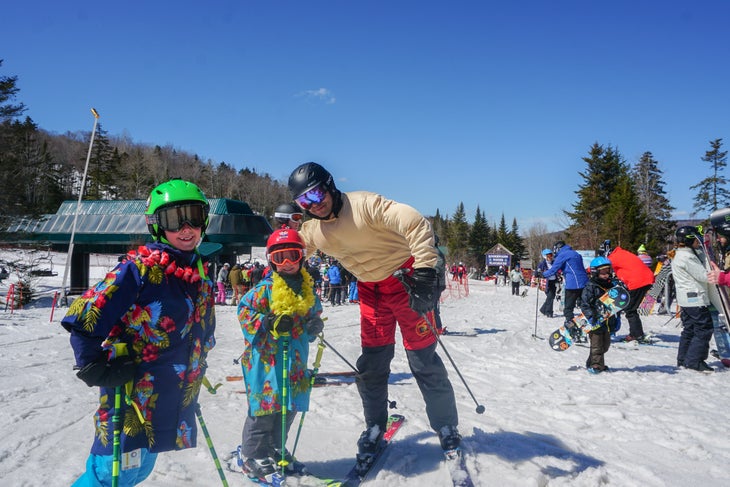 What Readers Say: "Bretton Woods is the perfect family destination for skiing! The mountain has trails for all levels of skiing. All of the staff from the parking lot, to ticketing, to the lifts, and all of the services are incredibly friendly & helpful. The condos on the mountain or across the street are roomy, clean and exactly what you need after a great day on the slopes."
Overall Rank: No. 2 in the East
Other Strengths: Service, Grooming
Best Family Ski Terrain at Bretton Woods
Take High Ridge to Outer Bounds, off the the Fabyan Triple chair, for great views and a top-to-bottom experience with a gentle pitch.
Best Family Lodging at Bretton Woods
While the red-roofed Omni Mount Washington Hotel is the iconic lodging at the base of Bretton—and is very family-friendly despite its formal ambience—the resort also has many condos with slopeside or ski-in/ski-out access that offer families more room, as well as full kitchens. The Lodge and Townhomes at Bretton Woods are two- five-bedroom units with a short walk to the slopes.
Best Dining for Families at Bretton Woods
Fabyan's Station is a casual dining spot located in the original train station. The family-friendly menu is burger-focused, but there's also salads and a smokehouse selection, plus a kids' menu.
Top Off-Slope Activities for Families at Bretton Woods
One of the few ski resorts to keep its canopy tour open throughout the winter, Bretton Woods' treetop adventure features nine ziplines connecting 16 platforms between 10 and 70 feet off the forest floor.
Pro Tip: If the slopes didn't wear them out, send the kids over to the 30-foot climbing wall, located indoors at the Bretton Woods base lodge. There's also a 300-square-foot bouldering cave.
No. 4: Steamboat Resort, Colo.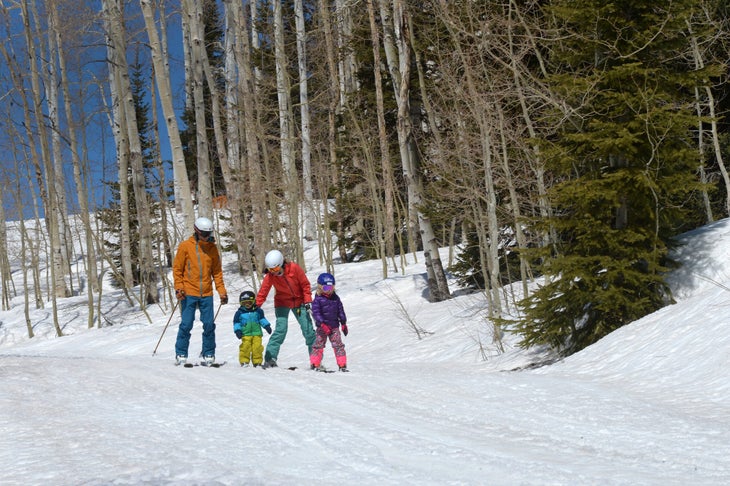 What Readers Say: "My son loves Steamboat. He likes the fact that there are a lot of intermediate trails that are fun yet challenging. The food on the mountain is great. We love the Western charm and vibe of the area. The ambassadors really make you feel welcome when you're at the resort. There is plenty of room to spread out and let 'er rip."
Overall Rank: No. 10 in the West
Other Strengths: Lodging, Local Flavor
Best Family Ski Terrain at Steamboat Resort
Rough Rider Basin is kid's-only territory with its own surface lift, ski-through teepees, a log cabin playhouse, and a sweet vibe. For older kids, the Sunshine family trail takes groms on a jaunt through the trees in Sunshine Bowl between the Flintlock and Sunshine Lift Line runs.
Best Family Lodging at Steamboat Resort
One of our favorite spots for families, hands down, is Trappeur's Crossing. It's a sprawling property with so many lodging options for groups of different sizes, all with full kitchens, fireplaces, shuttle service to town, and access to a heated indoor/outdoor pool, 10 hot tubs, and a fitness center. The lodge is two blocks from the gondola.
Best Dining for Families at Steamboat Resort
Let the kids help hunt down the Taco Beast snowcat on mom or dad's phone (follow @TacoBeastSBT on Twitter), then celebrate their success with one of four types of the delicious street tacos washed down with a Mexican soda. In town, Dude & Dan's is a welcoming, often raucous spot with flat screen TVs on the walls and a kid-friendly menu with build-your-own mac-n-cheese and a chicken finger basket. You won't have to worry about your brood being too loud here.
Top Off-Slope Activities for Families at Steamboat Resort
Embrace Steamboat's Western vibe with a horseback tour through the woods at Saddleback Ranch; kids must be at least 8 years old for the two-hour trail ride through the ranch's pristine, snowy landscape. For the younger set, the ranch's three-lane snow tubing hill is open to all ages, and littles 4 and under are free.
Pro Tip: Take a spin on Skeeter's Ice Rink, which anchors the new Steamboat Square development. Bring your own skates and glide for free, or rental skates for $17-$20. 
No. 3: Deer Valley Resort, Utah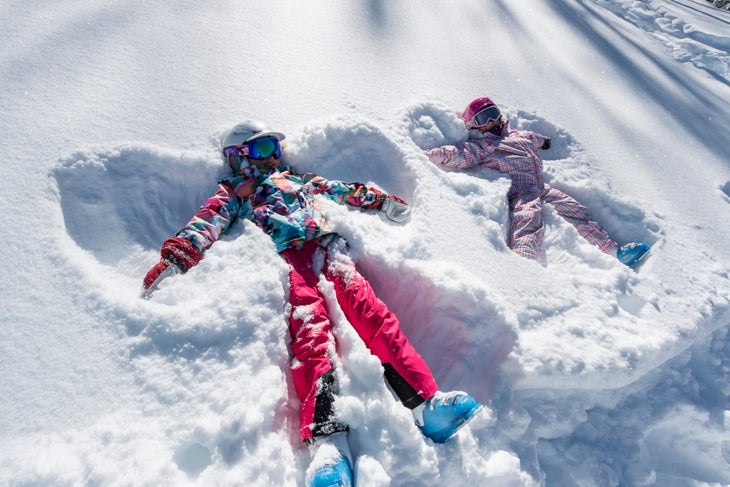 What Readers Say: "Deer Valley is the whole package. Overall, it's a wonderful resort for families, friends, and powder hounds alike. With a variety of terrain options spread over all six peaks, there's something for everyone. Luckily, they can make so much snow that even on a low snow year, you're guaranteed to have plenty of options, and with the best grooming at that. To top it all off, the staff is helpful and kind, the food is better than any other resort, and the access is incredible. Hard to have a bad thing to say about this place, it's what brings us back year after year!"
Overall Rank: No. 2 in the West
Other Strengths: Grooming, Service
Best Family Ski Terrain at Deer Valley
Close your eyes and choose a spot on the trail map. Just kidding, but the fact is that five of Deer Valley's six peaks boast green cruisers from the top, so the odds of finding enjoyable groomed terrain are pretty good wherever you land. What's more, Deer Valley's kids adventure zones—Bucky's Backyard, Silver's Aspen Slalom, Ruby's Tail and Quincy's Cabin—short trails through the woods or banked slaloms designed for small skis to navigate easily.
Best Family Lodging at Deer Valley
We love the Lodges at Deer Valley, at the Snow Park base. The outdoor pool and hot tubs, complimentary buffet breakfast, and on-site rental shop make it such a convenient base camp for families, especially if they're attending ski school or daycare. There's also provide cookies and hot chocolate in the lobby after skiing every afternoon. Enough said.
Best Dining for Families at Deer Valley
For a family treat, Fireside Dining is worth the splurge, and gives restless kids the chance to get up and stretch their legs as they move through the different dining stations, including Swiss Raclette, a carving station, and an amazing chocolate fondue setup. An optional sleigh ride seals the deal. In Park City, two miles down the road, the legendary No Name Saloon debuted its new Annex Burger joint next door, offering a full slate of burgers and a dedicated kids menu with finger favorites from corn dogs to quesadillas. .
Top Off-Slope Activities for Families at Deer Valley
Hands down, the best family activity off the slopes at Deer Valley is the Snowshoe to S'Mores Tour, an hour-long jaunt combining a short snowshoe adventure to the Deer Valley Gazebo for homemade S'Mores and cocoa around the firepit. Just the right amount of sweat and sweets.
Pro tip: Unlike other ski childcare facilities, Deer Valley's center welcomes non-skiing kids up to 12 years old, in case mom and dad need a day to themselves.
No. 2: Smugglers' Notch, Vt.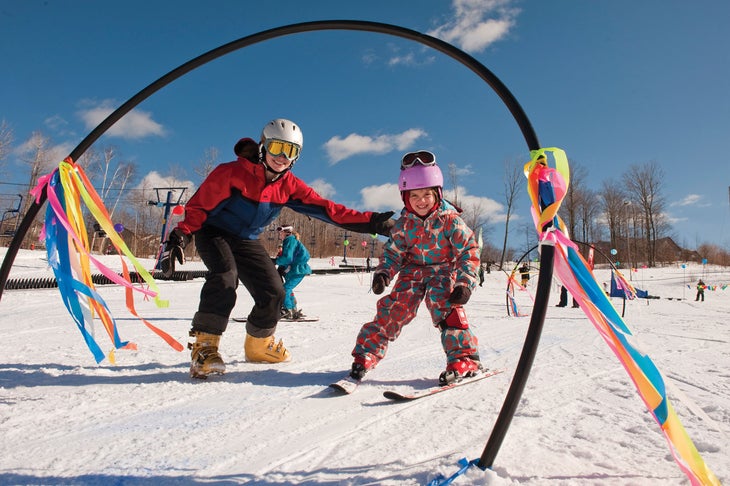 What Readers Say: "I'd recommend Smugglers' Notch to anyone looking for a great getaway in the Northeast. Especially anyone with a family. Great staff, great programs, never overcrowded."
Overall Rank: No. 1 in the East
Other Strengths: Value, Challenge
Best Family Ski Terrain at Smugglers' Notch
For a family resort, Smuggs has a lot of challenging terrain, especially off 3,640-foot Madonna Mountain. The best place for novices to get their ski legs under them is on Morse Mountain, where three lifts serve about a dozen gentle, winding trails. When you're ready, Upper Chilcoot, off the Madonna 1 chair, is a long, blue cruiser.
Best Family Lodging at Smugglers' Notch
The North Hill Community's one- through four-bedroom condos are the newest lodgings at Smuggs, with their own aquatic center and splash pool. There's a convenient free shuttle to the main village.
Best Dining for Families at Smugglers' Notch
Martell's at the Red Fox, in the town of Jeffersonville, is a must-try for families, with a casual, jovial vibe with live music and a large menu with something for everyone.
Top Off-Slope Activities for Families at Smugglers' Notch
Aside from the Fun Zone, Smuggs' 26,000-square-foot arcade and family-fun hub, another off-slope diversion worth checking out are the early-evening snowcat tours up the mountain. The Thursday tour features a fireworks display at the top of Morse Mountain.
Pro Tip: Some ski resorts have annual winter carnivals, but Smuggs has a weekly winter carnival with music, ice carving, and a bonfire, every Thursday at 3 p.m. on the Village Green.
No. 1: Sun Valley, Idaho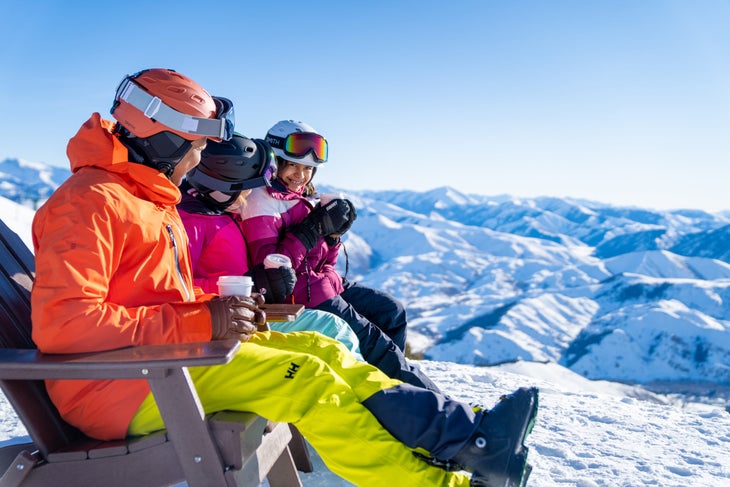 What Readers Say: "It's easy access once you arrive. The town offers free public buses to all lodges FREE all day. Parking is plentiful and SV has shuttles to and from the lots. We love the guest services team who are there the minute you arrive; they are also visible on the mountain. The staff are friendly and the skiing is just amazing!"
Overall Rank: No. 1 in the West
Other Strengths: Grooming, Lodging
Best Family Ski Terrain at Sun Valley
While Dollar Mountain, two miles away, is known as the beginner hill, there's plenty for skiing families at Sun Valley's main Bald Mountain. The Broadway Minicross course is a hoot, with berms and rollers to careen around while getting little legs warmed up. Find it off the Seattle Ridge lift, at the top of the Broadway run. For families with kids who love to rip groomers, head to the new extended terrain of lower Broadway—it's a great first stab at Baldy for skiers of all levels.
Best Family Lodging at Sun Valley
Sun  Valley Lodge is the most convenient for skiing families, located at the base of Bald Mountain in walking distance to the village. The massive lodge pool and hot tubs are a hit with the younger set. In town, the Limelight Ketchum is a hub for all types of visitors, but especially kids with a game room, heated outdoor pool, mountain shuttles, and complimentary daily breakfast. For room to spread out, or for extended families, check out the Sun Valley Condos or Cottages. These condos and private homes range from two to seven bedrooms with plenty of communal spaces and amenities such as hot tubs, fireplaces, and full kitchens, all a snowball's throw from the village.
Best Dining for Families at Sun Valley
The taco bar at Lookout Day Lodge, at the top of Bald Mountain, is always a winner with the kids. With plenty of toppings and salsas, this DIY lunch option ensures that even the pickiest eaters always find something to fill their bellies. In Ketchum, Whiskey Jacques may be known for its late-night hijinks, but they keep it clean during family dining hours with air hockey, pool, and arcade games.
Top Off-Slope Activities for Families at Sun Valley
If anyone in your brood has a hankering to try sliding on a different type of equipment, the Sun Valley Nordic Center has 40 kilometers of meticulously groomed cross-country trails and rents all sizes of equipment, plus Chariot carriers for wee ones too young to go it alone. It's a great way to see the Wood River Valley from a different perspective.
Pro Tip: Scenic horse-drawn sleigh rides on traditional sleighs are a highlight of the Sun Valley experience. Daytime tours last around 40 minutes, the perfect length for antsy kids.