Revolutionary New Lift Comes to Mt. Hood
New portable 730-T wire handle tow lift will be the first one used in the US
Heading out the door? Read this article on the new Outside+ app available now on iOS devices for members! Download the app.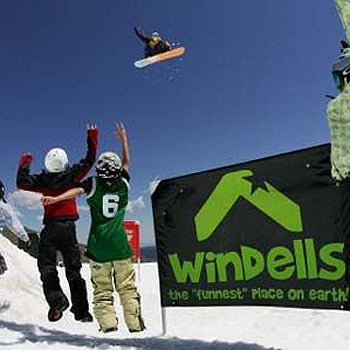 MT HOOD, OR – March 26, 2009
– It's the only one of its kind in North America – and it's only for Windells campers. The world's premiere snowboard camp is bringing the first 730-T wire rope tow lift to Mt Hood. This will be the longest private handle tow at Timberline Ski area.
Tim Windell is a pioneer in snowboarding industry. Since he opened Windells in 1988 he has trained virtually every top snowboarder in the world. The alumni list for Windells reads like a who's who of the Action Sports Industry. Windells has worked with the likes of Shaun White, Mason Aguirre, Danny Kass, Kelly Clark, Gretchen Bleilier, Hannah Teeter, Tanner Hall, Sammy Carlson, Ryan Scheckler, Silas Baxter, Luke Mitrani, Kevin Pierce, Louie Vito, Danny Davis to name a few. In fact, every US Olympic medal winning snowboarder to date has attended Windells.
With a maximum speed of 400 feet per minute and the ability to extend up to 1,200 feet, lift lines at Windells will be a thing of the past. The 730-T rope tow is also portable so it can be moved at any time. "Summer conditions are always changing," says owner and operator Tim Windell, "This new lift will allow us to use the best snow everyday and maximize the experience for every camper at Windells all summer long."
The 730-T tow lift has been in operation throughout Europe, but Windells is the first to bring this system to the United States. The unique feature adds another dynamic to the long list of state-of-the-art facilities at Windells.
"I believe these lifts will bring Mt Hood into the 21st century," says Windell, "Combined with new concrete, BMX and Free ride parks, reconstruction on BOB (indoor skate park), the newly remodeled cabins and facilities, Windells is gearing up for an action packed summer like no other."
The handle tow will arrive at Windells in May and will be open to campers June 7th.
Windells offers camps year round. Campers can stay overnight or attend day camps, prices start at $724 for the week and include; lift tickets, instruction, food, prizes, transportation, supervision, video review, camp activities and more. To register go to
.
Founded in 1988 by nine time National Champion and 2 time Vice World Champion snowboarder Tim Windell, Windells has been a world leader in action sports for the past two decades. The camp's goal is to not only improve kids' skills on the slopes but off the slopes too, through positive reinforcement in a fun and safe environment for kids to creatively express themselves through the action sports industries. Windells has been building world class on snow and off snow facilities for over 2 decades. Windells is the world's only privately owned campus, featuring the northwest's largest BMX facilities, skateboard parks, snowboard and ski parks, paint ball fields, foam pit and lodging facilities for the action sports industry. Windells is often referred to as "Funnest Place on Earth.