Focus 2017/2018
Another incredible season of the most stunning photography from the pages of SKI Magazine.
Heading out the door? Read this article on the new Outside+ app available now on iOS devices for members! Download the app.
Silver Lining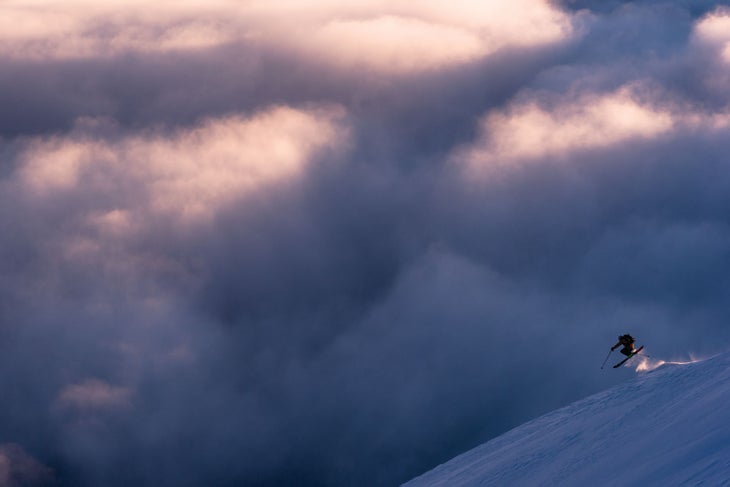 Athlete James McSkimming and photographer Reuben Krabbe, longtime ski partners, seem to regularly find themselves in obscure areas of the Coast Mountains. This trip, the result of an ambitious goal to bag Wedge Mountain, the highest summit in B.C.'s Garibaldi Provincial Park, proved no different. The pair began their trek in darkness, with Krabbe nabbing this shot of McSkimming just as the sun came up and spirits were high. Unfortunately, between getting re-routed by a cliff and hitting travel-impeding snow, the two were forced to retreat. Wedge was a no-go. Looking on the bright side, Krabbe says of this shot: "Failure never looked and felt so good as pow skiing through the dawn light." Nikon D750, Nikon 70-200mm f/4 @ f/10, 1/640sec, ISO 800
Model Behavior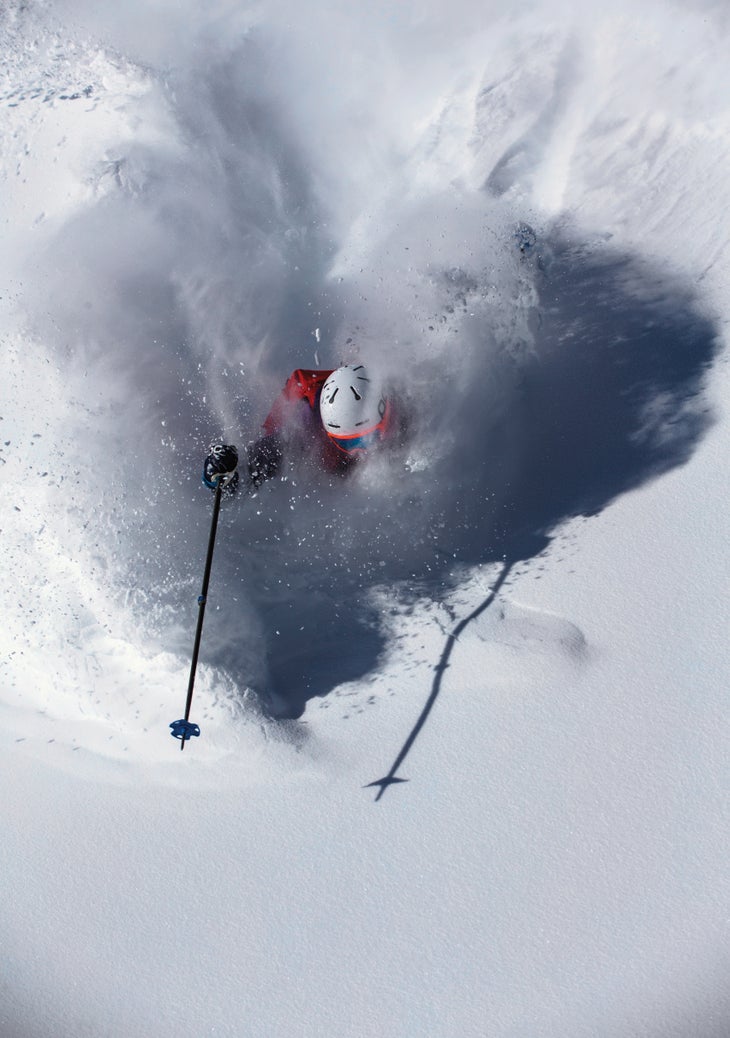 Photographer Jesse Hoffman hadn't planned on shooting skier Zach Clayton when he and another athlete decided to sneak away from Aspen, Colo.'s X Games to explore the powder on the backside of Ajax last January (with camera, just in case). On one of their first runs, the trio came across a little gully, a local favorite, which allowed Hoffman to find the perfect spot to capture Clayton in action. "Zach had never really been photographed before, and he kept saying he didn't want to get in the way," Hoffman says, "I told him to relax, shut up, and just have some fun skiing." Out on the level playing field of the mountains, Clayton, who manages the athlete team for POC, showed himself to be just as great a shredder as his pros. "When Zach saw the photo, he was pumped," Hoffman laughs. "He was like 'Are you gonna send it anywhere?'" Odds are good. Canon 1Dx, Canon EF 24-70mm f/2.8 @ f/7.1, 1/1250sec, ISO 100
A Place in the Sun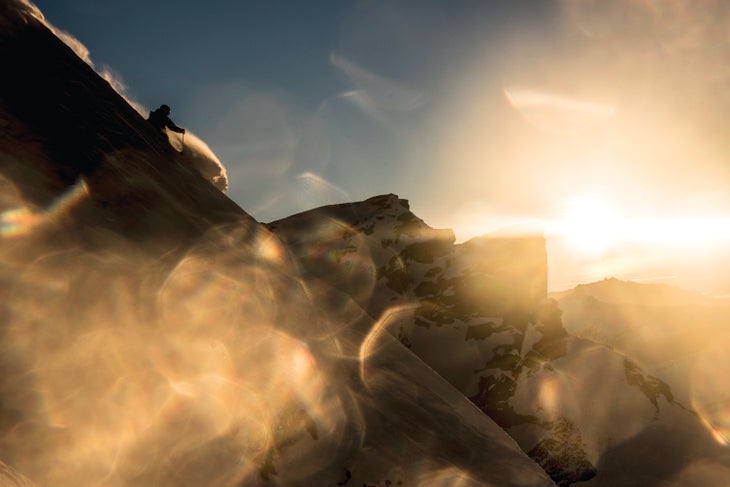 Photographer Guy Fattal and athlete Flo Goeller set out for a simple hike, hoping to see the sun vanish over the peaks outside of Whistler Blackcomb, B.C. Says Fattal: "With the sun setting at around 3 p.m. during that time of year [December], it was an amazing chance to ski during the sunset and make it back in time for après beers." Opportunity struck, and Fattal decided to attempt to capture Goeller with the sun descending behind him. "While Flo was up there ready to go, I was constantly moving to find the composition I wanted," Fattal says. "It took me so long I'm sure Flo was freezing." Given the success of this serendipitous shot, we bet all is forgiven. Nikon D750, Nikon 24-70 f/2.8 @ f/16, 1/1000sec, ISO 500
Deep December Days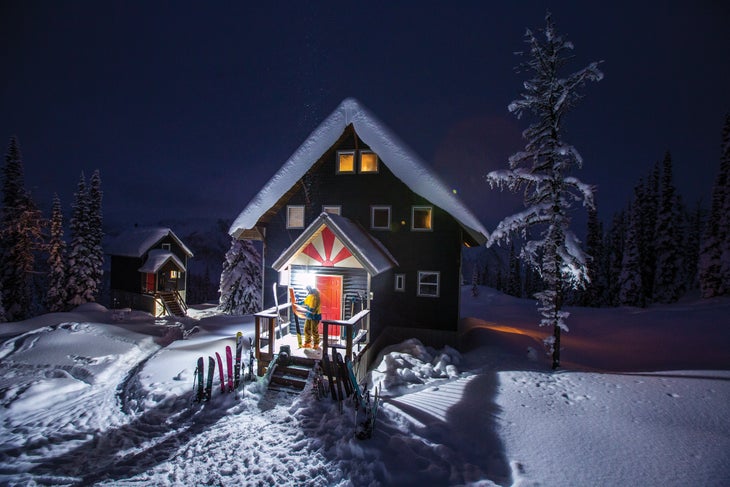 Nonstop early-season snow makes for good days, not to mention long ones. "It was snowing pretty much the entire time we were there, amazing early December cold smoke," says photographer Ryan Creary of his time at Powder Creek Lodge in B.C.'s Kootenays. Creary and skier Adam McCraw, shown peeling off his skins after a super-deep outing, spent the day with the lodge owners right before the start of the commercial season. "The conditions were incredible," says Creary. "It was really hard to go back early at the end of such an amazing day." Judging by the number of stars in the sky, we're guessing this this was one of those days. Canon 5D Mark III, Canon 16-35mm f/2.8 @ f/5.6, 5 sec, ISO 800
Long Light, Short Days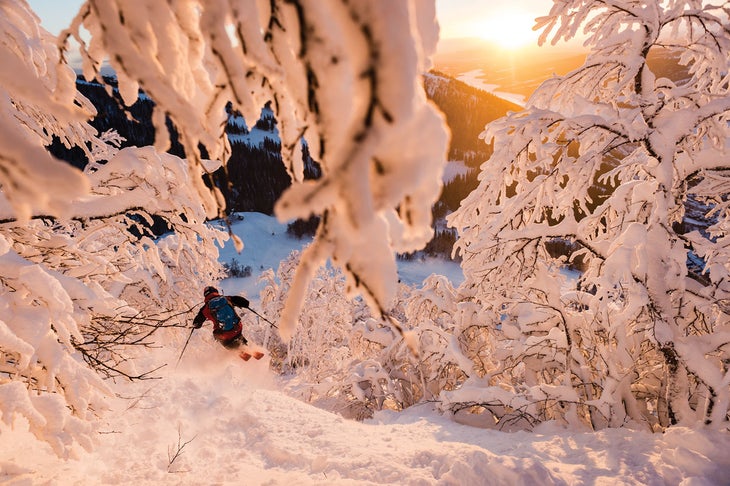 Early season in Åre, Sweden, is a special time. The days are short and the light is low and mellow. This shot of Swedish big-mountain skier Henrik Windstedt was taken on Dec. 2 in a part of the resort that wasn't yet open to the public. "Early winter is my favorite time," says photographer Mattias Fredriksson, who spends equal time shooting skiers and mountain bikers in their element. "The days are short, the light is spectacular, and there are barely any people around." A slice of the good life at 66 degrees north. Nikon D4S, Nikon NIKKOR 20mm f/2.8 lens @ f/6.3, 1/640sec, ISO 500
First Time's the Charm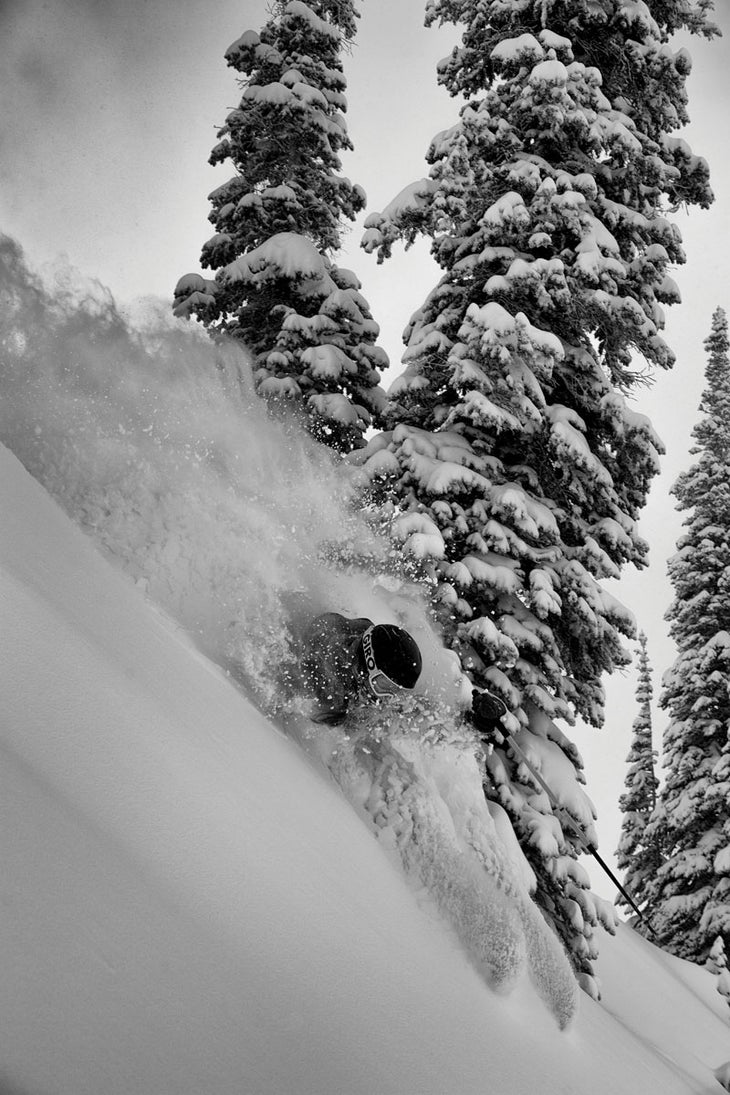 In case you're wondering, this is what 23 inches over two days looks like during December at Alta. Photographer Lee Cohen says he took athlete Mali Noyes into Westward Ho and got lucky, nabbing this pow-choked shot on just their second run. Interesting fact about Noyes: She was an NCAA Nordic racer who's only been alpine skiing for the past five years, including competing on the big-mountain circuit. Cohen says it had snowed 15 inches overnight, and eight the day before, making Alta's Westward Ho, with its ample tree coverage, a great place to hunker down. This was Cohen's first time shooting with Noyes. "She really charges hard!" We bet it won't be his last. Nikon DS, Nikon 24- 70mm f/2.8 lens @ f/5, 1/640 sec, ISO 100
Just Within Reach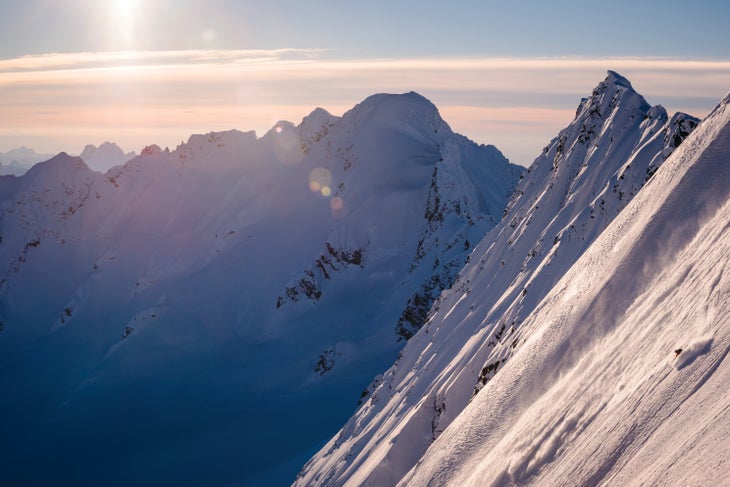 British Columbia's Tantalus range can be seen from the Sea to Sky Highway en route to Whistler, but getting to it is not as easy as it seems. "It's only accessible by multi-day viscous bushwhacking or a heli flight," says photographer Reuben Krabbe, who's based in Whistler but has only ventured into the Tantalus twice before. This shot of athlete James McSkimming was snapped on Dec. 16, "incredibly early for this area, which is normally heavily crevassed until later in the winter," Krabbe says. Strong early-season snowfall filled it in, though, and Krabbe and McSkimming enjoyed the best Tantalus lines they'd ever skied. Nikon D750, Nikon 70-200 f/4 lens @ f/11, 1/1000sec, ISO 400
Chip off the Ol' Block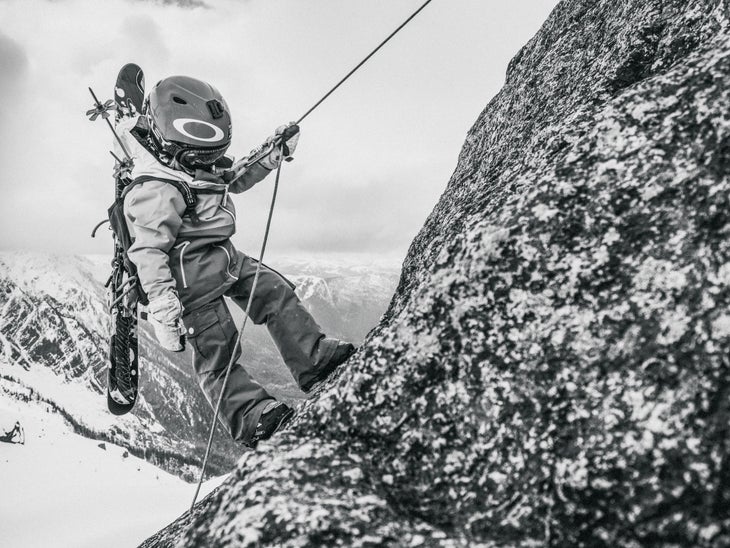 When dad is fourth-generation Chamonix local and Armada athlete Tof Henry, a day on the slopes looks a little different than you might expect. This is 5-year-old Jules Henry fine-tuning his rapel technique in the heights above Chamonix. The younger Henry, who's been skiing since he was 2, asks to head to the mountains daily, and wants to do what his dad does. Says photographer Daniel Rönnbäck: "All kids like to play; some have different games." We like his style. Olympus E-M1 Mark II, Olympus 12-40mm f/2.8 lens @ f/3.5, 1/8000 sec, ISO 400
Bird's Eye View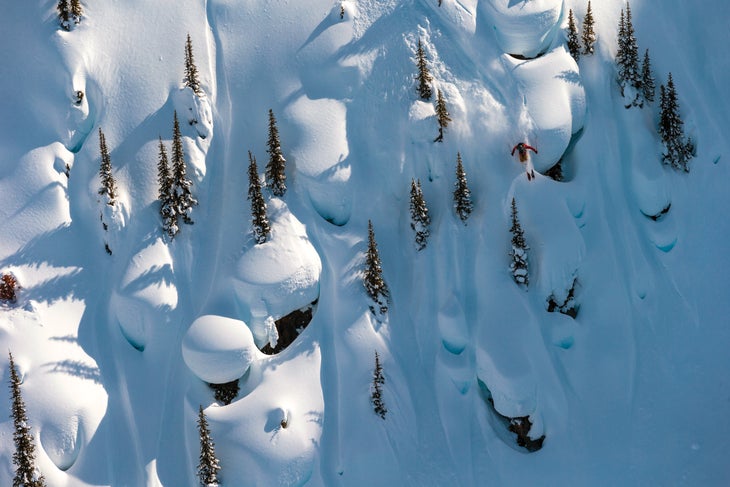 After a stormy week of filming with Teton Gravity Research at Chatter Creek, B.C., the sky cleared and photographer Grant Gunderson was able to join the film crew for some aerial shooting via helicopter. Chatter Creek, outside of Golden, offers both snowcat and heliskiing, and lays claims to almost 150 square miles of diverse terrain—high-alpine bowls, old burn sites, glaciers, glades, and more. Says Gunderson: "The terrain at Chatter Creek is more like what you would find in Alaska than your typical B.C. cat-skiing operation." He snapped this shot of Nick McNutt after convincing the heli pilot to let him shoot with the doors off. The things we do for our craft. Canon EOS-1D X, Canon 70-200 f/2.8 lens @ f/7.1, 1/1000sec, ISO 100
Night Moves
Late spring in Narvik, Norway, means pretty long days. On the 68th parallel, about 125 miles into the Arctic Circle, Narvik is a pretty little town on the scenic Ofotfjord, with a nearby ski area, Narvikfjellet, that's surrounded by jagged peaks. During this time of year, the ski area typically stays open until 9 p.m. Photographer Mattias Fredrikkson captured this serene image of athlete Chad Sayers as the two were heading back after powder runs in Morkhala, a popular backcountry bowl nearby. The time? 10 p.m. Another take on night skiing, indeed. Nikon D4S, Nikon 24-70 f/2.8 lens @ f/6.3, 1/160sec, ISO 200
Taking Flight
Speed riding, or skiing with a parachute, has gained popularity in Europe over the past few years, but it's still relatively unknown on this side of the pond. Red Bull Air Force member JT Holmes hopes to change that. Last spring Holmes traveled to British Columbia to speed ride in the backcountry outside of Pemberton for Red Bull TV. Shooter Blake Jorgensen was on hand to capture this still. "[Speed riding] opens up the eyes to lines that would not even be considered before, and creates a new playground of possibilities," says Jorgensen. "You see the mountains in a whole new way on skis." Nikon D4, Nikon 14-24mm f/2.8 lens @ f/6.3, 1/2000sec, ISO 160
Flying High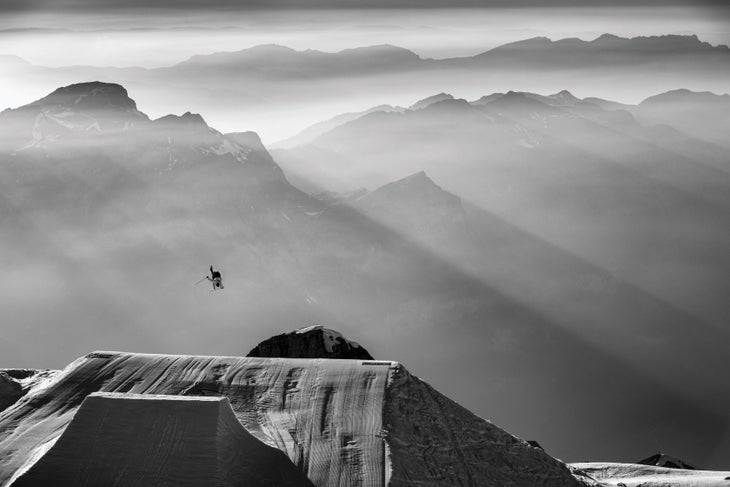 With the fog-shrouded Alps as his backdrop, Italian pro freeskier Christof Schenk catches big air off a kicker built for the Fabian Bösch Invitational late last spring on the Titlis Glacier near Engelberg, Switzerland. The FBI was conceived by Engelberg native Bösch, an X Games Aspen big-air gold medalist, after a long season sidelined due to a heel bruise. He convened some of the top names in freeskiing for the less-thanformal get-together. Oskar Enander caught this shot. "I had just got home from Bali, Indonesia, that morning but knew the weather was good and an evening session was planned," he says. "I went up on the mountain around 4 p.m. and got this image just after 8 p.m." Canon 5D Mark IV, Canon 70-200 f/2.8 lens @ f/5.6, 1/1250sec, ISO 160
Hot Diggity Dog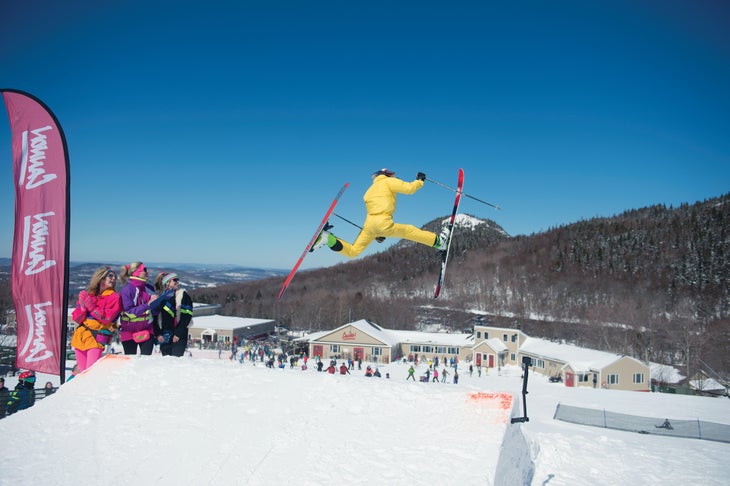 Photographer Greg Keeler caught this radical mid-air shot of Carter Davidson, one of the winners of last year's Cannon Mountain Old School Duel. The event is part of the New Hampshire resort's annual 80s Day festivities. Participants were judged on line, trick, and overall '80s style. Davidson's prize for coming out on top of the Legends age category: some Neff Brodie shades and the glory that comes only from rocking a neon one-piece. Nikon D4, Nikon 24- 70 f/2.8 lens @ f/3.5, 1/3200sec, ISO 100
Steeped in Powder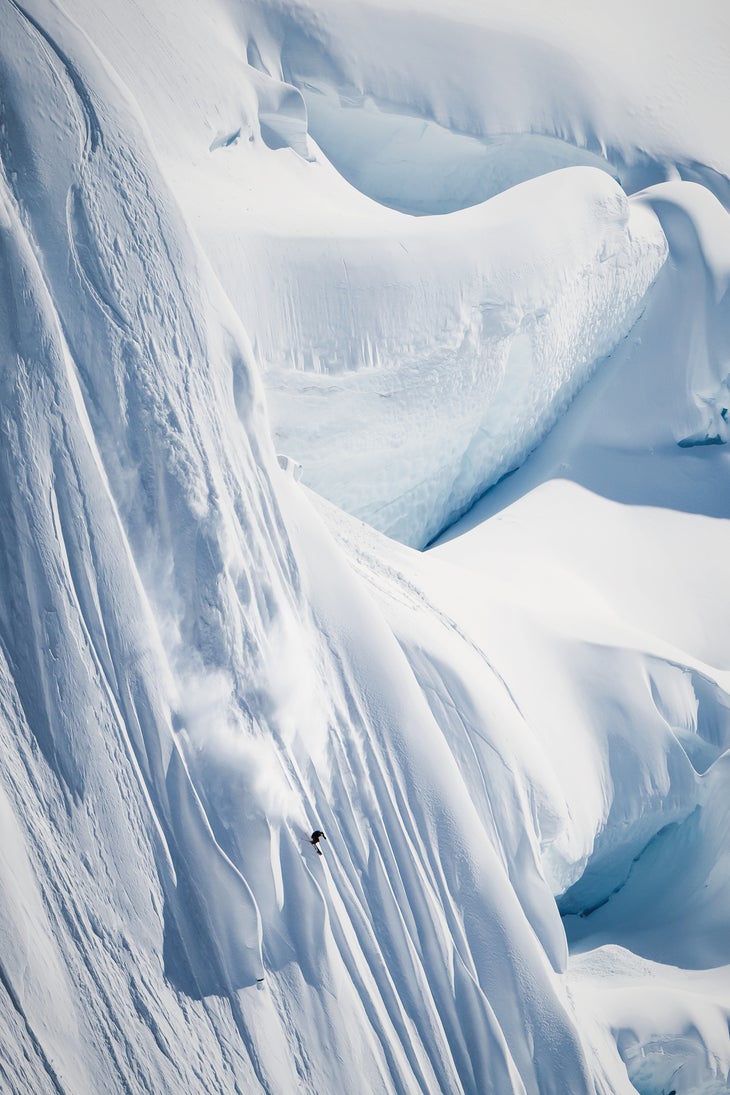 British Columbia native Nick McNutt attacks a spine wall in the mountains near Petersburg, Alaska. Known as the "Little Norway" of Alaska, Petersburg sits on Mitkof Island, halfway between Juneau to the north and Ketchikan to the south. "The snow conditions for the entire trip were difficult, but when we were able to pull the trigger and make it happen it all went really well," says photographer Nic Alegre. "Our crew is top-notch and once it's on, it's on." Nikon D5, Nikon 70-200mm f/2.8 lens @ f/14, 1/2000 sec, ISO 400
Every issue of SKI Magazine starts off with a few full-page photo spreads to get the stoke high. These images are the best in the business, featuring great skiers captured by photographers who make a living on the quality of their photos. Focus 2017/2018 was an absolute knock-out, from Cannon Mountain to Narvik and Aspen to Alaska, there was no shortage of absolute phenomenal ski stoke. We hope you enjoy this gallery as much as we do.
Looking for more great photos? Check out SKI Magazine on Instagram for a daily dose of the good stuff, or see the Best of Focus from 2016. Also, hold next year's images in real life by subscribing now.