Is Shipping Your Skis Worth It? You Might Be Surprised.
Once considered a luxury service, having your skis shipped can be comparable to lugging them yourself, and a lot less of a hassle.
Heading out the door? Read this article on the new Outside+ app available now on iOS devices for members! Download the app.
There's nothing fun about traveling with skis—especially if you're flying. Every airline has a different baggage policy, and if you're bringing along your entire setup, you're going to have to check a bag or two. Then there's oversized bag charges, weight restrictions, and the reality that your gear may get delayed or lost, a misstep that can derail an entire ski trip. Not to mention the pure hassle of lugging your gear to and from the airport.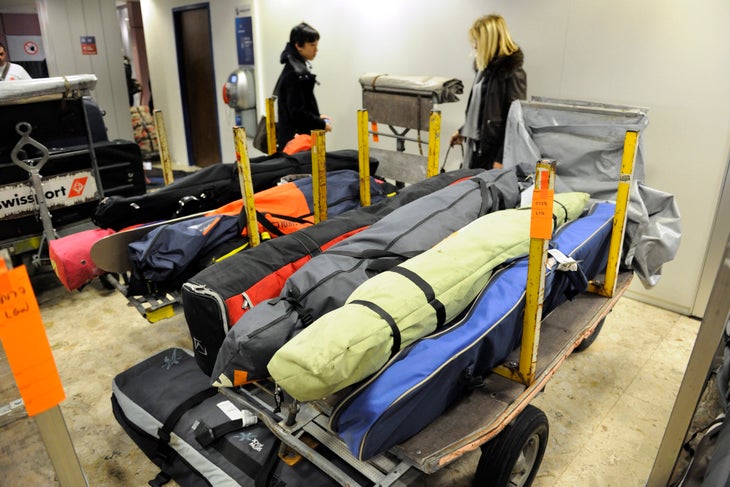 All that's to say, if having your own gear is non-negotiable, you may want to ship your stuff. With bag-checking fees on most major airlines being what they are, it might end up saving you money. For example, up to two pairs of skis and a boot bag counts as one piece of checked luggage, so for a family of four flying United checking two sets of ski bags (four pairs of skis, two boot bags), it would cost $140 round trip, more if any of the bags exceed 50 pounds.
To help you sort through various ski shipping services, we've outlined the major players and how they stack up when it comes to cost, protection, and speed. For consistency's sake, we got price quotes from four shipping services—Luggage Forward, Luggage Free, LugLess, and Ship Skis—for sending one 25-pound ski bag from New York City to Aspen and back for a one-week ski trip in late January (specifically, January 18-25, 2023). 
Also Read: Should You Bring Your Skis or Demo on Your Next Trip?
It's worth noting that all of these services have next-day or two-day delivery options, but if you can ship your skis around eight days early and wait around eight days after your ski trip to get them back, you'll save a lot. The companies also recommend scheduling your luggage delivery at least one business day before your arrival to guard against unknowns like winter weather delays.
Luggage Forward
The Luggage Forward booking system is easy to use—you just plug in the date you want the skis delivered to your destination and when you want them picked up and shipped back and they'll outline your options. The speediest, and most expensive, option is a one- or two-day express, but if you don't need your skis directly before or after your trip, you can cut your cost in half by shipping your gear 8 days before your trip and waiting 9 days after your ski trip to get it back.
Luggage Forward will pick-up your gear for free on either end, but you'll have to fit one of their two "free" time frames: either between 1 to 5 p.m. or 3 to 7 p.m. If you want your gear picked up at a certain time, like between 9 and 10 a.m., you'll have to pay an additional $69.
Luggage Free
The Luggage Free system builds your itinerary off of the ski shipping date, which means you'll have to test various shipping dates in the system in order to find one that will get your skis delivered on time. It's a little less user-friendly, but they make up for it with lower pricing—at its cheapest, the New York to Aspen service is just under $75 each way. 
The downside of Luggage Free is that they charge extra for the pickup and dropoff. And if you want to pay the lowest rate of $4.99 for the service, you'll have to deal with a big pickup window of 9 a.m. to 5 p.m. If you need your skis picked up at a certain time—like if you have to be out of your Airbnb in Aspen at 10 a.m.—you might end up paying up to $100 extra each way.
LugLess
When it comes to simplicity, LugLess is hard to beat. The shipping company is the new kid on the block and was bought by Luggage Forward in 2014. That said, LugLess' rates and offerings differ from Luggage Forward.
The LugLess booking interface is super simple, and if you're up for living on the edge, their Minimal package—which doesn't reimburse you if your gear is delayed, is nonrefundable, and has no insurance—makes shipping your skis extremely affordable (like under $90 roundtrip). That said, even if you choose their Essential package—which has the standard $500 insurance protection and a carrier guarantee—it's still the cheapest option out there.
The trick is that most of their packages (other than their most expensive option, the Extra) require you to drop the skis off at FedEx yourself.
Ship Skis
Ship Skis has been around since 2011 and partners with 3,500 shipping facilities, so they've got the process down. Their prices are higher than the other shipping services on this list, though . They advertise that shipping to Aspen starts at $39, but when we plugged in a New York origin, the rate jumped to $99.99 each way (and that's the most basic option). The speedy, next-day express shipping option is a whopping $214.99 each way.
It's worth noting that with Ship Skis you have the option to drop your gear at the shipping center yourself and avoid any added fees (something only LugLess offers). But, if you want to have someone pick up your bags, you'll pay an additional $4.99 each way.