Skiing In North Korea
An exclusive glimpse inside North Korea's $100 million luxury ski resort, Masik Ryong.
Heading out the door? Read this article on the new Outside+ app available now on iOS devices for members! Download the app.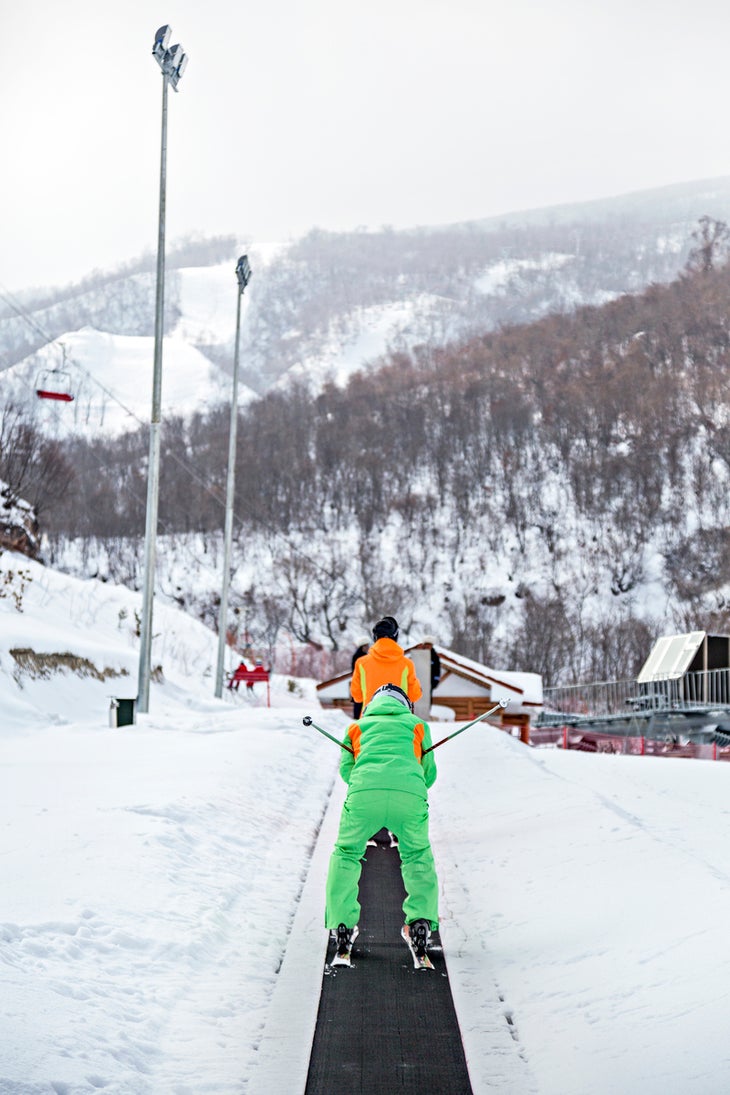 North Korea's first ski resort opened in January 2014. Created by Supreme Leader Kim Jong-un, it has 10 north-facing runs, six lifts, and 2,300 vertical feet—a bright spot among the Communist country's prison camps, poor health care system, and lack of adequate food. 
Author Tim Neville and photographer Dan Patitucci were among the first skiers to (safely) ride its lifts—thanks to their adherence to strict protocols and guidance from a North Korean-approved tour company. Here, the duo shares an exclusive glimpse inside the shiny ski area with extra footage from the trip.
Read the full-length feature in the November issue of SKI Magazine and online version of their journey here on SkiMag.com.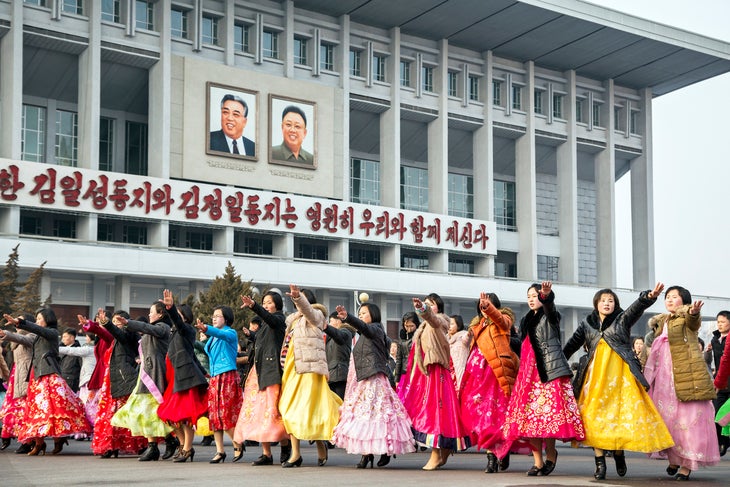 En route to Masik Ryong, North Korea's newest (and only) ski resort, correspondents Tim Neville and Dan Patitucci stopped over in the capital city Pyongyang, where officials checked their papers and the duo got a feel for the country. Here, North Koreans in traditional clothing dance at the birthday celebration of Kim Jong-il, the second leader of North Korea, formally known as the Democratic People's Republic of Korea.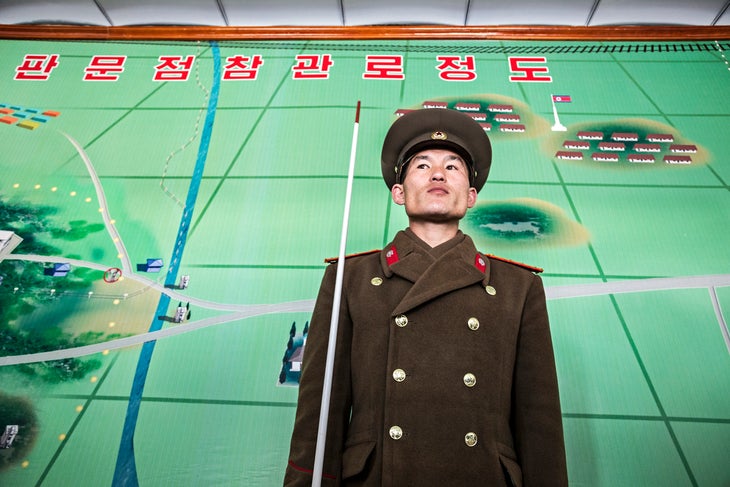 Photographer Dan Patitucci captured this image of a North Korean soldier in the Demilitarized Zone, the space between North and South Korea along which a tenuous cease fire between the Communist and capitalist states resides. Though the fighting ended in 1953 with an armistice agreement, no peace treaty was ever signed. For the North, the war has never ended.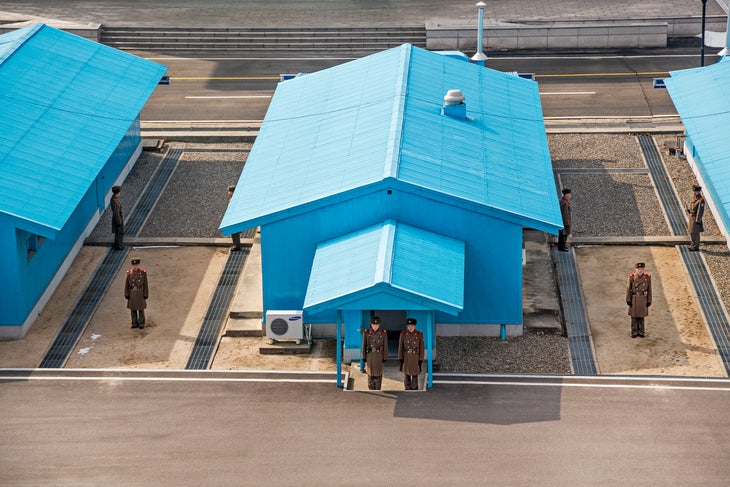 At the DMZ in Kaesŏng, North Korean soldiers stand guard. The line between north and south runs through the blue buildings where the soldiers in the rear are standing.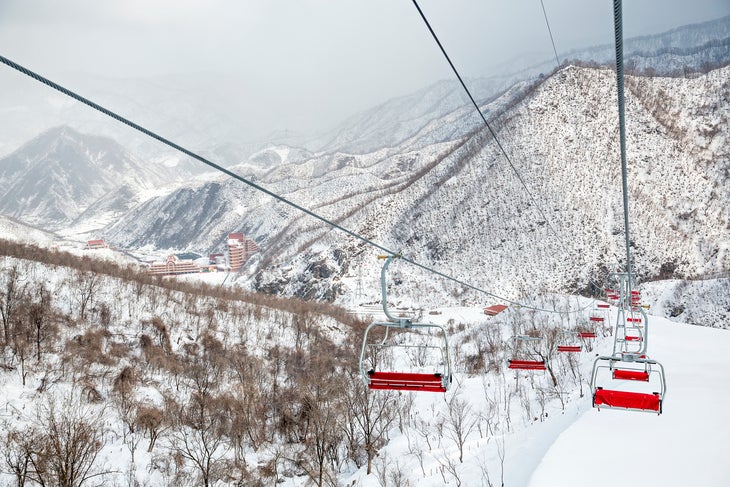 Looking down at the base area's Hotel 1 and Hotel 2 from one of Masik Ryong's six lifts, it's hard to imagine that 5,000 people a day will come here as the North expected. A United Nation report lists a prison camp for felons not too far from here. The worst of the country's political prison camps lie far away in the country's remote north where UN officials say torture, forced abortions and deliberate starvation are used to punish inmates.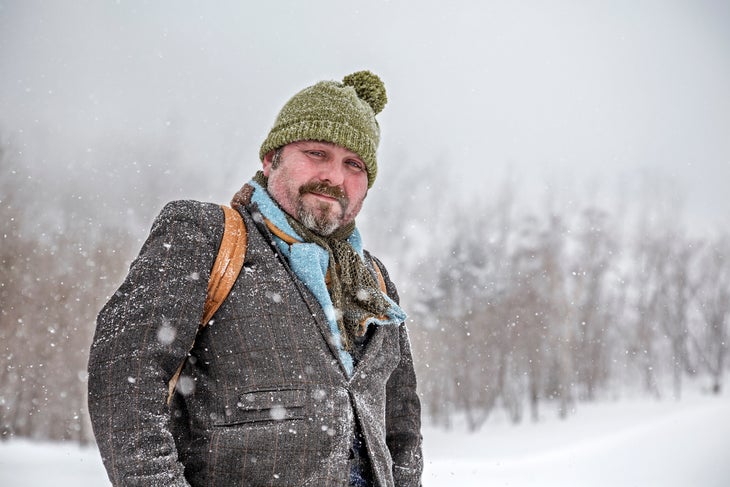 A British tourist—among the first to ride Masik Ryong's lifts, along with author Tim Neville and photographer Dan Patitucci—takes in cold Asian powder.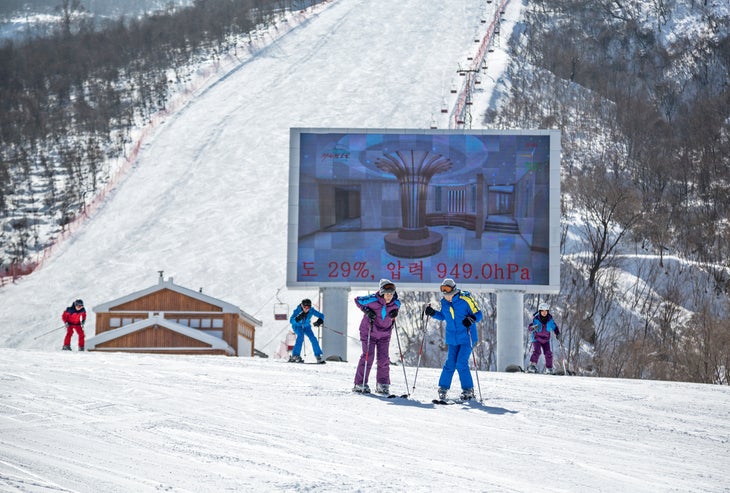 Beginner skiers french fry and pizza their way along a gentle slope in front of a digital monitor that blasts folk tunes, bright animations, and ever-present Party propaganda.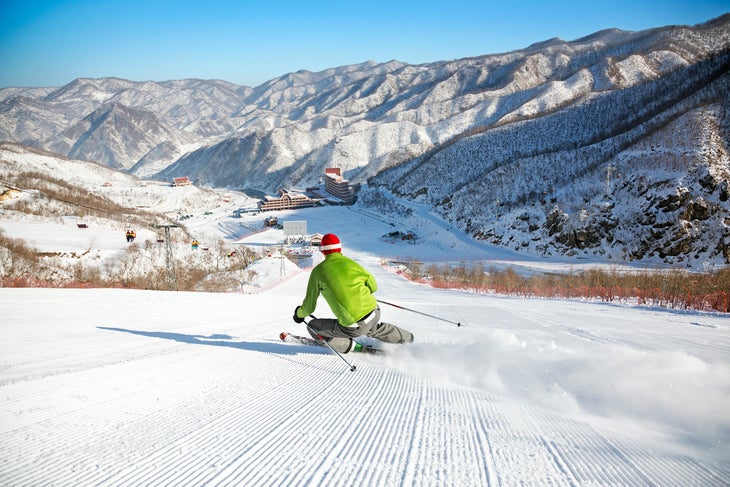 Skiing on Masik Ryong Ski Resort's untouched corduroy along Slope 6, the only slope groomed from wall to wall. Groomers had made but one pass up the other slopes, leaving 30-foot-wide sideburns of untracked powder to either side of the corduroy.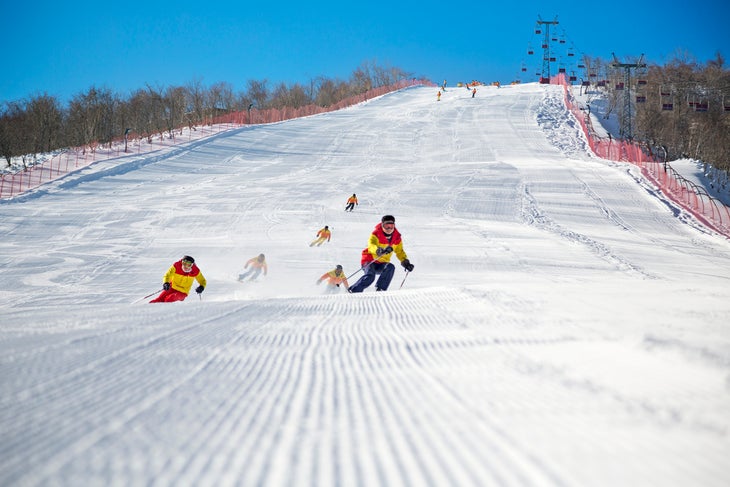 Despite the cost of a lift ticket (four month's of a good North Korean salary) and a historically non-existent ski culture, North Koreans attack the slopes with gusto at Masik Ryong. Koreans on both sides of the DMZ believe in juche, or self-reliance, which may be why so few of them took lessons.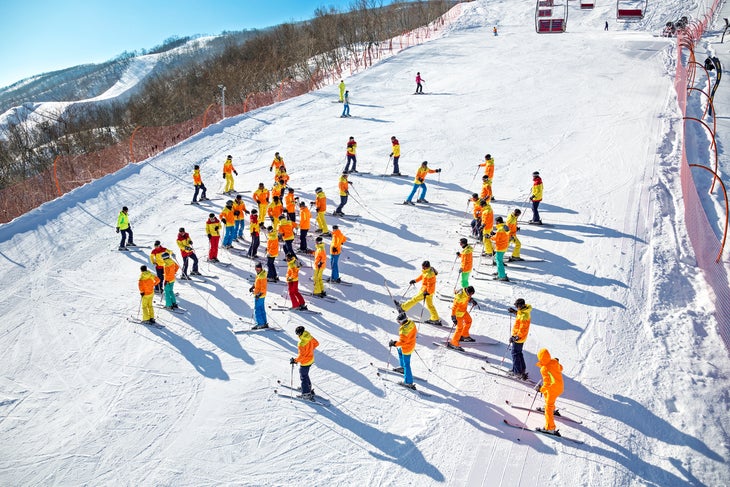 A group from the North Korean ski school gathers at the top of Slope 6 at the Masik Ryong Ski Resort, North Korea.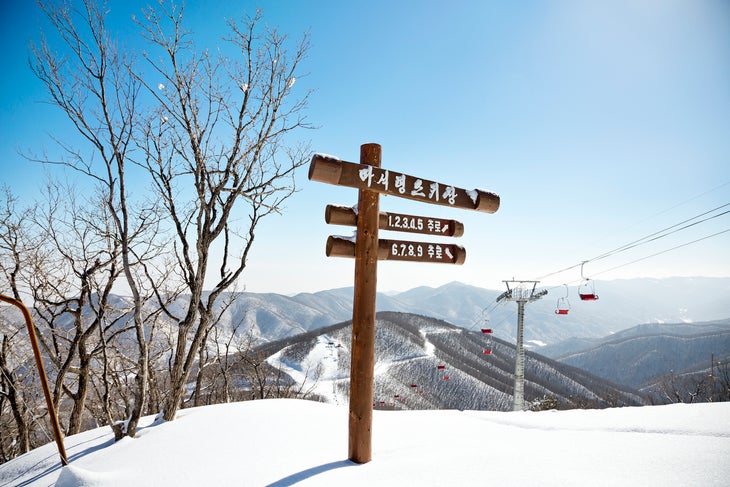 At an intersection, a Korean language ski piste sign provides directions.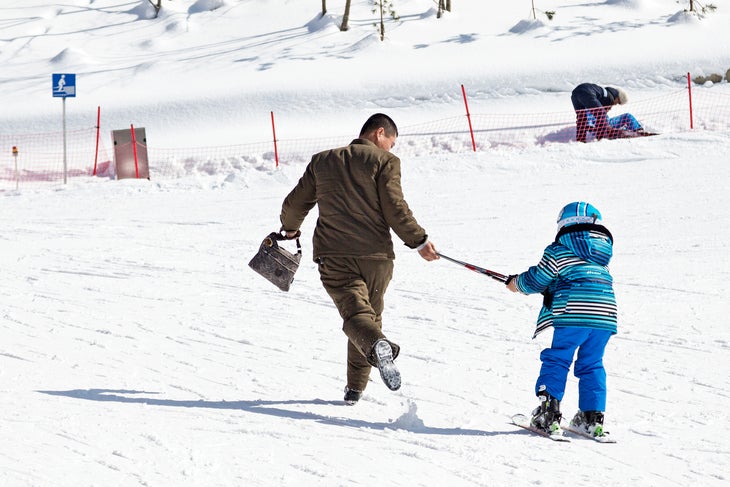 A North Korean solider plays with a child at the Masik Ryong Ski Resort. There, skiers were "thrilled just to be there," as Tim Neville writes in an in-depth feature about skiing in North Korea in the November 2014 issue of SKI Magazine. Read the full-length feature here on your tablet or phone and in print. See the online version of their journey here on SkiMag.com.