A Stress-Free, Uncrowded, and Relaxing Spring Break Ski Trip? It's Not a Myth.
Colo.'s Purgatory Mountain Resort is far from pretty much everywhere, but its empty slopes make it totally worth the effort.
Heading out the door? Read this article on the new Outside+ app available now on iOS devices for members! Download the app.
With the exception of one trip to Orlando a handful of years ago, my family always skis over spring break. With school-aged kids—now high-school-aged, to boot—it's impossible to take them out of classes to spend a week in the mountains at any other time. Over the years, we've traveled to many of the big ticket resorts—Jackson Hole, Park City, Big Sky, Vail, Beaver Creek, Steamboat, Solitude, Copper, and more. It's become a beloved family tradition. But I'd be lying if I said that it was often stress-free or relaxing.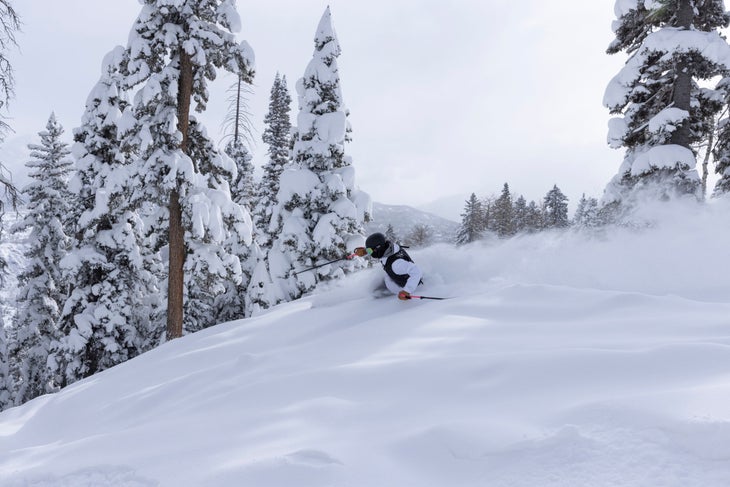 This spring break, craving a little more peace and quiet after a tumultuous few weeks, including a shooting at my oldest boys' high school that injured two administrators and made us want to leave all traces of civilization behind, we decided to go a little further off the beaten path. It turned out to be just what we needed—and a few things we didn't expect.
I moved to Colorado from New York City in 2003, and spent those first several years before having kids exploring as much of the state as I could. Yet in the 20 years I've lived here, I never made it as far south as Durango. It had always been on my list, but I was deterred by the seven-plus-hour drive, especially once the kids were in the picture. And while I had been to—and absolutely love—Telluride (sans kids), I heard that the terrain and views at Purgatory Mountain Resort, Durango's closest mountain 25 minutes up the canyon, don't compare.
     Related: How to Stay Sane and Make the Best of a Spring Break Ski Trip
All of this is to say that my expectations were in check when we headed south on 285 from Denver, the car loaded up with road-trip snacks and pillows for the long haul. There are several different routes to the southern part of the state, all of them scenic, though some are considered safer than others during sketchy weather. Luckily, we had a bluebird day so we opted for the most dramatic: Over Monarch Pass, through Ouray and Silverton, and up and over Red Mountain, Molas, and Coal Bank passes. It's not the fastest route—you can opt to stay on 285 through Salida, then take 160 to Pagosa Springs, and get there in six-plus hours. But what's the fun in that?
The Sunday morning drive along 285 was uneventful (no traffic!), and the views of the Presidential Range, including the highest peak in the state, Mt. Elbert at 14,439 feet, were stunning. Winding through the high plains of Curecanti National Recreation Area, following the banks of the massive, lake-like Gunnison River through undulating hills glistening with snow gave us the urge to come and explore this wonderland in the summer.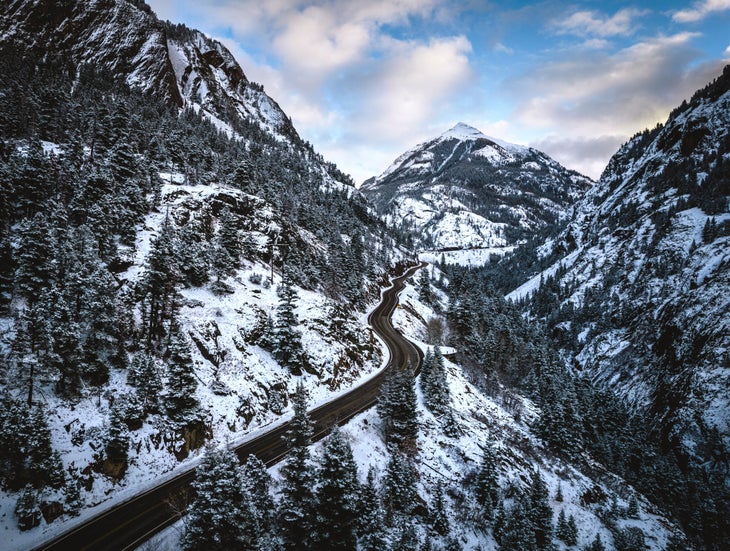 Things really got interesting when we hit the towering rock walls that line the highway just before the town of Ouray. With sheer cliffs on one side and the Uncompahgre River on the other, this was a geographical highlight of the drive. Rolling through Ouray, we were all blown away by this stunner of a town known for its summer hiking and winter ice climbing. Next up, Red Mountain Pass, one of the windiest mountain roads we'd ever driven. Dilapidated mining structures and enticing trailheads seemed to lie around every 90-degree curve in the road. We could have spent a week just exploring this lightly-trodden paradise.
      Also Read: Here's Where We'll Be Skiing in Late Spring—and Maybe Even Into Summer
We cruised through Silverton—whose namesake mountain is another bucket-list destination for my crew—then up and over the last two beautiful passes, Molas and Coal Bank, and cruised into Purgatory Mountain Resort with sunlight to spare.
It was quiet at the base of the mountain as we checked into our slopeside condo at Purgatory Mountain Lodge. As we plunked down our bags, the sun was just starting to set behind the Needles range, a view that dazzlingly engulfed the oversized windows in our living room. We had arrived.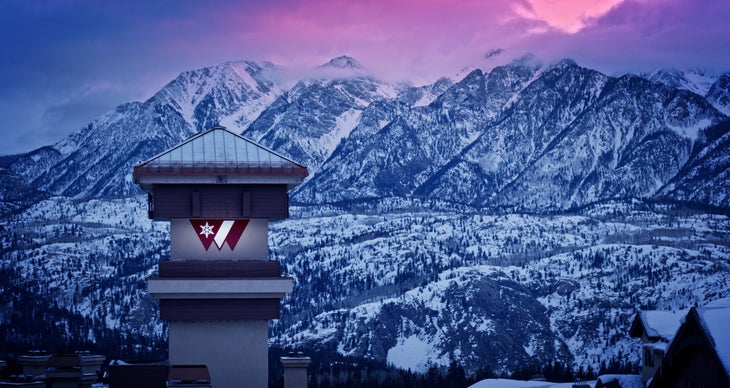 The next morning, we slept in—well, for a ski day at least. Mind you, we're used to waking up at 4:30 a.m. to get on the road early enough to beat the I-70 weekend morning gridlock. Hopping out of bed at 8 a.m. felt positively luxurious. After a $5 per person continental breakfast—yes, $5!—at the Durango Mountain Club, located on the first floor of the lodge and open to all guests staying there, we clicked into our skis and slid right onto the Purgatory Mountain Express. After years of $30 breakfasts, queuing up in the lift ticket maze to pick up passes, and slogging sweatily to the lift line, I wondered, "could it really be this easy?"
The answer to that question over the next four days would be a resounding yes. From zero lift lines to empty on-mountain restaurants to no dinner reservations down in Durango to a blissful two hours spent at the Durango Hot Springs Resort, this was hands-down one of the easiest, most relaxing and downright fun spring break ski trips we've ever taken.
It all started with the mountain itself. As we rode the express six-person lift out of the base, the first thing we noticed was the mountain's interesting topography. I've since seen it referred to as "stepped," "tiered,"  or even "lumpy," with steep pitches that mellow into fun rollers. The slopes often felt like a roller coaster ride in parts.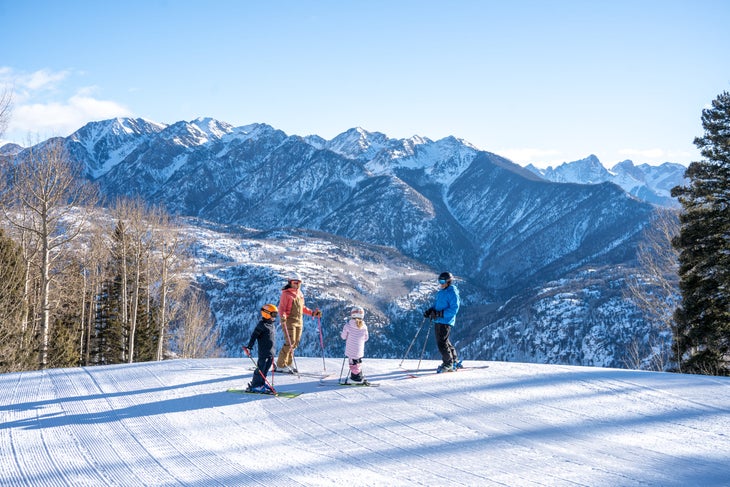 We spent our first day exploring the frontside, home to some super-fun tree skiing. Runs like 777 and 666, black-diamond glades with fresh powder even days after the last storm, kept us coming back for more. Nearby, Ambassadors Glade was hit with all of us, and we seemed to find ourselves back there lap after lap, exploring different lines and hitting small cliff drops and windy tree trails. Another favorite on the frontside, Mark's Park, a blue tree run, is a perfect intro to glades for the less experienced thanks to its squiggly, banked course through less-dense trees. There were also a few different-sized terrain parks that were always conveniently on the way to wherever we were headed. Needless to say, those were a hit with the teens.
    Purgatory is on the Power Pass: Learn About it Here
On our second day, we immediately beelined for the backside. Unlike the more massive resorts, you can get to the back of Purg off the base lift—just stay far skier's left until you end up at the bottom of Lift 3, Hermosa Park Express. There are three lifts that serve the backside terrain—two express quads and a slow double, the latter of which was closed when we were there. The good news was that we didn't need it—Lift 3 and the other backside express chair, Lift 8 (Legends Express), accessed everything.
The bulk of the backside terrain is an intermediate's paradise—long, rolling cruisers with San Juan views and the opportunity to hop into the trees from just about anywhere. When we were there, during the last few weeks of an incredible snow season for southern Colorado, the powdery bump runs alternating with surprisingly steep groomed pitches made for a very satisfying experience with a lot of terrain variety. Oh, and the trees back here were just as good as the frontside. Our favorites included McCormack's Maze, at the far reaches of the resort boundary; Poet's Glade, a black-diamond tucked reassuringly between two blue runs; and Cathedral Tree Way, a little gladed shortcut en route to the Legends chair. Needless to say, with high-speed chairs and no lift lines or trail traffic, our legs were toast by the end of each day.
     Good to Know: 6 Skis That Will Make Your Life Easier In Moguls
Our last couple days were spent revisiting favorites and soaking in the views of the high peaks of the San Juans. While it's true that they're not quite as dramatic as what you'll see from the slopes of Telluride, they're definitely postcard-worthy. Add in the empty slopes, on-mountain lodges where you can always find a table, and a genuinely friendly ambience, and it makes for a ski vacation that didn't make me feel like I needed an actual vacation when we got home.
The town of Durango just might be the perfect complement to Purgatory's relaxed vibe. About 15 miles down the canyon and just outside of the town of Durango, Durango Hot Springs Resort + Spa, which was completely renovated and reopened in 2020 with a couple dozen soaking pools and a spring-fed swimming pool, is a huge boon to this community. We rolled into the hot springs resort after our second day of skiing bell-to-bell, and spent two-plus hours pool hopping, soaking our muscles in mineral hot springs water heated to different temperatures ranging from 51 to 106 degrees. (There was a pool that went up to a blistering 118, but we weren't brave enough for that.)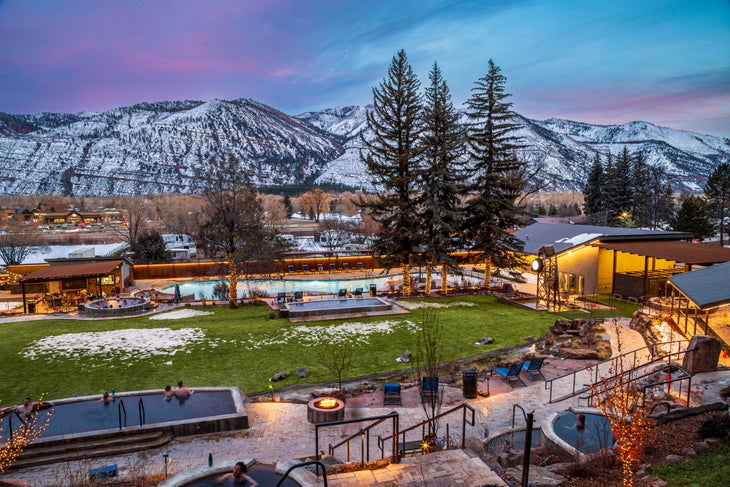 The resort, formerly Trimble Hot Springs, underwent its transformation under new ownership, which built 26 soaking pools into the mountainside, plus a full spa with eight more private soaking tubs and a cold-plunge pool. The underground springs are infused with 32 minerals and heated underground to the desired temps. There's also a food truck and cocktail menu to round out the experience.
Toward the middle of our soak, local band Jream started playing their upbeat flavor of jazz. Frozen margarita in hand—virgin coladas for the kids—we listened to the poppy beats amidst mountain views, feeling grateful that we found this little slice of heaven.
Trip Planning: Purgatory and Durango
The mountain village at Purgatory is pretty small, which also makes it easy to navigate. Aside from the beginner area, there's one lift out of the base, and you can access the entire mountain from it. When it comes to lodging and dining, there are a decent amount of options, and many more when you factor in Durango. Obviously, staying at the mountain is most convenient, but the mountain village is very sleepy after 6 p.m. Staying down in Durango is also an option; plan for a 30-minute drive each way.
Where to Stay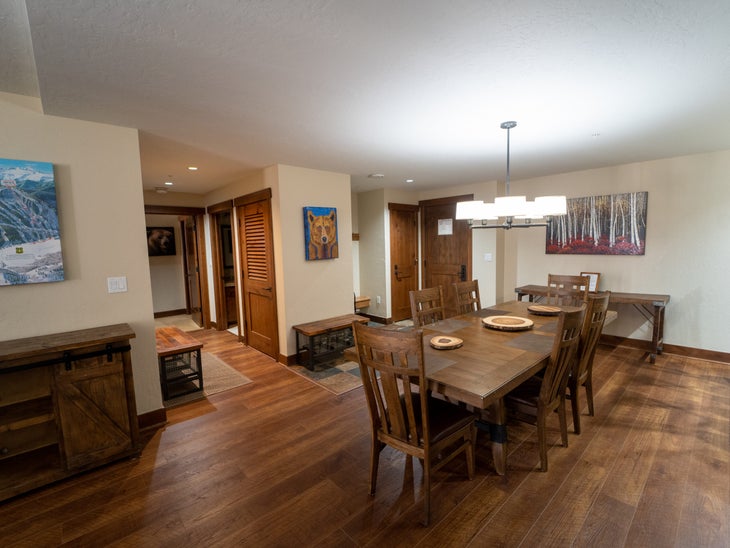 It doesn't get any more turnkey than Purgatory Mountain Lodge. These two- to four-bedroom condos have fully stocked kitchens, fireplaces, and great views of the dramatic Needles  mountains across the valley. We hit the grocery store on our first day and picked up a couple frozen pizzas and a salad, flicked on the fireplace, and watched a movie after our long drive. Our unit, a three-bedroom, was also well stocked with family games, puzzles, and cards.
If you're going to stay down in Durango, you might as well soak in the authentic Western history of the place and stay at the circa-1887 Strater Hotel. This 88-room grand hotel is right on the main drag, and is infused with Durango's Wild West and mining-town history around every corner. Check out the in-house bar, called the Office Spiritorium, where there's live music most nights. And the Diamond Belle, formerly an old-time drug store, was transformed into a saloon in 1957 and is now a full-service restaurant.
Where to Eat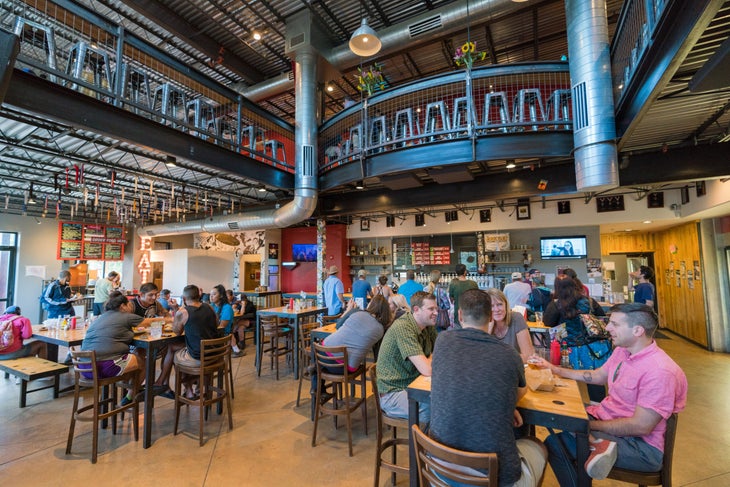 Switchbacks: Casual spot for street tacos and margs, Switchbacks is right on Main Street. You can't go wrong with the birria, carnitas, or shrimp tacos.
Ska Brewing: Durango's original brewery, Ska Brewing is located about two miles from downtown and has all of their flagship brew, including Hazy IPA and Pinstripe Red Ale, plus seasonal favorites along with  a full menu. Try the brick-oven pizzas; the classic Margherita is perfect.
James Ranch: Set about halfway up the canyon, James Ranch is home to the best burgers in the area, made with 100-percent grass-fed cattle raised right on the 400-acre ranch. The seasonal menu changes with what's freshest, and the burgers are all ⅓-pound, served on lightly buttered brioche buns. Try the bacon and Bleu cheese if that's your thing, or the Signature, topped with Belford cheese—made on the ranch— and caramelized onions.
Sage Farm Fresh Eats: For an easy and healthy quick bite, Sage Farm Fresh Eats just opened at the edge of town, right before you head up to the ski resort. The menu offers grain bowls, soups, salads, and sandwiches made with fresh ingredients.
Cream Bean Berry: All of the ice cream at this locally owned shop  is made with 100 percent organic milk, sugar, and cream. They also team up with local farmers to make the most authentic seasonal flavors. There are  vegan options as well as sorbets, too.
What to Do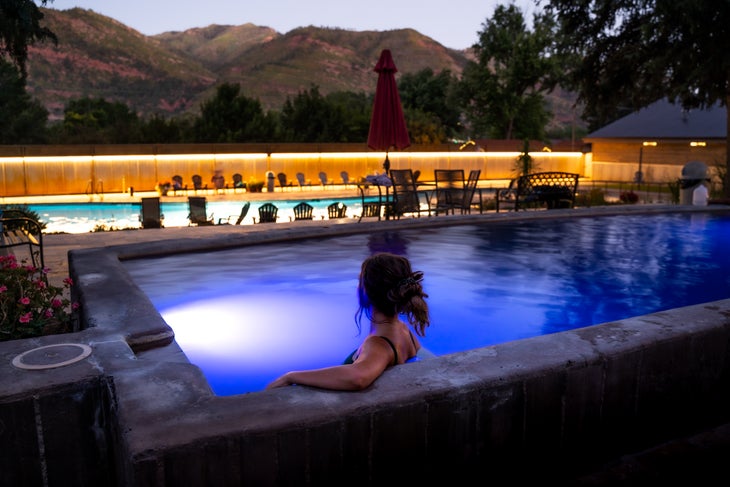 Durango Hot Springs Resort + Spa: Make a reservation in advance and plan to spend a couple hours sampling the different waters while enjoying mountain views, beverages, and (often) live music. Most of the soaking pools are adult-only (well, 16-plus), but families are welcome in a couple of the cooler tubs as well as the massive hot-spring pool. Adults, $39; kids, $15
Durango & Silverton Narrow Gauge Railroad: Most people associate one of the world's most scenic train rides with summertime, but the historic train also runs in the winter, offering a five-hour round-trip along the Animas River with amazing views of the snow-capped San Juans that you can't see from any other perspective.