Generations of Nevadans Are Lifelong Skiers Thanks To This Non-Profit
Share Winter grantee Sky Tavern's proves that skiing can be the glue that keeps a tradition going strong for 75-plus years.
Heading out the door? Read this article on the new Outside+ app available now on iOS devices for members! Download the app.
Teenagers run the snowblowers. Grade-school kids shovel off the tables and walkways. Come summer, they rake the rocks. And the best part? They don't have wifi.
Sound like a far cry from how your kids learned to ski? Welcome to Sky Tavern, Nev., where learning to ski may be the goal, but it's not actually the point.
"I tell people we're not in the ski business, we're in the kid-development business," says Bill Henderson, executive director and general manager of Sky Tavern, America's oldest nonprofit learn-to-ski-and-snowboard program. His sweatshirt proudly bears Sky's logo, and he's talking via Zoom from the Sky Tavern base lodge, where he's setting up the annual ski swap. "We use skiing as a vehicle to learn responsibility."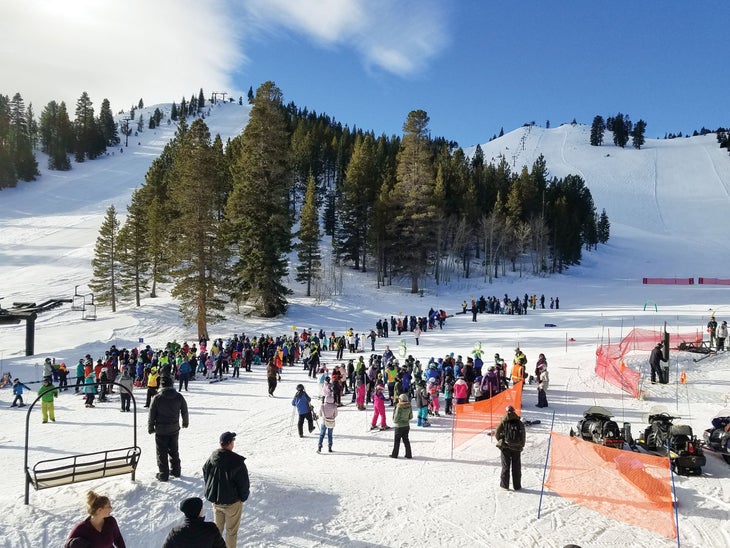 Sky Tavern, just 30 minutes outside Reno in a place where the cost of resort skiing is often prohibitive (a lift ticket to Northstar can be over $150 per day), offers a season pass for $185 that includes morning lessons and gear. Low-income kids, thanks in part to a grant from the Share Winter Foundation, are awarded scholarships to ski for free, and ride up to Sky in a borrowed county school bus.
"We don't turn anyone away. If there's a kid who wants to get into snowsports, we figure out a way," says Henderson.
It's nearly all volunteer-run, with parents donating at least two hours of each ski day to do everything from cooking to cleaning to helping kids get on the lifts. Sometimes volunteering means driving across the country to pick up a part for a lift that's broken down. "Sky has the most dedicated volunteer community I have ever seen in my life," says Share Winter's Constance Beverley. "It is a family area in the truest sense of the word."
Meet the Share Winter Foundation: This Community Organization Needs Your Help to Diversify Skiing
The kids' program was founded back in 1948 when the area, which was a hotspot for Hollywood stars in the '50s, was owned by the City of Reno. Then, in 1991, when the city announced it would close Sky, passionate parents formed a nonprofit and took it over. Henderson, himself a Sky kid since the age of 10, talks about Sky as a Reno tradition. "You can't go anywhere in Reno without finding someone who went through the program. It's almost a requirement when you grow up in this town."
Indeed, when Beverley recently moved into a new apartment in Providence, R.I., she bumped into her new neighbor, who mentioned he was from Reno. When he found out what she did for a living, he said, "I'm a Sky kid." "This is the type of community we're talking about," she says. "People who are in my age bracket—and I'm not exactly young—still identify themselves as Sky kids."
Some of these Sky kids you've even heard of. Like David Wise, Olympic gold medalist in the halfpipe, or Tamara
McKinney, one of the top American alpine racers who won four World Cup season titles.
But the big wins for Henderson aren't only the ones who go on to fame and glory. It's kids like Connor Fogal, an artist who has cerebral palsy and learned to ski at Sky's adaptive program, to which he now donates some of the proceeds from his artwork. Or Henderson's own son, who discovered his love for teaching when he became a junior instructor.
Go Deeper: Inner-City Kids Hit the Michigan Slopes Thanks to an Innovative After-School Program
The funds from Share Winter have helped Sky reach more kids who otherwise wouldn't have the opportunity—"We're looking at kids that the ski industry wrote off," says Beverley—but, especially considering Reno has quadrupled in population in the last 20 years, there's always a need for more donations. "We need snowmaking," Henderson says. "We need lights. We have two hand-me-down chairlifts and kitchen equipment from old restaurants that closed down."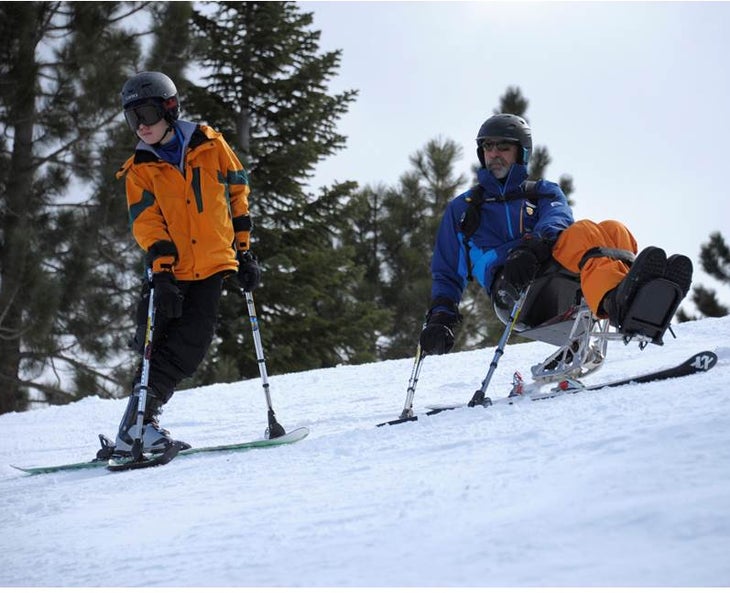 Indeed, the fact that Sky was able to operate at all with such a small budget was one of the reasons Share Winter was so eager to invest in it.
"Sky Tavern really taught us the importance of community driven, non-profit ski areas. Because of them, we have taken a much closer look at this model, and have since funded others," Beverley says. "They're amazing."
And as for the skiing itself? "On a pow day," Beverley says, "I wouldn't want to be anywhere else."