Flying to Vail: Do I Rent a Car or Shuttle From Denver?
SKI's travel expert weighs in on whether to rent an SUV or take a shuttle from the airport during your next ski vacation.
Photo: Courtesy of Vail Resorts
Heading out the door? Read this article on the new Outside+ app available now on iOS devices for members! Download the app.
Active Pass members get exclusive access to SKI's "Ask the Traveler" series. Join Active Pass to get expert advice on all things ski travel-related from our travel-tested Senior Content Producer, Samantha Berman, who's skied all over the globe. Send your travel questions to editor@skimag.com.
Q: We're planning a ski trip for next season to Colorado, probably either Vail or Breckenridge, and we're trying to figure out transportation from the airport. Do we need to rent a car or should we take a shuttle? We plan to come for a week and ski for five days. —Travis Burke, Brooklyn, N.Y.
Lots to chew on here before you can come to the right answer for your particular situation. I'll start by saying that the options to Vail and Breckenridge are largely the same, so much of the advice here applies to either destination (which are 37 miles away from one another, by the way).
First, let's talk airports. You didn't mention if your flights are already booked, but in case they're not, it's worth considering flying into Eagle County Regional Airport, 35 miles from Vail and 70 miles from Breckenridge. Many major airlines serve Eagle during the winter, the biggest being American, United, and Delta, making it a very convenient option, especially for Vail skiers.
Not only is Eagle closer than Denver International Airport, but you get to skip the most congested portions of I-70, including the run-up to the Eisenhower Tunnel. It's also a much smaller and easily navigable airport. Downside: Fewer flight options and pricier fares.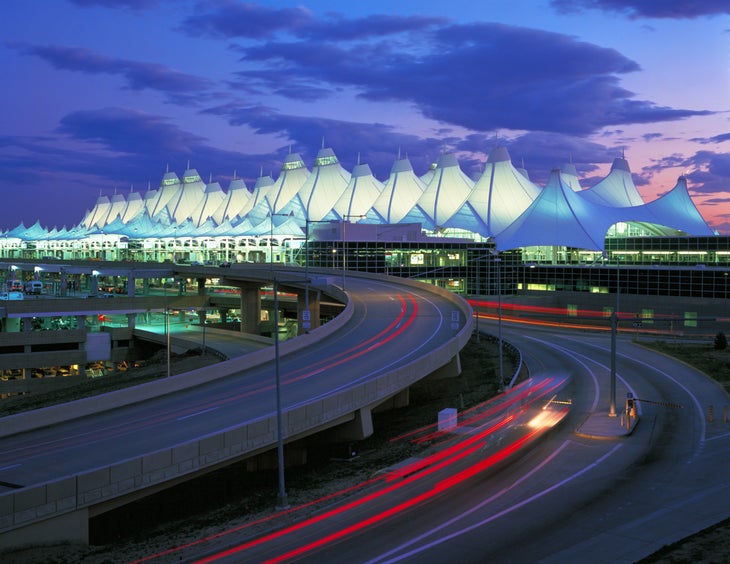 Transportation from Eagle, Colo. to Vail or Breckenridge
Rent a car from Eagle County Regional Airport
Take an airport shuttle: Chevy Suburban; High Country Transportation; Epic Mountain Express
Check with your hotel whether it offers a shuttle service
From Eagle, you have the familiar choices of car rental or shuttle—same as at DIA, which I'll get to shortly. All the major car rental companies operate out of the terminal, including Avis, Budget, Hertz, and more. The question is, do you need a car?
If you're staying in the towns of Vail or Breckenridge, the town shuttles will get wherever you need to go within each town's respective limits, including the lifts, the grocery store, and many restaurants. (There's also county bus systems for travel between resort towns, but if you're planning to ski different mountains, a car might be a better bet.)
Another reason to consider a car is if you're planning multiple off-slope day trips, or if there are members in your group who won't be skiing and might want to explore the area. Don't forget to book a vehicle with all-wheel-drive and ample clearance. This is winter in the Rockies, after all.
Ask the Travel Expert: You're Flying to Park City, Do You Bring Your Skis Or Demo?
If none of those apply to you, I would suggest opting for an airport shuttle. There are dozens of options from both Eagle and DIA. (Pro tip: Check with your lodging to make sure it doesn't offer ground transportation for guests. Several Vail hotels do, including the Sonnenalp and Best Western.)
As for cost, a shuttle via Chevy Suburban for up to six people from Eagle Airport to Vail is $225 each way, and from Eagle to Breckenridge is $395 with High Country Transportation. The same ride in one of the company's roomier Sprinter vans (up to 13 people), adds $100 onto the cost to either resort.
Another option, considering you're heading to Vail or Breck, which are both Epic Pass resorts, is Epic Mountain Express. The Vail Resorts-owned shuttle service offers 20-percent off their rates to Epic Pass holders. Their rides for shared shuttles from Eagle to Vail cost $45 per person, each way ($37 with the Epic discount). Check out  Epic Mountain's Express's website for all of the prices.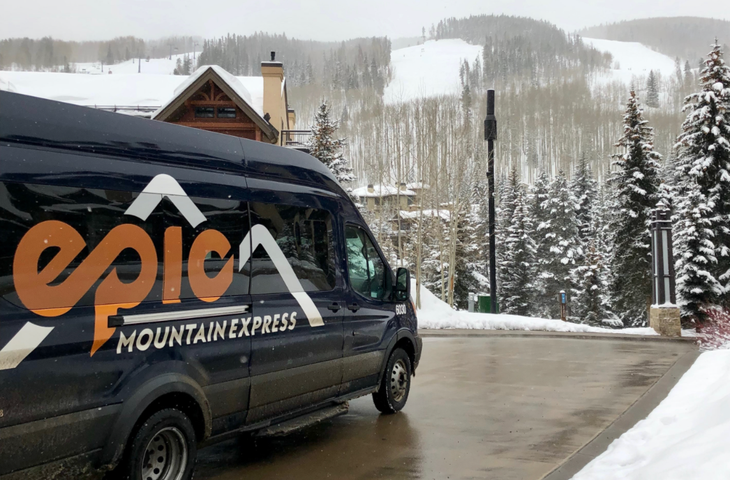 Transportation from Denver International Airport to Vail or Breckenridge
Rent a car from Denver International Airport (build in extra time to shuttle to rental car sites)
Book an airport shuttle: High Country Transportation; Epic Mountain Express (shuttle service from DIA to Vail and Breckenridge will be more expensive)
Now let's consider the situation from the perspective of flying into DIA, which invariably opens up many more flight options and airlines. Colorado's largest and busiest airport is located 120 miles from Vail and 104 miles from Breckenridge, and offers all the same shuttle and rental car options, plus private cars and even rideshares (if you can find a driver willing to go that far).
A couple things to note: All rental car options are located a few miles from the main terminal at DIA and accessed by shuttle, so build in some extra time. Also, the Denver metro area claims some pretty wicked traffic, so if you're trying to head out or back down I-70 at rush hour, again, build in extra time, especially if you need to catch a return flight.
As expected, shuttles will be more expensive at DIA. Using High Country as an example again, a six-person shuttle from DIA to Vail or Breckenridge will set you back $495 ($625 in the Sprinter van), so you might end up eating your airfare savings. Just something to keep in mind as you plan your trip. Epic Mountain Express's rates from DIA to Vail are $75 per person ($61 with discount) and $65 per person, each way ($53 with discount) to Breck.
For comparison's sake, we also got a couple estimates from rental car companies for a full-size SUV for a week out of Eagle, and the average cost sits at around $1,000 for a week in early January 2022. From DIA, the totals were closer to $2,ooo for that same full-size SUV during the same timeframe.
OK, that was a lot of information, but there are a lot of things to consider. The bottom line: If you plan to stay put at one resort with minimal jaunts around town, a shuttle will be more convenient, less expensive, and an overall easier option. But if you plan to ski multiple resorts or take several off-slope excursions like snowmobiling, dog-sledding, or outlet shopping, you might find it preferable to rent a car and keep on a schedule of your own choosing.