Travel | Purgatory Mountain, Colorado
A new owner's passion for the sport marks an exciting change for a beautiful San Juan ski resort.
Heading out the door? Read this article on the new Outside+ app available now on iOS devices for members! Download the app.
The Rolling stones echo off the lift towers and snow guns, bouncing off the mountain in front of me, making the bass even more powerful. While Jagger isn't on stage, the cover band playing outside at the base of Purgatory's main lift is impressive, and it shows no signs of stopping in the below-freezing temps. While I can barely account for the contents of my own gloves, their bare fingers fly across fret boards and nimbly pick out rockin' solos, guitar amps screaming through the cold winter air. Is this good for my ears? Absolutely not. Am I going to give up my spot this close to the stage for Purgatory's 50th anniversary party? Absolutely not. Purgatory has a lot to celebrate during my February visit. In addition to reaching the half-century mark, the resort is enjoying its first season under new ownership, which came with a high-speed quad on the back side to replace the notorious Lift 8, new snow guns to help establish a solid snow base, new trails and tree lines, and, with Mother Nature's help, one of the better snowpacks in years. All these factors contributed to 17-year high in skier visits, which, as the Stones remind us, is cause for celebration.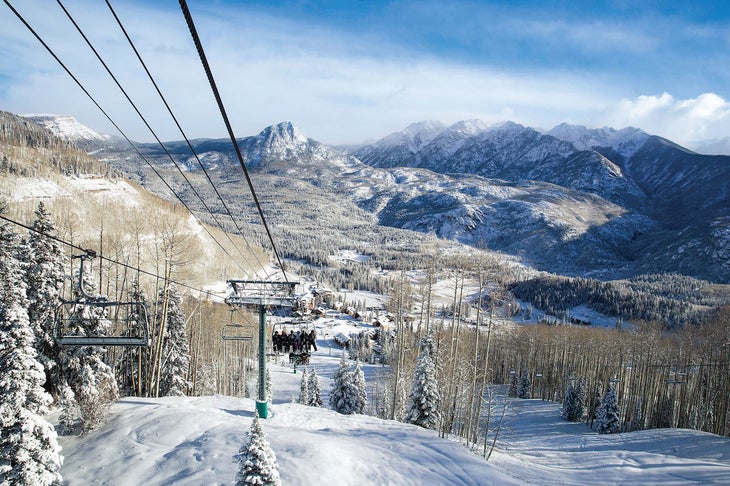 In early 2015, Purgatory (which at the time was still called Durango Mountain Resort) was put up for sale and immediately purchased by James Coleman, who, though relatively unknown to the Durango business community, was already well versed in ski-area operations. Coleman, along with his investors and management team, operates Arizona Snowbowl in Flagstaff, New Mexico's Pajarito Mountain in Los Alamos, and Sipapu ski area near Taos. And thus Purgatory joins the Power Pass of unlimited days at Coleman's grand total of four Four Corners resorts.
Coleman, who fell in love with skiing in high school and spent time skiing Purgatory before college, is a clever and capable businessman who has already invested millions of dollars and countless hours in Purgatory, but he is also a talented and passionate skier. While he will not shy away from talking about development plans and marketing, the conversation always returns to skiing. He is always front and center to help Mountain Ops with whatever obstacle is currently looming. "My second favorite thing to do after skiing," Coleman says, "is run a chainsaw."
And run a chainsaw he has. Coleman not only helps fell trees, but he designed and helped build the new snowmaking apparatus that provides coverage for the new runs below Chair 8 on the back side.
Replaced this season, Chair 8 grants access to some of Purgatory's steeper and bumps and trees on the back side. It had long been a thorn in Purg's side thanks to its speed, or lack thereof. The new lift cuts ride time in half (it's now about 4:30 to the top) and is a welcome change from the constant stop-and-go of the older, much less comfortable chair. While the midway loading station was well loved by locals who will miss the hot laps it offered, the ride from the bottom is quick enough cover the exchange.
The excitement doesn't stop there. Purgatory has been working with the U.S. Forest Service to design and approve a master plan for developments spanning the next decade, including additional lift improvements. Yet with all the tangible changes and upgrades, one of the most notable tweaks has merely been restoring the original name, Purgatory. After the resort's years as Durango Mountain Resort, Coleman wasted no time in swapping it back, instituting the change within a week of taking ownership. "Put $6 million into a lift, people love it. Change the name back to Purgatory, people love it twice as much."
It's clear that Purgatory's future now rests in the hands (gloves?) of a passionate skier, and the locals, tourists, and employees are appreciative and ready to see where Coleman and his team take the mountain in the years to come.
As I stand in the crowd of skiers at the base of the now 50-year-old resort, nearly frozen to the core but somehow still able to dance, I can't help but think it fitting that one of the last songs played is "Start Me Up." And the crowd goes wild. Here's to another 50 years, Purgatory.
EAT
On the back side, hit the Backside Bistro atop Chair 5 for seared elk medallions and panoramic views of the spectacular San Juan Mountains. For frontside munchies, head to Purgy's for modern American cuisine in a casual mountain atmosphere, complete with a full bar and après scene. In town, make a reservation at Mutu's Italian Kitchen or the recently rebuilt Seasons Restaurant on historic Amin Street.
SLEEP
Two cozy ski-in, ski-out locations at the bottom of Purgatory, Purgatory Lodge and The Village, both make staying at the hill comfortable and convenient. The city of Durango, which is only a half-hour drive south, boasts a wide variety of excellent hotels, including the historic Strater, the rustic and inviting Leland House, and the small but intimate Nobody's Inn.
DO
Purgy's, especially the beach and outdoor bar in fairer weather. Paradise Pizzeria is another option: Try a local beer from one of Durango's many microbreweries.