The Two Faces of Sugarbush
Whether you fancy old-school skiing or sleek, modern resort life, this New England classic's got you covered.
Heading out the door? Read this article on the new Outside+ app available now on iOS devices for members! Download the app.
The defining characteristic of Sugarbush is that it's two mountains: Lincoln Peak—the original 'Bush—and Mt. Ellen, formerly Glen Ellen ski area. The two-mile Slidebrook Express high-speed quad connects the two, and there's plenty to love about both, but their vibes and personalities are distinctly different. Lincoln Peak is sleek and polished, with full resort amenities; Mt. Ellen is a shut-up-and-ski, throwback kind of place.
I confess the latter is my favorite. And it's where I find myself on an obscenely rainy Saturday in January—probably the single worst weather day in an otherwise decent winter. An unrelenting, wind-driven downpour sheets across the parking lot as I park illegally and sprint for the base lodge.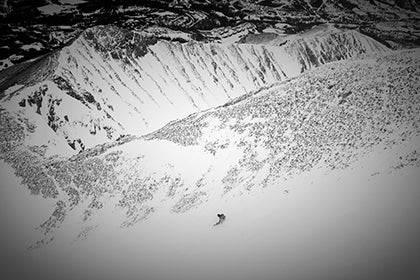 Skiing is out of the question, though the riderless lifts are spinning. But in the Green Mountain Lounge upstairs, there's a party going on. A Champagne Cowbell Party, in fact—honoring Mt. Ellen's 50th. Celebrants are invited to aim popped corks at a dangling cowbell. If they hit it, their bubbly is free. No one succeeds while I'm there, but plenty of champagne is consumed.
I'm early to meet a friend, so I look for the rowdiest table. It's easy to spot—loud and littered with champagne bottles—and I'm warmly welcomed to it by perfect strangers. God help me, I've fallen in with the Ski Bears ski club of Connecticut. The rain drove them in around 11 a.m., and they confess they've been drinking ever since. They're fun and funny, and when my friend arrives, my new friends launch right in on her, too.
As I said, Mt. Ellen is my favorite, but not just for bar scenes like this. Part of it's nostalgia: This is where my buddies and I skied as impovrished college students, and with the exception of an updated lift—the high-speed North Ridge Express Quad, installed in 1995—the place is unchanged. The Summit Quad, still fixed-grip, still accesses top-of-Vermont views plus a couple of the state's most challenging trails. There's Black Diamond, the liftline—steep as hell and barely four bumps wide, with lift towers that periodically squeeze you out. And there's FIS, equally steep but extra wide. So wide, in fact, that wind-scour renders it almost unskiable for much of the winter, though in spring it's the scene of unsurpassed corn skiing.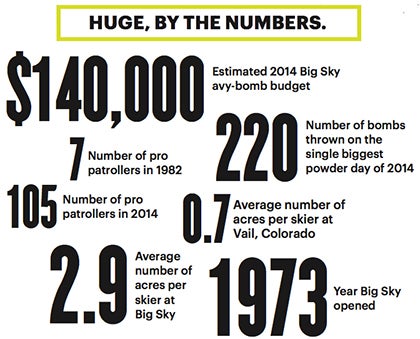 A little lower and to the north, there's the pod of trails accessed by the North Ridge chair, including Bravo (the liftline), and Exterminator. Both are gnarly-fun, and if you know where the cutover is, you can ski the best parts of them, then glide over to mid-mountain, where you get your choice of four more charismatic classics: Tumbler, Cliffs, Hammerhead, and Encore. Love bumps? Only Cliffs gets the occasional grooming. The rest are, like Bravo and Exterminator, au naturel.
Groomed cruisers weave their way here and there around Mt. Ellen's testy bump runs. And off on its own, the Inverness area often bristles with the gates of Green Mountain Valley School, where Daron Rahlves learned to race on hard snow. But that's it. No condos. No base village. Just a parking lot, a lodge, one of the East's best ski bars, and 2,600 vertical feet—the most in New England—of fun, interesting terrain.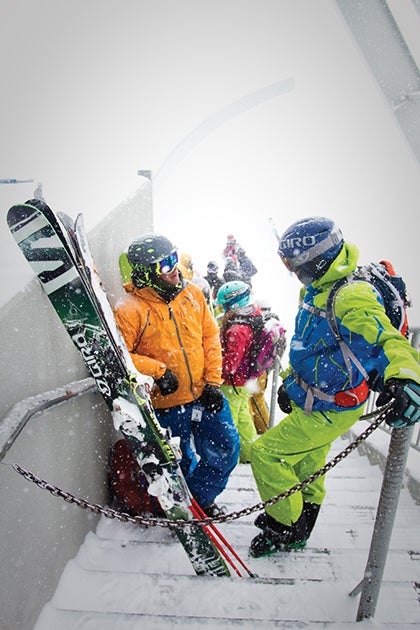 Lincoln Peak, by contrast…well, just about everything about Lincoln Peak is a contrast. There's luxury lodging in the Claybrook Hotel, plus lots of slopeside homes and condos. There's fine dining in Timbers or at venerable Chez Henri. (Where Killy once partied. And Yoko Ono.) The base lodge is new and fancy (and uncluttered: They'll stash your boot bag for you if you stuff it under a table). The Schoolhouse family center is warm and welcoming, with lyrical murals by Vermont artists like Woody Jackson and Sparky Potter (father of Grace, who grew up here). And all the new slopeside buildings have a tidy, cohesive architecture. Sugarbush owner Win Smith strives to give the place a look that befits its Vermont setting, and it shows.
As for terrain, families and cruisers will find more to love on the Lincoln side. But the hard-core won't go hungry. There are steep, fall-line challenges on trails like Rip Cord, Organ Grinder, and Stein's. And when it's open, the famous Castlerock fixed-grip double accesses a handful of never-groomed, natural-snow tests that appeal to folks who like Vermont skiing the way it used to be.
As different as they are, Lincoln and Ellen share one essential trait: their location in one of the most serenely beautiful parts of Vermont. The two villages of Waitsfield and Warren may lack for Killingtonesque nightlife, but the Valley never fell prey to the helter-skelter development that mars other New England ski towns.
So come to Sugarbush if you prize serene bucolic beauty. Take your pick of two great mountains, and hope that you're luckier with the weather than I was. Just remember one thing: Don't feed the Bears.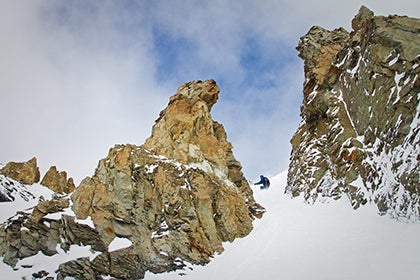 >>EAT
Allyn's Cabin »Midmountain dining, near the top of the Super Bravo lift; open on select weekends/holidays and full moons. Skin, snowshoe, or ride the cabin cat up for candlelit dinner.
Timbers » High-end dining slopeside in the Claybrook Hotel with a creative menu of small plates and more- traditional entrées.
The Common Man » Always a wonderful space, rustic and barnlike. New owner/chef Adam Long- worth brings an impressive résumé back to his Vermont roots.
American Flatbread » A Valley institution. Expect to wait in line for wood- fired organic New Age pizzas.
>>SLEEP
Pitcher Inn » Classically Vermont-themed rooms in a handsome white-clap- board inn in the heart of tiny, cozy Warren Village.
Claybrook Hotel » Luxury slopeside accommodations in Vermont-vernacular architecture.
>>EXPLORE
» Powder in the forecast? Sign up for first-tracks cat skiing. Or head out for a throwback ski day at nearby Mad River Glen.