Wachusett Mountain, Mass.
A landmark of Massachusetts, and one of the great training mountains of the East Coast.
Heading out the door? Read this article on the new Outside+ app available now on iOS devices for members! Download the app.
It's rare in today's era of mega-consolidation to find a ski resort that guests not only heap high praise upon, but one owned by a family that everyone knows by name. Such is the case—and a big reason for the success—of Wachusett Mountain Resort. Wachusett has the foundation any mountain needs to succeed: optimal location ("Easily accessible! It's a blessing and a curse") and varied terrain ("I always want to go back"). The Crowley family, in its third generation here, doesn't just rest on that. They've built a killer snowmaking system and twice-daily grooming plan, ranking the mountain No. 2 in Grooming and No. 3 in Snow. "I don't know of anyone who makes or manages manmade snow better than they do," says one reader. And that's even when nature isn't too helpful. "They did an amazing job with a paucity of natural snow this winter," points out another. On top of that, Wachusett adds a crackerjack ski school (they teach tens of thousands of lessons each season) focusing on all levels and ages. "Boosted my skiing up to expert level in three years!" one reader exclaims.
There are challenges that come with being close to a big city. Just a squinch over an hour drive from Boston proper, the resort ranks No. 1 in both Travel Ease and Accessibility. Weekends can be crowded, and after-school programs can make the place buzz late into the day. But a strong No. 2-ranked lift system ("No T-bars here!" one reader celebrates) moves folks uphill fast and a cavernous base lodge has a nook or cranny for everyone, as well as great dining choices (No. 1 in On-Mountain Food). Through all that, day and night, you'll always see a Crowley in the mix. "Wachusett is a gem of a ski area. The owners are present, truly care about their customers and do an unbelievable job given the weekend crowds they get. I just love the place," one reader sums up. Especially this season, when day trips are looking more feasible than extended ski getaways, Wachusett may truly be King of the Hills. — Moira McCarthy
2021 Reader Resort Raking of Wachusett Mountain: No. 9 in the East
| | | | |
| --- | --- | --- | --- |
| Average Snowfall | Acres | Trails | Lifts |
| 100″ | 110 | 25 | 8 |
FAMILY EXPERIENCE: Keep your eye on the activity calendar for pop-up guided family snowshoe outings, or stop into in the rental shop to get outfitted with gear and a map for your own little sidecountry activity. Great ways to extend your day. 
LOCAL TIP: There's a trail in Vickery Bowl just below the triple chair (that seldom runs) called Piece of Cake. Locals know it often goes untouched. Ski down Hitchcock, take a hard right, do a small hike over and you'll find fresh corduroy there even midday. 
ON-HILL EATS: Red Farm cider doughnuts are made fresh on-site all day (both in the base lodge and in the quaint Bullock Lodge mid-mountain). Warm and crusty, they are the perfect fuel for any ski day (or night). Wash them down with hot cider for the win.
A look back: No. 10 in the East – Sunday River, Maine

Ready for No. 8 in the East? Sugarbush, Vt.
Wachusett Mountain's 2020 SKI Magazine Reader Resort Survey Rank: 19th in the East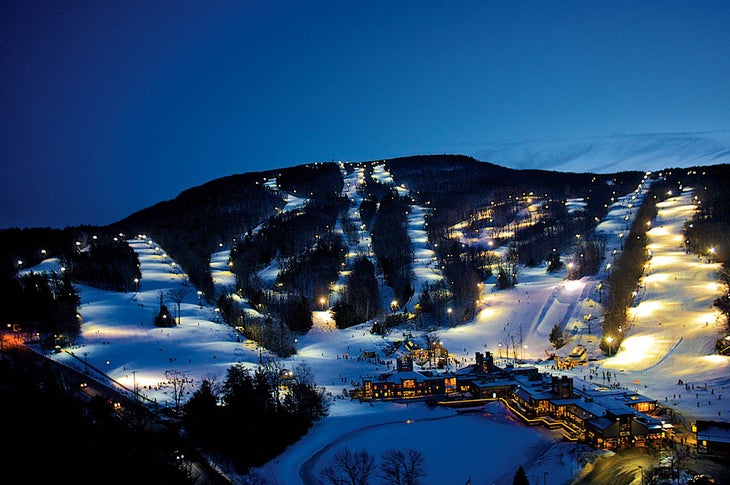 Wachusett Mountain's nickname could be "Mount Whim." The resort, so close to Boston you can see the city skyline, is the perfect place to suck in mountain air when you crave it—after work, on a powder morning, or just because. It ranks tops in accessibility and travel ease accordingly. "For a small mountain in Massachusetts, Wachusett does a bang-up job!" The secret? Great lifts (No. 1) and fun (if limited) trails. Snowmaking and grooming (No. 3) are on par with the very best, with one reader claiming the ski area's prowess there "puts some of the larger resorts to shame." The second wave of grooming each afternoon is a big reason why. 
Afternoons do get crowded as the place floods with kids (Wachusett cranks out more lessons than most), but on weekday mornings you can get in a solid 15k vertical before lunch and still eke out an afternoon of work. But why cut the day short? Instead, savor the great on-mountain food (No. 2), perfectly poured Guinness (It's an art!), and wave at your Boston office in the distance. — Moira McCarthy
LUNCH SPOT: Try a grilled cheese sandwich that will change your life at O'Brien's Deck Bar & Grill.
LOCAL TIP: Lifts begin spinning at 7:30 a.m. Get out then and you'll bump into the "Ten by Tennies," who get in 10 runs by 10 a.m. almost every day.
Read More:
2020 Resort Guide: East Overall
SKI Magazine's Resort Guide 2018 Review of Wachusett Mountain: East #20
"Wachusett is one of the few small training mountains remaining. What the slope lacks in terrain is more than compensated for by the excellent instruction and value, and has a really diverse patronage." – SKI Magazine Readers
Tucked away in central Massachusetts is a 2006-foot peak that dominates the surrounding country. Wachusett Mountain, as it is known, has been a landmark ever since the central highlands of Massachusetts were first settled. For more than 70 years the ski trails running from its summit have also been a landmark, beckoning skiers and snowboarders from most of the major cities and towns in the region. With night skiing until 10:00 p.m., Wachusett also beckons after dark.
Visitors to Wachusett find a highly polished, full-service, small resort, with lodging at the nearby Wachusett Village Inn and Conference Center, high-speed lifts, a thoroughly modern grooming fleet and snowmaking operation, and a full set of amenities.