Fat Biking Goes Downhill
Winter fat biking is coming to a slope near you. Try it and you'll be hooked.
Heading out the door? Read this article on the new Outside+ app available now on iOS devices for members! Download the app.
Mountain bikes with cartoonishly large tires are a regular winter sight in Fernie, B.C. They are, in fact, what one local calls "standard operating equipment" here. Known as fat bikes, they roam the historic brick core of this coal-mining and skiing town like horses in an earlier era. At après-ski, they amble out of the surrounding Canadian Rockies in small posses, then tie off in herds in front of Second Avenue's 100-year-old facades. Inside roomy pubs like The Northern, their ruggedly relaxed riders go beer for beer with equally rugged skiers. Powder ski, snow bike, share a pitcher of local craft brew, repeat. It's the Fernie way.
First manufactured as a niche product circa 1999, fat bikes are built to ride in all seasons and on all surfaces, notably sand and snow, thanks to oversize, knobby tires—as large as five inches wide—for both shock absorption and traction. "The big, soft, fat tire just rolls over everything," says Derick Berry, an avid winter cyclist.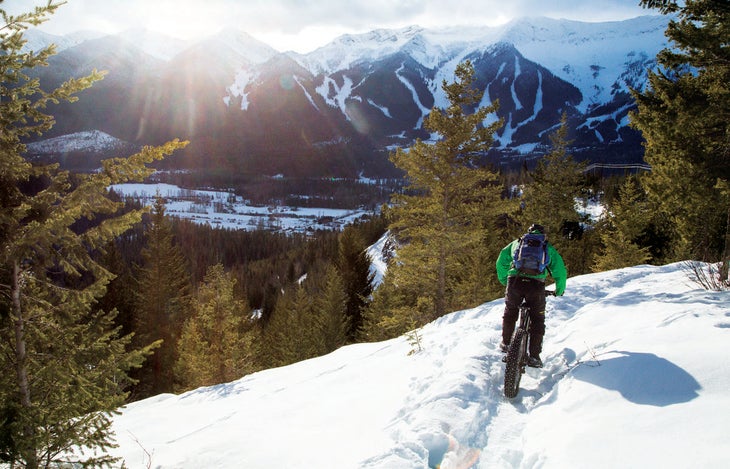 In many ski towns, that rolling is limited to designated bike loops at nordic centers. In Fernie, cooperation among winter trail users has brought big results: Six interconnected winter bike trail networks offer some 140 miles of snow riding.
Initially, riding on snow can seem "counterintuitive," says guide Samantha Sedlowsky. "On a regular mountain bike, when things get tough, the best thing to do is power through it. On fat bikes, it's the opposite. You have to let the gas off. It's very methodical, kind of quiet and soft. It's like a Zen experience."
"I like that analogy," says Berry, winding into the woods up the Ridgemont trails, which start five minutes from downtown.
Forty sweaty minutes later, the conundrum is how to do less to get back to town. "Zen on the way up, loose on the way down," Sedlowsky advises. "Stick to the hard-packed," Sedlowsky adds en route to The Northern for Fernie Brewing Co. pints. "Look ahead, lose speed well before a turn, keep those knobbies engaged—and have a really good time."
Singletrack Bounty
Fernie, B.C.
Rent a rig at Fernie Alpine's day lodge for a scenic warmup on Hobbit-Galloway, a double-wide, three-mile groomed loop that starts and ends at the ski area's base. To explore the community's 100-plus miles of winter singletrack, hire bikes and a local guide/instructor from downtown's Guides' Hut. tourismfernie.com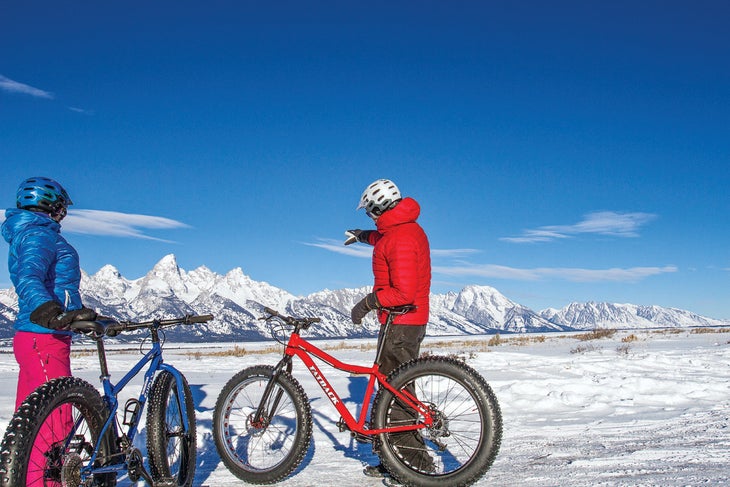 National Park Pedal
Jackson, Wyo.
Fat bike through Grand Teton National Park's dramatic landscapes on snowy, carless back roads, possibly spotting elk, moose, wolves, bison, and eagles in the process. Teton Mountain Bike's half-day national park winter bike tours include a guide, equipment, and a shuttle from downtown Jackson. tetonmtbike.com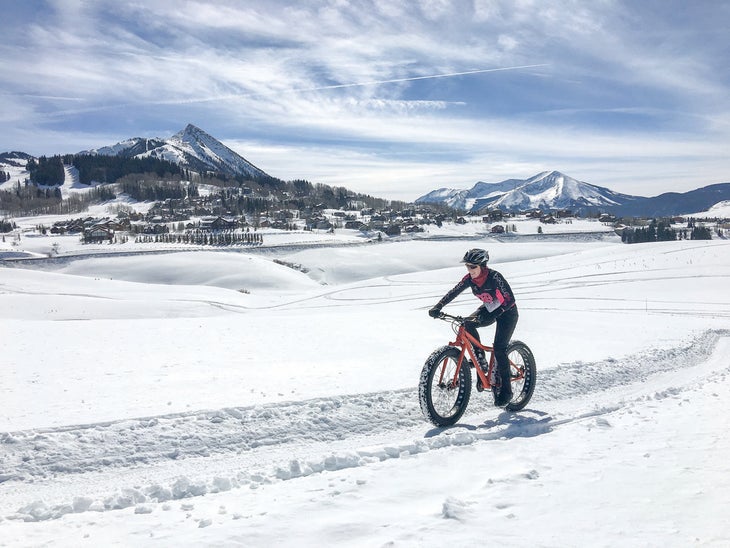 On-Piste Action
Crested Butte, Colo.
Ride up—and scream down—groomed alpine ski trails at Crested Butte Mountain Resort before or after the ski day. The climb from the base area (at 9,380 feet) to the top of Red Lady (10,350 feet) or Painter Boy (10,175 feet) is a serious high-altitude huff, but the rip back down the ski runs is all reward. Rent bikes at the Crested Butte Rental and Demo Center. skicb.com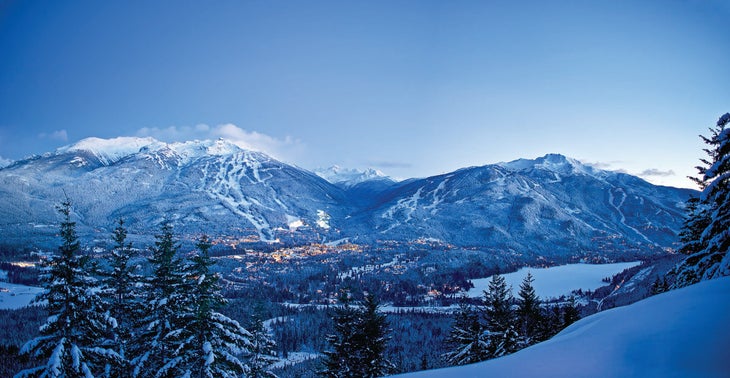 Night Rides
Whistler, B.C.
This winter, Five Dollar Wednesdays at Whistler Olympic Park will include nighttime fat biking, either on lit trails or with headlights. From 3 p.m. to 9 p.m., trail passes and standard equipment rentals each cost just $5 per person. Hit the park's cafeteria afterward for $5 chili bowls and $5 beers. whistlersportlegacies.com