Admit It—You Kind of Want to Ride One of These Mountain Coasters
Don't abandon your need for speed after the lifts stop turning. Here are our favorite mountain coasters at resorts around the country.
Heading out the door? Read this article on the new Outside+ app available now on iOS devices for members! Download the app.
As we inch toward Memorial Day, summertime in the mountains is coming into focus. (Except, perhaps at the resorts still spinning the bullwheels.) Ziplines, mountain biking, chairlift-served hiking, and mountain coasters turn the resorts into summer playgrounds.
Think mountain coasters are just a gimmick to get you to shell out dough at ski resorts in the summer? Damn right they are. But that doesn't mean they're not also pretty fun to ride. These elevated steel tracks built on the mountainside are part roller coaster, part alpine slide, so while the two-person cars are attached to the rails, riders can still control their own speed via a lever on the side of the car. 
     Also Read: Get All of the Views With Little of the Work on These 5 Scenic Lift-Served Hikes
Resorts all over the country are building these attractions like wildfire. Here's a list of our favorites from coast to coast. 
Top 10 Mountain Coasters in the U.S.
Breathtaker Alpine Coaster, Snowmass, Colo.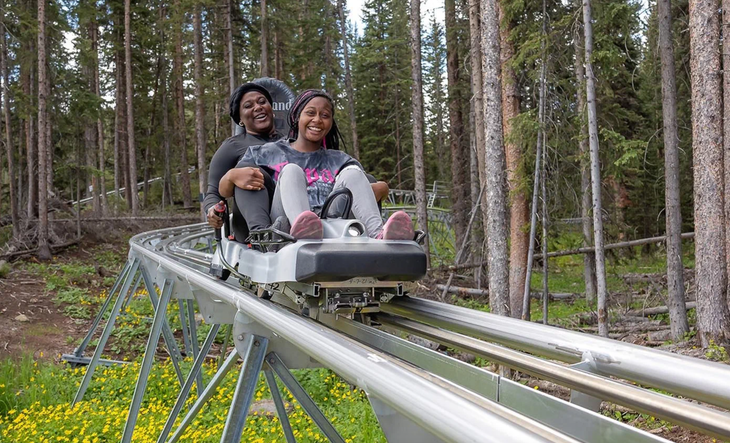 The Breathtaker is part of the resort's Lost Forest attraction up at Elk Camp, and wends through an aspen forest for a seven- to nine-minute adrenaline rush. Ride up to 28 mph if you please, but be sure to slow down a touch for the multiple hairpin turns and quick descents. Other Lost Forest attractions include a ropes course, zipline, and climbing wall.
Ridge Rider, Heavenly Mountain Resort, Calif.
If there's an award for best scenery in this roundup, it would go to Heavenly's Ridge Rider, which boasts amazing Lake Tahoe views while traveling downhill along its 3,400-foot track. You can speed up to 25 mph, but you might want to slow down to soak in those lake vistas.
Watch the Ridge Rider in Action:
Ski Mountain Coaster, Ober Gatlinburg, Tenn.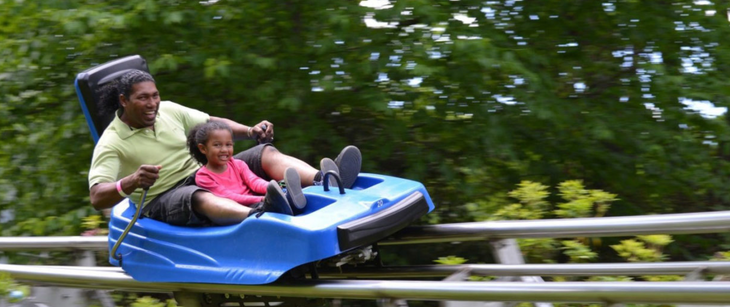 Summer is a treat at Ober Gatlinburg, which shares a border with the majestic Great Smoky Mountains National Park, and the Ski Mountain Coaster maximizes those views as it wends down 3,750 feet of track at speeds of up to 25 mph during the five-minute ride. At $16 a pop (only $12 for kids 5-11), this is the best deal on this list.
Cranmore Mountain Coaster, Cranmore Mountain Resort, N.H.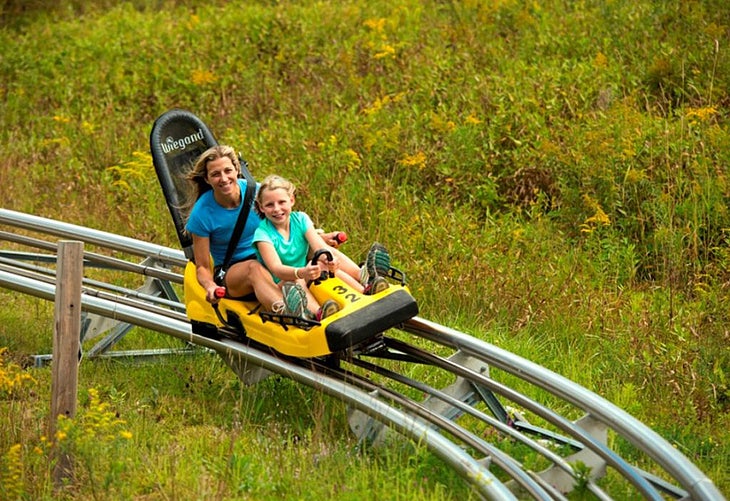 Speed through wildflowers and forest for 2,390 feet of twisting track on Cranmore's Mountain Coaster. The ride is only about 4 minutes, one of the shortest options listed, and can be ridden by kids as young as 3, so this a mellow option for anyone a little apprehensive about these types of attractions.
On That Topic: Which Season Pass Offers the Best Summer Perks
Forest Flyer, Vail Mountain, Colo.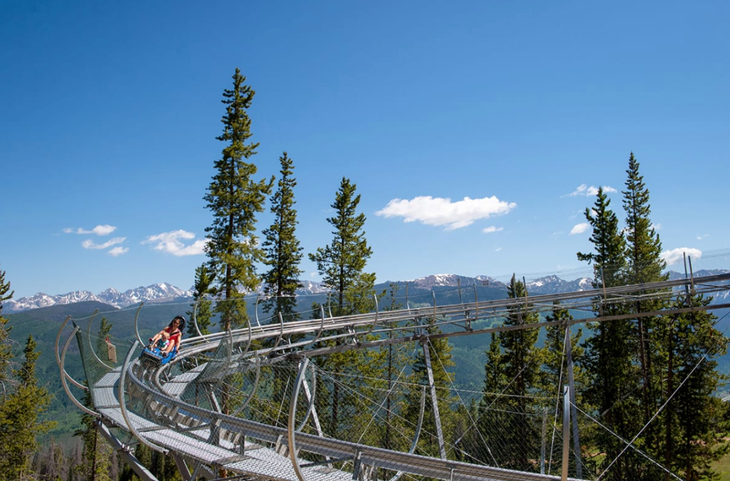 The Forest Flyer is tucked into the glades below Eagle's Nest, and is 3,400 feet of fast fun with views out over the surrounding peaks. This one might not be the longest on the list, but with a starting elevation of over 10,000 feet, it's definitely one of the highest. 
Sky Flyer, Holiday Valley, N.Y.
The Sky Flyer is a hoot. At 4,805 feet long, the fairly long track serves up 15 hair-raising curves, 12 stomach-plunging waves, and a massive spiral that induces some serious G-force. It's also another great deal at $10 per ride, or $18 for two.
See the Sky Flyer in Action:
Cowboy Coaster, Snow King, Wyo.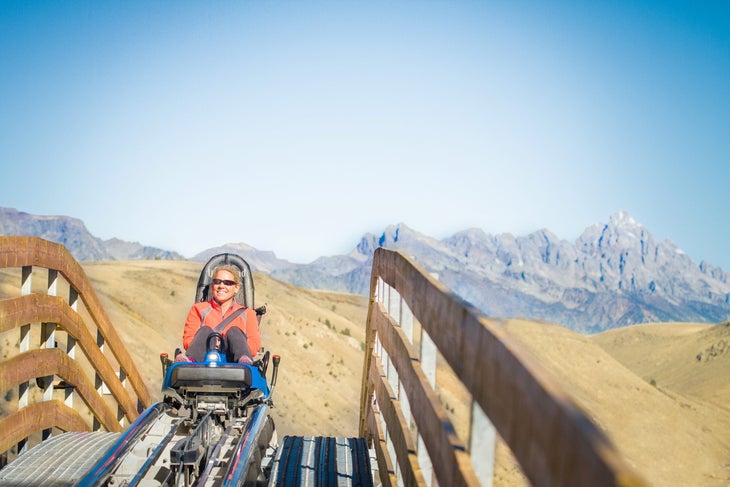 The Cowboy Coaster lives up to its name, with a four-story vertical drop over the course of a mile making this ride short, sweet, and fast. Views of the Tetons and Yellowstone round out the experience.
Snowbird Mountain Coaster, Snowbird, Utah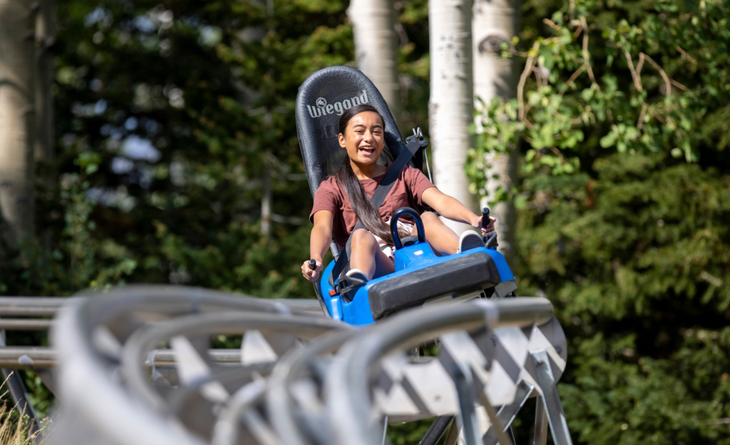 Snowbird's Mountain Coaster is 3,120 feet of twists and curves, but the best of this ride comes at the end, with two horizontal loops that exert significant G-force when taken at speed—which, of course, is totally up to you (but we highly recommend it).
Related: The 4 Best Ski Areas for Mountain Biking, Plus Opening Dates
Glade Runner, Bogus Basin, Idaho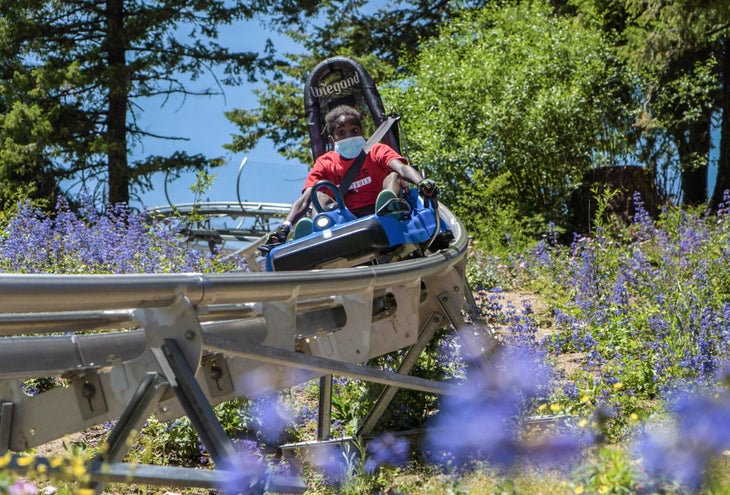 Idaho's only mountain coaster, the Glade Runner is not for the faint of heart. This 4,330-foot-long ride goes hard from the first crest and doesn't let up until you glide back into the station. There are 10 turns of varying sharpness and two giant loops, one of which spins you 450 degrees. Bonus: The three-minute ride up serves up lovely views of nearby Shaker Butte.
Camelback Mountain Coaster, Camelback, Pa.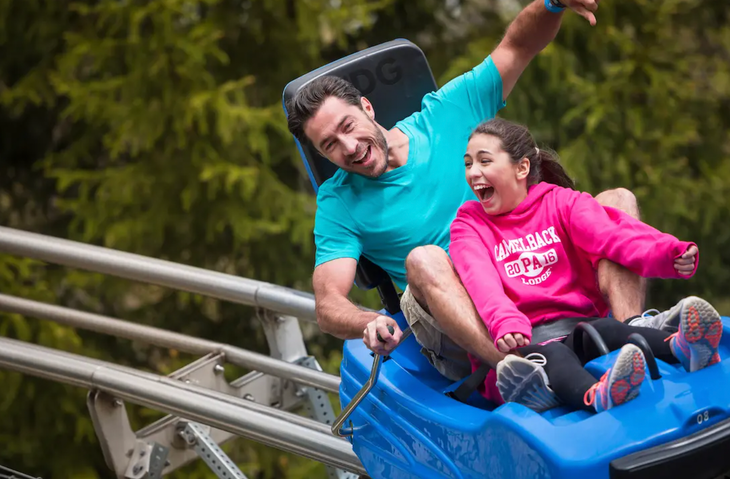 The third-longest coaster on our list rounds things out with a 4,500-foot-long ride down a steel track that zooms down Camelback's forested slopes at speeds of up to 25 mph. Bonus: You can view—and buy—photos of the embarrassing facial expressions you make at the service center at the bottom.