You, Too, Can Ski On a Pile of Trash This Summer. Here's Where.
Germany's Monte Kaolino is a sand-pile wasteland turned summer-skiing attraction.
Photo: NICOLAS ASFOURI/AFP via Getty Images
Heading out the door? Read this article on the new Outside+ app available now on iOS devices for members! Download the app.
In one of the best reuse scenarios a skier can dream up, there's a sand-skiing slope in Germany made from a gigantic mound of mining byproduct. The little hamlet of Hirschau, Germany, deep in Bavaria, is home to Monte Kaolino, a sand-skiing destination where the centerpiece is a 390-foot slope made from kaolin—that's the quartz-sand-like byproduct of kaolinite, the main component of porcelain—where skiers come every summer to schuss down the powdery slopes. Talk about making the best of a (sandy) situation…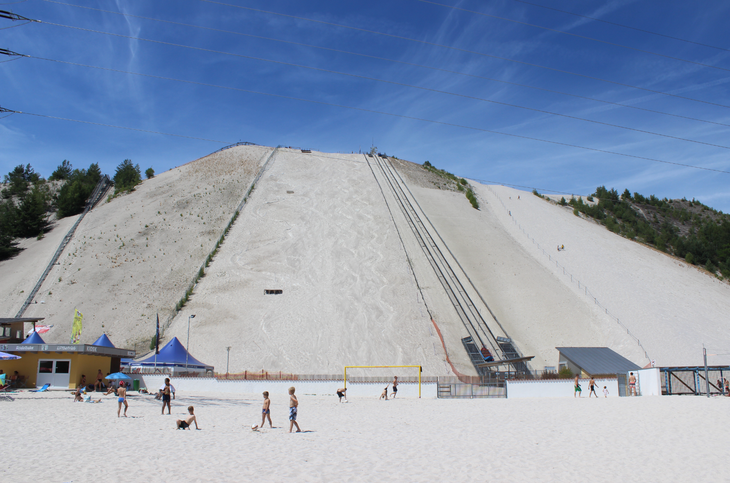 When a company called Amberger Kaoliner set up shop in Hirschau at the beginning of the 1900s with the intention to mine kaolinite, it didn't give much thought to what to do with the sand byproduct, instead letting it pile up on the outskirts of town. By the 1950s, the hill had grown to massive proportions, and that's when, according to locals, a dude showed up with a pair of skis. The rest is history.
By the late '50s, Monte Kaolino was an official sand skiing destination with its own ski club and fledgling amenities. Today it's a bonafide amusement park that also features an alpine slide, pool, mini-golf, and a ropes course.
But sand skiing is where it all started. While it's no Garmisch, the 650-vertical-foot ski run is served by a funicular-style Doppelmayr lift that ferries nine people at a time in two vessels. The ride takes about a minute and a half. There's also a marked climbing route to the top if you prefer to work for your turns (skis on shoulder, no skinning). There are rental skis at the base, because you don't want to muck up your own, of course.
Interestingly, the slope is "groomed" throughout summer season with the same type of Pisten Bully snowcats used on snow, and every fall, after Monte Kaolino's slope shutters for the winter, the staff collects all the sand from the bottom and redeposits it across the ski run using trucks and shovels. A labor of love, indeed.
Can't Get There This Summer? Here's What It's Like to Sand Ski at Monte Kaolino